3 Best Ways to Copy Blu-ray to Flash Drive Without Quality Loss
If you love watching Blu-ray movies due to the magnificent visual and audio quality but do not afford to purchase ones, then you just came to the right place. This article post will present to you the three practical ways with their guides to copy Blu-ray to flash drive without losing the quality. Therefore, prepare your USB and the Blu-ray movies you want for the marvelous yet easy and quick cloning procedures that you are about to see.

Part 1. What is USB Flash Drive
USB flash drive is a kind of data storage device that uses a USB-integrated interface. It includes a flash memory that is electronically reprogrammable, removable, and rewritable. Furthermore, since USB flash drives are commonly used for storing, backing up, and transferring files, it has never stopped expanding when it comes to their size capacity. As of this writing, you can already find one that can support up to 5TB storage capacity. Unlike using discs, it is better to copy a Blu-ray to a USB since it is handier, yet with significant capacity to hold larger Blu-ray movies.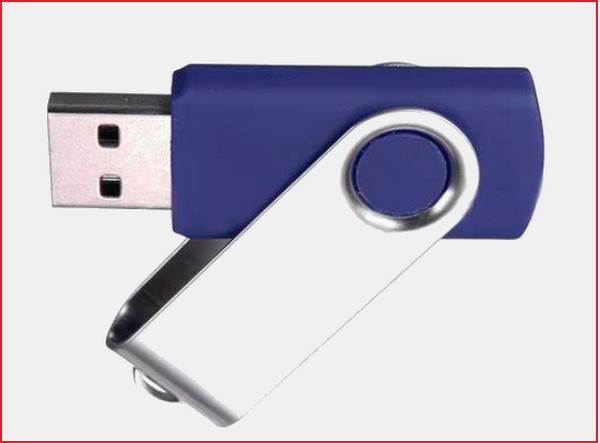 Hence, for you to transfer larger Blu-ray movies into your USB flash drive, you will need to transform them to what it requires. This means movies shall be ripped into a file first. That said, you will need a good ripper for you to copy the Blu-ray file into your USB.
Part 2. Best Way to Copy Blu-ray to USB Flash Drive
As mentioned above, the need for a good tool will make the job possible. For this reason, we do not only provide you with the good but the best way by using Tipard Blu-ray Converter. It is a dedicated software that works on ripping and converting Blu-rays into more than 500 various formats, including video, audio, and devices, without affecting the excellent quality even a bit. Furthermore, transferring your Blu-ray to USB has been made easier with the assistance of this amazing tool since it enables you to set your flash drive as the file destination of its output. This means you will never need extra effort and time to transfer your files after you rip them. Amazingly, Tipard Blu-ray Converter provides extra helpful tools you can use like a pro, even if you are not. Easily navigate on its video enhancer, compressor, 3D maker, GIF maker, and media metadata editor without any limitations.
Key Features:
● Multithread and hardware acceleration technologies that help improve its performance.
● Extensive editing tools to enhance, compress, crop, rotate, add effects, and more.
● Produce ripped Blu-rays into more than 500 types of videos and devices.
● One-click to merge files and save them to a USB flash drive.
How to Copy Blu-ray to USB Losslessly
Step 1Launch the software tool after you install it on your computer. Then, insert the Blu-ray disc into your computer's optical drive and, at the same time, connect the USB to the computer, where you will copy it. Once done, click the Load Blu-ray tab on the main interface to upload your Blu-ray. Then, go to the Save to tab option and set the file destination to your USB drive.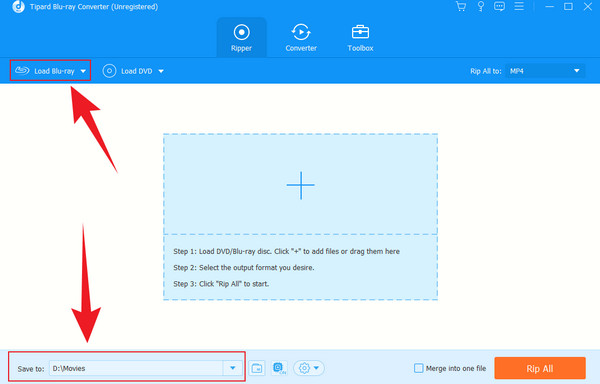 Step 2Next, click the Arrow button at the tail part of the uploaded Blu-ray to see the available formats. When the window appears, click the Video tab and choose among its available formats, then choose your preferred resolution on the right side.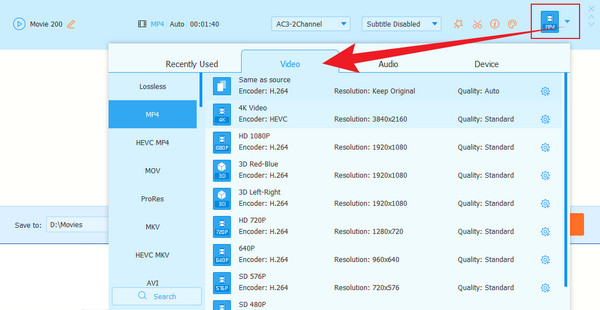 Step 3As quick as that, you can now hit the Rip All button at the bottom part of the interface. Wait for the 30 times faster transcoding process, then check your USB flash drive for the output.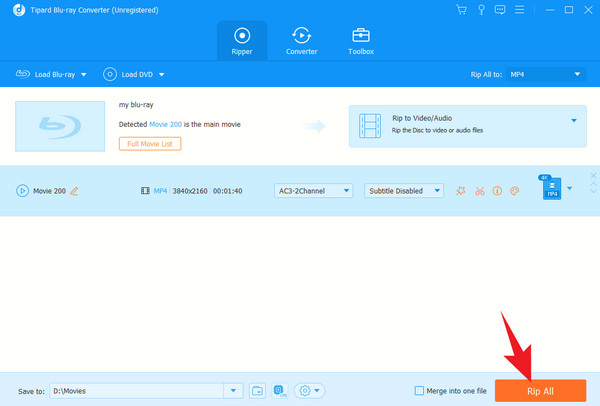 Part 3. 2 Other Ways to Copy Blu-ray to USB
MakeMKV
Another Blu-ray to USB Converter to utilize is MakeMKV. It is a well-known Blu-ray and DVD ripper offering a free service for 30 days. Users can transcode even the protected Blu-rays into MKV format with its free version. However, compared with the first ripping tool, MakeMKV comes with limited features. In addition, you will be required to upgrade to its premium version to continue utilizing it. Nevertheless, MakeMKV has been one of the go-to tools for Blu-ray transcoding. Hence, here are the simple steps to follow in using it.
Step 1Initially, install the tool on your computer and run it after. Then, import your Blu-ray into the tool by clicking the Drive icon after you insert the Blu-ray disc on your computer.
Step 2Afterward, go to the Output Folder option and set it to your USB flash drive.
Step 3Finally, when all is set, hit the Make MKV button right beside the Output Folder option.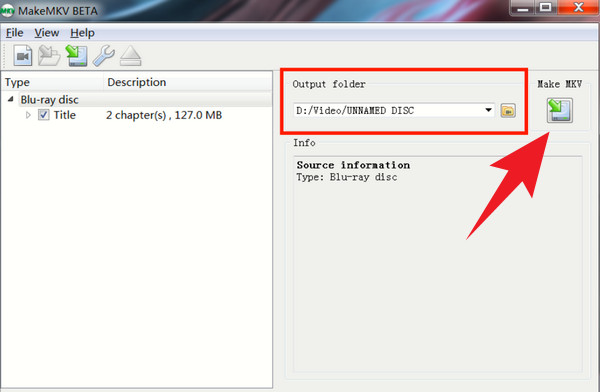 VLC Media Player
Do you want a different way to copy your Blu-ray to USB? Try the VLC media player. This media player allows you to play Blu-rays, but it, unfortunately, cannot rip them. However, it enables you to record the Blu-ray and create its own copy, which you can transfer on your USB. Meanwhile, aside from its recording tool, it also comes with other great features in its advanced controls such as video looper, screenshot maker, playlist toggles, and more. Thus, to show you how it works with the VLC media player, below are the steps to guide you.
Step 1To begin with, insert the Blu-ray disc into your computer and run the VLC.
Step 2Once the Blu-ray movie is playing, hit the Record button that represents the red circle within the playback control at the bottom.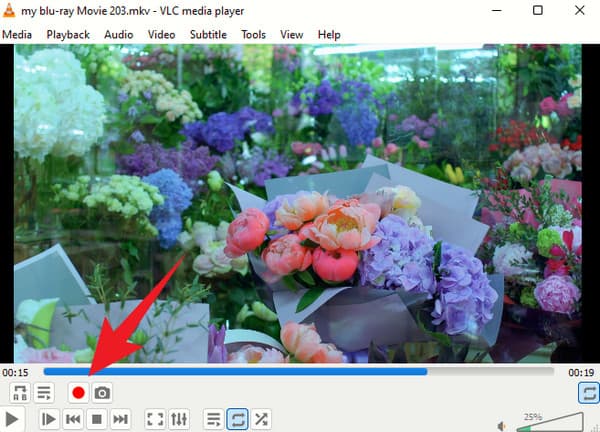 Step 3When you finish recording, check the recorded file, then copy it to your USB flash drive.
Part 4. FAQs about Copying Blu-rays to USB
How to put Blu-ray movies on a flash drive?
You simply drag the movie file into the USB drive to copy the Blu-ray to your flash drive. This applies to ISO and IFO files type of Blu-ray. But if you use a disc, then you will need to rip the disc first.
How many Blu-ray movies can I save on a USB?
It depends on the capacity of the USB you have. The bigger the storage, the more Blu-ray movies you can save.
Does copying Blu-ray to a flash drive take time?
The duration of copying or transferring Blu-ray will only take minutes if the movie is not that big.
Conclusion
There you have it, the 3 best ways to copy Blu-ray to a USB flash drive. You see, ripping Blu-ray is crucial to copy the excellent quality of the Blu-ray besides its content. However, not all Blu-ray rippers can give you this expectation. Therefore, rely on the tried and tested ones, like the Tipard Blu-ray Converter.