Back up Blu-ray to Hard Drive: How to Copy Blu-ray in 2 Remarkable Ways
There are different approaches to backing up your Blu-ray to a hard drive. However, this method needs a lot more care than backing up a regular video file. Why? Because Blu-rays have a higher yet more sensitive quality than ordinary digital video. Many have tried the easiest as possible but turned out to fail in maintaining the movie's quality. Therefore, you should be wiser enough to use a powerful yet practical method to protect your favorite movie's quality on Blu-ray. And if you do not yet know how to do the backup carefully, then see the solutions we prepared in this post below.

Part 1. Why Back Up Blu-ray to a Hard Drive
Even though you willingly do this task, some still do not understand why you must burn Blu-ray to a hard drive. Well, that's a normal norm nowadays, when you are convinced to do it but do not really know why. So, instead of giving you multiple reasons why, allow me to provide you with the main purpose of this task. As mentioned above, Blu-rays are more sensitive when losing data and quality. Aside from being sensitive and prone to scratching, optical discs like Blu–rays are supposed to be backed up in a hard drive or cloud since we continually grow to handle soft copies and online videos.
As you can see, many people are fond of easy access to movies, such as through movie services apps. And yes, we cannot deny that optical discs seem to have no room in the near future. With this being said, it is advisable to rip Blu-rays to a hard drive to preserve the movie content you have in there.
Part 2. How to Back Up Blu-ray to Hard Drive in 2 Efficient Ways
1. Using Tipard Blu-ray Copy
Here comes a reliable, secure, and efficient software that can clone or copy your Blu-ray losslessly, the Tipard Blu-ray Copy. This software has a fast and easy process for backing up your favorite Blu-ray movie without affecting its quality. Furthermore, Tipard Blu-ray Copy offers a preview to enable you to check everything that must be settled before proceeding to copy. Also, it comes with an intuitive interface, allowing you to navigate it efficiently, even though you run it for the first time. Surprisingly, this software will help you save Blu-ray discs to a computer hard drive while using less space to save backup files without damaging the quality, for it offers you an option to remove the HD audio of the file.
Another reason to use Tipard Blu-ray Copy is that it has a built-in player and allows you to choose among its four modes for backing up the Blu-ray. The first mode you can use is its Full Disc mode, where you can back up the whole Blu-ray without any chapter option. Next is the Main Movie mode, which lets you copy the main part, chapter, audio track, and movie title. The Clone mode also duplicates discs and ISO kinds of Blu-rays. And lastly, the Write Data lets you copy a Blu-ray folder using its original content display. Hence, here's how to copy a Blu-ray disc to a computer's hard drive with the simple steps below.
Key Features
● Make a backup to a hard drive in a swift process.
● 2D and 3D Blu-ray support.
● Back up your Blu-ray without affecting the quality.
How to Use Tipard Blu-ray Copy
Step 1First and foremost, click the Download button above and acquire this Blu-ray copy software for your computer. Once it is installed, launch it and insert the Blu-ray disc and your hard drive into your computer.
Step 2Once you get to its main interface, choose the mode you want to use. Then, click the Arrow button of the Source option and click the Open Blu-ray Folder tab menu to upload the Blu-ray you want to back up.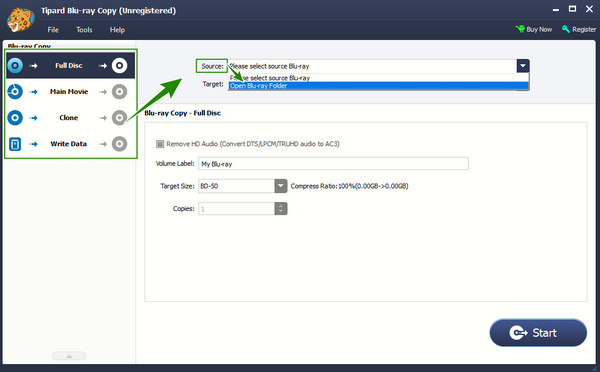 Step 3After that, this is how to save Blu-ray movies to the hard drive. Move to the Target option to choose the hard drive where you want to save your backup files.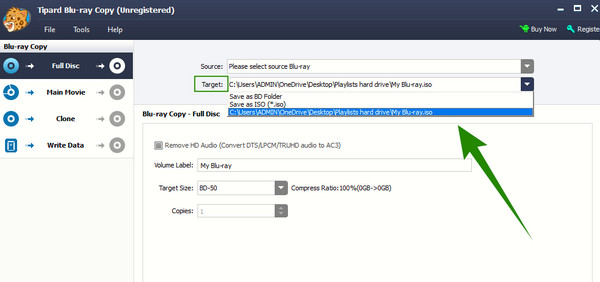 Step 4You can also customize the encoding settings of the process. To do so, click the Tools tab menu, then choose the Preferences option. On the popped-up window, click the Blu-ray Copy tab, and start to customize the given options on the right side. Apply the changes by clicking the OK button after.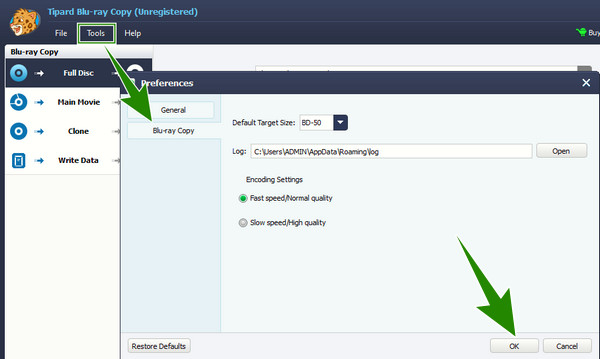 Step 5Finally, hit the Start button to begin backing up the Blu-ray. Wait until the process finishes, then check your hard drive.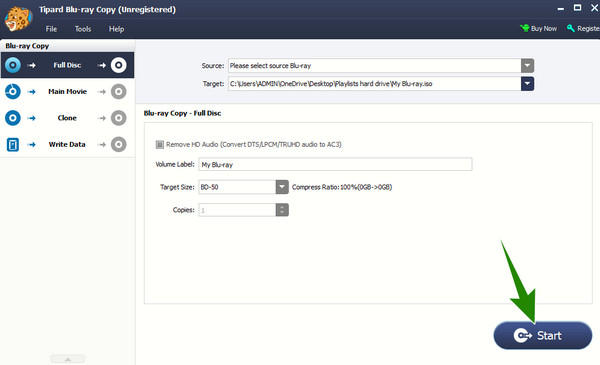 2. Using MakeMKV
MakeMKV is another good software that will allow you to back up your Blu-ray movies. It is an open-source Blu-ray ripper that comes with an easy-to-understand interface, ready to be navigated by professionals and beginners alike. One of its good attributes is its advanced DRM decrypter allowing you to rip any Blu-rays to a regular digital video. However, it usually only gives an output with MKV format, and it has limited editing features considering it is a media editor and player. Click here to get MakeMKV alternatives. Nevertheless, here's how to store Blu-ray movies on a hard drive using MakeMKV.
Step 1Launch MakeMKV after installing it on your computer. Then, insert the Blu-ray disc you want to back up in the disc drive as well.
Step 2Upload the Blu-ray by clicking the disc icon to upload the Blu-ray you inserted.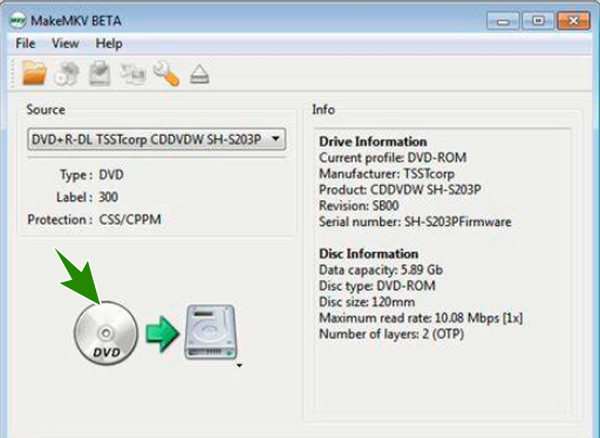 Step 3Once the Blu-ray is ready, set the Output Folder and choose the hard drive you have inserted. After that, click the Make MKV button to start the process.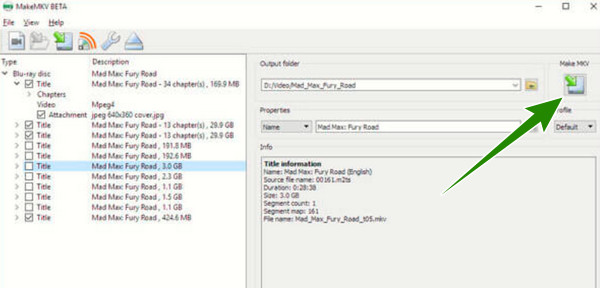 Part 3. FAQs about Backing Up Blu-rays
What is another advisable drive shall I use to back up my Blu-ray?
Aside from a hard drive or USB, you can also back up your Blu-rays in the cloud and computer folders.
Can I copy a Blu-ray to my hard drive using Google Drive?
No. But as long as the Blu-ray is already a file in your Google Drive, you can download it to your computer and then transfer it to your hard drive.
What video format shall I have for my Blu-ray movie on the USB?
Hard drives support any video format. So, to answer your question, have a video format that is compatible with the player you will use.
Conclusion
You just found out why and how to back up Blu-ray to a hard drive. It is advisable to have a soft copy of your Blu-rays for preservation purposes. On the other hand, you can use MakeMKV if you want a free copier, but quality-wise, Tipard Blu-ray Copy is the better option.