How to Watch Blu-ray Discs on Your Mac and Windows Computer
Now many people prefer to use their Windows PCs or Macs for movie entertainment. If you enjoy popping a DVD disc in your drive and watch a video, you may have found that how difficult it has become. Not to mention that you'd like to play Blu-rays, DVD's high-definition successors.
Although Windows make a drive capable of reading Blu-ray discs, now new Windows PCs tend to no longer come with optical devices by default for convenience; while Macs don't make a drive of reading Blu-ray discs. So, how can you play Blu-ray discs on your computer? This article will show you the detailed steps to play Blu-ray on Mac and Windows computer.

Part 1. How to Play Blu-ray on Mac and Windows
To play Blu-ray movies on your Mac or Windows computer, all you need are a drive that can read the discs and a Blu-ray player app that supports playing Blu-ray movies.
Get a Blu-ray Disc Drive
If your Mac or Windows PC doesn't have the drive to play Blu-ray discs, there are several manufacturers like LG, Pioneer that sell add-in optical drives or external drives. Prices vary from $40 to $100 based on your needs. Most external optical drives connect to your computer via a USB cable. Make sure that the cable you use is compatible with your system.
Download a Blu-ray Player App
Once you have a disc drive, you need software to play Blu-rays on your MacBook or Windows PC. Below is the recommended program you can download and use.
Tipard Blu-ray Player is an advanced Blu-ray player from which comes with various Blu-ray playback features. It s supports audio tracks, subtitles, and various advanced audio decoding technologies, such as AAC, and Dolby Digital audio. With this Blu-ray player installed on your computer, just insert a Blu-ray disc and click Open Disc to browse your file to get started. When the movie is loaded successfully, you can enjoy your high-definition movies at home. Apart from playing a Blu-ray disc on your computer, Tipard Blu-ray Player can also play DVD discs, as well as most other media file types, such as MP4, MOV, WMV, FLV, and more.
Play a Blu-ray Disc
Step 1Free download and install Tipard Blu-ray Player based on your operating system, and then launch it on your computer. Now, insert your Blu-ray disc into your drive.
Step 2In the main interface, click the Open Disc button and choose the disc you want to play. Then, click OK to load the Blu-ray file to play.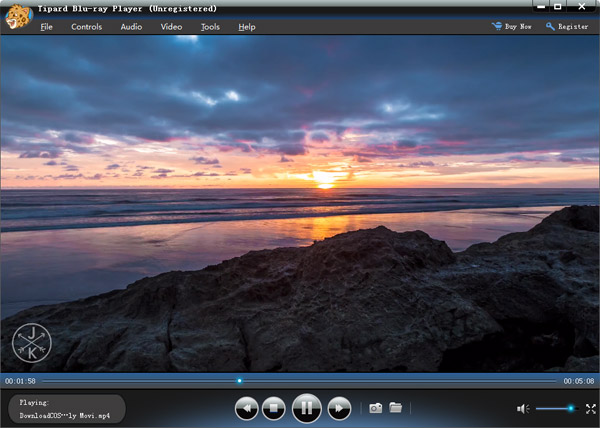 Step 3While playing, you can pause, stop, fast-forward, take screenshots and more.
Part 2. FAQs of Playing Blu-ray on Mac and PC
Does Apple support Blu-ray?
No, Apple doesn't support Blu-ray playback.
Can I play Blu-ray movies with Windows Media Player?
Windows Media Player won't play Blu-ray discs unless it has an additional plug-in. If you want Blu-ray playback from Windows Media Player, you'll need to download the Media Player Codec Pack and SlySoft AnyDVD HD. You can read on How to Play Blu-ray Movies on Windows Media Player to find more solutions.
Can VLC play Blu-ray on Mac?
Yes, VLC 2.0 or later version supports the Blu-Ray playback. You can download the latest version from VLC official website.
Can I rip and convert Blu-ray discs to watch on Mac?
Conclusion
As you can see, it is not difficult to play Blu-rays on your Mac and Windows computer only if you have the Blu-ray hard drive and the Blu-ray player software. Did you encounter any problem while play Blu-rays? Feel free to leave your thoughts in the comments section below.