MP4 Video Recorder – 5 Best Methods to Record MP4 Files with High Quality
Whether you need to capture the videos as MP4, or record gameplay files to social media, what are the best MP4 recorders to get all onscreen activities as MP4 videos? Here are top 5 MP4 video recorders that enable you to capture the desired files with ease. Just learn more about the features of these programs and choose the desired one according to your requirement.

Part 1: 5 Best MP4 Recorders to Capture Videos
In order to capture the onscreen activities on your devices with high quality, you can learn more about the 5 best MP4 recorders to capture the desired files with ease as below.
Top 1. Tipard Screen Capture
Tipard Screen Capture is one of the ultimate MP4 recorders that enable you to capture screen and audio files on Windows and Mac. It also enables to customize the recording area and choose the desired audio channel. You can also add the mouse cursor, annotation, or even draw on the recording MP4 video with ease.
1. Record screen activities capture audio files and even take snapshots.
2. Customize the video screen with presets, mouse and more others.
3. Capture 4K, 1080P MP4, MPEG2 and other files.
4. Webcam MP4 recorders that record your face and your emotions.
Top 2. Bandicam
In order to record gameplay videos, Bandicam is a MP4 recorder you can take into consideration. It provides the game recording mode to capture gameplay session with high quality.
Pros:
1. Different screen recording modes to capture desired video files with ease.
2. Apply Chroma key for webcam overlay that enable you to add webcam file.
3. The special algorithm to record high FPS gameplay videos without any lag.
Cons:
1. There is a watermark for the output of the free version of the MP4 recorder.
2. No editing features available to touch up the recording videos directly.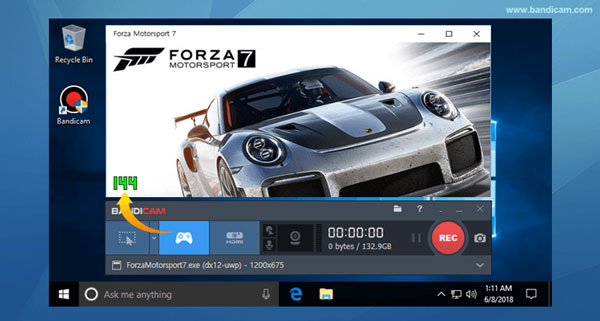 Top 3. Screencast-O-Matic
If you do not want to install extra software to capture MP4 files, Screencast-O-Matic is the desired online MP4 recorder that enables you to record and edit the MP4 files online.
Pros:
1. Record MP4 videos for computer screen up to 15 minutes in length for free.
2. Include the webcam recorder to capture the webcam video into the MP4.
3. Capture the video files from the browser directly without extra downloading.
Cons:
1. Need the latest Java installed in order to view and create the MP4 videos.
2. Cannot edit the recording videos without pay extra US$12.00 for upgrade.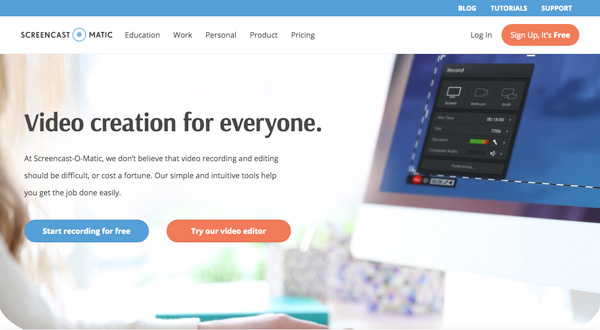 Top 4. AZ Screen Recorder
AZ Screen Recorder enables you to record HD MP4, or even FullHD MP4 of your Android phone. The MP4 recorder app also enables you to record audio from the mic and muxed into the screenshot video.
Pros:
1. Set up the video resolution, bitrate, screen orientation, timer and more.
2. Magic button to control your recording without showing anything on screen.
3. Record your face and your emotions in a small overlay window with ease.
Cons:
1. Additional payment in order to take full advantage of the MP4 recorder.
2. It does not support the internal sound recording for the output video file.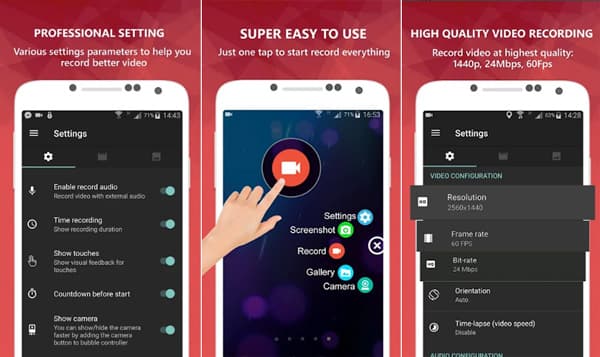 Top 5. DU Recorder
DU Recorder is a MP4 recorder that enables you to record the videos without jailbreak or time limitation. It is a high quality video recorder and captures the desired iOS screen perfectly.
Pros:
1. Choose the different resolutions, frame rates, bitrates and more others.
2. Offer screen as well as webcam recording simultaneously for MP4 files.
3. Multiple video editing features to touch up the MP4 files with high quality.
Cons:
1. It includes a watermark that will be displayed on every video you created.
2. Some sudden break down during the MP4 video recording session.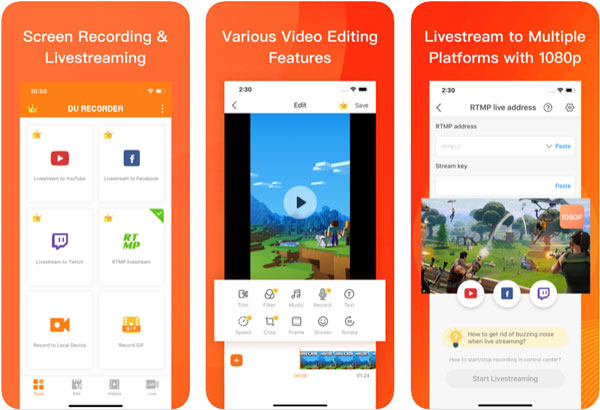 Part 2: FAQs about Recording MP4 Files
How to Record a MP4 video on Your iPhone for a Long Time?
Even if you have the latest iPhone with the best configuration, it is not a wise idea to record a long time MP4 video on your iPhone. Both the MP4 recorder and the running program will consume the RAM of your iPhone rapidly. Just mirror the iPhone to your Windows and Mac for a recording.
Why the Audio File Not Available for the Recorded MP4?
When you use QuickTime or the related MP4 recorder to capture the video files as MP4, you might find the audio file missing. Just install the Screenflow to record MP4 video with audio, or even use the professional Tipard Screen Capture instead.
Conclusion
In order to capture the high quality MP4 videos for your device, you can learn more about the 5 excellent MP4 Recorders from the article. Whether you need to record the gameplay or video tutorial, you can get a desired solution with ease. Tipard Screen Capture is a recommended MP4 video recorder you can use to capture the onscreen activities on your Windows and Mac with high quality.