Screencast-O-Matic Review and Best Alternatives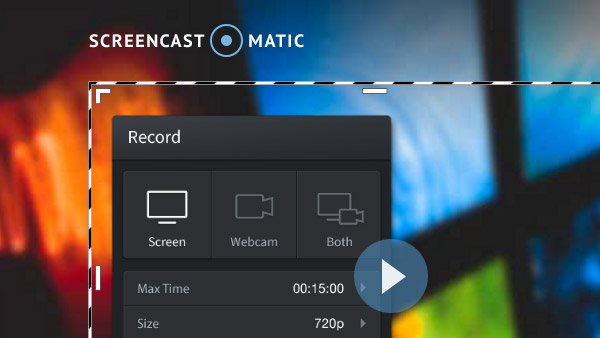 Screencast-O-Matic is a popular screencast tool. Many bloggers use it to take screenshots for eLearning. Because it operates as a browser extension, so everyone could use it, no matter their computers run Windows or Mac OS. And users could share the recording with friends online from Screencast-O-Matic website directly. That is more convenient than desktop programs. On the other hand, it is also an easy-to-use screenshot tool. All you have to do is just a few clicks within the website. In addition, it also provides a desktop program. Users could take screenshot with its desktop program when internet connection is not available. Therefore, this post will review and introduce some best alternatives.
Review of Screencast-O-Matic
When you want to learn more detail about the program, you can also check the Pros and Cons of Screencast-O-Matic with the following information.
Pros
1. It provides both online service and a desktop program, so users could choose any way depending on situations.
2. The process of screenshot with is straightforward.
3. It supports hotkeys to control the process of screencast.
4. Users could share the output online directly.
5. It could save the recorded video file as various formats, like MP4, AVI, FLV and even GIF.
6. It also offers a cloud service to every user; so you can save the outputs to Screencast-O-Matic cloud.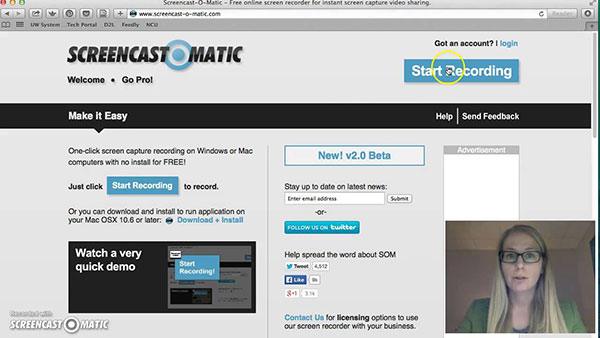 Cons
1. If the speed of your internet connection is not very well, using the website to record screen will be a disaster.
2. When taking screenshot, it will display a yellow circle around the cursor. Although the circle could help users to track their cursors, the program does not offer the option to disable it.
3. Unlike other screenshot programs, it does not have the option of full screen recording. So if you want to capture the entire screen, you have to use the control bar to set it manually. That is inconvenient at all.
4. It provides a free version with some limitations; however, if you want to enjoy editing features, you have to pay for pro version.
The best alternatives
1. Tipard Screen Capture
Tipard Screen Capture is the best desktop alternative of Screencast-O-Matic. Its most powerful feature is to record the screenshots with the highest quality. Most screenshot programs have quality issues, like frames missing or images blurring. But Screen Capture users do not have such concerns, because Screen Capture has integrated excellent algorithm.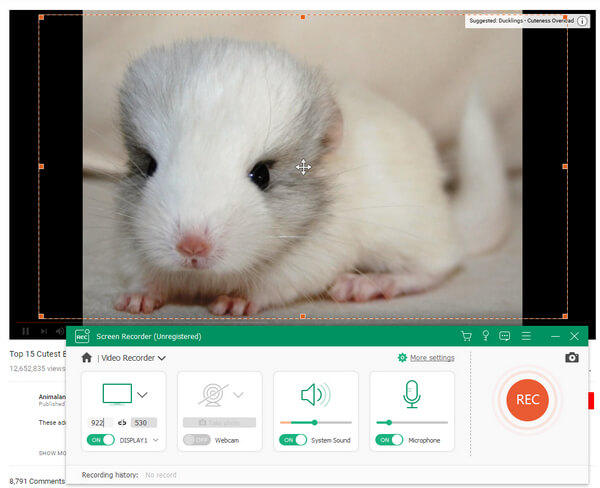 Other useful features of Screen Capture include:
1. This screencast program not only provides full screen recording option, but also allows users to customize the screen recording size.
2. Users could record the audio files with the video simultaneously and enjoy 100% original quality.
3. The Duration option is useful when you need Screen Capture to work alone. It will stop recording automatically after setting.
4. Before saving the output, users could preview the recorded videos within Screen Capture.
5. It supports most Windows system, including Windows 10.
6. This Screencast-O-Matic alternative allows users to save the recorded videos as high quality formats, like 4K videos and HD videos.
2. Flash Media Live Encoder
Flash Media Live Encoder is developed by Adobe. But unlike Photoshop, FMLE is a free program. With Flash Media Live Encoder, users could capture and stream the live videos and audios to Flash Video Streaming Services. So you can use this Screencast-O-Matic alternative to broadcast any live events, like concerts, sports, games and so on.
The basic features of Flash Media Live Encoder include:
1. It is a cross platform program, available for both Windows and Mac OS.
2. FMLE supports a wide range of input devices, like web camera, FireWire, screen and USB devices.
3. It has a concise interface, so everyone could navigate within FMLE easily.
4. Compared to other screenshot application, FMLE offers more settings related to video and audio, like format, channel, sample rate and other parameters.
5. After shooting, you can encode the output and upload it directly within this Screencast-O-Matic alternative.
3. Camtasia Studio
Camtasia Studio is a package of professional screencast applications, including Camtasia Recorder, Camtasia editor, Camtasia Theater, Camtasia MenuMaker and Camtasia Player. Compared to some simple screenshot programs, this Screencast-O-Matic alternative offers users more controls when taking screencasts and editing videos. The biggest advantage of Camtasia Studio is to integrate a dedicated video editing tool, so users could polish the recorded video within Camtasia Studio.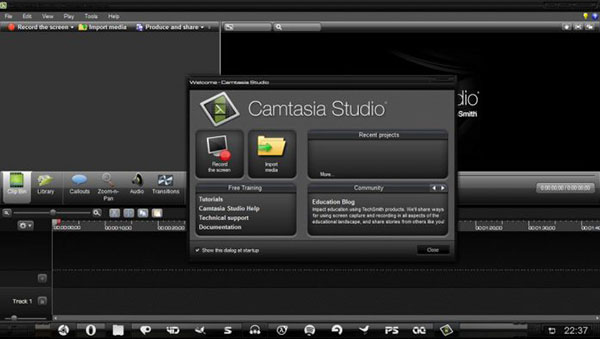 Other principal features include:
1. This screencast program promise to record and save the screencast as high quality videos.
2. Its interface is so friendly that beginners could use it easily.
3. User could use hotkeys to control the process of screencast. That is a convenient feature when creating video tutorials or game videos.
4. Its alternative is compatible with Mac OS and Windows.
5. After screencast and editing, you can save the output to Google Drive or share it to YouTube within this Camtasia Studio directly.
4. Capture Fox
Although Capture Fox is an add-on of Firefox, it is one of the best alternatives for Screencast-O-Matic. Firefox users could download and install it from Mozilla Add-ons page freely. And Capture Fox has all the necessary features that a screenshot program should have.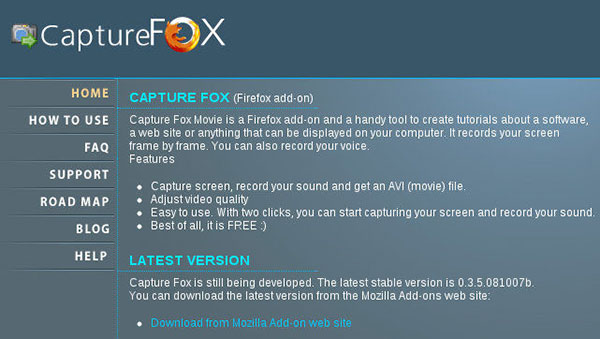 The basic features of Capture Fox include:
1. It is an extension of Firefox browser, so users do not need to install any third party software on their hard drives.
2. It is a cross platform tool, available on all the systems that support Firefox.
3. Capture Fox provides multiple recording modes, including whole screen, Firefox window and browser region.
4. Users could customize the video quality from low, moderate to high.
5. And Capture Fox will save the output as an AVI file.
6. This alternative also has the ability to capture audios and save them as WAV or MP3 separately.
5. Taksi
Taksi is one of the simplest screenshot programs. And that is one of the reasons that it appears on this list. Although Taksi does not have a gorgeous skin, this Screencast-O-Matic alternative is a powerful screencast program.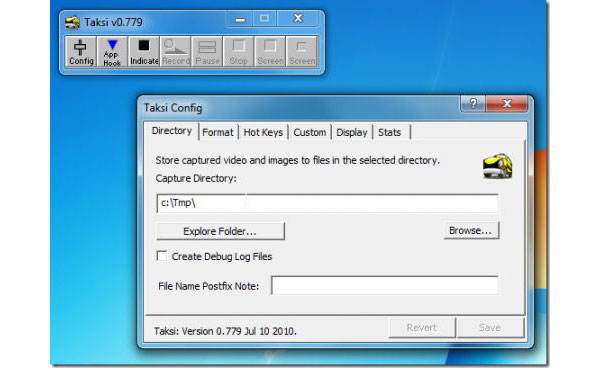 The impressive features include:
1. It is an open source application, so everyone could download it freely.
2. Taksi supports to capture screencasts with a few clicks.
3. The most important ability of this program is to capture 3D designed games and applications.
4. This alternative could save the video outputs as AVI and image outputs as PNG.
5. During recording, users could use hotkeys to control the software.
6. It has a developer community, so you can find tutorials and ask for help there.
Conclusion
Based on the introduction above, you might understand Screencast-O-Matic is not a perfect screencast program. And if you are looking for alternative, you can choose one from the best alternatives list in this article. Flash Media Live Encoder is the best screenshot and streaming program. Camtasia Studio is a versatile screenshot application. Capture Fox is one of the best screencast extensions for Firefox users. And Taksi is the best choice to capture 3D games. If you need a program to take high quality screencast, you can try Tipard Screen Capture.

Click here to join the discussion and share your comments
Screencast-O-Matic Review and Best Alternatives