Top 10 Free Online Screen Recorder Software You Can Get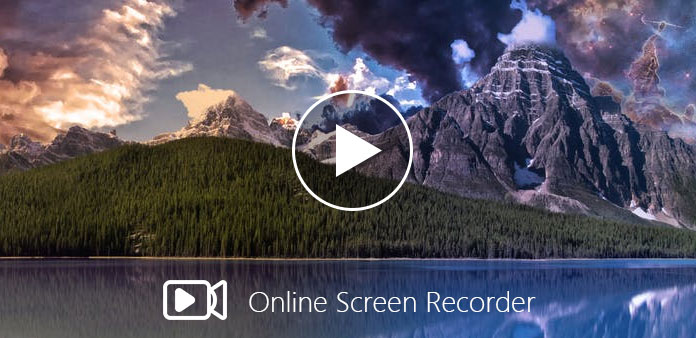 To record tutorials lightly and save more disk space, using online screen recorder to capture audio and video is easier. You do not need to waste time on downloading and installing screen recorder software. And there are more choices to try new online video-sharing websites. If you just need to record screen movements without too much editing, online video recorder will be better. In addition, you can get high quality recording videos and audios online too.
Tipard Screen Capture
Tipard Screen Capture is the Windows screen recorder online, you can record both audio and video in easy way. With customize screen capture filters and data lossless recording quality, Tipard can bring back all your online media operation in 100% quality. The well-designed interface enables users get video and audio record icons quickly and clearly.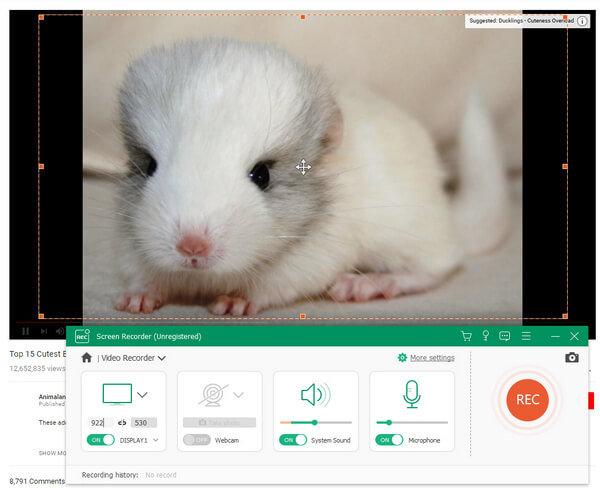 1. Customize capture screen size manually, or by length and width ratio.
2. Record audio by system voice or microphone, to avoid noise influence.
3. Set capture time to record video automatically, to free users from wasting time.
4. Add cursor effects to stress your key point, by highlight cursor, show cursor and etc.
5. Output record videos on Windows in MP4 or WMV, and save audio files in MP3, AAC, M4A or WMA as you wish.
You can use Tipard Screen capture to record gameplay, online calls, software introduction and many other online and offline works. Or you can regard Tipard Screen capture as special digital camera to shoot every moment on your Windows computer.
1. Webcamvideo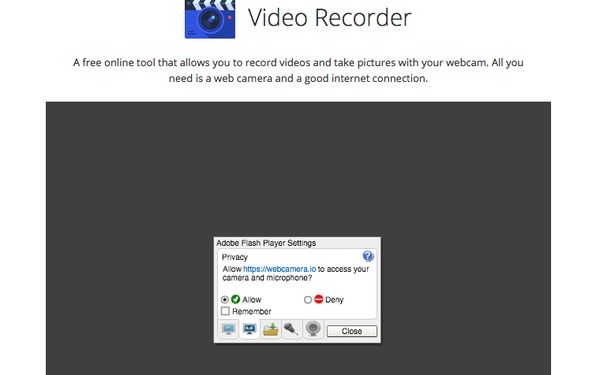 Webcamvideo is the simple but strong online screen recorder without download. Once your allow Webcamvideo to record on your computer, it will open your webcam. As a result, you can record videos with many filers. Moreover, the people search feature allows users to chat with others online. Thus, you can use Webcamvideo not only as free online screen recorder, but also online video chatter. The online recording process is very easy, click REC to start and tap again to pause. It is also acceptable to share or delete your online screen record video and audio.
2. Toolster Video Recorder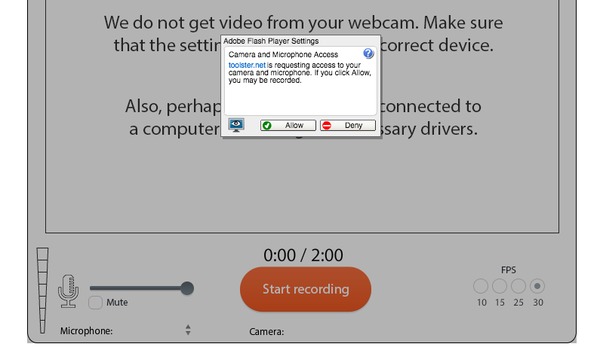 Toolster is the free online webcam recorder, with which you can grab video and voice easily. To run Toolster Video Recorder successfully, the first thing you need to do is permit it to use Adobe Flash Player. However, the limitation of this online screen recorder app is 2 minutes. Therefore, if you need to record desktop video over 2 minutes, you have to use other screen recorder software. The output online video recorder support users to get FLV format files, which mean users can download FLV recording screen videos for free.
3. Screencastify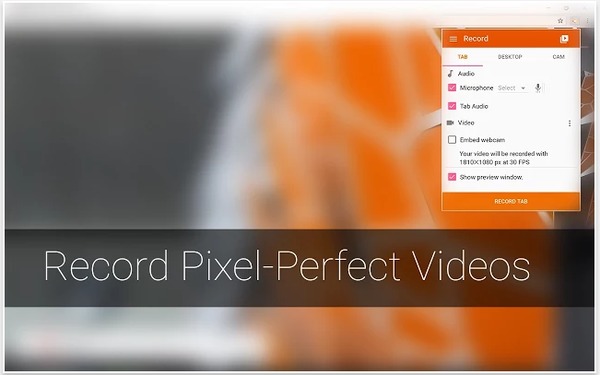 Screencastify is the screen record and edit online plugin for Google users. Every user can use online screen recorder Chrome book for 50 videos per month. Though watermarks will exist on your record screen videos, and your screen capture video length cannot over 10 minutes in free Lite version. However, if you choose the premium Screencastify version, you can use this Chrome software with no watermark and time limitation. It is still a nice choice to record video online, with over 3 million installs on Google as add on. All Screencastify HD recording media can be converted into MP4 and GIF too.
4. Fotofriend Video Booth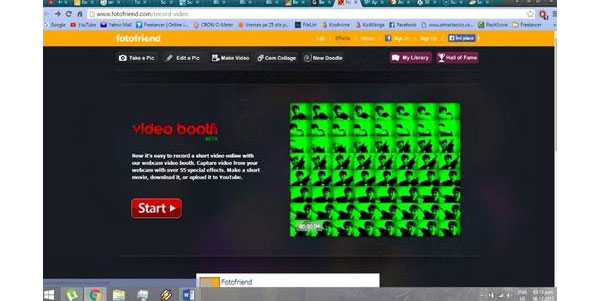 With over 55 video record effects for free, Fotofriend Video Booth allows users record online videos with webcam too. You can get high quality screen captures and videos by no download online recorder. By the video booth feature, it is easy to share and upload recorded screen capture videos. There are right mirror and top mirror, as well as web settings for you to set. In addition, it is also a fun idea to record selfie videos with special effects, provides from the free online screen recorder.
5. Screencastle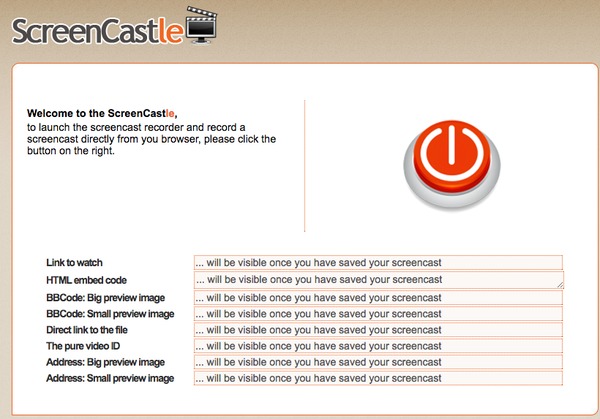 The unique services Screencastle can offer are 8 sources to view recorded videos. Varies from direct link to view screen captures and videos to preview images. You can get different with automatic video ID and address by Screencastle. As a result, it will be easier to check your casting videos and photos, whether they are popular or not. The record icon on your browser is a huge red icon, after pressing you can record a screen cast directly. To frequent usage, Screencastle allows users to add it as online screen casting Google BookMark.
6. Screencast-O-Matic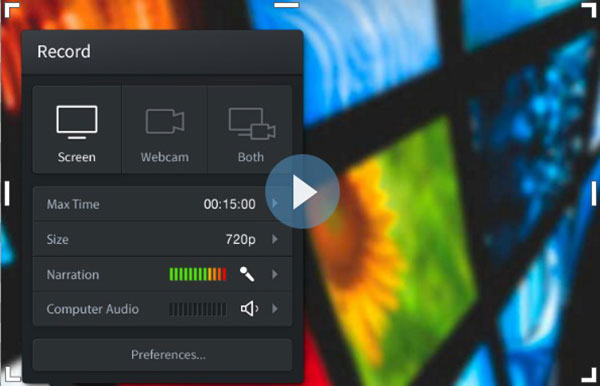 Screencast-O-Matic is the screen casting software with two versions, by free or pro versions. The free Screencast-O-Matic version allows users to record 15 minutes videos, by screen or webcam recording. After that, you can share to YouTube or save to your computer disk. As for paid one, you can get more video casting editing features. For instance, the online screen recorder offers no watermark video recording, and you can get edit tools without time limitation, as well as taking screenshots. Moreover the sharing website became more too, you can share to Google Drive, Vimeo and Dropbox. There is one thing only for Windows users, Screencast-O-Maticprovide record computer audio Windows only service.
7. Screen Recorder Pro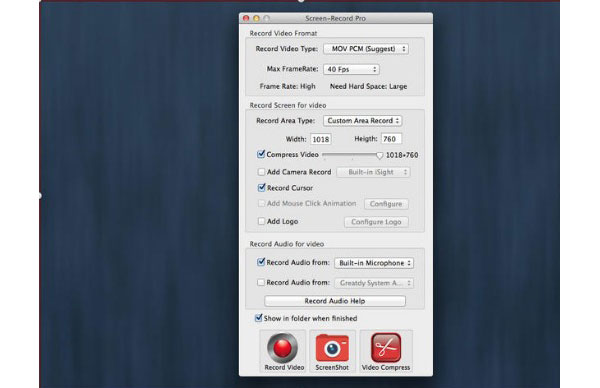 Screen Recorder Pro is the online screen recorder for iPad, iPhone and Mac services. You can record 30 frames to 60 frames in every second. Screen Recorder Pro cast range audios and videos. As for recording sound, users can choose voice sources from mic audio, computer audio, online audio, microphone, game and etc. As for casting videos, there are more online video recording filters you can get. For instance, the customize screen capture size, webcam and no time limitation give iOS and OS X users more operating space. Moreover, you can add logos wherever you want during recording screen. The output video casting format can be MOV and MP4.
8. Apowersoft Free Online Screen Recorder
Apowersoft has download video recorder for PC and phone users, or you can use web-based online screen catcher to record videos for free too. During recording desktop allocations, you can also open insert webcam to record yourself at the same time. Apowersoft can capture video and audio in high quality simultaneously. In addition, you can edit and add texts or other highlight cursors on screencast directly. After recording, there are many sources you can share, to ShowMore, YouTube, Facebook and more.
9. ScreenToaster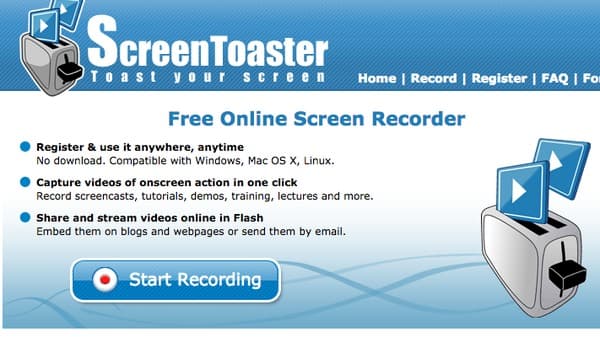 ScreenToaster is the online screen recording tool, which works well on Windows, Linux and Mac OS X. you do not need to download for common usage, ScreenToaster permit everyone online screen record filters by one click. No matter you want to capture screencasts, demos, trainings or lectures, ScreenToaster can catch all your online operations. The online screen record editor suit Chrome and Safari well. At last, the online screen recording website can share ad stream videos online by email.
10. PixelProspector Screen Recorder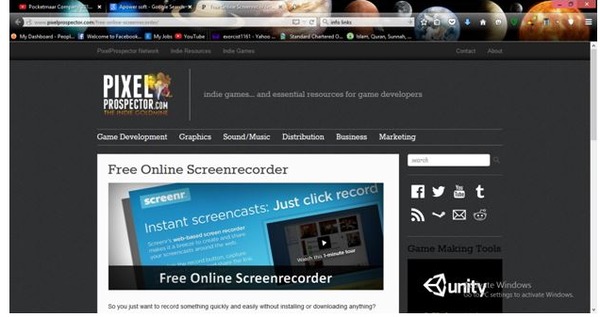 PixelProspector Screen Recorder is the free online screencast capturer, with 5 minutes time limitations. As for OS, it can be free online screen recorder both for Mac and Windows users. To start recording videos online, you need to sign up for Twitter account or register as new users. after recording, your casted videos will be saved as MP4 format. Therefore, there is no need to convert recorded video format to edit or view on other media players.