What is the HEVC Video Extensions , and Where to Download It
Many smartphones nowadays support the HEVC codec for playback. As a matter of fact, many of them have the capability to save the said codec or extension in a high quality using the H.265, which increases the video compression to save significant storage. However, as cliche as it is, a video with an HEVC extension is not easy to acquire or download, especially without a proper method on a desktop. Fortunately, some methods will help you to download and reproduce HEVC videos. So, if you want to expound videos with HEVC extension on your Windows 10 and 11, then learn more about these HEVC Video Extensions thoughts through the information below.

Part 1. About HEVC Codec Extension
What is HEVC?
HEVC is the abbreviation for High-Efficiency Video Coding, or H.265. This standard video compression significantly improved compared to AVC, which means Advanced Video Coding or H.264. Furthermore, an HEVC can compress video files while maintaining high quality, making it an important technology for efficient video transmission, storage, and streaming. HEVC Code Extension, on the other hand, is referred to codec packs or software applications that are enabled to encode and decode video content with HEVC.
Many modern platforms and devices, such as computers, smartphones, and streaming services, can play and stream HEVC. However, because of the patent licensing on HEVC technology, software, and devices must have a separate licensing fee to support HEVC files. For that reason, the HEVC Code Extension took place. Hence, to supply you with good reasons to acquire and keep the HEVC on your track, here are the key features you might want to see.
Key Features
• Higher framerates and resolutions.
• Higher efficiency for compression.
• Better video quality with lower bitrates.
• It supports 10 and 12 bits for color depth.
• Powerful flexibility for a wide range of applications.
Pros:
• HEVC codec has improved methods for intra-predictions to reduce spatial redundancy
• HEVC live streaming encoder will always be relevant.
• It has a higher image display quality than regular video formats.
• It is compatible with modern software and applications.
Cons:
• It has great potential to require licensing costs.
• It requires higher system and battery consumption when decoding.
• It may not be compatible with the standard media players.
• With intensive encoding and decoding process.
Why Download HEVC?
Here are some factors that may contribute to seeing the advantages of downloading HEVC.
• You can save bandwidth when you download online videos since encoded HEVC contents have bandwidth requirements.
• If you are using modern devices, you can ensure no compatibility issues will be met.
• If you are a content creator, your viewers will enjoy more on watching HEVC due to its quality.
Meanwhile, even if the factors excite you to acquire HEVC, you must also see the need to acquire the codecs for HEVC. In actuality, without the right codec and a good HEVC video extension, you won't be able to display the said file. In addition, to the restriction brought by the absence of the said video codecs and extensions, you will also be restricted from distributing the videos to share them with your family.
Part 2. Where to Download the HEVC Codecs on Windows 10/11
Unfortunately, there are no built-in HEVC video extensions on Windows 10 and 11, and the built-in Windows Media Player is not working with HEVC videos. For this reason, to manipulate your HEVC media files on your desktop, you will be required to use a number of different codecs at once to make video playing easier. However, many sites may likely be full of spyware or adware and pose software conflict. Thankfully, Microsoft has officially introduced HEVC codec extensions, which a charge of $0.99.

Part 3. Convert HEVC to MP4 to Play Without HEVC Video Extension
What will you do when for some reason, your computer can't download the HEVC codec? The best way is to convert the file to MP4, the universal format, to still play your desired videos. That being said, it is best to use Tipard Video Converter Ultimate. This converting tool is available to install on Windows and Mac-operated computers with a low system requirement. Furthermore, it is infused with advanced acceleration technology that will help you transform files up to 60x faster. Additionally, this program supports more than 500 video and audio formats to choose from.
With this Tipard Video Converter Ultimate, you can convert your HEVC files into batches without losing any of their quality. As a matter of fact, you can refine your video files by scrutinizing its amazing features like the video enhancer, compressor, color corrector, merger, and a lot more. With the overall performance of this video converter, you will get beyond what you expected. Hence, here's a comprehensive instruction on how to use it on HEVC to MP4 conversion.
Step 1Fire up the software after installing it on your computer. Please use the Download buttons above to easily acquire the software. Then, click the Plus button at the center to upload the HEVC files.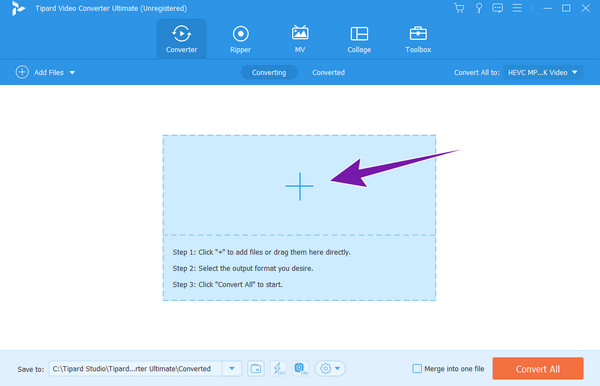 Step 2Next is to set the output to MP4. To do so, click the drop-down arrow from the Convert All To portion, and look for the MP4 selection to click.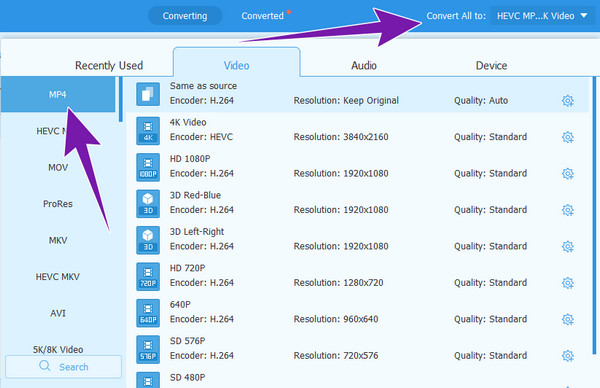 Step 3After that, hit the Convert All button.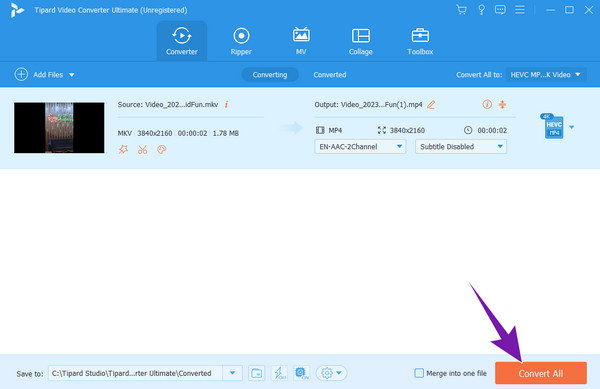 Tip:
In fact, this converter can also work as a video player, as you can preview all imported HEVC or other videos in it without downloading any extra player codec or extensions.
Part 4. FAQs About HEVC Codec and Extension
Does VLC have a HEVC codec?
Yes. The VLC supports HEVC or H.265 video compression without any additional plugins needed.
Does H.264 have better quality than HEVC?
No. H.264 doesn't have better quality than HEVC. As a matter of fact, H.264 is the predecessor of H.265, bringing a better level of quality.
What software opens HEVC files?
Various media players support HEVC. A good example is the VLC.
Do I need HEVC video extensions on my desktop computer?
Yes, if you want to open HEVC on your computer. Indeed, there is no built-in HEVC video extension for almost all desktops.
What computers support HEVC?
Nearly all computers can support the HEVC as long as they have a dedicated player for it. While it is true for most desktops and laptops, the macOS gives the upper hand on this, as it comes with built-in support for playing HEVC.
Conclusion
With the information given above about the HEVC codec, you can resolve all your queries about the said video extension. We hope you have fetched all the essential details that you can apply when a task regarding HEVC is given. You can still have HEVC encodings in a different format, such as MP4 and MKV. Therefore, have the Tipard Video Converter Ultimate on your side for the best assistance you can ever have in video conversion.