5 Best Video Players for All Formats Windows 10 PC and Mac
Many people choose to watch videos during a break. If you are pursuing high quality visual and sound experience, it's better to find a good video player. But if you have a variety of videos in different formats, you should find an almighty multimedia video player. You can choose a good video player for different types of video formats is the best choice if you want to enjoy these popular TV shows and Hollywood flicks. In this post, we shall share the top 5 video player that support all popular video formats. You can get to know them better through the reviews and.

Part 1. Top 5 Video Player for All Formats
1. Tipard Blu-ray Player - Remarkable Multimedia Player
Tipard Blu-ray Player is a remarkably comprehensive media player that supports various kinds of 4K, 8K, 1080p HD videos, audio files and Blu-ray/DVD discs, folders, ISO image files. With its friendly user interface, you can get the best entertainment experience. This powerful media player can play all popular media files like MP4, MKV, FLV, WMV, TS, M2TS, MXF, MP3, etc.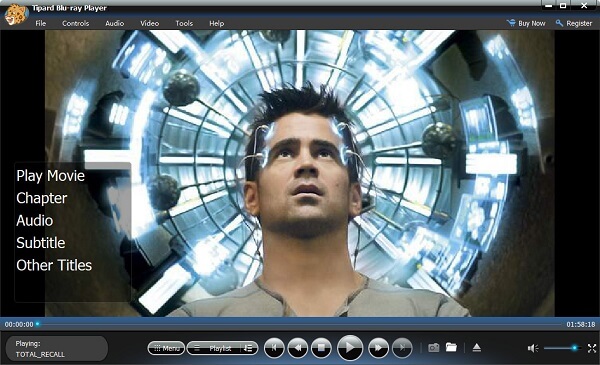 Pros
1. Play TS, MTS, MP4, FLV, MKV, MXF, AVI, WMV, MP3, etc.
2. Play Blu-ray and DVD discs, folders and ISO images files.
3. Create playlists for Blu-ray, DVD, and digital media files.
4. Take screenshots when playing any media files.
Cons
1. Lack of other features like streaming, downloading, etc.
2. VLC Media Player - All Formats
VLC Media Player is a free and open source video player that handles all video formats, 4K/ultra HD video files, and various streaming protocols. It is available on all platforms like Windows, Mac, Linux, Unix, iOS and Android. VLC Media Player supports playing most codecs like MPEG-4, MPEG-2, H.264, MKV, WebM, WMV, MP3 and more.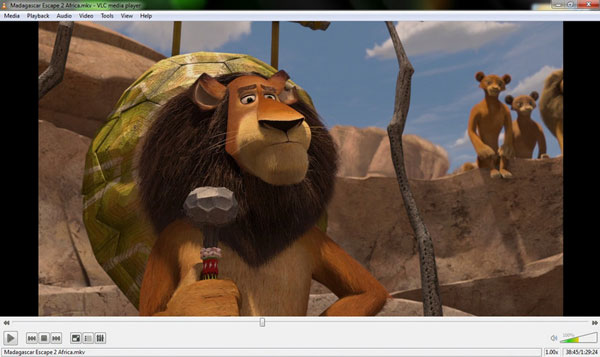 Pros
1. The user interface is simple and straightforward.
2. Play video files or music without any codec installed.
3. The built-in equalizer boosts the sound without losing quality.
Cons
1. Some features like subtitles on mobile app are not available.
2. Some video file formats don't work smoothly with the app.
3. KMPlayer - Various Codecs Supported
KMPlayer is a well-known multimedia player for all formats, which supports various codecs and high-definition services. You can decode various video formats like 3D, 4K, Ultra HD, and extend the video player's compatibility. Meanwhile, it allows you to enjoy your DVD or Blu-ray movies with crystal clear image quality. It can play file formats smoothly, including WMV, MOV, FLV, OGM and 3GP.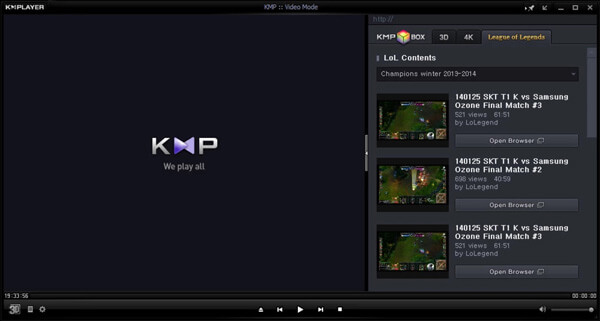 Pros
1. It is versatile and highly compatible with numerous file formats.
2. It can customize the interface to make it a different program.
3. Adjust 3D and VR settings and customize the subtitles.
4. It allows you to record audio and video files.
Cons
1. There are a lot of adverts while playing the movie.
2. Not all features are intuitive to use.
3. It doesn't have an English manual.
4. GOM Player - VR Player for All Formats
GOM Player is a versatile and feature-packed multimedia player, which supports a vast range of file types like MP4, AVI, FLV, MKV and MOV. This program will automatically search and sync subtitles for the movie that being played. The Virtual Reality (VR) technology makes the GOM media player stand out among other players. You can search and play the VR content from YouTube within this video player.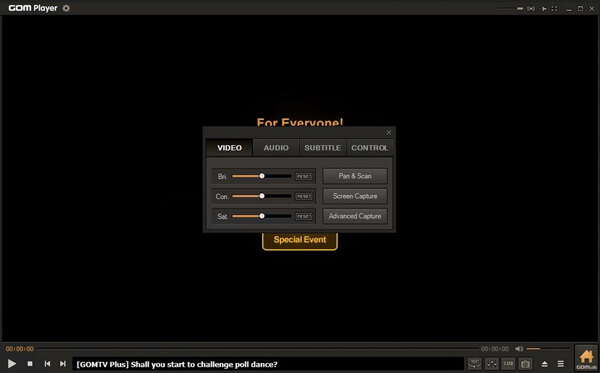 Pros
1. It can play VR content and support a vast library of subtitles. (Find VR player for Android and iPhone )
2. Users can play 360-degree video and 8K video with this player.
3. Screencast feature helps play the video to a larger screen on TV or projector.
Cons
1. There are adware when installing.
2. It is bundled with extra software.
5. 5KPlayer - Video Player for All Formats
5KPlayer is an all-in-one media player and downloader for all formats. 5KPlayer supports almost all popular videos, and you can easily play 4K/8K HDR videos in MP4, AVI, MTS, FLV, M2TS and WMV. When talking about audio, 5KPlayer automatically detects RStereo, DTS and Dolby surround sound from all audio formats like MP3, AAC, WMA and AC3.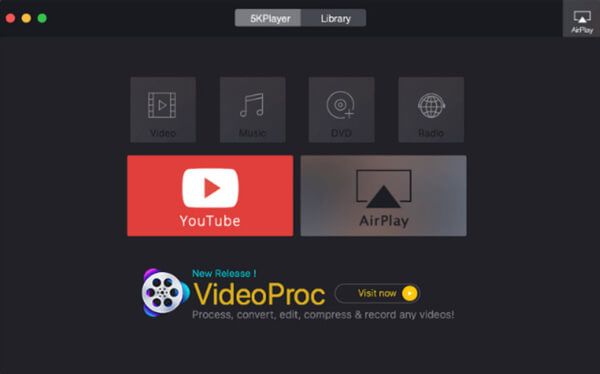 Pros
1. Play 4K/8K/1080p HD videos and 360-degree videos without any lags.
2. It offers a multimedia library to sort, edit and share with friends.
3. The TrueTheater technology ensures a great viewing experience.
Cons
1. It adjusts changes to your system without notice.
2. There are pop-up ads in the program.
Part 2. FAQs of Video Player for All Formats
1. Does VLC Media Player play 4K videos?
Yes. The latest version 3.0 of VLC Media Player comes with better support and capabilities for playing 4K videos.
2. Which video players is best for Windows 10?
There are many video players that are compatible with Windows 10, including Tipard Blu-ray Player, VLC Media Player, 5KPlayer, Plex, Kodi, DivX and PotPlayer.
3. What file types can VLC play?
VLC can transcode or stream audio and videos into several formats. It can play ASF, AVI, FLAC, FLV, Matroska, MP4, MPEG-2, OGG, TS, WAV, WebM and QuickTime file format.
Conclusion
A good video player indeed give you a good viewing experience. Each of the video players we featured in this article has its highlights to play any types of video/audio formats. Hopefully, this article has helped you find the best video player for all formats. Which is the best video player you are going to choose? Leave your comment at the bottom area.