Difference Between H.264 and H.265: Best Video Compression
H.264 vs.H.265, what are they? Both of these codecs are by the Moving Picture Experts Group (MPEG). They are the standard video codecs or compression that give high-quality streaming, transmitting, and reducing video file sizes. H.264, or the HEVC, is an earlier version or the antecedent of the standard codec, which is more established and widely supported. The H.264 is still a good choice, especially for legacy device compatibility. Additionally, it is often used for Blu-ray discs and other media. H.265, on the other hand, is the latest and more advanced version. Furthermore, this H.265 is generally favored for encoding streaming and other high-quality applications about videos, for it offers a higher-quality video with lower bitrates. Now, for the question, is H.265 better than H.264? The best answer will depend on your hardware and certain needs.

Part 1. H.264 vs. H.265
| Aspect | H.265 (HEVC) | H.264 (AVC) |
| --- | --- | --- |
| Quality | Better | Good |
| Compression Method | Lossy | Lossy |
| Size | Small | Big |
| H.264 vs. H.265 Encoding Time | Slow | Fast |
| Popularity | Still gaining popularity | Widely used |
| Audio Output | Different audio codecs | Different audio codecs |
| Bitrate Reduction | 50-60% | 50% |
Part 2. Do Windows and Mac Support H.264 and H.265 By Default
Windows and Mac's support level for these codecs varies on their versions and software use.
Windows
• Windows 10 and 11 have built-in support for H.265 or HEVC coding. There are some of the older versions of Windows that might not natively support the H.265, and if that's the case, you will need third-party HEVC video extensions, codecs or software that you could use to enable the playback. In other words, the video codec support for H.265 might require additional software installations on certain versions due to some limitations to specific editions.
• The H.264, on the other hand, is widely supported by nearly all Windows-based computers.
Mac
• Both H.264 and H.265 (HEVC) are natively supported by macOS High Sierra (10.13) and later versions, including macOS Sonoma. This means you can enjoy playing your H.265-encoded videos with the help of the built-in media players without installing a third-party player.
Part 3. Top 2 Best Players to Play H.264 and H.265
Top 1. VLC
You do not need to convert H.265 to H.264, for VLC supports both for playback. This popular and open-source media player is known for its comprehensive ability to handle H.264, H.265, and other file media formats. This means you can already stream your videos with such codings by having VLC media player on your computer, even if the 4K ones.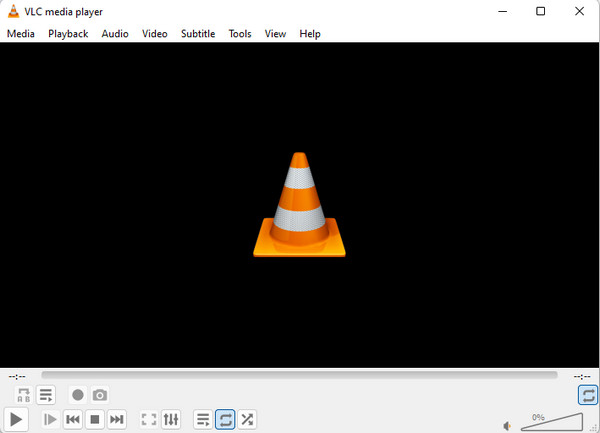 Key Features
• Cross-platform compatibility.
• Multiple video formats and codecs support.
• Hardware acceleration.
• Playlist management.
• Plug-in extensions.
Top 2. Tipard Blu-ray Player
Tipard Blu-ray Player is another good multimedia player program that doesn't only specialize in playing Blu-ray discs, as the name suggests, but the various media files as well. Like the previous media player, it also supports H.264 (AVC) and H.265 (HEVC) codecs and plays them seamlessly and excellently. Furthermore, this software has many great features to appreciate, especially its ability to playback up to 4K videos. Thus, here's a list of its great features.
Key Features
• Support for any video format you have.
• Cross-platform compatibility.
• Easy and quick navigation.
• Advanced features and playback controls.
• Hardware acceleration.
• Playlist management.
Part 4. How to Convert H.265 and H.264
Two videos may have the same format but different video codecs. Thus, if you want to convert H.265 to H.264 codec while maintaining its format type, then work using Tipard Video Converter Ultimate. It is a powerful video editing program that caters to your video conversion and video enhancement job. Tipard Video Converter Ultimate offers a wide range of capabilities, enabling you to meet a remarkable and flawless conversion process of more than 500 formats and their various codecs.
Moreover, Tipard Video Converter Ultimate has additional features such as a ripper, MV maker, and collage maker, which help you transform even your DVDs into your desired digital video formats. Then, edit and enhance them to have beautified files. In addition to that, this powerful converter supplies many video editing tools such as a trimmer, merger, cropper, color corrector, effect applicator, watermark editor, and many more. Meanwhile, here are the steps to follow to convert and maintain the quality of H.264 and H.265.
How to Convert Bulk Videos with H.264 and H.265 Codecs
Step 1Install the converter to your computer by clicking the free Download buttons above. Then, once you launch it, click the Plus button you see on the main interface. This is to upload the bulk videos you need to convert.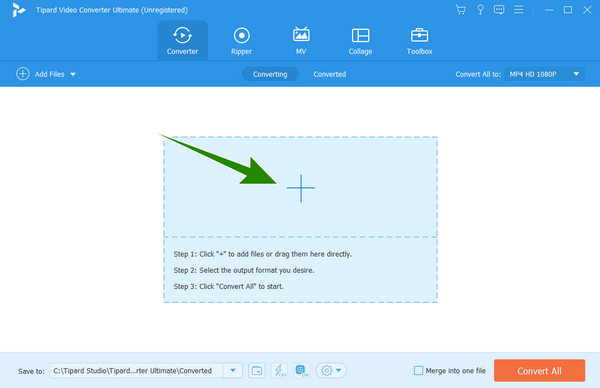 Step 2After uploading the videos to the interface, you can now set them to your preferred codec. How? Click the arrow button on the Convert All To section, then choose your desired video format with the codec you want to use.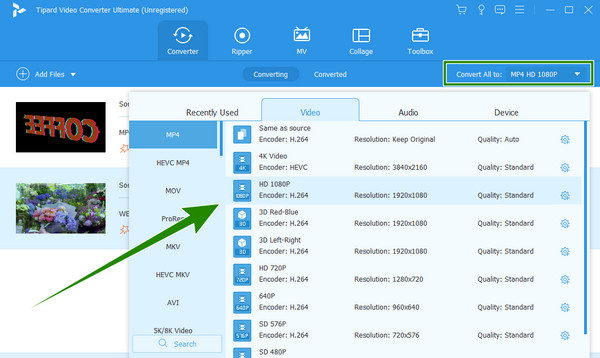 Step 3After that, click the Convert All button when you get back to the main interface. Then, you will just need to wait for a couple of seconds and check the converted videos afterward.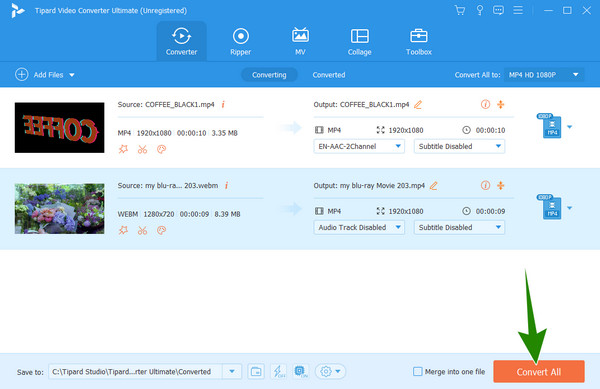 Part 5. FAQs About H.265
Does H265 reduce quality?
H.265 is an improved video compression, but using this codec can still affect the quality in some factors like the source material, encoding setting, bitrate, and more.
What is the disadvantage of the H265 codec?
H.2665 is an advantageous video codec. However, there are also disadvantages associated with H.265, such as the licensing costs, hardware requirements, compatibility, decoding complexity, and more.
Why is H265 not popular?
H.265 is now a popular codec at some point. It is just that H.264 is used more due to the disadvantages of H.265.
Can Chrome decode H265?
Yes. Chrome's new update has the ability to support the decoding of HEVC or H.265.
Does Netflix use H.265?
Yes. Netflix and other video streaming platforms are currently using the H.265 or HEVC codec for their video content. This is to stream videos in 4K quality.
Conclusion
This article compared H.264 and H.265 by providing you with the information needed when choosing a video codec for compression. You learned that H.265 has better technicalities, but H.264 has better compatibility. Meanwhile, you can achieve such codecs to your videos by converting them with the help of Tipard Video Converter Ultimate.