AV1 vs. H.265 vs. H.264: The Showdown of the Best Video Compression
As the new gold standard of video format, AV1 codec delivers better video quality than the older codecs like H.265 and H.264. But does this make the AV1 codec the most superior one among these three? Are there other differences between these three codecs? In line with these questions, this article is presented to provide you with sufficient information about three of the most famous video codecs today. We will cast out the analysis between the battle of AV1 vs. HEVC and AVC or H.264 and H.265. In that case, if you want to learn about the information, continue reading until you finish the content below.

Part 1. Introduction to AV1, H.265, and H.264
What is AV1 Video Compression
AV1 is a video codec developed by an organization called Alliance for Open Media that includes different major digital manufacturers and giants such as Google, Apple, Samsung, etc. AV1 was developed to have an open, affordable, and efficient video standard for all users and media devices. Based on our observation, the other format standards for video, such as the HEVC and AVC, are costly to license. This is why AV1 has begun development for due to the same reason. Furthermore, AV1 codec has more suitable compatibility for wide usage and efficiency, especially if you want to keep the bulk of HD or UHD streams simultaneously. Aside from focusing on providing HD videos, it also offers benefits to videos with low resolutions since various decoders of AV1 start at 240p at 30fps.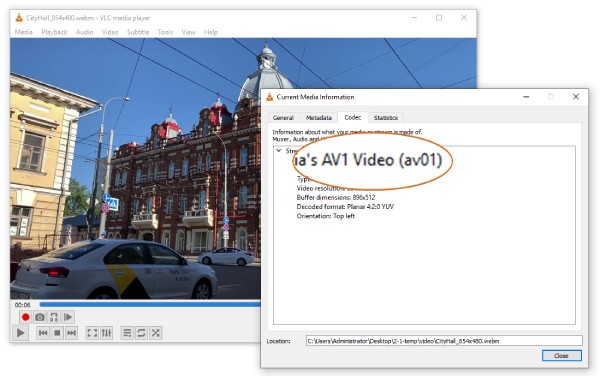 What is H.265 Video Compression
Developed by the ISO/MPEG and ITU-T Video Coding Experts Group, H.265 is a standard video compression also known as the HEVC (High-Efficiency Video Coding) codec.
This codec is the successor to the H.264 or the MPEG-4 AVC, which means Advanced Video Coding, and it is designed to offer significantly improved video quality and compression efficiency than its predecessor. This is because H.265 utilizes more advanced coding methods like improved motion compensation, larger block sizes, enhanced prediction techniques, and other entropy codings. Additionally, it is also worth mentioning that Microsoft's Windows Media Player does not come with a HEVC video extension and requires you to download a paid one.
What is H.264 Video Compression
H.264, or Advanced Video Coding (AVC), is the predecessor of H.265, developed by the same organizations. It is also a commonly used video format for transmitting and compressing video content over different communication channels, such as broadcast television, internet, Blu-ray discs, video conferencing, and many more. Furthermore, it utilizes various coding techniques to achieve efficient compression, such as blocked-based motion compensation, adaptive quantization, entropy coding, and more.
Extended Reading:
H.264 Compression - How to Compress H.264 Files Easily
Part 2. AV1 vs. H.265 vs. H.264
See the ACV vs. AV1 vs. HEVC comparison table below.
Aspects
AV1
H.265
H.264
Compatibility
Latest software and devices.
Wide support.
Wider support.
Application
Online streaming.
Streaming and broadcasting.
Streaming and broadcasting.
File Size
Small.
Small.
Bigger than H.265 and AV1.
Filed
Video conferencing and surveillance.
Video conferencing and surveillance.
Video conferencing and surveillance.
Quality
High quality at low bitrates.
High quality at low bitrates.
Good quality but lower than AV1 vs. HEVC quality.
Compression
Advanced.
Advanced.
Established.Established.
Method
Transform Coding.
Global Motion Compensation.
Tile-based Parallelism.
Entropy Coding. Intra-Prediction.
Variable Block Sizes.
Adaptive Quantization.
Transform Coding.
Global Motion Compensation.
Entropy Coding.
Intra-Prediction.
Intra-Prediction.
Variable Block Sizes.
Adaptive Quantization.
CABAC Context Modeling.
Transform Coding.
Global Motion Compensation.
Tile-based Parallelism.
Entropy Coding.
Intra-Refresh.
Variable Block Sizes.
Part 3. Convert AV1, H.265, and H.264 Losslessly
f you happen to have the urgency to convert AV1 to H.264 or to H.65 or vice versa, a good video converter like Tipard Video Converter Ultimate is needed. Tipard Video Converter Ultimate is a flexible multimedia software by the Tipard Studio, and it caters as a comprehensive solution for converting, editing, and enhancing different video and audio files. With the wide-ranging capabilities of this software, you will be enabled to a seamless conversion process among AVC, HEVC, and AV1, making these files more compatible with devices and platforms.
Furthermore, this converter is also incorporated with ripping, MV, and collage features, allowing you to convert your DVD contents into digital video formats and then edit them for your playback convenience. Additionally, this Tipard Video Converter Ultimate offers powerful video editing tools, empowering you to trim, merge, crop, correct color, apply effects, and more to the videos before the conversion. Overall, this converter is the best choice for your diverse needs, an easy-to-use and all-encompassing solution for managing your AV1, HEVC, and AVC conversion tasks.
How to Convert AV1 to H.264 or H.265
Step 1Fire up the video converter after installing it on your computer. Then, click the Plus icon on the main interface to upload all the videos you want to convert to H.264. Yes, you can upload bulk videos here and convert them all at once.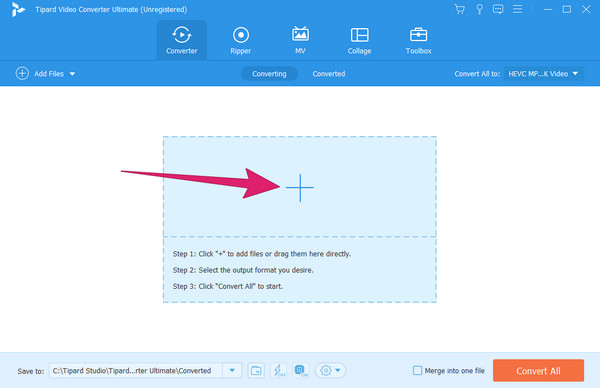 Step 2Once the videos are in, go to the Convert All To section and click its arrow button. Then, on the new window, choose the video format with H.264 codec or H.265 (HEVC).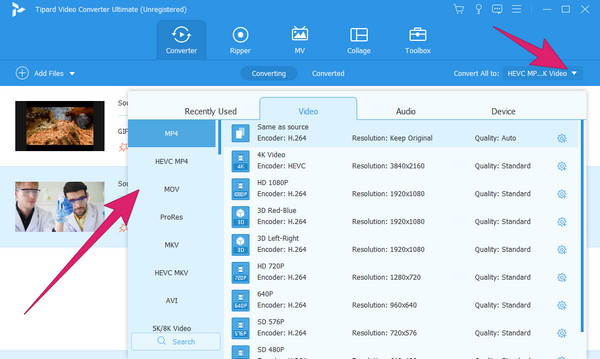 Step 3You may already hit the Convert All button after choosing the output format with the H.264 codec. Wait for the rapid process to finish, and when the process is done, you can check in the Converted section.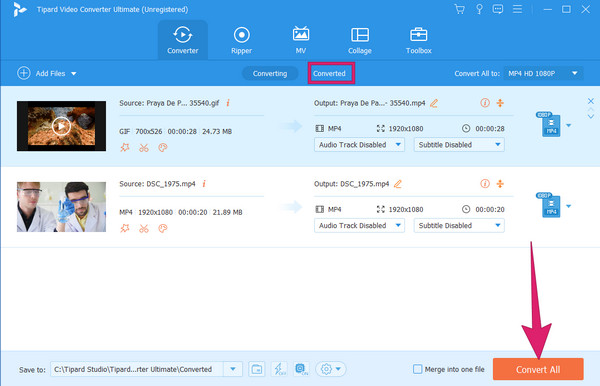 Part 4. FAQs About AV1
Is AV1 the future?
No one knows the future yet. That is why saying that AV1 is the future is not convincing. However, this video codec has advanced coding algorithms and techniques that we may say it is still good to use in the future.
Is YouTube moving to AV1?
YouTube is adapting this video codec to provide a higher efficiency and quality of video.
Does Discord support AV1?
Yes. Discord has been the first communication platform to support AV1. This is because Discord aims to tend to the demand of the gamers to own the latest ware.
Is AV1 encoding better?
Yes. AV1 is considered to have a better compression efficiency than the previous video codecs. Aside from the compression, it is also believed to be better in quality and in future-proofing.
What are the downsides of AV1?
While AV1 serves to be a promising video codec, there are still downsides lay on it. Such downsides are the high computational demands, lack of standard hardware support, uncertainty on licensing and pooling, higher bandwidth, and more.
Conclusion
Those are the 3 desktop and 3 online AV1 converters that ranked on top. We cAlong with the showdown of the pieces of information about H.264 vs. H.265 vs. AV1 above, you will see that it is the AV1 that is at the highest hand. However, it is not always rainbows and butterflies when you choose it, for it also has some drawbacks. On the other hand, if you want to convert your AV1 videos to other video codecs like H.264 or HEVC, then you know what to use: the Tipard Video Converter Ultimate.