VLC Media Player for Mac Windows Review and Best Player Alternative
When the default player like QuickTime Player on Mac or the Windows Media Player on PC fails to open your media files, due to some compatibility issues. You need to get a third-party player to play them. In that case, VLC media player is always a good option for you.
VLC is one of the most popular media file players which can support most multimedia files, DVDs, audio CDs, VCDs, andstreaming files. VLC media player brings different versions for users to play videos and audios on Windows 10/8/7 PC, Mac, Linux computer and portable iOS/Android devices.

You may wonder if VLC is safe and better than Windows Media Player or QuickTime. Want to know more about VLC? Considering that, we like to give you a detailed VLC media player review. You can learn the key features of VLC and how to use it. Moreover, we introduce you with 3 best alternatives to VLC media player.
Part 1. VLC Media Player Review
VLC media player is a free and open source cross-platform multimedia player which supports almost all video and audio formats. It offers everything you need from a player tool. It enables you to play media files in any popular video and audio formats, such as MPEG-2, MPEG-4, H.264, MOV, AVI, FLV, MKV, WebM, WMV, MP3, AAC, M4A, and more.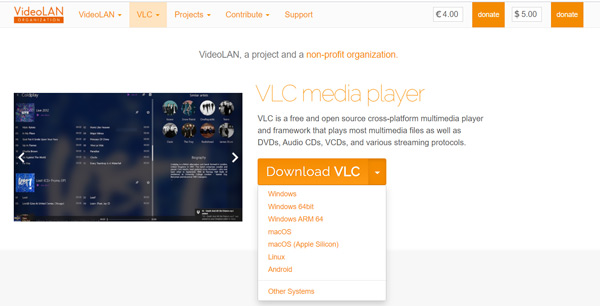 VLC media player requires no additional codecs for the playback. It has the capability to optimize video and audio playing according to your device. VLC is designed with hardware decoding on most platforms. Moreover, it offers the most complete feature-set over the video, subtitle synchronisation, various video and audio filters, interface skins and a big library of add-ons.
Besides the basic playing feature, VLC media player carries many other extra useful functions. It provides users with streaming service. More importantly, all these comprehensive format support, streaming, downloading and much more features are totally free. There is no no spyware, no ads and no user tracking.
Part 2. How to Use VLC Media Player
From the VLC media player review above, you can know the basic features of it. As it mentioned above, VLC offers different versions for you to use on different devices. You can navigate to its official site and then free download a suitable version on your Windows 10/8/7 PC, Linux, or Mac computer. If you want to use VLC media player on portable iOS/Android device, you can go to App Store or Google Play Store to install it.
When you want to play media files with VLC media player, you can open it and then click the Media menu. From the drop-down list, choose the Open File option. Now you can select and play your video or audio with ease. Here you can also drag and drop a file onto the program window for the playback.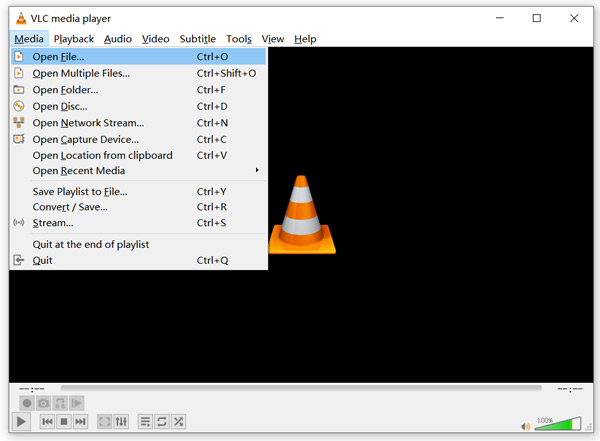 As you can see, VLC also allows you to stream online videos. You can choose the Stream option, click on the Network tab and then enter the network URL. Then you can click the Play button to start analyzing and playing the video.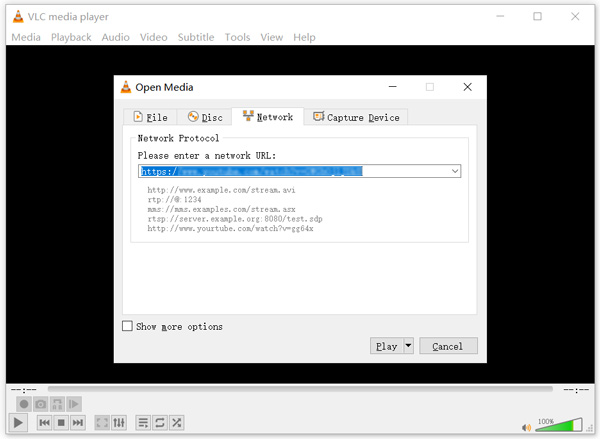 Part 3. Top 3 Alternatives to VLC Media Player
Besides VLC media player, there are a large number video and audio playing tools offered on the market for you to choose from. Here in this part, we like to introduce you with 3 great VLC alternatives.
Tipard Blu-ray Player
Blu-ray Player is a great alternative tool to VLC media player which supports more video and audio formats. It has the capability to play your media files in any frequently-used video and audio formats like MP4, MOV, FLV, AVI, TS, MTS, M2TS, WebM, WMV, MXF, MKV, AAC, M4A, MP3, APE, FLAC, and more. Similar to VLC, it also allows you to directly open and view DVD disc, DVD folder and ISO files.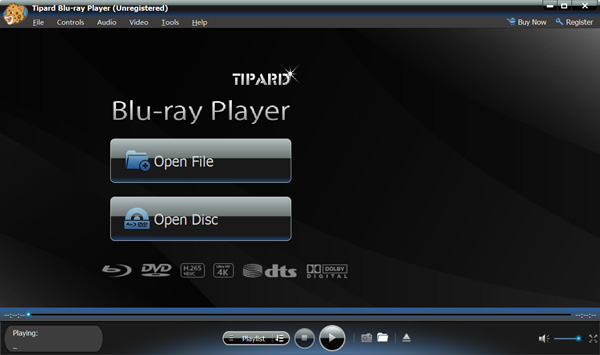 This VLC alternative supports Blu-ray disc, Blu-ray folder, and ISO image file playback. It enables you to play any Blu-ray discs without limitation, even for some new-released foreign movies. It highly supports 4K UHD and 1080p/720p HD videos. Besides the basic playing feature, Blu-ray Player is also designed with many other useful functions like subtitles and audio tracks settings, snapshot, accelerate technology, DTS-HD Master Audio and Dolby TrueHD, and more.
GOM Player
GOM Player is a free and all-featured video player which designed with huge set of advanced features. As a VLC media player alternative, it highly supports all popular media file formats including MP4, MOV, FLV, MKV, AVI, MP3, AAC, and more. It is compatible with impressive video and audio synchronization.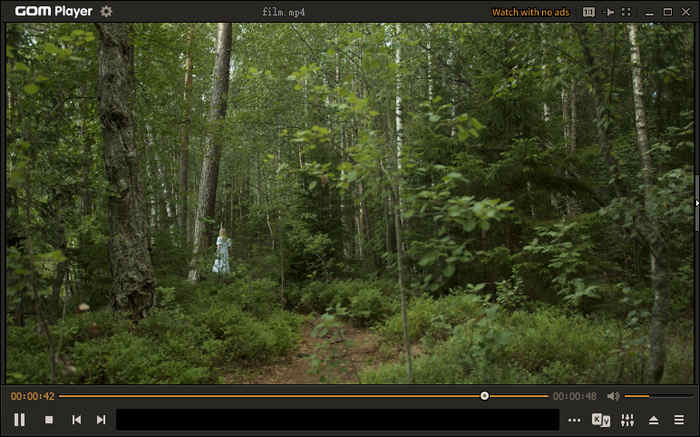 If you are using a Windows version of GOM Player, you are allowed to find codecs and play damaged files. It can automatically download codec from internet to better play your media files. GOM Player has collected movies subtitles for 10 years and it can automatically search and sync suitable subtitle for the playing movie. You are given the full control of the playback. You can custom video effects and freely adjust the playing speed.
KMPlayer
KMPlayer is a popular media player which can work as a great alternative to VLC media player. It is compatible all popular video and audio format like MP4, MOV, FLV, 3GP, OGG and MKV and so on. It is designed with an advanced library management system. You can easily manage huge playlists inside it.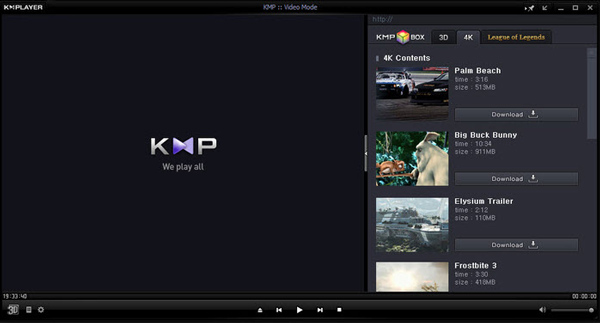 KMPlayer has the equalizer feature to help you adjust audio effects and better enjoy the audio. Compared with VLC media player, KMPlayer is equipped with a more powerful Network functions. It allows you to search and play various videos and music you like. You can also custom the subtitle settings like subtitle size, color and position. KMPlayer only offers versions for Windows, iOS and Android. There is no Mac version for now.
Part 4. FAQs of VLC Media Player
Is VLC better than Windows Media Player?
Generally speaking, yes, VLC media player is better than Windows Media Player and QuickTime Player. You should know that, whether you are using Windows Media Player on a Windows computer, or using QuickTime on Mac, you may easily face the unsupported format and codec problems. What's more, VLC carries more functions than Windows Media Player.
Can VLC play DVDs from any region?
Yes. VLC media player is able to play DVDs from any region, as long as the firmware on the drive is unlocked to region free.
How to combine videos in VLC media player?
To combine videos together in VLC, you should click Media menu and then choose the Open Multiple Files option. Import the video clips you want to merge to VLC. After that, click Media menu again and select the Convert/Save option. You can use it to combine your videos together.
Conclusion
We have mainly talked about VLC media player in this post. Hope you can learn more information about VLC after reading this page. For more questions about VLC, you can leave us a message.