Understanding What is VOB File and Tools to Use to Open the File
This article is an informative reading material that provides comprehensive details about VOB media types and the essential methods on how to play them. Therefore, if you want to enjoy watching your videos or movies in VOB format, reading this post will be benificial to you. So, without further ado, let's begin to replenish your knowledge about this file and its best players.

Part 1. What is VOB File
A VOB, also known as a Video Object, is a file that has a fundamental component of Digital Versatile Disc video discs or DVDs. It is used to store video, audio, and other multimedia content. Essentially, this kind of file serves as a container that can hold the authentic audiovisual data for TV shows, movies, or other DVD contents. Furthermore, this kind of file typically uses MPEG-2 format compression, which ensures high-quality audio-video playback. The VOB file type also encompasses good features, including chapters, menus, and subtitles, to enable viewers to control the DVD's content thoroughly.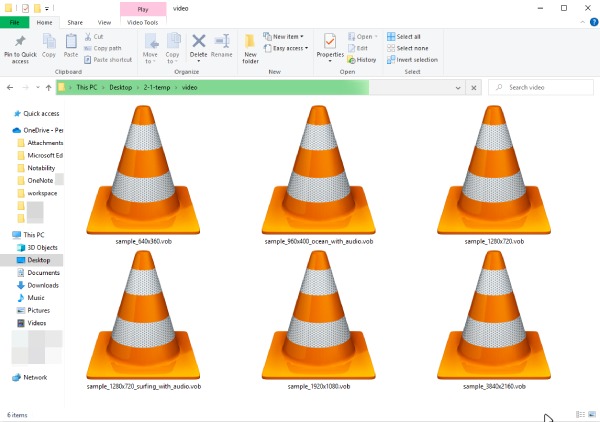 Since the said file type can be quite large because of its high-quality content, it is often divided into chunks or smaller segments to have an efficient reservation to DVDs. Thus, to ensure accessibility with a full multimedia experience, different software programs and media players support VOB files, even though it is intended for playback on DVD drives and players.
Resolution
Since VOB uses MPEG-2 compression, different resolutions can determine the DVD resolution and its content's quality and clarity. Some common resolutions that VOB supports are 720x480, 720x576, 1280x720, 1920x1080, and other resolutions like 3840x2160 for 4K and 7680x4320 for 8K.
Platform
Many platforms and devices can play VOB files, and such devices that support this file are listed below.
• DVD players.
• Blu-ray players.
• DVD-ROM drives.
• Smart TVs.
• Streaming Devices.
• Video converters.
Please note that this type of file is supported widely by DVD-related devices. Also, this format may not be that versatile to be compatible with many modern devices, just like the other formats, like MP4 and MKV. Thus, if the situation pushes you, you may convert the VOB to the universal video format for smoother playback.
Development
The VOB file format was developed to confluence the Digital Versatile Disc or DVD video standard creation. On the other hand, this DVD format was developed by the DVD Forum, which is a consortium of companies where major players in the consumer entertainment, electronics, and technology industries are included. The development of this said DVD format, along with the VOB format and their associated file structure, began in the 1990s.
Bitrate
Bitrate means the amount of processed data per time unit, and it is usually measured in kbps or kilobits per second and sometimes in Mbps or megabits per second. The VOB file's bitrate can be widely varied depending on factors like the content quality, video length, and the compression settings used during the encoding process. Here are some of the bitrates used by VOB with their approximate range.
• SD or Standard Definition of VOB content with 480p to 576p uses bitrates ranging from 3000 kbps up to 9000 or higher kbps.
• HD or High Definition of VOB content with 720-1080p uses 8000-20000 kbps of bitrates.
• Some VOB media files use variable bitrate encoding, which depends on the complexity of the DVD contents.
Codecs
VOB format typically contains video and audio streams encoded using MPEG-2 codec, as mentioned previously. This MPEG-2 codec is a compression format that is widely used for both media types. Thus, to provide you with the accurate context of the codecs of the VOB file extension, then rely on the following particulars.
• Video Codec: MPEG-2.
• Audio Codec: PCM for the uncompressed, and the AC3 Adobe Digital for the surround compressed sound.
Part 2. How to Play VOB Files on Windows and Mac
Use VLC Media Player
VLC Media Player is a powerful media player that supports various platforms, such as Mac, Windows, and Linux. That being said, it is a cross-platform and flexible media player that supports nearly all formats of video and audio. So, does VLC play VOB? Yes, it does. As a matter of fact, it is one of the best choices for many beginners and professional video analysts. Aside from playing such files, VLC also enables you to playback the files that your built-in media players, like Windows Media Player and QuickTime, fail to play natively.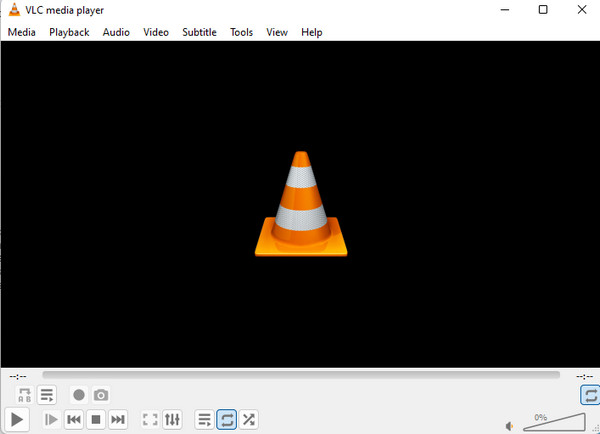 Features:
• Multimedia media player.
• Subtitle and audio track support.
• Playlist management.
• Audio and video effects.
• Network and streaming playback.
• Wide range of codec options.
OS: Windows, Mac, Linux, Android, and iOS.
Pros:
• It is easy to use.
• It comes in mobile versions.
• Tons of formats and feature selections.
Cons:
• The additional features are complicated to use.
• It is not customizable.
Convert the VOB to MP4 With Tipard Video Converter Ultimate
One best way to cater well to this task is to decrypt VOB files into a universal video format like MP4. When it comes to decryption and conversion, this Tipard Video Converter Ultimate has the best process. It converts VOB to MP4 and other 500 various video formats with a 60x faster speed while maintaining the good quality of the content. Furthermore, it also comes with many powerful tools that will enable you to enhance, edit, and personalize the videos like no other. After the conversion process, you can still develop a seamless playback experience since even the sound quality is uncompromised. And also to mention this video converter can convert up to 8K VOB files and summon a good output out of it.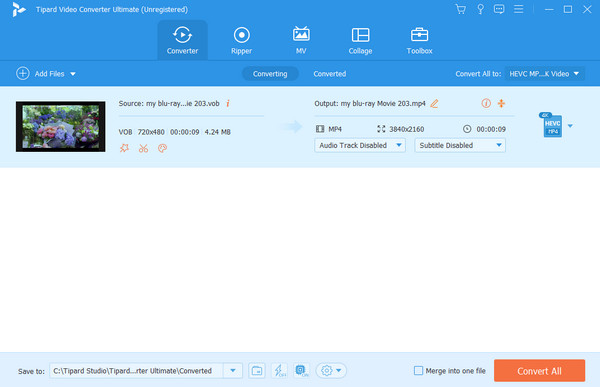 Features:
• Multi-format support.
• Powerful tools for editing videos.
• Enhance VOB and MP4 videos.
• Support for high VOB quality of content.
• Hardware accelerator.
• GPU accelerator.
OS: Windows and Mac.
Pros:
• It produces any video format from a VOB file.
• It can enhance your videos like what the professionals do.
• Many editing tools, makers, and functions are available.
• Low system requirement.
• You can play the VOB directly on its preview.
Cons:
• It is not a dedicated media player but an editor and converter.
Using Windows Media Player
Does Windows Media Player play VOB files? Yes, it is one of the best programs that easily and smoothly playback VOB files. Windows Media Player is usually a pre-installed media player on desktops with the Windows operating system. We cannot deny its popularity before when it was one of the most powerful and notorious media players. It is because Windows Corporation ensures you get the best experience from their products. Despite the fact that this player is simple, we cannot underestimate its many features to offer, so check it out.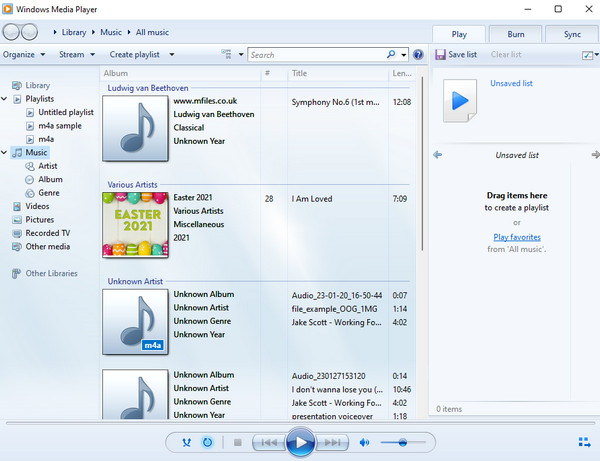 Features:
• Library management.
• Media conversion (limited).
• Video and audio effects.
• DVD playback.
• Skin customization.
OS: Windows.
Pros:
• It is a built-in program and does not need installation.
• It has a clean interface.
• It is not complicated to use.
Cons:
• Some glitches are experienced.
• With limited support for other video formats.
Using GOM Player
If playing VOB files needs to be free, then another good option for you to choose is GOM Player. Yes, it is another free, open-source player on this list that supports nearly all video file formats you know aside from the VOB files. Significantly, its usage is the same as what the VLC Media Player can offer. When you install it, you can simply control it to get to the folder where your VOB file, which is typically the VIDEO_TS, is saved. One of this media player's biggest advantages is the ability to run files that other media players cannot since it has a codec finder to help you solve your troubles in playing videos.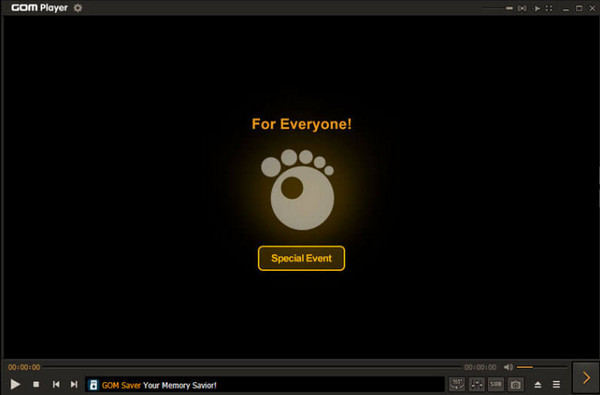 Features:
• Wide support for various formats.
• Codec finder.Codec finder.
• Skin customization.
• Screen capture.
• Subtitle support.
OS: Windows.
Pros:
• Its codec finder is helpful for any compatibility issues.
• It offers different video effects.
• It is easy to use.
Cons:
• It comes with ads.
• It lacks updates.
• It requires a high system.
Part 3. FAQs About VOB Files
Does Plex play VOB files?
Yes, Plex has the capability to open and stream videos in VOB format.
Does Mac support VOB format by default?
No. Unfortunately, Mac computers do not have native support for VOB files. Hence, you will need a third-party player to open such a file.
Can you open a VOB file on iPhone/Android?
Playing this kind of file on a mobile phone is challenging since it is associated with DVDs. But you can still open the file using a third-party app.
Can VOB files play on a DVD player?
Yes, since DVD players primarily support this kind of file due to its DVD content.
How do I play a VOB file on my TV?
You can transfer the VOB file to the TV via a USB stick and directly watch the video on the TV. But make sure that your TV supports such file format, or you will need to convert it to its supported format.
Conclusion
This post mainly talked about two factors: the introduction to what a VOB file is and the second is how to open it. You can be sure that you will never experience an error on playing it back since the programs presented provide you with solutions to fix it. On the other hand, if you cannot avoid such errors on the VOB videos, then it might be helpful to convert them to another format with the help of Tipard Video Converter Ultimate.