Convert MKV to MP3 using Eminent MKV to MP3 Converters: Testing their Features and Efficiency [2022]
Music can be one of the best companions people could have. Thus, they spend most of their time listening to their favorite music, whether at the home, office, outside, etc. Suppose that you have various MKV music videos and want to extract their audio content. MKV to MP3 Converter is what you need to get the audio from video. You are on the right track because you will encounter eminent MKV to MP3 Converters.
This post will teach you to change MKV to MP3 along with the software. But first, it will enlighten you on why there is a need to convert MKV to MP3. You can also alter the MKV video file to MP3 online if you do not have enough space to download and install a program. So, please give yourself time to check this piece.

Part 1. Why to Convert MKV to MP3
Suppose you wonder why there is a need to convert MKV to MP3 files. This article will provide you with a simple reason why it is so. MKV files comprise video and audio data. Thus, it can take up a lot of space on your PC or device. But if your purpose is to listen to music without a need to view the video data. You need to extract the audio from the MKV files. Suppose you are looking for the best solution to solve your concern. Converting MKV to MP3 is the best solution here. MP3 file format is the most useful to store audio data. It is compatible with thousands of operating systems, media players, devices, etc. So, if you want to listen to different genres of music, convert MKV to MP3 now!
Part 2. How to Convert MKV to MP3 on Desktop
1. Tipard Video Converter Ultimate
Now, let us test the best free MKV to MP3 Converter, the Tipard Video Converter Ultimate. This software provides a free download version suitable for Windows and Mac versions. It can support a batch file video to audio conversion that does not affect the audio quality. Also, it offers a Toolbox that provides various options such as Volume Booster, Audio Sync, and more. The good thing about this tool is that it enables the users to customize the bitrate, channel, sample rate, and encoder.
Feel free to test the other features of the tool below. Also, do not forget to follow the steps to convert MKV to MP3 without difficulty.
Main Features of the Tipard Video Converter Ultimate:
1. Provide a 3D Maker, GIF Maker, Media Metadata Editor, Video Merger, Video Compressor, etc.
2. Enable you to turn regular videos into higher video resolution.
3. Provide a homemade DVD and Blu-ray burner.
4. The best photo collage maker that allows users to create a collage from images.
5. Enable you to create your music video with various themes.
How to Convert MKV to MP3 in Tipard Video Converter Ultimate
Step 1Look for Tipard Video Converter Ultimate on the Search engines. Then, after clicking the official page, click the free downloa version. After that, go to the Converter tool to proceed to the next steps.
Step 2Upon hitting the Converter feature. A new window will appear, and click the + icon to upload MLV file/s. Or you can also click the +Add file button.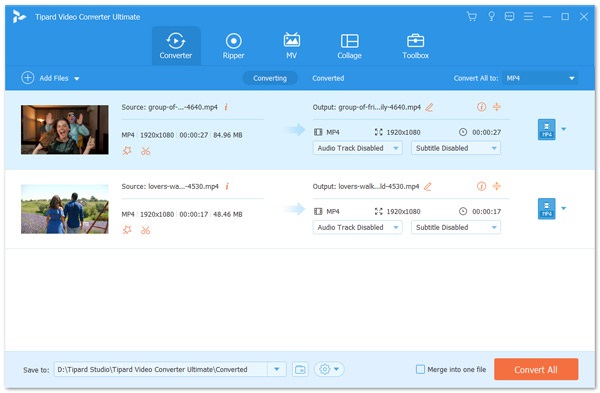 Step 3To see the various audio format options, click the Output Settings beside the video output. After that, click the Audio option.
Step 4Go to the Search section, type the MP3, and click the format to apply changes.
Step 5Finally, click the Convert All button after browsing the file location from the Save to section. If you have a batch file to convert, click the Merge into one file button.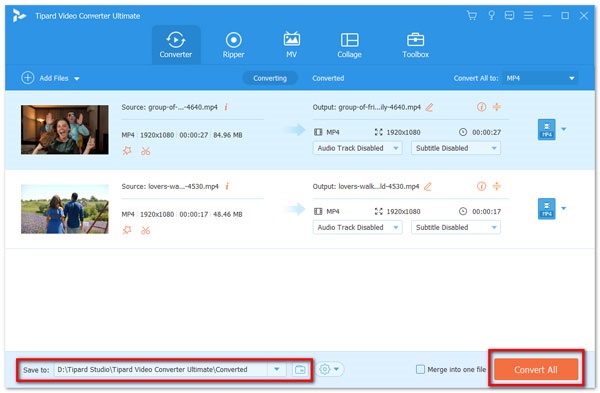 2. VLC Media Player
Suppose you want to try a 100% free MKV to MP3 Converter, we recommend the VLC Media Player. It may be your first time using this program, just in case, but this one can turn your videos into audio. However, VLC can be confusing for some users, especially probies. If you are one of them, see the simple steps below on how to convert MKV to MP3 using VLC.
Step 1Launch VLC on your PC, then go to the Media button. After that, click the Convert/Save button. You can also use the Control R method.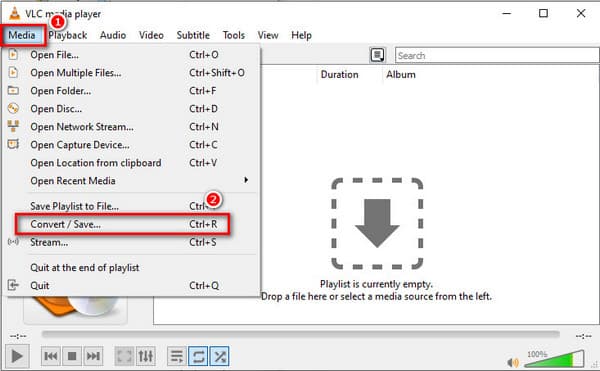 Step 2A new window will appear, and click the +Add button. After that, choose MKV file/s, tap the Convert/Save button below.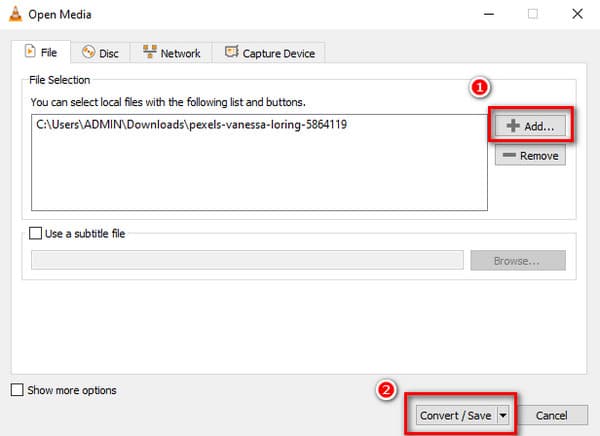 Step 3After that, go to the Profile section and click the Setting icon. A new screen will show, then click the MP3 format. After that, hit the Save button below, then click the Start button to begin the conversion process.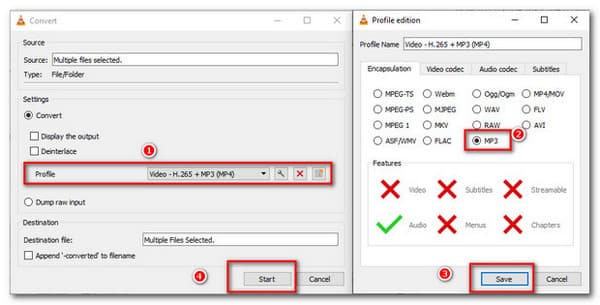 3. Wondershare UniConverter
Wondershare UniConverter is a flexible MKV to MP3 Converter compatible with Linux, Mac, and Windows. It offers excellent features and supports many audio file formats, including MP3, FLAC, AAC, WAV, etc. This one is perfect for beginners and experts because it has a simple user interface. Thus, it allows users to maneuver and find its functions without difficulty.
Step 1Get the program Wondershare UniConverter and launch it. Then, go to the Converter tool. After that, click the + symbol in the middle, then upload the MKV file/s.
Step 2Hit the Output Format below. After that, click the Audio option and hit the MP3 format.
Step 3Finally, proceed to the File Location section to browse a file location for the audio output. Then, click the Start All button.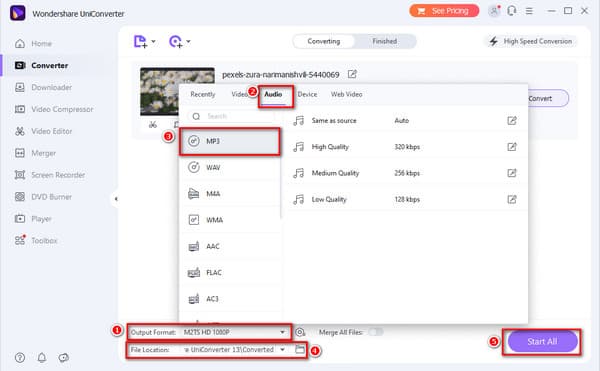 Part 3. How to Convert MKV to MP3 Online
You can also convert the MKV video file to MP3 online using the FreeConvert. This online tool is 100% free and is easy to use. Though it allows you to convert over the internet, it supports batch file conversion, unlike the other online tools. It offers Advanced Parameters allowing the online users to fine-tune the conversion parameters.
Step 1Type MKV to MP3 Converter Online on your browser then click the FreeConvert. After that, hit the Choose Files button to add MKV file/s.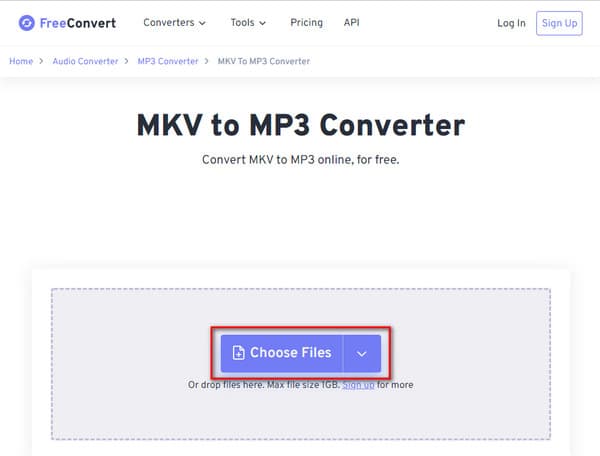 Step 2Finally, click the Convert To MP3 button.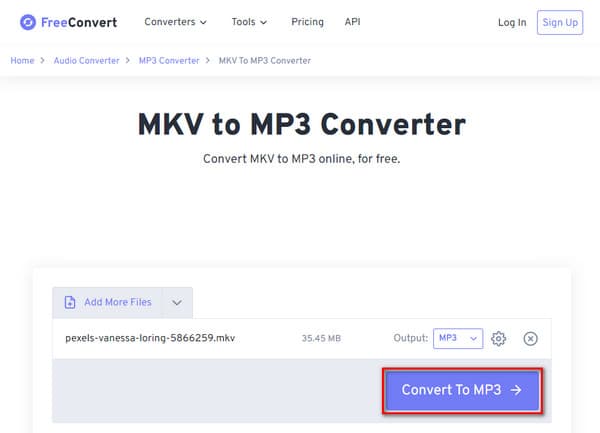 Part 4. FAQs of Converting MKV to MP3
How to create MP3 files?
The best way to make MP3 files is to use the built-in microphone on your system. To do this, go to the Sound Recorder, then record your voice note. Then you can save it as a WAV file; then, you have to convert it to an MP3 file using the Tipard Video Converter Ultimate.
What is an MKV file?
MKV stands for Matroska and is a free container that can hold up many multimedia files and audiovisuals in a single file format.
Is MP3 the best audio file format?
MP3 is the most famous lossy format and can work on almost all devices, media players, and operating systems.
Conclusion
In conclusion, you can now convert MKV to MP3 with complete confidence. But we still want to remind you that you must follow the guidelines on how to change the MKV file to MP3. You can use the Tipard Video Converter Ultimate because it will not fail you but preserve the quality of your audio. It also comes with a 70x faster speed conversion with GPU Acceleration. Thus, this is the best MKV to MP3 Converter offline, among others.