Best 3D Video Converter – 3 Best Methods to Convert 2D Videos to 3D
How to have a full immersion virtual reality experience of the ordinary videos? Converting 2D video to 3D is a simple method to enjoy a better audio-visual experience. There are different 3D videos, such as anaglyphs, split-screen modes, and depths. What are the best 3D video converters to transform ordinary videos? Just learn more about the 3 best choices to create the desired 3D videos from the article.

Part 1: The Versatile 2D to 3D Converter for Windows and Mac
Whether you need to customize the anaglyphs, split-screen modes, depths, or even change the video formats/quality, Tipard Video Converter Ultimate is a versatile 2D to 3D converter to customize different 3D videos. Moreover, there are some advanced features. You can apply video filters, compress videos for Instagram, and tweak video parameters.
1. Support Red/Cyan, Green/Magenta, Amber/Blue, and more anaglyphs.
2. Convert 2D to 3D side-by-side or top and bottom in full or half-width.
3. Tweak the video format, video quality, audio volume, and 3D depth.
4. Trim the desired video part, apply different video filters and effects, etc.
Steps to Compress WMV Video Files
Step 1Once you have installed Video Converter Ultimate, you can launch it on your computer. Go to the Toolbox menu and choose the 3D Maker option to create and customize 3D videos from 2D. After that, you can click the Plus button to import a 2D video into the program.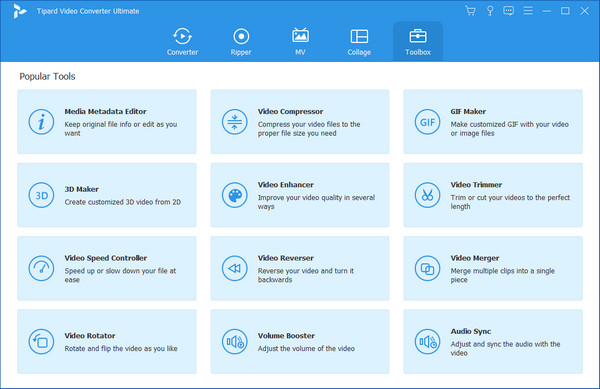 Step 2You can preview the 3D video directly within the program. There are 10 different 3D modes, 4 different split-screen methods, dozens of video formats, and 3 different video qualities. Moreover, you can also switch left/right and customize the depth for converting 2D video to 3D.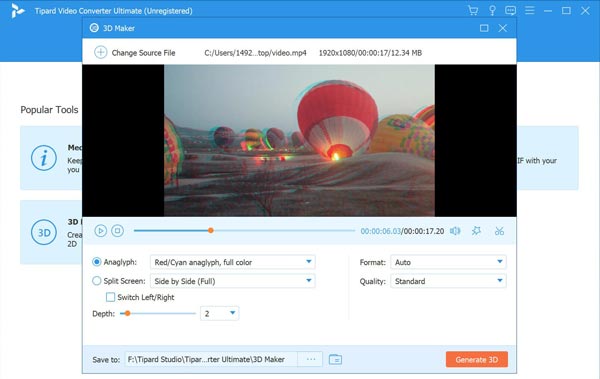 Step 3When you need to cut the desired part only, you can click the Trim icon to set up the start point and the endpoint. It also provides multiple filters, watermarks, subtitles, and more other features to polish the videos you want to convert before conversion.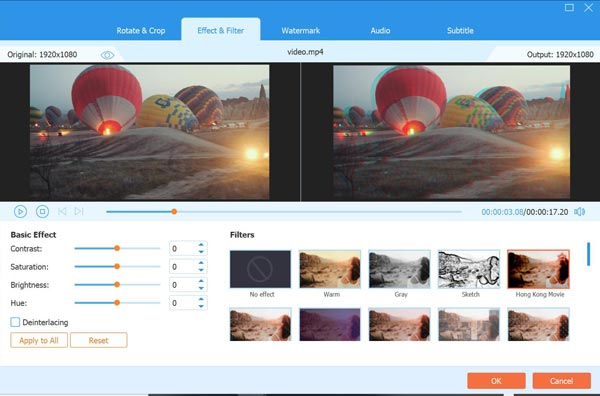 Step 4Just preview the videos within the built-in video player with the Play icon. Then you can choose the destination folder for the output video and click the Generate 3D button to convert 2D video to 3D on your computer. After that, you can share it with social media websites.
Besides editing videos, you can also add subtitles to MP4 videos and more.
Part 2: How to Convert 2D to 3D for Free with IQmango on Windows
To convert ordinary videos to 3D movies for free, IQmango is one of the best choices you can take into consideration. It has a variety of choices to convert 2D videos from 7 different 3D modes. You can also preview a video before the official conversion.
Step 1Once you have installed iQmango 3D converter, you can launch the program on your computer. Drag and drop videos to the program, you can select the output video format in the lower-left corner of the interface.
Step 2Choose the desired anaglyph to convert 2D videos to 3D. You can also customize the shift, depth, and more other parameters to get the desired 3D movies according to your requirement.
Step 3When you get everything ready, you can preview a video before the official conversion before clicking the Convert button. After the conversion, you can save it to our computer.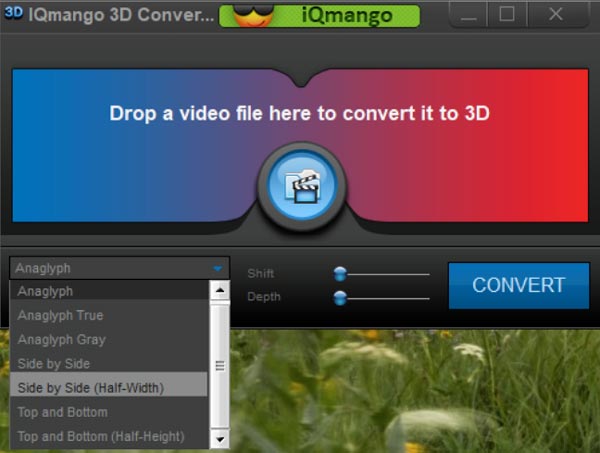 Part 3: Is It Possible to Convert 2D Videos to 3D on iOS and Android
When you need to enjoy movies in 3D with an iPad or Android phone directly, Eassee applies the Parallax-layer lenticular technology to convert 2D videos to 3D, which has two different images information to be interlocked. Then you can playback the video in the subsequent.
1. Create side-by-side videos to the iPhone/iPad and look directly to the app.
2. 2D videos are converted while streaming in real-time in 3D in one click.
3. Provide more than 100000 3D movies and videos from YouTube online.
4. Enjoy both 3D movies and 3D photos with your iPad or Android phone.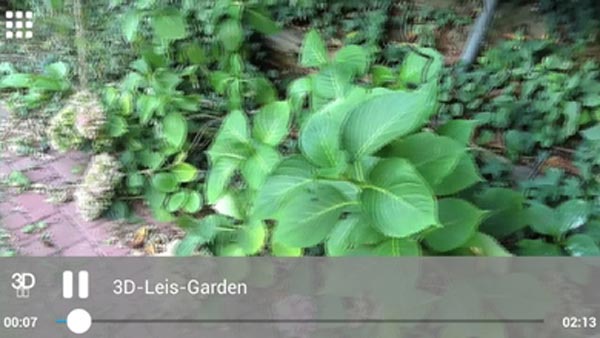 Part 4: FAQs about 3D Video Converter
1. How to choose the 2D to 3D video converter for VR headset?
You should learn more details about headset supported 3D format, such as 360 degrees and 3D, 360 degrees and 2D, 180 degrees and 3D, 180 degrees and 2D. After that, you can choose the bundled 2D video to 3D converter, or the related one accordingly.
2. What is a side-by-side 3D video?
Side-by-side 3D video is one of the most popular 3D movies. While DLP 3D ready projectors and the newest 3D TVs prefer sequential 3D content, side by side 3D content can be used too. Most of the 2D to 3D video converters support the 3D mode conversion.
3. Is it possible to capture 3D movies directly?
Yes. Instead of converting 2D videos to 3D, you can also use the professional 3D camera that acquires two cameras that are identical in construction and it is more difficult to tint the footage, overlay two videos with an offset and compile them into one video.
Conclusion
If you want to make some 3D videos from ordinary ones for headsets, or share with social media sites, you can learn more details about the 2D video to 3D converters. When you want to create a professional 3D video, Tipard Video Converter Ultimate should be the initial choice you should never miss. It can be used as both video converter and video merger. If you have queries about the 3D video converters, you can leave a comment in the article.