Discover Differences Among CD, DVD, and Blu-ray
Media files are generally stored on optical disc formats like CDs, DVDs, and Blu-rays. It has games, films, music, and other things. If you enjoy watching movies, chances are you have an extensive collection and are familiar with CDs, DVDs, and Blu-ray. Unlike CDs and DVDs, Blu-ray is a novel format for digital content storage. In this post, you will be given an idea about the differences among these optical discs. We will provide complete information about CDs, DVDs, and Blu-ray. In addition to that, you will also learn about the best methods to try for ripping a DVD and Blu-ray. So, take advantage of the opportunity. Read this article about CD vs. DVD vs. Blu-ray.

Part 1. Information about CDs, DVDs, and Blu-ray
What is CD
Digital media includes a compact disc, sometimes known as a CD. It is an optical device that supports digital data encoding. You can tell a CD is primarily made of plastic by looking at it. A CD is almost entirely made of polycarbonate plastic. The top of the plastic has a spiral track molded into it. A small layer of aluminum or occasionally gold is applied to the disc. It gives the surface of a CD its reflecting quality. The glossy metal coating reflects the laser used to read or write the device. The CD is spin-coated with lacquer to shield the metal. A label may be offset-printed or screen-printed onto the lacquer. The data is encoded by forming pits in the polycarbonate's spiral track.
What is DVD
A DVD is an optical disc used for data storage and as a platform for multimedia. It is also a digital versatile disc or full digital video disc. Playing back recorded movies and television shows is its most common commercial use. Even personal computers can use recordable and erasable aversions to store large amounts of data. The second iteration of compact disc (CD) technology is represented by the DVD. It works on encoding high-definition video on the same 120-mm. The disc started when Sony Corporation and Philips Electronics NV released the first audio CDs in 1982. Software distribution also takes place on DVDs. DVDs offer a technique to distribute extensive programs on a single disc. Some programs and other software are too big for a 700 MB CD. Another way to store many files and back up data is via writable DVDs. The DVD formats that can be written to are DVD+R, DVD-R, DVD+RW, DVD-RW, and DVD-RAM.
What is Blu-ray
A media format called Blu-ray was created to take the place of DVDs. Blu-ray uses a different kind of laser to read the discs. It enables the storage of more data on a single disc. Besides offering far better audio and video than the DVD format, Blu-ray can hold more data. Also, new Blu-ray discs are replacing older DVDs as VHS tapes did. The film and television industries are being replaced by new technology. People are switching to and purchasing Blu-ray players due to the surge of new Blu-ray releases. For the finest Blu-ray playback experience, many types of equipment may be needed. Moreover, not all extra features on the new Blu-ray discs may be playable for all players.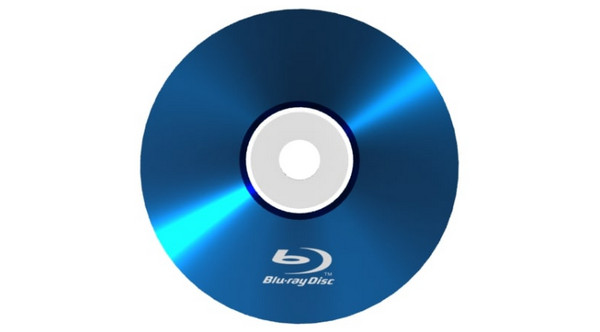 Part 2. CD vs. DVD vs. Blu-ray
You will see the CD vs. DVD vs. Blu-ray structure in this part. See the comparison table below.
| Parameters | Blu-ray | DVD | CD |
| --- | --- | --- | --- |
| Storage capacity | 25GB (single-layer), 50GB (dual-layer) | 4.7GB (single-layer), 8.5GB (dual-layer) | 700 MB |
| Laser wavelength | 405nm (blue laser) | 650nm (red laser) | 780 (red laser) |
| Disc Diameter | 120 mm | 120 mm | 120 mm |
| Disc Thickness | 1.2 mm | 1.2 mm | 1.2 mm |
| Hard coating | | | |
| Protection layer | 0.1 mm | 0.6 mm | 0.25 mm |
| Track pitch | 0.32µm | 0.74µm | 1.6 µm |
| Data transfer rate (data) | 36.0Mbps (1x) | 11.08Mbps (1x) | 153.6Kbps (1x) |
| Video resolution | 1920×1080 (1080p) | 720×480/720×576 (480i/576i) | 352×240 (240p) |
| Video bitrate | 40.0Mbps | 9.8Mbps | 1.12Mbps |
| Video codecs | MPEG-2, MPEG-4 AVC, SMPTE VC-1 | MPEG-2 | MPEG-1 |
| Audio codecs | Linear PCM, Dolby Digital, Dolby Digital Plus, Dolby TrueHD, DTS Digital Surround, DTS-HD | Dolby Digital, DTS Digital Surround, Linear PCM | Dolby Digital, PCM |
| Interactivity | BD-J | DVD-Video | CD-i |
Part 3. How to Rip DVDs and Blu-ray
Rip Blu-ray Using Tipard Blu-ray Converter
Want to rip Blu-rays to digital videos on your computer? Use Tipard Blu-ray Converter if that applies. Blu-ray conversion is easy because of the program's user-friendly layout and straightforward instructions. Hence, even a beginner may use the program. In addition, Tipard Blu-ray Converter supports many different video formats. It includes MP4, VOB, MKV, WMV, and MOV. Also, the software allows you to convert an entire Blu-ray disc or Blu-ray folder to AVI lossless. This AVI file contains every original audio track and subtitle from the Blu-ray movie. The video output matches the Blu-ray disc's original material quality. Also, its conversion speed is among the best experiences you may have. With the offline program, you may convert Blu-ray movies to AVI format 30× quicker. By doing this, you can guarantee that the process is perfect and fast.
Step 1Download and install the Tipard Blu-ray Converter program on your Mac or Windows computer by clicking the Download button below. Insert the Blu-ray disc into your drive before using the software.
Step 2On the main interface, click the Ripper button. Then, Select the Load Blu-ray to open the Blu-ray disc. You can also click the Load DVD if you are using a DVD.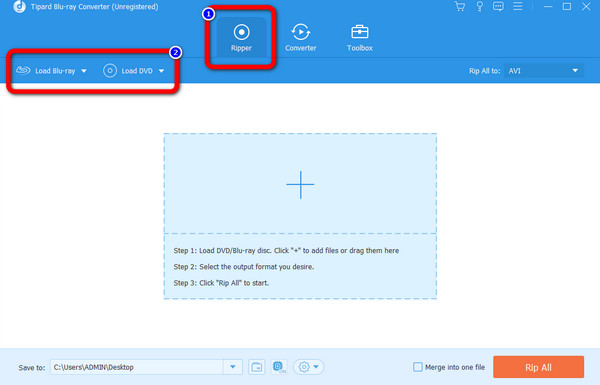 Step 3Go to the Rip All to option. Select your desired output format and resolution. Then, click the Rip All option to rip the Blu-ray to digital videos on your computer.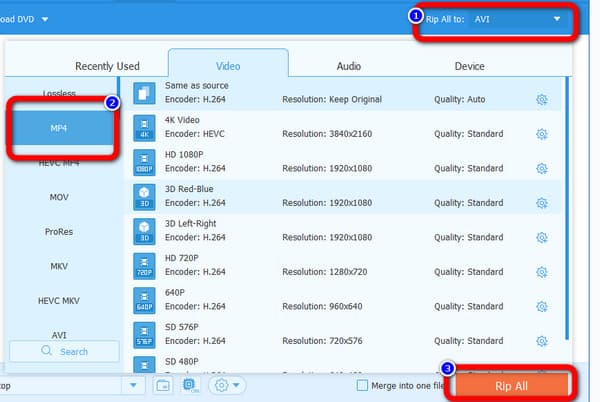 Rip DVD Using Tipard DVD Ripper
If you plan to rip a DVD to MP4, MKV, or other digital videos on your computer, you can rely on Tipard DVD Ripper. The software can rip DVDs without losing quality. You can still watch a top-notch replica of the original DVD in this manner. The software provides the simplest ways to rip DVDs to your computer. It will also keep all the content, including the audio track, subtitles, and more. Also, you can complete the ripping process 30 times quicker than other DVD rippers. Tipard DVD Ripper also supports a variety of formats. It contains MP4, MOV, AVI, MPG, WMV, and other video formats. Moreover, it can extract DVD audio to various well-known audio formats, like MP3, M4A, and AAC. See the most straightforward way below for ripping DVDs.
Step 1Click the Download button below to access Tipard DVD Ripper easily. Then, launch it on your computer. Ensure the DVD is in the drive so the program can read the file.
Step 2After you launch the software, click the Ripper button. After that, to open the DVD in the program, click the Load DVD option or the Plus icon.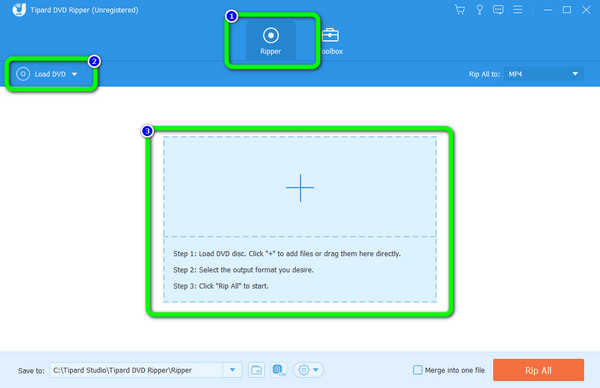 Step 3Then, click the Rip All to option to select your desired video format. To begin the ripping DVD procedure, click the Rip All button.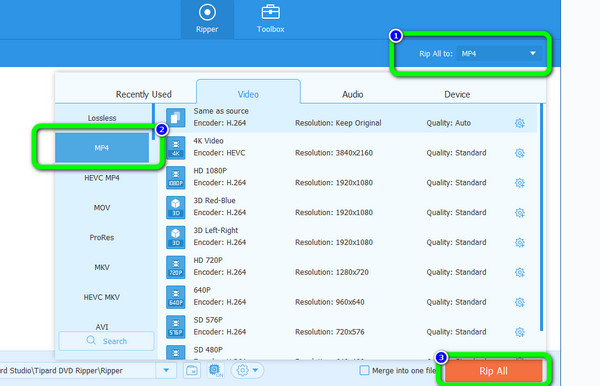 Part 4. FAQs about CD vs. DVD vs. Blu-ray
Will Blu-ray replace DVD?
Absolutely, yes. Blu-ray will replace DVD because of its benefits. These days, most movie studios support Blu-rays.
Can a Blu-ray player play a CD?
Definitely, yes. There are Blu-ray players that support CDs. However, some Blu-ray players don't. So, you need to know what Blu-ray player can support it.
Will the Blu-ray player be compatible with DVD?
Definitely, yes. The new Blu-ray player will support DVD playback. Numerous well-known electronics manufacturers, including Sony, Pioneer, Sharp, Panasonic, Philips, Samsung, LG, and others, have shown off some Blu-ray player products that can read and write Blu-ray discs, DVDs, and CDs using an optical head that is BD/DVD/CD compatible. So, the new Blu-ray player will be backward compatible.
Conclusion
Now you have learned differences among CD, DVD, and Blu-ray by reading their information and using the comparison table. The post also taught you how to rip Blu-ray and DVDs on a computer using Tipard Blu-ray Converter and Tipard DVD Ripper. And these tools offer intuitive interfaces with simple ripping procedures.