Differences and Similarities between Blu-ray and DVD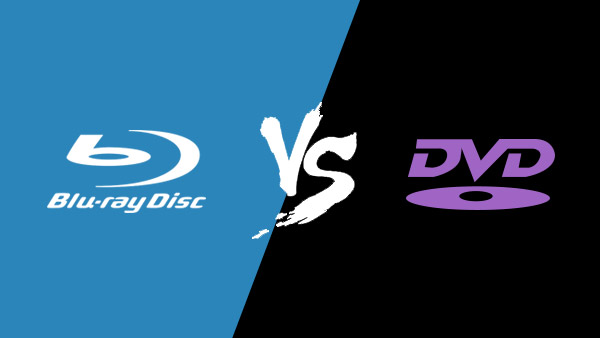 Most people are familiar with DVDs and some people have heard of Blu-ray DVDs. As popular media storage formats, DVDs and Blu-ray movies are popular among movie enthusiasts. Although there are many pirated hot movies online, movie enthusiasts always wait for the latest DVD or Blu-ray discs and watch the movie on larger screen. Ten years ago, we bought or borrowed DVDs from stores. Today, we enjoy the Blu-ray DVDs and Ultra HD Blu-ray DVDs while standard DVDs became precious collection. But even movie enthusiasts that have many DVDs and Blu-ray may not explain the definitions and differences. Therefore, we will share the knowledge related to DVDs vs Blu-ray discs.
Part 1. The definitions and similarities
DVD is the abbreviation of Digital Versatile Disc or Digital Video Disc. This storage medium was developed by Philips, Sony, Toshiba and Panasonic in early 1990s. DVD is usually used to store media formats with higher resolution, like picture slideshow, movies and music. Also, DVD is able to store digital data, such as documents, programs, images and graphs. DVD has several disc types, including DVD-R/RW, DVD+R/RW, DVD-RAM, and DVD ROM. HD DVD is a successor to the standard DVD, which is stand for high definition disc. HD DVD is able to store and playback high-definition videos.
And Blu-ray movie is the latest successor of DVD and HD DVD. As its name said, a Blu-ray DVD covers a layer of blue violet laser to store data. Since Blu-ray format was released by Sony in 2000, it becomes the new standard of storage in customer market and digital data market. Blu-ray disc could store more data than standard DVD and HD DVD, for blue violet laser has shorter wavelength.
When it comes to the similarities of Blu-ray and DVD, they are both optical media storages. And they both have the capacity to store high-resolution media files.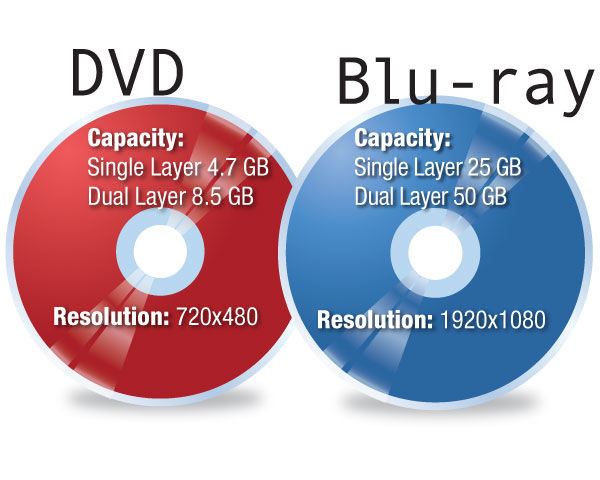 Part 2. Blu-ray vs. DVD
Although Blu-ray and DVD have some similarities, many people still feel when they want to buy movie discs. In this part, we focus on the comparisons between them.
Storage capacity and medium
Blu-ray disc use a layer of blue violet laser, which has shorter wavelength, to store data while standard DVD use red laser with longer wavelength to store data. The blue violet allows for a much smaller focus laser beam and enables the recording higher density pits on the disc.
The differences of storage medium lead to ten times increase in storage capacity of Blu-ray disc compared to DVD. A single layer Blu-ray disc could store 25GB data while the storage capacity of a single layer DVD is 4.7GB.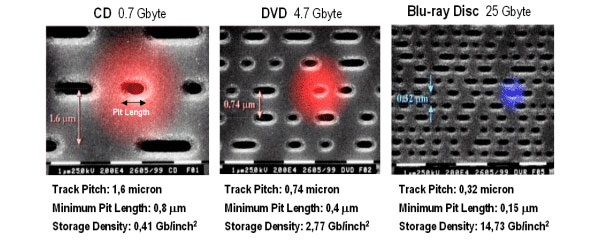 Resolution
If you have viewed Blu-ray movies, you would understand the advantage of Blu-ray discs in the term of resolution. Since Blu-ray disc could store much more data, it can hold much higher quality of video and audio. Blu-ray disc supports resolutions up to 1080p (1920×1080). On the other hand, it is impossible to contain HD movie on a standard DVD. The resolution of DVD is only up to720×576.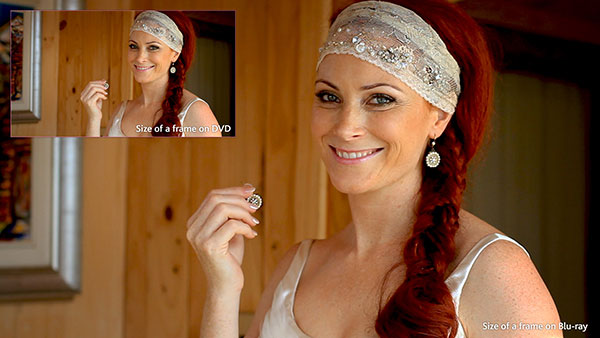 Moreover, the latest new 3D movies are only distributed on Blu-ray movies. We summarize all the differences between Blu-ray discs vs. DVDs in the table below.
| Format | Blu-Ray | DVD | HD DVD |
| --- | --- | --- | --- |
| Storage capacity | Normal 25GB/Dual layer 50GB | 4.7GB D5/ 8.7GB D9 | 15GB/ 30GB |
| Laser wavelength | 405 nm (blue violet laser) | 650nm (red laser) | 405 nm(blue violet laser) |
| Mandatory video codecs | H.264/MPEG-4 AVC/VC-1/MPEG-2 | MPEG-1/MPEG-2 | H.264/MPEG-4 AVC/VC-1/MPEG-2 |
| Video resolution (Maximum) | 1920 × 1080P | 720 × 480 NTSC/ 720 × 576 PAL | 1920 × 1080P |
| Frame rates | 24/30p, 50/60i | 24/25/30p, 50/60i | 24/25/30p, 50/60i |
| Maximum Bitrate(video) | 40 Mbit/s | 9.8 Mbit/s | |
| Maximum Bitrate (Audio+Video) | 48 Mbit/s | 10.08 Mbit/s | |
| Usage | Data storage, High-definition video (1080p) High-definition audio, Stereoscopic 3D, PlayStation 3 games, PlayStation 4 games, Xbox One games | Animations, movies, and videos | |
| Content protection system | AACS-128bit / BD+ | CSS 40-bit | |
| HDMI video output | Native | Upscaling | |
| HDMI audio output | Supports up to 8 channels | Supports up to 6 channels | |
| Region codes | Three regions | Eight regions | None |
Part 3. Blu-ray player and DVD Ripper
You should get the detail information about DVD and Blu-ray above. As the successor of DVD, Blu-ray movies have some excellent viewing experience. But how can you watch Blu-ray movies on computer, which original supports DVD disc only? If you are looking for Blu-ray player software, we recommend Tipard Blu-ray Player. The program provides the excellent images and sound quality for your PC and Mac. If you want to playback 4K UHD movies and 1080p HD videos smoothly, Blu-ray Player is also one of the best choices.
What should you do if the Blu-ray player does not support DVD discs? More and more manufacturer realized the shortage of the DVD disc. The Blu-ray or 4K movies and cloud storage are taking places of the DVD disc. In order to use the DVD discs for Blu-ray player or other devices, you can try Tipard DVD ripper to rip DVDs to desired 4K, 1080P HD videos. And then you can enjoy the DVD on iPhone, SamSung, BD players and other occasions.
Conclusion
In this article, we introduced the basic knowledge related to Blu-ray discs DVDs and. As storage medium, both of two use optical media to store data, such as videos, audios and other files. But the blue violet laser layer covered on Blu-ray DVD has much larger storage capacity than red laser layer on DVD. That leads more differences between Blu-ray discs and standard DVDs. Of course, Blu-ray could provide better audiovisual experience; but the prerequisite is to use the appropriate hardware and software. When you need to playback the Blu-ray movies on your computer, which original supports DVD files, you can choose Tipard Blu-ray Player instead. If you need to playback the videos on tablets and Blu-ray players, you can also choose Tipard DVD Ripper to turn the DVD discs into videos in the original quality.

Click here to join the discussion and share your comments