Perfect Guide on What is Blu-ray [Including How to Play Blu-ray Offline]
Nowadays, technologies are growing. It assists many people in their daily lives. It includes watching movies digitally. In this regard, we can't hide the fact that we need a device that may help us watch movies satisfyingly. Some movies are on the Blu-ray disc, the traditional way of keeping files. In that case, it is helpful for you to give your precious time reading this post. We will first define Blu-ray. Then, you will discover the Blu-ray disc, resolution, region, and how Blu-ray works. Lastly, we can offer you the method of using a Blu-ray Player offline to play Blu-ray movies.

Part 1. What is Blu-ray Disc
The Blu-ray disc was created to enable rewriting, recording, and playback of high-definition video. It is also created for storing vast amounts of data. It provides more than five times the storage capacity of traditional DVDs. It can hold up to 50GB on a dual-layer disc and 25GB on a single-layer disc. This extra capacity, combined with the utilization of advanced audio and video codecs, will provide consumers with an unprecedented HD experience. Optical disc devices like DVD, DVD±R, DVD-RAM, and DVD±RW rely on a red laser to read and write data. But, the new format uses a blue-violet laser instead. This is the reason it is called Blu-ray. Despite the various lasers, Blu-ray products can simply be backward compatible with DVDs and CDs using a DVD/BD/CD compatible optical pickup unit.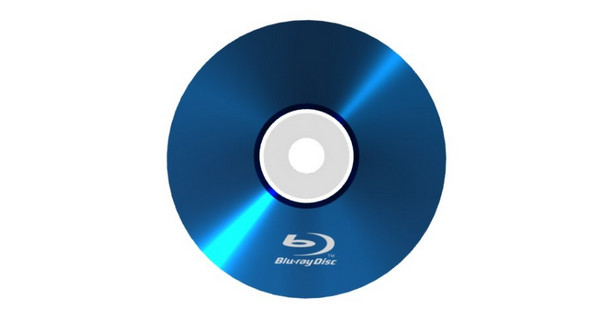 The blue-violet laser has a less wavelength than a red laser. It makes it possible to focus the laser spot with even better precision. It lets the data be packed more tightly and stored in less space. This way, it's possible to fit numerous data on the disc even if it is the same size as a DVD/CD. For that reason, you can ensure that Blu-ray can handle 25GB to 50 GB. Another thing you can experience is that Blu-ray Disc provides a new level of interactivity that DVDs. Blu-ray discs allow users to connect to the Internet to find subtitles and other interactive features.
Part 2. How Does Blu-ray Work
For your information, Blu-ray is the next generation of the digital video disc. So, how does it work? Well, it can store, record high-quality playback video, and include computer data. The fact that Blu-ray can store so much data is a benefit. Up to 27 GB of data can fit on a single-layer Blu-ray disc, which is about the same size as a DVD. That is equivalent to more than two hours of HD footage or around 13 hours of ordinary video. On the other hand, up to 50 GB of storage space on a double-layer Blu-ray disc can accommodate up to 20 hours of standard-definition film or 4.5 hours of high-definition video. Even now, there are ambitions to create a disc with twice as much storage.
Part 3. Blu-ray Resolution
When discussing Blu-ray resolution, you find numerous information on the web. However, some of them are confusing. They say that the Blu-ray resolutions are many. It includes 720P, 1080P, 2K, and 4K Blu-ray. So, the question is, what is the Blu-ray resolution? In that case, you need to get engaged on this part. We will give you the complete details you need.
Honestly speaking, there are only two Blu-ray resolutions. The first one is the 1080P Blu-ray (1920 x 1080 pixels). The second one is the 4K Blu-ray (3840 x 2160 pixels). So, to get additional information about these two Blu-ray resolutions, read the information below.
1080P Blu-ray
Resolution: 1920X1080
Color Gamut: BT.709
Dynamic Range: 100nit
Bit Depth: 8-bit
Peak Video Bitrate: 40Mbps
Codec: MPEG-4 AVC (H.264)
Capacity: 25GB, 50GB
4K UHD Blu-ray
Resolution: 3840X2160
Color Gamut: BT.2020
Dynamic Range: 1,000 - 10,000nit
Bit Depth: 10-bit
Peak Video Bitrate: 100Mbps
Codec: HEVC (H.265)
Capacity: 50GB, 66GB, 100GB
Part 4. Blu-ray Region
A Blu-ray disc's additional layer of protection is called Blu-ray region codes. It is to avoid losses for distributors and publishers. They divide the geographical regions into three. This way, they can play a Blu-ray Disc based on their region. The regions are named Region A, Region B, and Region C.
Region A
South America, North America, Japan, South Korea, US Territories, and other parts of Southeast Asia.
Region B
Africa, Middle East, Europe, New Zealand, and Australia.
Region C
South and Central Asia, Russia, Mongolia
Region ABC
This version is unrestricted to any region. It is also known as region-free or region-0. Region-free discs have no three codes written on the disc cover.
Note that UHD Blu-rays are not region-locked. So, if you have many Blu-ray discs, choosing an all-region Blu-ray tool for Blu-ray playback is better.
Part 5. How to Play Blu-ray
The best pick for playing a Blu-ray is using Tipard Blu-ray Player. This program is free to download. It makes Blu-ray discs playable on your device, particularly computers. You won't have any issues playing Blu-ray movies with the aid of Tipard Blu-ray Player. Additionally, this tool allows you to play any DVD, or ISO image file. Additionally, this offline tool makes it simple to play Blu-ray movies. You can play it in just simple steps. In addition, Tipard Blu-ray Player offers a user-friendly interface. It makes it ideal for users, mainly non-professional users. The program will also enable you to enjoy watching movies because it provides a smooth image and high-quality video. In this manner, viewers will feel satisfied while watching. The program also allows you to change the audio tracks, subtitles, and other settings. A further feature of the program is the ability to take screenshots while watching Blu-ray movies. Tipard Blu-ray Player is available on Windows and Mac, making it more practical for all users. Finally, this program allows you to play various audio and media files. It covers MP3, FLAC, TS, MTS, MP4, MKV, WMV, AVI, FLV, and more. Check the steps below to play Blu-ray movies on your computer.
Step 1To access Tipard Blu-ray Player, click the Download button below. After the process of installation, run the program on your computer.
Step 2After launching the program, the interface will appear on the screen. Click the Open Disk button. Then, select the added disc on the program. After that, click OK to load the Blu-ray movie on the program.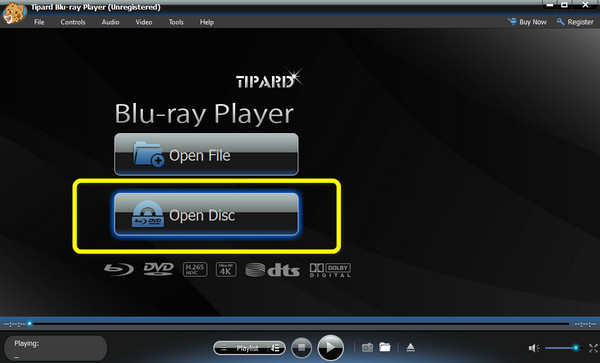 Step 3Then, click the Snapshot icon to capture your favorite scene from the movie. This way, you can get your desired image while watching.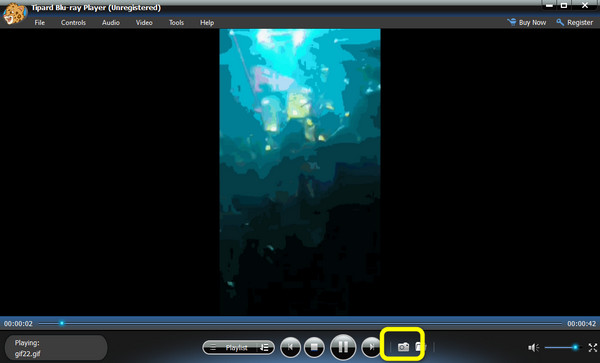 Extended Reading:
Exceptional Portable Blu-ray Players to Binge-Watch Movies
Blu-ray Player on Walmart: Including Blu-ray Player Software
Part 6. FAQs about What Blu-ray is
Is Blu-ray 4K?
No. Blu-ray is a physical device. On the other hand, 4K is a resolution. A Blu-ray disc can have a 4K video resolution.
Why is Blu-ray better than DVD?
It is because Blu-ray has the potential for higher speeds. It has a large amount of numerical aperture adopted by Blu-ray discs. It can require a lower disc rotation speed and less recording power than a DVD.
Will there be an 8K Blu-ray?
An 8K Blu-ray requires 120Mbps and 127GB of disc space. It would be possible to hold this big data. However, you need to have a large screen. But for now, it is still impossible to play 8K on Blu-ray.
Conclusion
We hope you have obtained much information about what Blu-ray is by reading this post. It includes the resolution, regions, and how to play Blu-ray movies using Tipard Blu-ray Player.