Will a Blu-ray Player Play DVDs? Here are 6 Frequently Asked Questions You Should Know
Does Blu-ray player play DVD? If you have a huge collection of DVDs, including the latest Harry Potter DVD series, you might not sure if a new Blu-ray player can play DVDs. What are the differences between Blu-ray and DVD? Is the Blu-ray player play DVDs from all regions? How to enjoy the best audio-visual experience for a DVD within a Blu-ray player? You can find the answers from the article now.

Q1: Can Blu-ray Players Play DVDs?
Yes. All Blu-ray players can play DVDs. Moreover, Blu-ray players are also compatible with VCD and CD. Manufacturers always want a bigger share from the market, so they would make their products compatible with older devices. It's for the same reason why you can play CDs on a DVD player and use your USB 1.1 and USB 2.0 flash disk in the USB 3.0 hub of your computer.
When playing a DVD on a Blu-ray player, most of the time you are allowed to upscale the DVD videos to HD quality. You can rest assured and buy yourself a Blu-ray player to play your DVD discs.
Q2: Can DVD Players Play Blu-ray Discs?
No, DVD players cannot play Blu-ray discs.
DVDs are written and read with a red light beam (650nm wavelength). Instead, Blue-ray discs use a blue light beam (405nm wavelength), which involves a newer generation technology.
Disc players have lasers to read the pits imprinted on Blu-ray discs and DVDs. DVD players have only a red laser to read DVDs. However, Blu-ray players include both blue and red lasers. As a result, DVD players can't play Blu-ray discs but Blu-ray players are compatible with both Blu-ray discs and DVDs.
Q3: What Are the Differences Between Blu-ray and DVD?
The main differences between Blu-ray and DVD are the storage capacity, writing and reading technology, video resolution, and player compatibility. You can check more detailed differences between Blu-ray and DVD in the comparison chart below.
Comparison
Blu-ray
DVD
Video resolution
1920×1080 resolution
720×480 resolution
Type of laser
Blue
Red
Laser wavelength
405nm
650nm
Storage capacity
25GB(single layer)
50GB(dual layer)
100GB(prototype quad layer)
4.7 GB(single layer)
8.7GB(dual layer)
3D support
Support
Not support
Data transfer speed
36 Mbps
11.08 Mbps
Protection layer
0.1 mm
0.6 mm
Player compatibility
All Blu-ray players support playing DVDs, VCDs, and CDs
No DVD player support playing Blu-ray discs.
All DVD players support playing DVDs, VCDs, and CDs
Cables used
HDMI cable
Analog cables
Cost
Relatively more expensive
Relatively less expensive
Q4: Can Blu-ray Players Play DVDs from All Regions?
Usually, Blu-ray players cannot play DVDs from other regions.
However, there are also some region free Blu-ray players, or multi-region Blu-ray players, which can play DVDs from all regions on the earth. Currently, many DVDs and Blu-ray discs remain region-locked. You had better buy a region free Blu-ray player which plays DVDs of regions 0, 1, 2, 3, 4, 5, 6, 7, 8, and Blu-ray discs of Zone A, Zone B, and Zone C.
Q5: Can Blu-ray Players Play Scratched DVDs?
It depends on how seriously the disc is scratched.
You can do some basic examination of the scratched disc: Hold the damaged disc up in sunlight and see if the sunlight could shine through the scratch(s). If yes, the DVD is almost impossible to be repaired.
Circular scrapes around the round tracks usually cause permanent damage to the DVD disc while scratches in other shapes, including scratches in radius direction, are likely to be fixed.
Step 1Clean your DVD disc with a very soft cloth. It's better to use purified water or alcohol. Avoid using other liquids, because they might damage your DVD disc permanently.
Step 2Hold the DVD disc from the center and edges with one hand. Use the other hand to wipe your disc from the center to the edge with a specialized cloth for eyeglasses or screens. Keep wiping the disc until nowhere on the disc is left.
Step 3Turn on your Blu-ray player and insert the disc. Then try playing the Blu-ray disc and see if the problem is solved. If it still fails to play, the disc might be seriously damaged and cannot be repaired.
Still want to know can DVD player play MP4?
Q6: How to Watch Blu-ray Videos on Your Computer?
When you need to play DVDs on your computer with a Blu-ray drive, Tipard Blu-ray Player is one of the best Blu-ray and DVD player that capable of playing various kinds of DVD/Blu-ray discs/folders/ISO image files. Whether you need to play a DVD with a Blu-ray player, or watch Blu-ray movies, you can enjoy a high-definition movie just in the cinema.
1. Play DVD/Blu-ray disc/folder/ISO image file without limitation.
2. Supports all formats including TS, MTS, M2TS, TP, MP4, and more.
3. Play 4K UHD/1080p HD videos on your computer without losing quality.
4. User-friendly interface provides you with an unprecedented experience.
Step 1Download and install Blu-ray player, launch the program on your computer. After that, you can insert your Blu-ray or DVD disc into your Blu-ray drive on your computer.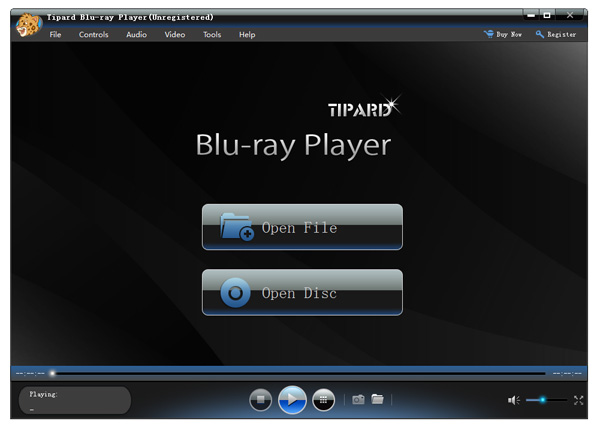 Step 2The disc will start to play automatically. You can also click the Open Disc button and select the disc you just inserted into your disc drive. Click the OK button at the bottom of the Open Disc window.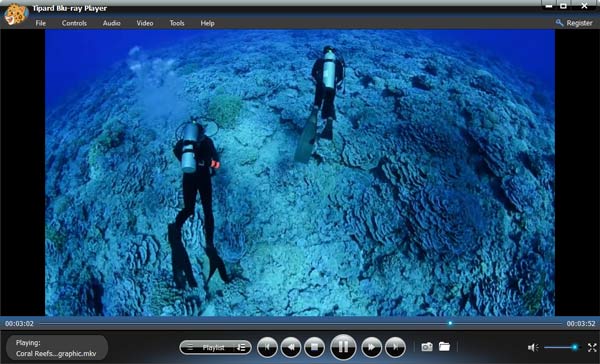 Step 3You can also select the Blu-ray title or chapter and start playing the desired part. Moreover, you can also click the Camera icon to take a snapshot for the highlight when you watch the movie.
Conclusion
Blu-ray players can play DVDs, but DVD players cannot play Blu-ray discs. There are other tips about the Blu-ray discs and DVDs you should never miss. When you need to play both DVD and Blu-ray with the original video quality, you can simply download and try Tipard Blu-ray Player.