3 Easy Ways to Record VR Gameplay
Want to share VR gameplay with others on a site like YouTube? Are you looking for a way to record VR gameplay on headset like HTC Vive, Oculus Rift, PS5, PS4, Xbox, or PC?
Since the HTC Vive and Oculus Rift first launched, more and more VR games are produced and brought to the market. While the VR game playing, you may want to capture some achievements or funny moments for sharing. Do you know how to record VR gameplay?

Nowadays, you can play different VR games on game headsets, consoles, and desktops. Considering that, this post like to share 3 ways to help you capture VR game playing on game headset, PS5, PS4, Xbox One, and PC.
Part 1. How to Record VR Gameplay Oculus Rift
If you play VR games on a headset device like HTC Vive or Oculus Rift and want to capture your game playing, you can use the Nvidia graphic cards. If you have a Nvidia graphics card, you can directly rely on its ShadowPlay to record VR gameplay. Or you can use OBS or Xsplit to get the recording. This part takes Shadowplay as an example to show you how to capture VR gameplay on Oculus Rift.
Step 1
When you want to record VR games, you can open Nvidia Geforce Experience. When you enter it, you can click the Preferences tab and then choose the ShadowPlay option.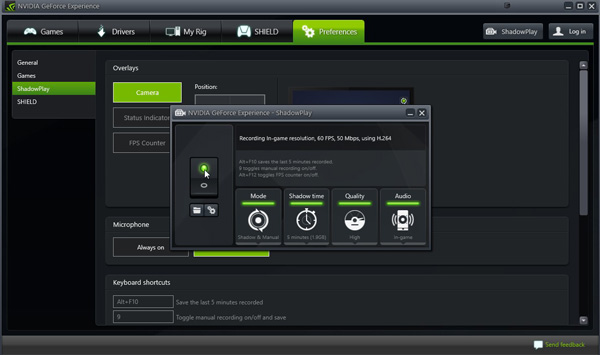 ShadowPlay has many features including the gameplay recording. It allows you to capture and save the last 20 minutes of gameplay.
Step 2
Set up the overlays button to activate recording. During this step, you can custom microphone and keyboard shortcuts settings.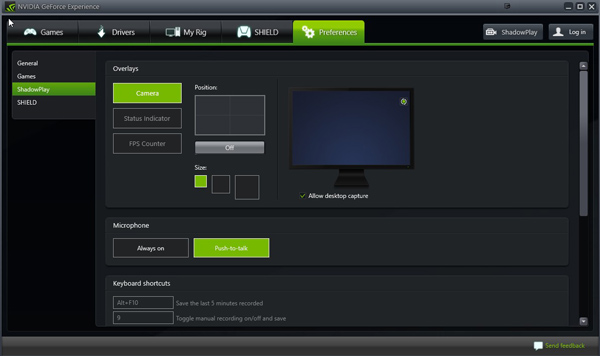 Step 3
After all these operations, you can back to the VR game and start the recording.
Part 2. How to Record VR Gameplay on Sony PS5, PS4 and Xbox One
If you are playing a VR game on a game console like Sony PS5, PS4 or Microsoft Xbox One, you can record your game playing with its default recording feature. You can simply press the Record button on the game controller to save or share your VR gameplay video.
Record VR gameplay on PS5/PS4
To record VR gameplay on PS5 or PS4, you can press the Share button on your game controller. When you enter the Share menu, you can choose the Save Video Clip option to record VR game.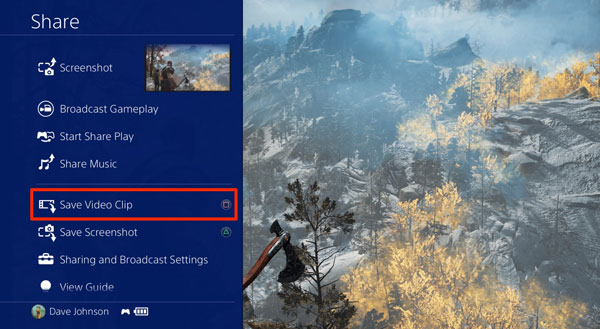 Both Sony PS5 and PS4 can record directly from one of the PS VR Headset lenses, and optimize for display on the PS VR.
Do not miss this article to record gameplay on Xbox 360.
Record VR gameplay on Xbox One
When you want to capture your VR game playing on Xbox One game console, you can press the Xbox button on your controller. Then you will be taken to the record menu. Here you can select the Capture and then Record from now option. After that, just press the A button on your game controller to start recording VR gameplay.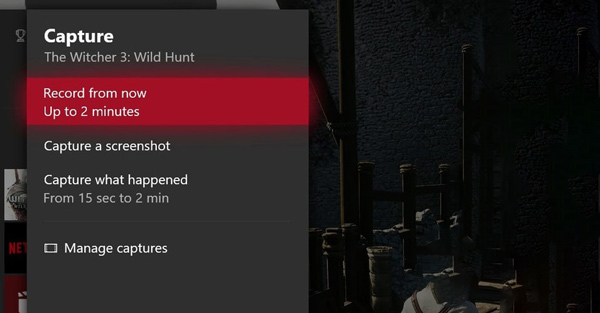 Part 3. How to Capture VR Gameplay on PC
For the VR game recording on a desktop or laptop, you can rely on the powerful gameplay recording software, Screen Capture. It is specially designed to capture high-resolution videos even up to 4K UHD. With the adoption of the latest accelerate technology, it enables you to record VR gameplay smoothly, with low CPU, GPU and RAM. Moreover, it supports the advanced Blue-light real-time HD video encoding and accelerate.
Step 1To record VR gameplay on PC, you should free install and run this VR gameplay recorder first. Choose the Video Recorder feature to record your Virtual Reality game playing.

Step 2Before recording VR games, you can freely adjust the screen recording region based on your need. You are allowed to capture the entire screen or selected area. For the audio recording, you can choose to record sound from System Sound, Microphone, or both.

This VR game recorder allows you to capture your own face through Webcam, and put it on any region of the captured video.
Step 3When you want to record VR gameplay, you can simply click on the REC button to start it. You are given the full control of the gameplay recording.
Step 4After the VR game recording, you can directly preview the recording file and do some editing operations. Then click Save button to save it on your computer. You can export the recorded VR gameplay video in any popular video format including MP4, FLV, MOV, AVI, MKV, and more.
Part 4. FAQs of How to Record VR Gameplay
Question 1. What do you need to play VR games?
A VR headset device is required for the VR gameplay. What's more, you need a computer or smart phone to support your VR headset.
Question 2. Can I use VR headset as a monitor?
You can render some virtual displays and play games on VR headset. But you can't use it as a display without headtracking. Even you can use VR headset as a monitor, you may not want to use it due to the low resolution.
Question 3. Does Quest 2 have built-in mic?
Yes, both Oculus Quest and Oculus Quest 2 devices are equipped with a set of built-in microphones and speakers. They include a microphone array on the bottom side near your mouth.
Conclusion
How to record VR gameplay? Here in this post, you can get 3 specific methods to help you capture VR games on game console like PS5, PS4, Xbox One, headset device like HTC Vive, Oculus Rift, and PC. Hope you can better capture, save and share your VR game playing after reading this page.