Top 5 Free Screen Recorder Software of 2023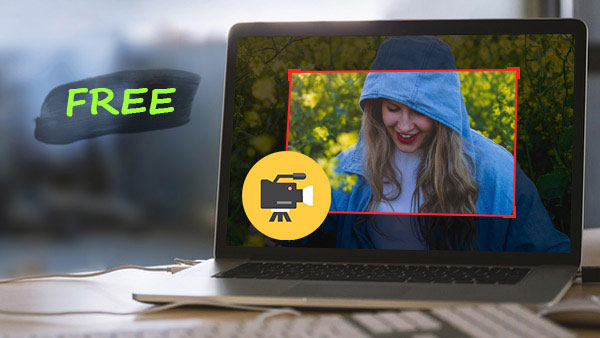 It is said that a picture is worth a thousand words. Then a video must value more than a thick book. Today using videos to display something is increasingly popular. Gamers post game videos to show their tricks. Teachers display screenshots for eLearning. Bloggers share screencasts as tutorials as well. So a powerful screen recorder is a necessary tool for everyone currently. Of course, if you search free screen recorder in a search engine, you may get hundreds of answers. It is a waste of time to test each one. Therefore, this article will recommend the top 5 software.
Recommend: Tipard Screen Capture
Tipard Screen Capture is one of the easy-to-use screen recorders. Although it has paid version, the free screen recorder version is also available. Its interface is friendly, so users could navigate within it easily. The most impressive feature of Screen Capture is to record screen as a highest quality video. So you do not face the problems about frame missing or images blurring with Screen Capture. Here are more other basic features of Screen Capture.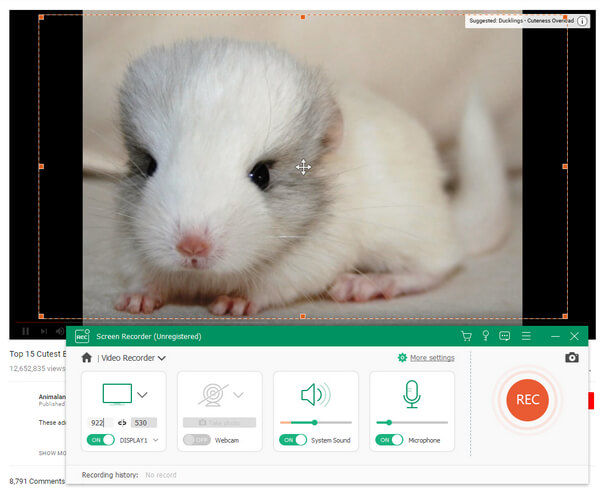 1. It promises to record the screen and the sound with 100% original quality.
2. Screen Capture supports to capture system audio with images simultaneously.
3. Users could decide to record the system audio or microphone sound through enable and disable the options.
4. It has the ability to preview the output before save it to computer.
5. This software is available for most Windows systems, including Windows 10.
6. It supports to export the output to high quality video formats, like 4K videos and HD videos.
1. Microsoft Expression Encoder 4
A lot of people knew that Microsoft Expression Encoder 4 is an excellent video-editing program. Microsoft provides two versions of MEE 4, the free standard version and paid pro version. Actually the standard version of MEE 4 also has the ability to record screen. Check the basic features of Microsoft Expression Encoder 4 as below.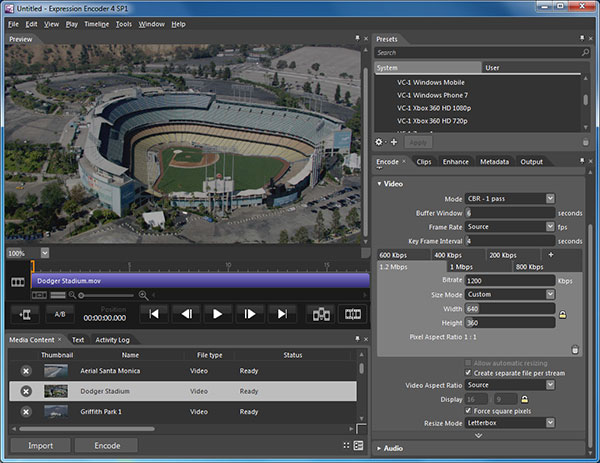 1. It has a two-step screen recording process: users could record the screen and then push the original video to Encoder.
2. MEE 4 supports to capture images from screen and web camera.
3. You can record the audio with images within MEE 4 at the same time.
4. MEE 4 will save the recorded video as Expression Encode format.
5. After recording, you can utilize its powerful editing tools to polish the original video in Expression Encoder and export it as a WMV file.
6. Users could use hotkeys to control the software during recording.
2. Open Broadcaster Software
Many people have heard of Open Broadcaster Software, commonly known as OBS. It is one of most prevalent free screen recorders currently. OBS is an open source program. That means everyone could enjoy it for free. On the other hand, it is not only screen recording software, but also a live streaming application. Get more about the principal features of OBS as follows.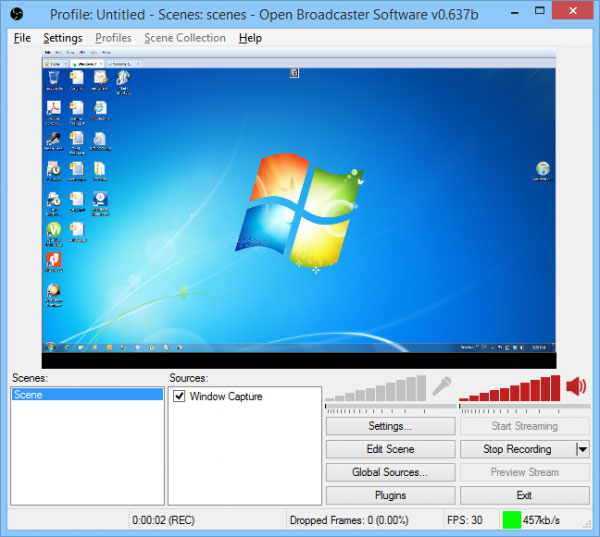 1. It will not constrain the number and the length of creations.
2. It supports to stream live to YouTube game and more.
3. OBS will create a project for each screen recording, so you can revisit and make some adjustments.
4. Users could save the recording in most common used video formats, including FLV.
5. Its recording ability is very powerful. Even when the game runs in full-screen mode, it can record it with hotkeys as well.
6. OBS is able to utilize the multi-core CPUs to improve its performance.
3. Ezvid
Ezvid is another free screen recording program for Windows users. Although it does not support Windows 10 currently, its straightforward interface and easy-to-use features attract a lot of people, especially video gamers. Here are the basic features of Ezvid you should know.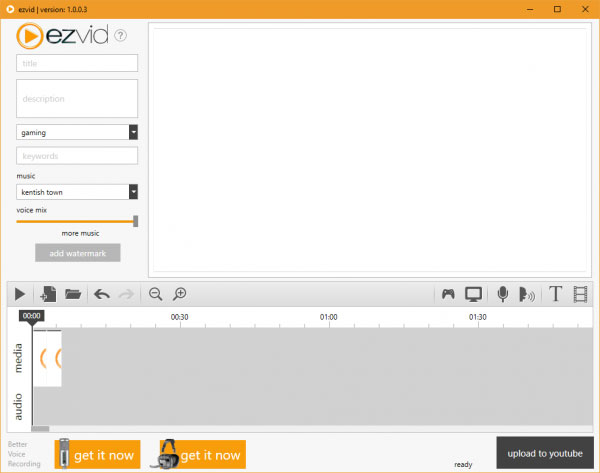 1. It is one of the easiest free screen recorders. All you need to do is one click to start recording.
2. Gamers could use hotkeys to control Ezvid in real time during gaming in full screen.
3. It supports to capture the sound from microphone with the screenshot.
4. Ezvid has embedded some useful video editing feature too. So users could polish the recorded videos within Ezvid.
5. After recording, it has the ability to share the video to YouTube with one-click.
6. Sometimes, the background sound is not satisfactory. Ezvid has a feature called speech synthesis. Users could create a speech for the screenshot and blend it with the video within Ezvid.
4. TinyTake
If you do not like to save a lot of video files on your computer, TinyTake is one of the best screen recorders. This free screen recorder is not only a no-frills program, but also a free cloud service with 2GB storage. So you can use it to record something and save the videos to its cloud storage directly. And there are other useful features of the program.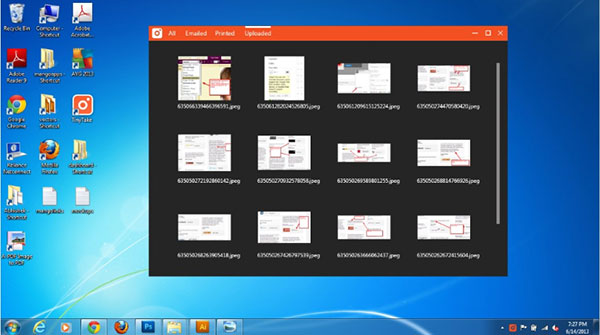 1. TinyTake could capture the images or videos from web camera and desktop footage.
2. This software supports to control the whole process of screen recording with hotkeys, from the beginning to the end.
3. Although it limits the length of recording at five minutes very time, TinyTake will not add anything in your videos, like watermarks or advertisements.
4. Before saving the output, you can preview the video within TinyTake.
5. After recording, users could decide to save the recorded videos to YouTube, local hard drive or TinyTake cloud service directly.
5. Xsplit
Xsplit is especially popular among gamers and broadcasters. This free screen recorder has two branches, Broadcaster and Gamecaster. Although these two flavors are very similar, the latter is developed for gamers. The biggest advantage of Xsplit is to produce a smaller video file with high quality. That is important when you need to share the recorded videos, for websites, like YouTube, have limitation on file size. The bigger the files, the slower the uploading process.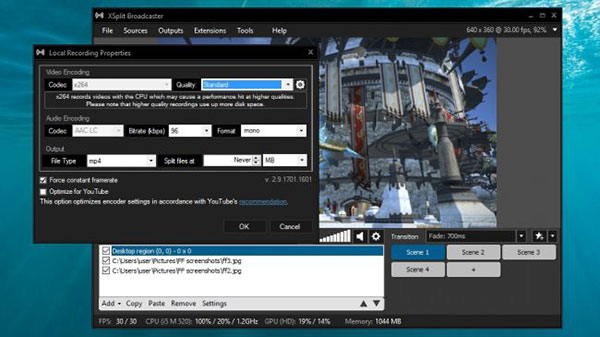 1. Xsplit supports a wide range of inputs, like screen, web camera, applications, media files, a video card and more.
2. Xsplit embedded a game-detect ability. When you start to play game, it will be triggered automatically.
3. Users could save the output in hard drive or stream it to YouTube, Facebook and other broadcasting websites directly.
4. It allows users to control more parameters about the output, like quality, format, recording screen size and more.
Conclusion
This article introduces the top 5 free screen recorders for Windows users based on testing. Microsoft Expression Encoder 4 is the best screen recorder developed by Microsoft. Open Broadcaster Software is the best open-source screen recorder. Ezvid is the best software with extensive editing tools. TinyTake is the best screen record for people that prefer to save videos to cloud service. Xsplit is the best choice for gamers and broadcasters. If you are looking for a screen recorder to produce highest quality videos, you should try Tipard Screen Capture.