How to Get League of legends Gameplay Recording Videos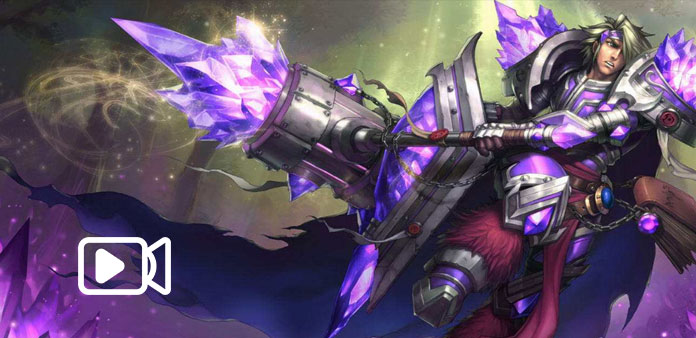 As you know, League of Legends is the online real-time battle arena for multiplayers. Everyone can play LOL in free way, and to be winner with an hour, because of its fast rhythm. Compares with other online games, league of legends has better competitive experience and exciting scenery. If you choose LOL to kill time, it will not be a good idea, because you many be addicted to League of Legends too much to rest. For LOL gamers, record League of Legends gameplay is the essential skill to handle. Not only to show off, but also to enjoy and rise them for lose time. So do you know how to capture LOL gameplay on PC in high quality? If you are not quite sure about League of Legends gameplay recording processes, then you can find different answers below.
Part 1. Tipard Screen Capture – Record LOL Game on PC
Tipard Screen Capture is the Windows desktop recorder, to grab video and audio simultaneously. You can record League of Legends videos in 100% original quality, and share them to Facebook, YouTube and other popular video share sites directly. Running Tipard Screen Capture to capture League of Legends champion gameplay will not influence the Internet speed at all. First of all, the screen capture customize tool enables people to fix LOL window by dragging. And your voice will be recorded into League of Legends gameplay video too, with the audio inputs of system and microphone capture. After that, you are able to add cursor effects to highlight your great work during LOL online.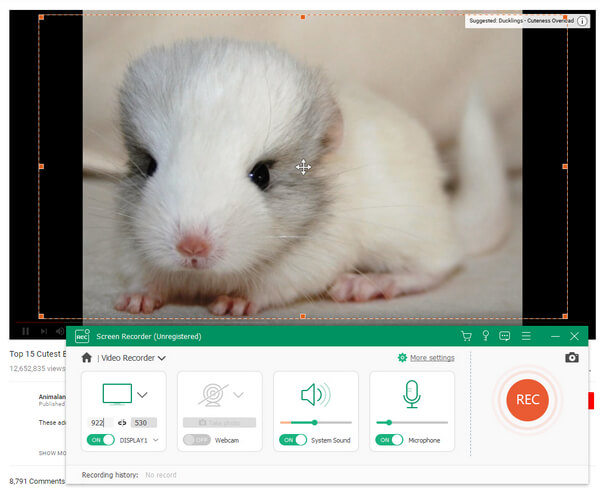 Sometimes, it is hard to distinguish which one to record or not, then you can apply the schedule timer in Tipard Screen Capture. Screen capture timer is the useful tool to set start time and stop time, with which your League of Legends gameplay records will be recorded automatically. After LOL gameplay screen recording, the Windows game capture software will help you preview automatically. Therefore, you can check and enjoy the exciting and wonderful LOL gameplays again. At last, you can save to computer, or share League of Legends gameplay for beginners to YouTube.
Processes to Capture League of Legends Gameplay on PC
Step 1

Drag the LOL window you want to capture.

Step 2

Choose system audio and microphone audio inputs, and turn on webcam if necessary.
In order to capture video, you should determine the capture size of the video first.

Step 3

Tap REC red icon to start streaming LOL gameplay recording, pause and resume desktop capture in free way.

Step 4

Stop League of Legends gameplay trailer capture, and then save or share according to your needs.
Tipard Screen Capture supports users to choose video and audio output formats in multiple styles. For instance, you can save League of Legends gameplay as MP4 and WMV, and audio output formats as MP3, AAC, M4A and WMA.
Part 2. Apowersoft Free Online Screen recorder – Capture LOL Gameplay without Registration
For some people who do not want to install certain desktop capture software, to record LOL replay videos, you can apply Apowersoft Free Online Screen Recorder instead. Being the web-based League of Legends gameplay recorder, you can record scenarios not only limited in gameplay tutorials, but also live chat, self-demonstration and etc. In spite of customize screen and audio inputs settings, there is built-in video highlight filters too, with which you can add lines, text, callouts during streaming LOL gameplay recording. And you can get multiple League of Legends gameplay videos share platforms to post as well.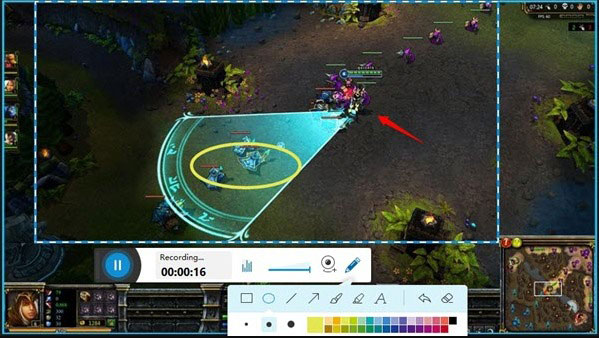 Method of Capturing LOL Gameplay Video Online
Step 1

Tap Start Recording option on the main page in Apowersoft Online Screen Recorder.

Step 2

Customize hotkeys, screen size, audio inputs and other more LOL game record settings.

Step 3

Select Record button, and adjust volume slider, to balance online audio, system audio and microphone voices.

Step 4

Stop desktop LOL game capture, and output League of Legends video file as animated GIF if you want.
All your League of Legends gameplay video records are all in HD quality. Thus, you can try Apowersoft Screen Recorder Pro, to extend LOL game videos afterwards with professional video editor and real-time screencast editor.
Part 3. Bandicam – Add Watermark on League of Legends Gameplay Records
Bandicam can capture game recording videos from all devices, like IPTV, webcam, PS, Xbox, Smartphone and etc. compares with the above two screen capture software, Bandicam aims at gameplay recording, with which users can record 2D/ 3D games with 4K UHD videos. You can capture any desktop activities in HD quality, and save as multiple formats. There are many League of Legends video record filters you can get from Bandicam, out of screen capture area select and webcam overlay add.
For instance, you can draw outline in real-time of League of Legends gameplay recording. Moreover, you are able to mix your voice during recording to add some magic atmosphere. In addition, the mouse effects and animations on LOL game tutorials enable users to highlight and blur certain video records. Furthermore, you can share recorded League of Legends gameplay to YouTube and Vimeo directly.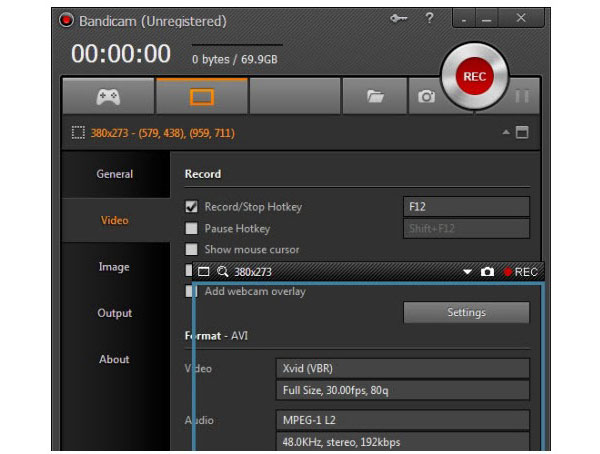 Steps of Saving and Enhancing League of Legends Game
Step 1

Go to Bandicam gameplay recorder, and then customize basic screen record settings.

Step 2

Choose audio inputs, and open webcam. You can also customize hotkey for easy records.

Step 3

Tap Record button to capture streaming LOL battle. Tap the stop button if you want to stop.
You can edit screenshots from recorded Bnadicam LOL game videos, to show others the best moments of champions. With added watermark on your League of Legends gameplay recorder images, it is much safer to far from stealing from others. You can capture gameplays in Plays.tv in high quality too.
Conclusion
The above three LOL gameplay video recording for beginners represent three main ways, by offline recorder, online game capture program and professional LOL recorder. Actually, you can use capture card to save League of Legends gameplay videos as well. Elgato game capture is a good choice for record and save LOL HD gameplay. Though you may cost over $100 for buying the capture card for live streaming LOL game records. In conclusion, playing League of Legends has been popular and usual way during daily life. With millions of gamers form teams and plays LOL online, LOL has gather millions loyal chasers at present. Moreover, there has been international LOL Word Championship. Maybe after some days, League of Legends games will be the essential tool to develop friendship not only limited in young groups.