Top 8 Free Conference Call Services to Make Video and Audio Calls
Nowadays, many people rely on remote conference call tools to hold meetings from dispersed places. Remote working saves the time of traveling and makes teamwork more efficient. When you need a free conference call service to host a business meeting, you can learn the 8 best free conference call services in this article.

Part 1. 8 Best Free Conference Call Services Review
Top 1. Zoom - The Most Popular Free Conference Call Service
Zoom is one of the most popular free conference call services. You can use meeting, chatting, and broadcasting features to communicate with others. It supports video and audio calls. You can join a meeting with 100 participants at most. Record Zoom meeting here.
Pros:
1. Support multiple platforms including Windows, Mac, iOS, Android.
2. Unlimited length of the one-to-one meeting.
3. Share screen with others.
Cons:
1. The length of the group meeting is limited up to 40 mins.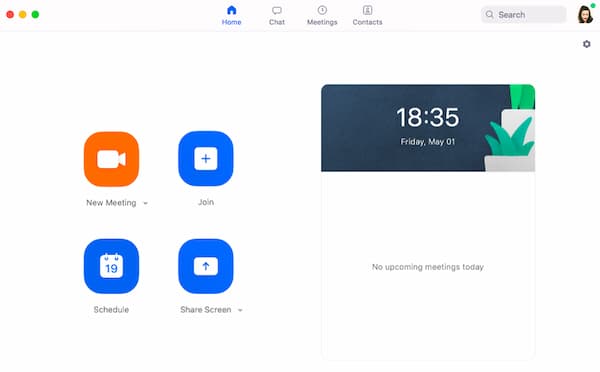 Top 2. Cisco WebEx - Join A Conference with Phone Number
Cisco WebEx is a free conference call service with flexible features. You can make phone calls and send messages on all kinds of devices with the phone number it offers you. Also, it allows you to combine a one-to-one call with a conference call. It also supports most mainstream platforms including desktop and mobile.
Pros:
1. It has a built-in recorder to allow you to capture and edit a meeting.
2. Answer Colleague's phone call with the Call Pickup function.
3. Support screen sharing.
Cons:
1. Some errors may occur in a large group meeting.
Top 3. Skype - Multi-platform Call Service
Skype is a free conference call service that allows you to make international video and audio calls. It supports platforms including desktop, mobile, Xbox one console, and smartwatches. Find Skype recorder here.
Pros:
1. Support high-definition video meeting.
2. Allow 250 people in a meeting at most.
3. Add subtitles for your conference with the live subtitle function.
Cons:
1. The business feature is replaced by Microsoft Team.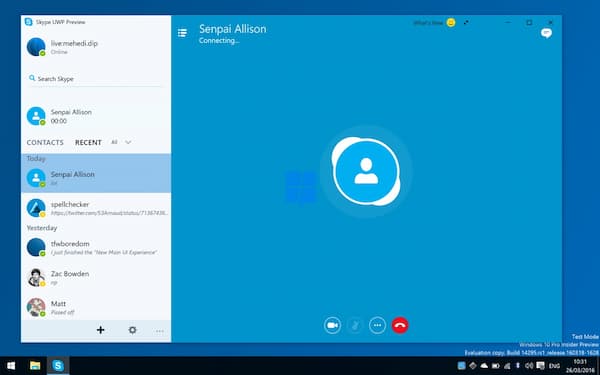 Top 4. UberConference – Create Quick Conference Call
As one of the best free conference call services, UberConference can create a quick audio meeting. You can dial numbers to make a phone call in the US and Canada. You need to sign up to use all the functions like screen sharing.
Pros:
1. Transcription of the meeting helps you to record a conference in text.
2. Allows conference recording and downloading function.
3. Background noises mute in audio calls.
Cons:
1. It only allows 10 attendees to join a conference.
2. It doesn't support video calls.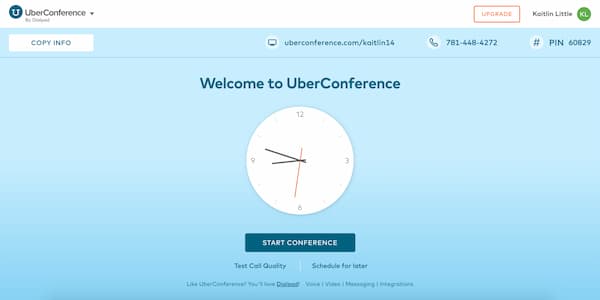 Top 5. Microsoft Team - Best Business Conference Call Service
It is an ideal choice for a business conference call with features like video conferencing, workspace chat, and file saving. Also, it allows you to manage notes, files, and schedules on most desktop and mobile platforms. It supports online education with professional assignment, grade, and feedback functions.
Pros:
1. Multimedia content sharing including videos, images, and documents.
2. Cloud storage space is unlimited.
3. Connected with Microsoft 365 business account.
Cons:
1. It fits better only in the Microsoft system than other platforms like Mac.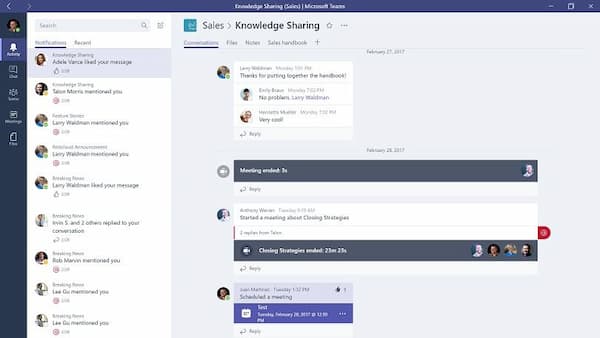 Top 6. FaceTime - High-quality Conference Call on iPhone
It's an app developed and used on Apple devices. If you are a user of Apple products, you can start a video meeting with your friend and family easily. The simple and well-organized interface is friendly to everyone. You can record FaceTime video with a recorder tool.
Pros:
1. Unlimited time of calling.
2. High-quality and stable video and audio call.
Cons:
1. Don't support screen sharing.
2. Not available in all countries and regions.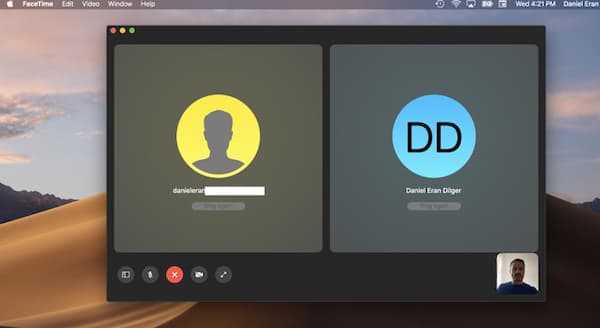 Top 7. FreeConferenceCall.com - Best Web Conference Call Service
FreeConferenceCall.com is a web-based free conference call service support various kind of platforms. Without any paid plans, you can host and manage online conferences after sign up.
Pros:
1. Allow up to 1000 participants in a meeting.
2. Start or Join a conference by dialing numbers.
3. Support screen sharing and recording.
Cons:
1. It only offers online customer support.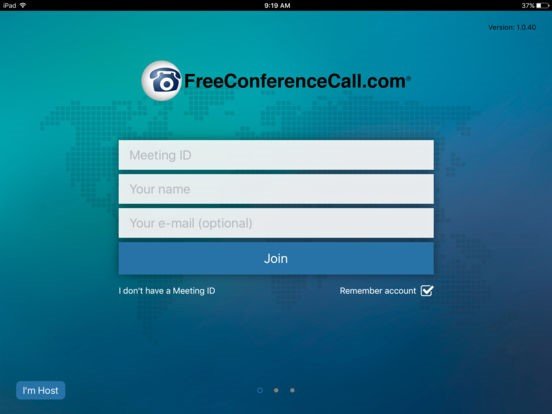 Top 8. GoToMeeting - Record HD Conference Videos
GoToMeeting offers you video calls without codes or PINs. You can schedule the conference call from different devices with Microsoft Office, email, and instant-messaging tools. Conference call transcription and recording are also available on it.
Pros:
1. Provide HD video conferencing.
2. Offers noting tools, remote control, and virtual whiteboard.
3. Unlimited cloud recording storage.
Cons:
1. The free version only allows you to have a call with 3 people.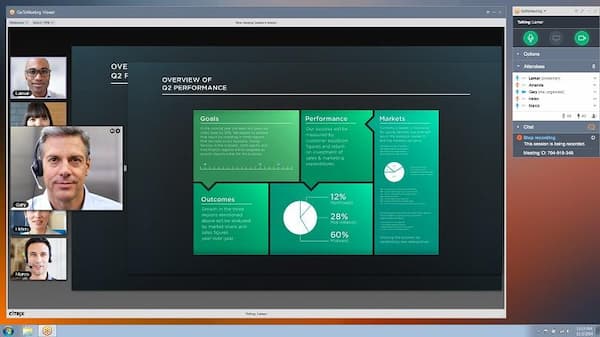 Part 2. Best Screen Recorder to Capture Conference Call
Although some free conference call services have a built-in video recording function, you might want a better tool to record and edit a video meeting without any length and permission limitation. In this case, Tipard Screen Capture is an ideal tool for recording video conferences for you.
1. Record high-quality conference call videos with one click.
2. Add real-time notes and subtitles on a conference call video.
3. Unlimited length of conference call recording.
4. Support cursor capture in the recording.
Step 1Download and launch Screen Capture. Then you can click the Video Recorder button on the main interface to start. It allows you to choose a display or webcam to record on the interface. You can adjust the resolution and the size to capture the conference call, too. You can manually enter the resolution in the field or drag the frame to change the size.

Step 2Click the red REC button to start the capturing. You can add notes and subtitles with various tools like lines, arrows, circles, and texts during the recording. You can find all these tools on the interface. Select the tool you want and choose the size and color of it. Then you can directly write and draw on the screen.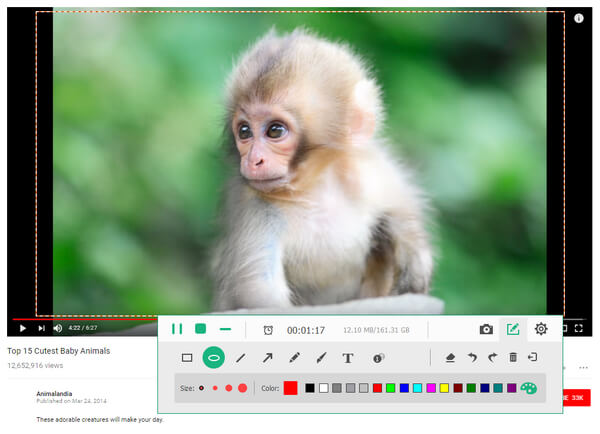 Step 3Click the red square to end the capturing. Then you can preview the recorded video on the interface. You can trim your video by setting the start and end point on the timeline. If you want to download the video, click the Save button. You can find the saved conference call video in the folder you set.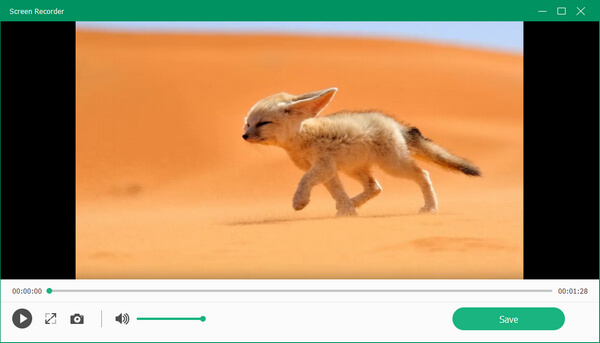 Part 3. FAQs about Free Conference Call Services
1. Is there any time limitation for a meeting in free conference call services?
It depends on the conference call service you use. Most of the free conference call services mentioned above have time limitations except FaceTime.
2. What's the best free conference call service for business?
There are many conference call services designed for business. For example, Microsoft Team has special features designed for business purposes like multi-person meeting managing and high safety standards.
3. Can other participants see my number in a conference call?
No, only the host of the call can see your number. Sometimes you may have a virtual number in a conference call to protect your privacy.
Conclusion
Since free conference call services are wildly used in different areas, you may want to know the best conference call service and its function. This article provides you the reviews of the 8 best free conference call services. Also, you can use Tipard Screen Capture to record conference call with more features. If you have any questions about free conference call services or want to know more about them, please leave your comment below.