How to Record Diablo 3 Gameplay in Different Solutions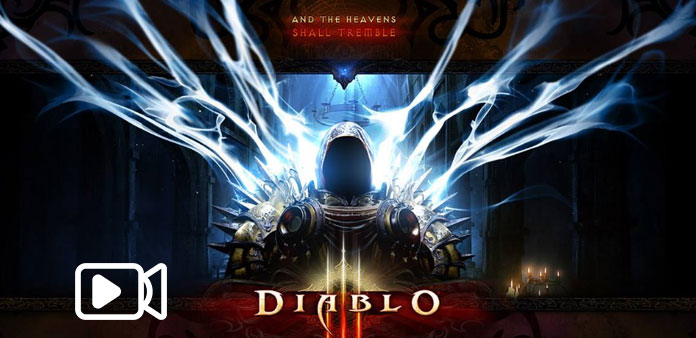 Millions of diablo 3 fans around the world watch gameplay videos regularly. Diablo 3 gameplay videos are popular, because gamers and game fans could find tutorials, reviews and amazing game footages in the videos. If you access YouTube gaming website, you will know how prevalent diablo 3 gameplay videos are. However, creating videos is not a simple task. Diablo 3 is a big game, so you need a CPU-light game recorder to capture the gameplay video. On the other hand, if you want to produce an attractive gameplay video, your game recorder should have the ability to capture high quality images. To meet such requirements, we will some best game recorders and their details in this article.
Part 1. Great diablo 3 gameplay video on Windows
If you need a CPU-light game recorder to create game videos on PC, Tipard Screen Capture is a smart choice. When you capture diablo 3 gameplay, you even cannot feel Screen Capture is running. The smooth game recording experience of Screen Capture will give you a deep impression. Moreover, Screen Capture supports to record gameplay with multiple input sources at the same time, including computer desktop, system audio and microphone. Screen Capture will blend your voice with the game background sound automatically.
How to create diablo 3 gameplay with Screen Capture
Step 1
Launch Screen Capture and customize the recording screen size. Screen Capture offers three recording size settings, Full screen, Custom size and Dimensions value.
We usually play diablo 3 in full screen, so you'd better select Full screen in Select Recording Area. Or you can choose Custom and adjust the control points or drop the values in Dimensions field.

Step 2
Before recording diablo 3 gameplay, you have to set the input sources. In Screen Device section, enable the computer icon.
And in Select Recording Inputs section, select both System Audio and Microph Audio. Then Screen Capture will capture your voice and background sound along with the video.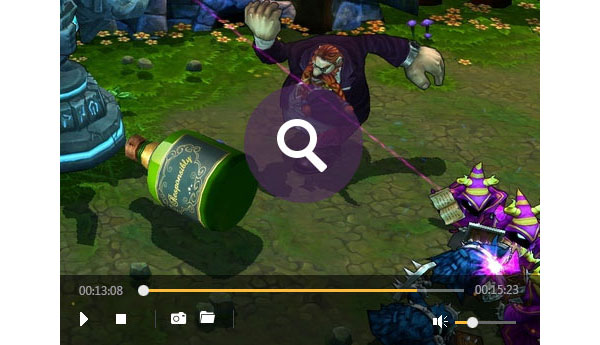 Step 3
Screen Capture is also able to automatically record gameplay. You can set in Duration section. When the game is done, Screen Capture will stop recording spontaneously.
Step 4
And then you can tap on REC button and minimize Screen Capture. Once you begin to play diablo 3, Screen Capture will capture game footage.
Step 5
When game is done, click on REC button again to stop recording. You can save diablo 3 gameplay video in high quality files, like HD videos or 4K videos.
As you can see, Tipard Screen Capture has an intuitive interface with all necessary features to record gameplays. Game is an essential entertainment for PC users. And some people even rely on PC games to make money. Recording gameplay is still a challenge to many PC game players, for they do not grasp the best game recording method. Tipard Screen Capture seems a smart choice for PC game players, not only because it is a CPU-light screen recorder, but also because it could create high quality game videos. When you share your high quality gameplay videos of diablo 3 on YouTube, the videos will attract more people to watch and share.
Part 2. Produce diablo 3 game video on Mac OS
Previously, diablo 3 is only compatible with Windows. But now beta of diablo 3 for Mac has released. If you are ready to produce diablo 3 game videos on your Mac computer, you need the best game recorder, ScreenFlow for Mac should be the right choice. Based on testing, ScreenFlow for Mac is excellent on capturing large internet games. Besides gameplay capture, ScreenFlow for Mac has integrated video editing features, so you can polish your game footages within ScreenFlow for Mac after recording. When it comes to workflow, you can follow the steps below.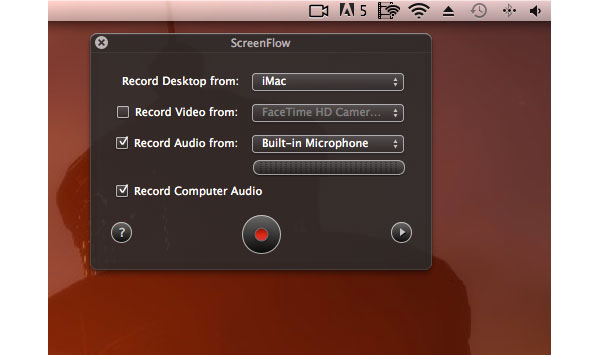 How to produce diablo 3 game video with ScreenFlow for Mac
Step 1
Open ScreenFlow on your Mac computer, you will find that a camera icon instead of the whole application appears on the top menu bar.
Step 2
Before recording diablo 3 game videos, you should go to Configure Settings window to customize some settings. Set your Mac computer in Record Desktop from option. And then check both Record Audio from and Record Computer Audio. In the drop-down list next to Record Audio from checkbox, select Built-in Microphone. With such settings, ScreenFlow will capture the background sound and your voice along with gameplay.
Step 3
When you are ready, press the circle Recording button and open diablo 3, ScreenFlow will start capturing the footage of your gameplay and its camera icon will turn to a dot.
Step 4
When you are done, tap on the dot and stop recording. After diablo 3 game video recording, you can edit it within ScreenFlow for Mac.
Given diablo 3 has released a beta for Mac OS, we introduced the best game recorder for Mac users as well. ScreenFlow for Mac is a convenient tool to produce videos on Mac computer.
Part 3. Record diablo 3 gameplay on PlayStation 4
PlayStation 4, short for PS4, is the most popular video game console. According to the data from PS4 manufacture, Sony Entertainment, PS4 sales had reached more than 50 million in December, 2016. So learning how to record gameplay on PS4 is essential to game players. PS4 has the built-in gameplay recording feature. So you can record diablo 3 gameplay on PS4 directly. The operation to capture gameplay on PS4 is simple too.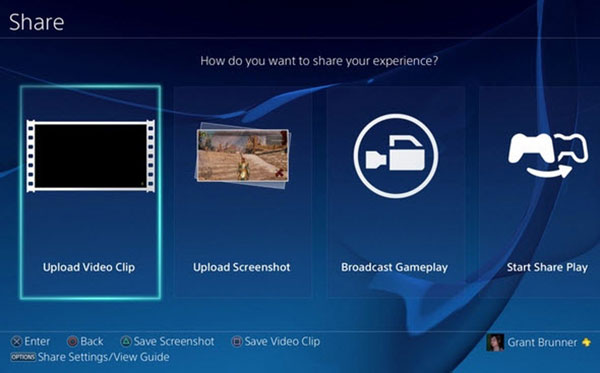 How to record diablo 3 video on PS4
Step 1
Power on your PS4 and open diablo 3. You could play diablo 3 to the certain scene that you want to record.
Step 2
When you prepare to record diablo 3 footages, press Share button twice.
Step 3
If an animation shows up on the upper left corner of the screen, that means PS4 starts capturing your gameplay.
Step 4
To stop shooting, press the Share button for a while; then gameplay recording will stop.
Step 5
After recording, you have to select Save Video Clip option to save game video.
Step 6
Then you can tap on Upload Video Clip or Share Play to post your diablo 3 gameplay to YouTube or Facebook. PS4 built-in game recording function is useful when you want to create some gameplay videos.
Finally, if you prefer to play diablo 3 on PlayStation 4, you can utilize the embedded game record function to capture game footage. And PS4 supports to share the game recordings on social media directly. All in all, you can follow a guidance to produce diablo 3 gameplay video according to the platform that you play game on.