Movavi Screen Capture Alternative Recorders on Windows and Mac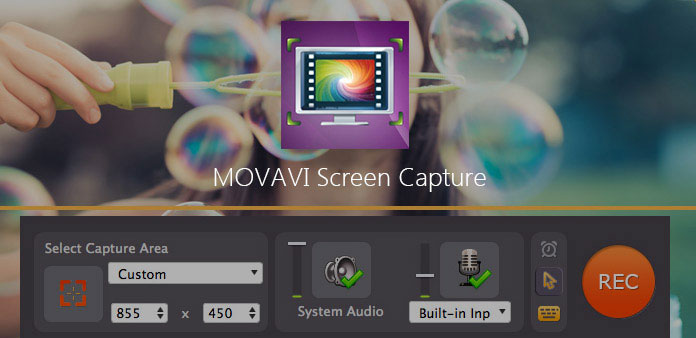 To record tutorials, demos, how-to guide, presentations and other similar desktop movements, you need to get one good screen recorder. Movavi has two representative screen capture software for both Windows and Mac users, they are Movavi Screen Capture and Movavi Screen Capture Studio. To be easier, Movavi Screen Capture Studio has one more feature than Movavi lightweight version, which are Movavi deep editing filters. The biggest similarity of them is that, you can all record screen activities in high quality, as well as audio output files. In most cases, using Movavi Screen Capture is enough for daily desktop capture. In addition, you can get other two Movavi Screen Capture Alternatives, to record what you have done in high resolution.
Part 1. Movavi Screen Capture – Desktop Recorder
Movavi Screen Capture is the tool you can catch streaming screen movements. No matter you want to record movies, Skype video calls, webinars and other more similar screen recording videos, Movavi Screen Capture full version can capture everything happened on your laptop. There is large operating room to run Movavi Screen Capture on Mac or Windows. For instance, you can use it for daily learning, to save online tutorials and webinars. Or to replay recorded videos to learn in detail. You can also use dedicated presets to save records both on PC and mobile phone.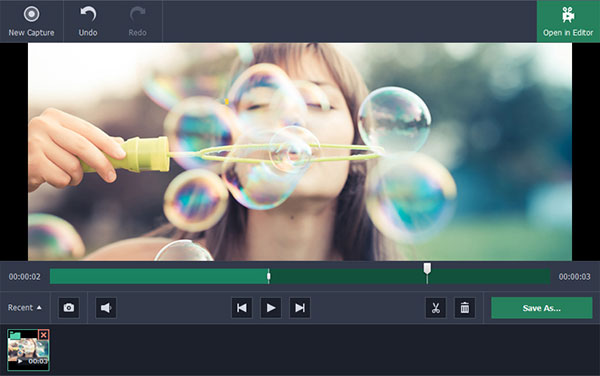 As for having fun with Movavi Screen Capture application, you can record movies and videos online even without download permits. In addition, all your video records will be in HD resolution. Before you have Skype video calls with friends, you can use it to capture funny moments to treasure. If you have not prepared to broadcast in front of large groups of people directly, you can use screen recorder to capture everything, and then post to your YouTube channel. Movavi Screen capture allows people to delete ads and unwanted footage.
For serious work situation, you can also capture quick screen activity to your colleagues to show them. Moreover, the activation has basic video editing tools, you can use to add texts, change frames and select arrows. Sometimes your business partners are not reliable enough, so you can record your video calls on Movavi, with both video and audio captured clearly. Movavi Screen Capture software supports multiples input and output media formats. And you can use many digital devices to record and output to. Remember that if your OS X operating system is under 10.6, as a result, you cannot open webcam during screen recording processes. In a word, enjoy the fun of screen capture taking by Movavi.
Part 2. Snagit – Similar Movavi Software of Smart Screen Recording
Snagit is the Movavi Screen Capture alternative software on Windows and Mac. You can use Snagit to enhance screenshots, share file, edit images and record videos. Let us solve these representative features in order. Snagit has high quality markup tools. Thus, you can trim recordings in free way. Moreover, Snagit offers animated GIF convert service, with which you can use capture videos. For most video recording software, if you want to share recorded video, you need to send by email or USB. However, Snagit just use URL paste, to share your screenshots and video recordings in super convenient way.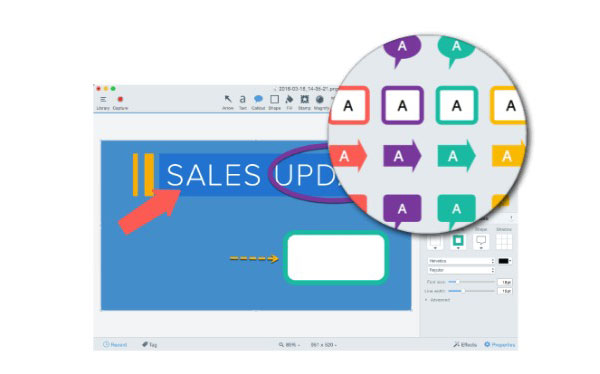 Then the all-in-one screen capture and recording software announces that, you can get help for video capture, image capture and mobile capture. With unlimited screen scrolling support, you are able to grab any webpage and webinars. The other panoramic capture can merge the whole screen by individual screenshot parts. In addition, there are background auto-fill and magic wand tool on the Movavi Screen Capture alternative program. You can magnify and stamp your images with stickers. Thus, it is also a good choice to use Snagit on screen capturing.
Part 3. Tipard Screen Capture – Best Movavi Alternative on Windows
Tipard Screen Capture is the best Movavi Screen Capture alternative on Windows. You can record screen activities in 100% original quality, with several popular input and output media formats supported. To start with, you can customize screen capture area by dragging by your mouse. If you want to get accurate video screenshots, you can set by length and width before video capture starts. If you need to capture tutorials or other similar teaching videos, Tipard Screen Capture has the cursor effects to apply. To be more specific, you can change cursor color, add highlight cursor and show cursor to strength your points.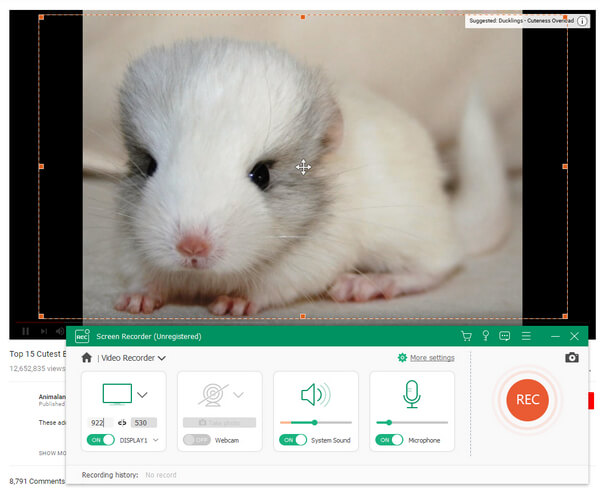 If you need to grab accurate video and audio records, you can seek help from record timer. By setting start time and stop time, you are able to trim and merge recordings easily. Then you can turn on webcam to record yourself too. The audio input has two audio record choices, which are system audio and microphone. You can capture soundtrack simultaneously or separately, which depends on you. Furthermore, the automatic preview function can help you to check whether to video or audio records successful or not. As for output formats, Tipard Screen Capture offers multiple popular video and audio types, they can satisfy most media player format requirements.
How to Record Screen Activities with Movavi Screen Capture Alternative
You can save videos by recording online with Movavi Screen Capture alternative. If you just need to save audio files, Tipard Screen Capture can help you grab original audio files with ease.
Step 1

Customize screen capture size.
You can use mouse to drag the screen area to capture. Or you can also set length and width under Selected Recording Area menu.

Step 2

Set input audio and screen capture devices.
Tipard Screen Capture offers two main audio record ways, by system audio and microphone. For people who want to record tutorials and other similar videos, you need to turn on webcam as well.

Step 3

Set duration time for long time screen records. (Alternative)
If you have to record movies, and there are other things you need to finish first, you can set record timer to save certain video recording parts. Or you can set alarm clock to record desktop automatically.

Step 4

Tap REC option to start screen records on PC.
During your desktop recording, you can pause and resume screen recording whenever you like.

Step 5

Stop screen recording, and then save recorded videos on customize location.
You can output screen capture videos in MP4 and WMV on the Movavi Screen Capture alternative software, and audio output formats in MP3, AAC, M4A and WMA.
Tipard Screen Capture enables users to record videos with high quality. Moreover, you can capture audio files only to save music online. No matter you record screen capture videos and audios simultaneously or not, Tipard Screen Capture will always show you high quality of screen record outputs.