Top 10 Best Free Video Editors You will like in 2023
Video files are the most popular part of everyone's life now. When you want to design video by yourself, you can choose free video editor instead. What are the best free video editing programs of 2021? The article introduces the best 10 high quality free video editors to customize movies with a wide variety of video formats. Add photos effects, text and subtitles, video stabilizer and other features help you achieve the desired effects with ease. If you are struggling with whether to buy some expensive video editing software, please read the following article and find all video editors free of charge!
1. Windows Movie Maker
As for the Windows users, Windows Movie Maker should be the most popular free video editor. You even do not have to download the program for Windows operation systems or consider the compatibility issues. The free video editor supports ASF, AVI, DVR-MS, M1V, MP2, MP2V, MPE, MPEG, MPG, MPV2, WM, WMV as well as lots of other audio formats. And then export them in resolution up to 1080P.You can also use lots of excellent editing features, rotate a video, add titles, introduce transition effects, add audio and adjust the volume and fade of audio, both in your video clip and in the attached audio track.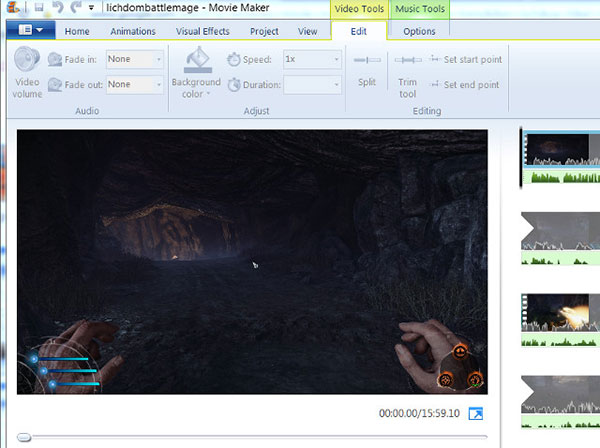 2. iMovie
For iDevice or Mac users, iMovie is a good free video editor with powerful functions. You can make your own movies, edit video, share your video freely etc. Not only for your Mac computer, you can use it on your iPhone, iPod touch and iPad. Anytime and anywhere you want to edit, create or watch video files, the free video editor can satisfy your needs. iMovie has studio-quality, high-fidelity filters, extra-special effects and soundtracks etc. You can choose any templates you like to edit your video, and the free video editor gives you Hollywood-style movie trailers from all that footage. Then you can pick your studio logo, add photos and video to the storyboard.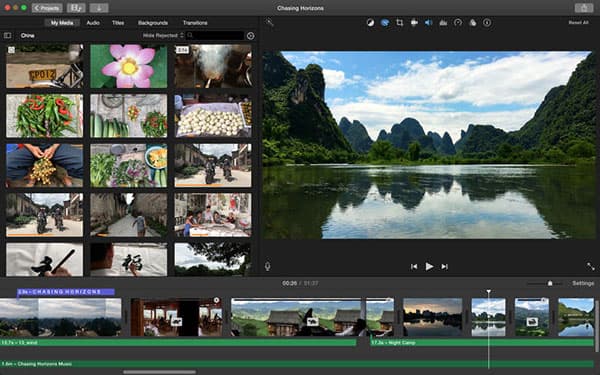 3. Avidemux
Avidemux is a great free video editor designed for simple cutting, filtering and making encoding. It is available for Mac OS X, Microsoft Windows, Linux and BSD under the GNU GPL license. The program is compatible with different video formats such as DVD, MPEG and AVI. What is more, it also supports audio formats including WAV, AAC, MP3, AC3, MOV, etc. It is important to say the software is easy to install and be downloaded. The free video editor works well for simple editing tasks and supports a wide variety of input and output formats. Even if the non-tech savvy people can use the free video editor with ease.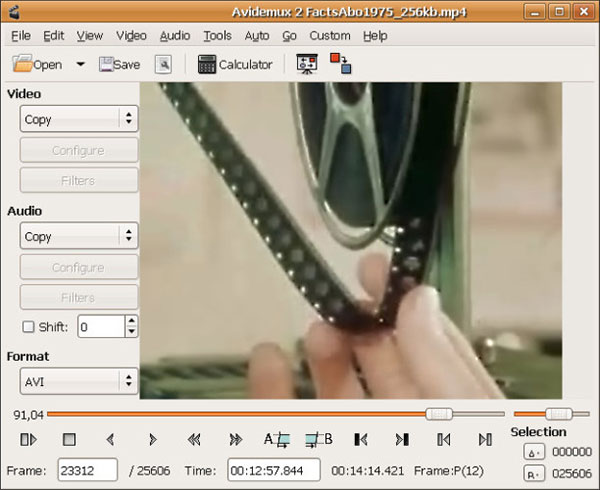 4. VirtualDub
VirtualDub is a video capture and processing free video editor for both 32-bit and 64-bit Windows operation systems. You can use the program with Windows 98/ME/NT4/2000/XP/Vista/7. The program is famous for the batch processing capabilities for dealing with large numbers of video files. And you can also use some third party video filters to achieve the desired effects. VirtualDub is mainly geared toward processing AVI files, although it can read MPEG-1 and also handle sets of BMP images. The free video editor also has some basic video editing features, such as such as compression, video splitting, and the addition of audio tracks.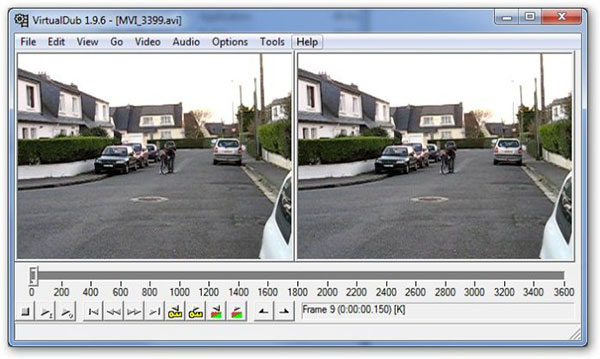 5. Blender
Blender is an open source and free 3D rendering program. The free video editor has lots of advanced features like powerful character animation tools, modifier-based modeling tools, a node-based material and compositing system, Python for embedded scripting and so on. The open source video editor also supports the entirety of the 3D pipeline, modeling, rigging, animation, simulation, rendering, compositing and motion tracking, even video editing and game creation. Unfortunately, Blender is a little difficult to use, not match the top-tier packages. However, if you have the time to learn the free video editor, the program can provide the professional 3D quality.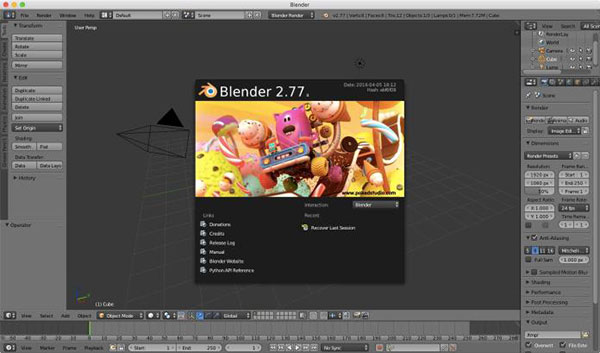 6. Kdenlive
Kdenlive or KDE Non-Linear Video Editor is another open source video editing application. The free video editor developed quiet a bit over the years, and now becomes a professional editing suite than it used to. Most users like this video-editing tool for most of the video formats, such as AVI, QuickTime, FlashVideo, WMV, and MPEG. It is because Kdenlive is built on QT and the KDE Frameworks libraries. Most of the video processing is done by the MLT Framework, which relies on many other open source projects like FFmpeg, movit, ladspa, sox and so on. The free video editor also supports 16:9 and 4:3 aspect ratios for NTSC, PAL, and some HD standards including AVCHD and HDV.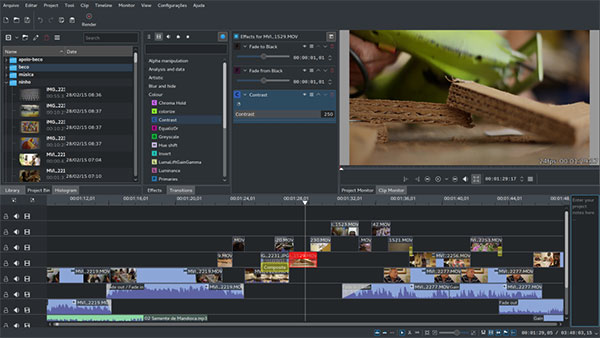 7. JahShaka
JahShaka is one of the video editing tools aiming at becoming an open source, cross-platform, and free video editing tools. It is compatible with Linux and Windows, previously known as CineFX,combing video editing, 2D and 3D animation, composing, color correction, and video effects into across-platform over.Moreover,it is best for someone who have not yet enough experience using video editors.But, professionals can also use this tool.Unfortunately, JahShaka is still lacking some helpful implementations of numerous features including the non-linear editing system.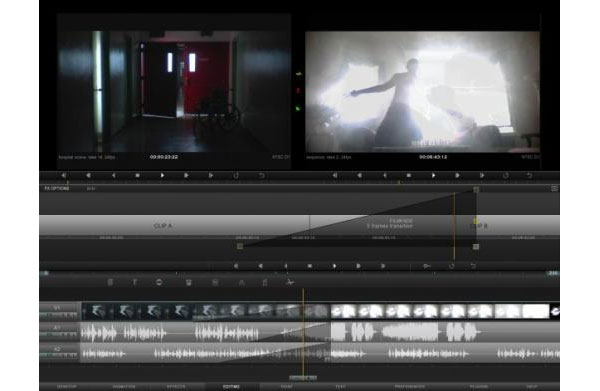 8. VideoLan Movie Creator
Under development,but powerful. Different from VLC Media Player, they are both from VideoLanOrganization. Based on the proven VLC framework,This video editor is aimed to play videos and some media formats.It is better for someone who start to explore movie creation and video editing.The users do not need special skills,it can be used easily and simply.Also ,the video editor can run on Windows, Linux and Mac OS X.It can read everything and suit most formats.Although in the early stage of development ,this software has a bright future.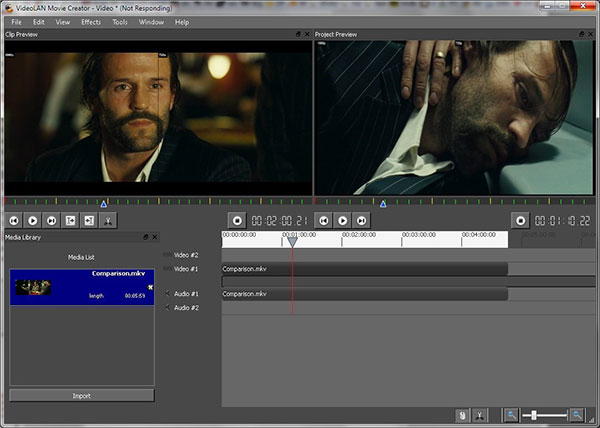 9. DaVinci Resolve
The Studio version of Da Vinci Resolve costs nearly $1,000 - but the basic version is completely free.We know that the studio version has the the world's most advanced color corrector and it even can integrated into the largest Hollywood production pipeline.So the power is obvious as you see .The basic version has the same high quality image processing abilities and the best color correction correction capabilities.
DaVinci Resolve can only export in SD, HD and Ultra HD.However,this editor is mainly for professional and business people.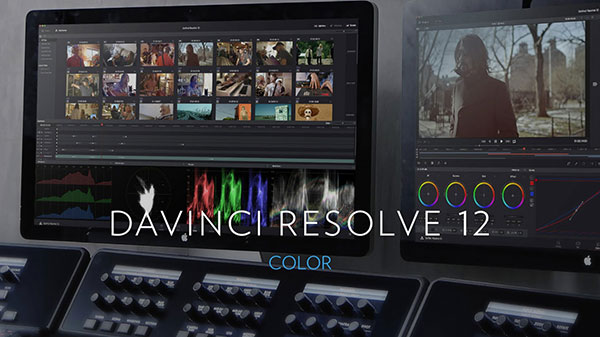 10. Tipard Video Enhancer
If you are looking for an easy-to-use and cross system video editor, Tipard Video Enhancer is the best choice among video editing software. Video Enhancer has the friendliest interface and supports both Windows and Mac. Just learn more detail about the other wonderful features of the program.
1. It provides free trail for users, so you can try it freely.
2. Video Enhancer offers rich functions, including cropping videos, rotation, effects, color balance, adding watermark, and so on.
3. The video editing software supports include almost all video files and audio files.
4. It has the ability to convert videos to 3D, 4K UHD video and 1080p HD video.
5. You can use this video editing software to clip videos according to time range exactly.
How to edit videos with Tipard Video Enhancer
If you have tried Video Enhancer, you would understand that it is easy-to-use video editing software. All you need to do is several clicks. Just download and install Tipard Video Enhancer, and then follow the steps to edit video files accordingly.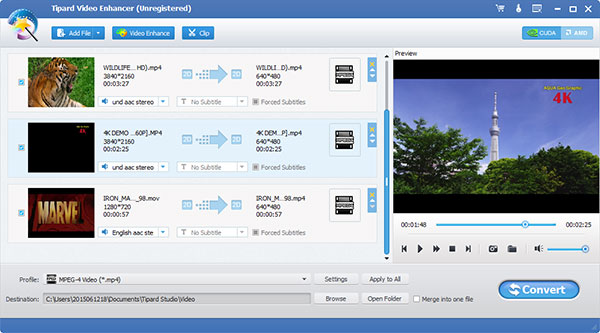 1. Click on

Add File

to load the video to edit.
2. Then tap on

Video Enhance

to open editing window.
3. You can edit your video with the rich features on this video editing software, like rotate, crop, enhance, clip, convert, and more.
4. After you get the satisfactory result, click on

Apply

to save the output on your computer.
As one of the most efficient video editing software, you can always achieve the desired effects for your video with ease. What is more, you can also use it as audio enhancer to improve the audio files professionally.
Above is the brief review of the 10 good free Video Editors ,I believe it must have one can suit your needs.