When you are creating a movie or a video story, you probably end up with several video clips. After you produced two different clips of an interview, for example, you have to combine two video clips to make a complete program.
No matter the reason, you will need a proper video editor to put two videos together or stitch several clips. There are lots of tools that let you to complete the task, but if you do not understand how to use them, it will become a disaster. This article will share the best video merging applications for computer and mobile device as well as the step-by-step guide.
Part 1: Best Ways to Combine Videos on Desktop
Putting videos together is not a simple task, It is involved with many things like making clips work nicely together and getting the results you want from the final movie. However, it is impossible to learn everything related to video editing, such as codecs and more. In fact, all you need is a powerful video editor that has the ability to stitch videos together. From this point, we recommend Tipard Video Converter Ultimate. It simplifies the process and produce the best result according to your hardware and software.
1. Put video clips together to make one video with one click.
2. Let you preview the result with the built-in media player.
3. Support a wide range of video formats including AVI, MP4, MKV, etc.
4. Edit each video clip before combine them.
5. Offer plentiful custom options, like resolution, bitrate and more.
In short, it is the easiest way to merge videos together on your computer quickly.
How to Combine Videos on Your Desktop
There are two ways you can use to merge videos together using Tipard Video Converter Ultimate.
The first way is using Video Merger in Toolbox.
Step 1
Download, install, and launch Tipard Video Converter Ultimate on your PC.
Step 2
Go to the Toolbox tab and choose Video Trimmer.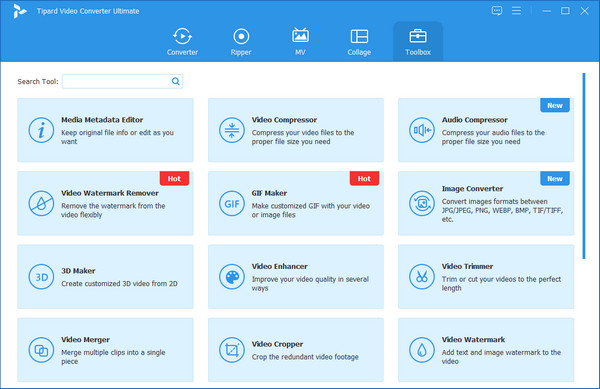 Step 3
Then you can add videos you want to merge by clicking the central big plus sign.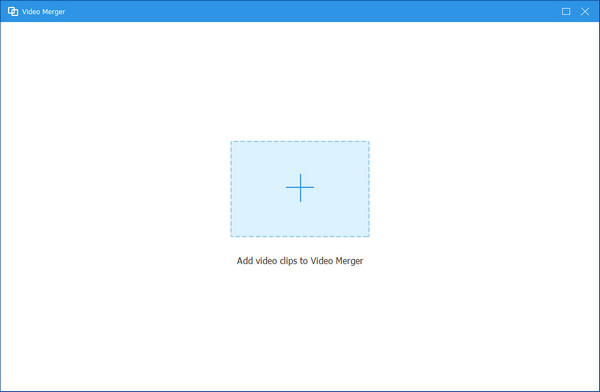 Step 4
Next, you can click the Add button to import more videos. You also can adjust the position of each video by clicking Forward or Backward.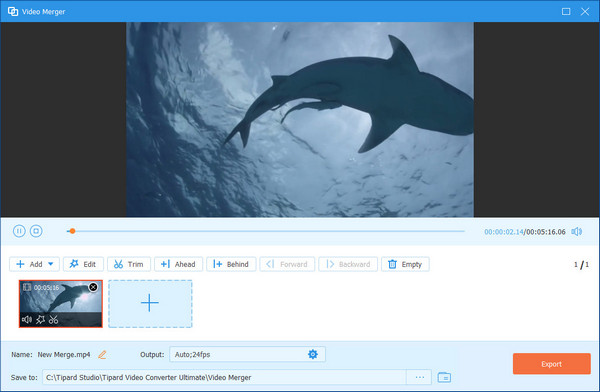 Step 5
Finally, click the Export button to save the merged video to your desktop.
You also can combine multiple videos into one using the Converter function.
Step 1
Install the easiest video merger
As a desktop program, you need to download and install Video Converter Ultimate to your computer. Then launch it and click the Add Files menu to display the open-file dialog. Find the video clips and click the Open button to add them to the library area. Alternatively, you can drag and drop the clips into the home interface directly.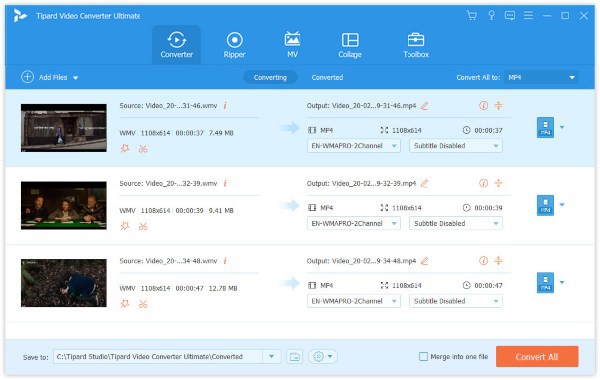 Step 2
Polish each video clip
If you want to edit a video clip, check it in the library area and click the Edit button (the Wand icon) to open the Edit window. Here you can rotate and crop the video, adjust the video effect, or add watermark. To trim a video, click the Cut button to do it simply.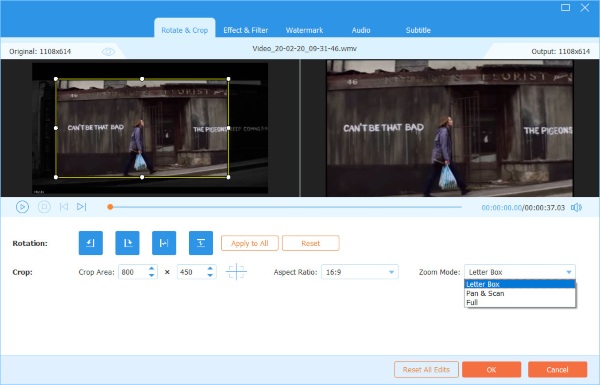 Step 3
Merge video clips together
After editing, go back to the home interface and arrange the video clips in the media library area. Click and expand the Custom Profile drop-down list by clicking the box behind Convert All to and choose a proper video format. Then locate the bottom area. Hit the Browse button to set a specific folder to save the video story.
Make sure to check the box next to Merge into one file. Finally, click on the Convert All button at the bottom right corner to merge video clips together.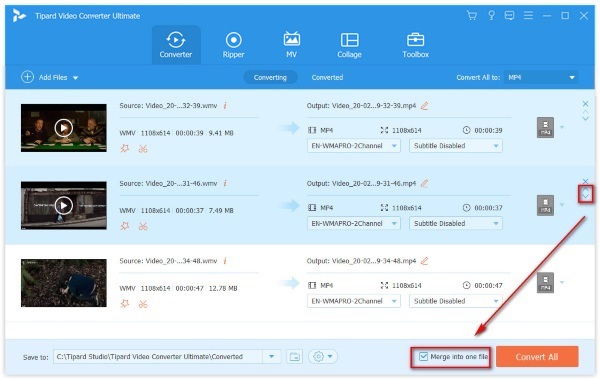 Note: Video Converter Ultimate can combine dozens of video clips together in a few minutes.
Part 2: Merge Videos on iPhone
For mobile-first people, video merging apps are the convenient method to combine two videos on iPhone. Most video editor apps for iOS is only capable to polish a single video clip. So, you need a video editor app that has the capacity to put videos together without extra hardware. iMovie for iOS and Videoshop are popular video editor apps for iPhone and can meet your need.
How to Merge Videos on iPhone with iMovie
iMovie for iOS includes several video editing tools, such as trim, merge, filters and more. So, you can use it to merge two video clips on iPhone quickly.
Step 1
Run the iMovie app from your home screen. It can be downloaded from App Store for free. Go to the Project tab, tap Create Project and Movie. Then you can import a video clip from your Camera Roll.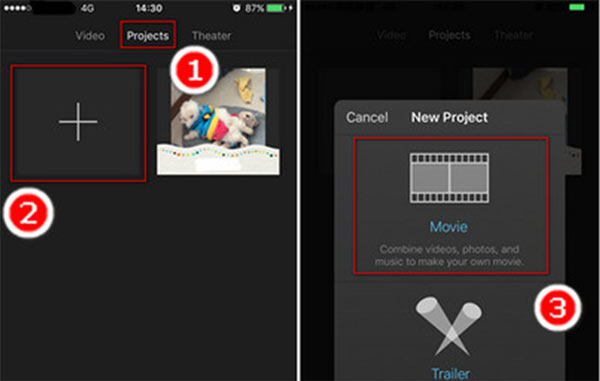 Step 2
Next, you will be taken to the editing screen. Tap the Media icon at the upper left side to put the video file to the timeline.
Step 3
Scroll the timeline till the vertical line appears. Tap the Plus icon to redirect to your Camera Roll and you can add another video clip to the timeline. If you want to add more videos together, repeat the process above to add them to the timeline in iMovie.
Step 4
To smooth the playback of video clips, you can apply transition effects between two clips.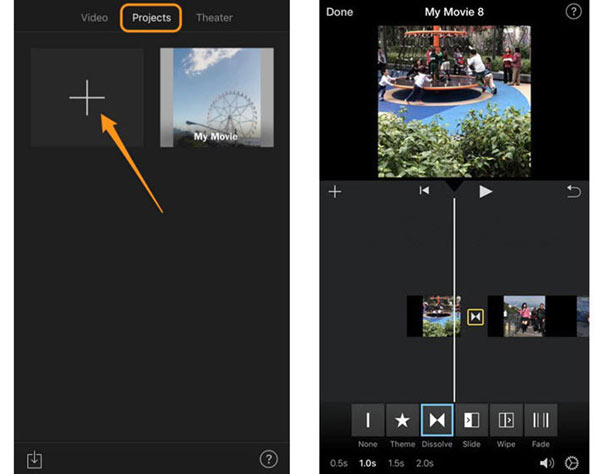 Step 5
After that, tap Done and save the final video to your Photos app. Or you can directly share it to YouTube or iCloud.
Note: iMovie cannot upscale the video quality.
How to Stitch Videos Together on iPhone Using Videoshop
Videoshop is another easy-to-use video editor app for iPhone and iPad. It integrates the basic video editing functionalities, from trim to merge, from crop to rotate. It provides the free download in App Store with several in-app purchases. However, the free version is powerful enough to join videos together on iPhone.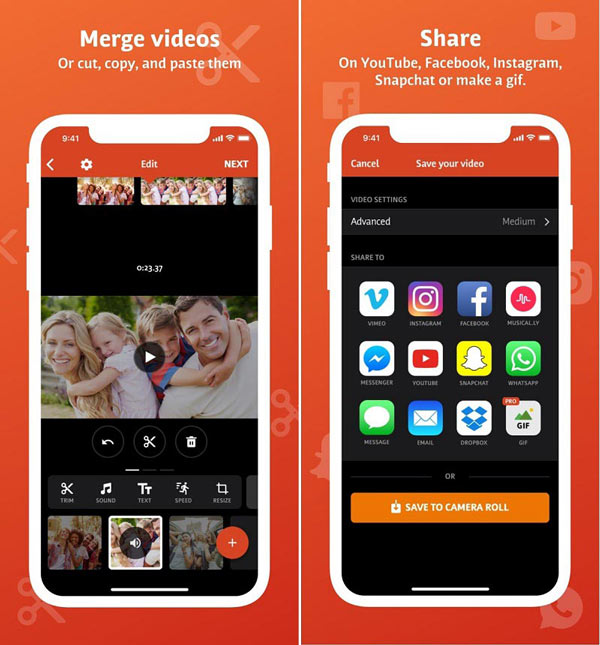 Step 1
Start the app and tap the Plus icon in the main interface to add your videos from Camera Roll. This video editor is exclusive to process iPhone and iPad videos. The videos from other platforms will be refused.
Step 2
After loading, the video clips will be added to the storyboard on the top of the screen. Now you can apply different settings or use the editing tools, like add texts on videos, adjust the speed, add background music, or apply transition between two clips.
Step 3
If you want to change a single video clip, touch it on the storyboard and then use the tools on the bottom to get the desired effect.
Step 4
Once down with merging videos on iPhone, tap Next at the upper right side to go to the next screen. Write down the filename and other information. Then tap the Share icon to save the result to your iPhone or upload it to social media.
Part 3: Join Videos Together on Android
If you search for video edit in Google Play Store on Android phone, you can get a very long list. It makes sense that people are increasingly comfortable to capture and edit videos on smartphone. Among them, Quik and Adobe Premiere Clip are able to combine videos for YouTube and other platforms.
How to Join Videos Together on Android via Quik
Quik is released by GoPro, but it is available to every Android users for free. It is not only a video editor app, but also a movie maker. You can combine video clips together and set your favorite music as the background music. Anyway, all features in Quik are designed for movie making.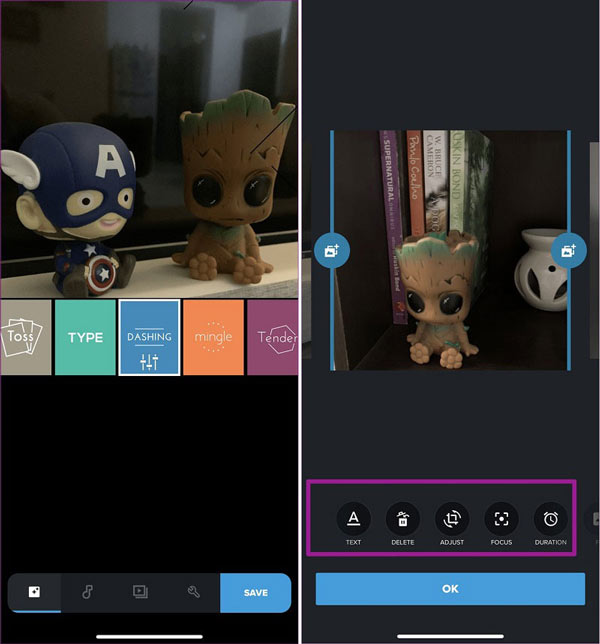 Step 1
To start combining two videos on Android, tap the blue Plus sign at the bottom right corner. Then import the video clips you want to put together. It can add MP4, HEVC, and VP8 video files. The input sources include Photo Gallery, Albums, Google Photos, Dropbox and GoPro+.
Step 2
Go to the Video Style tab and select your favorite style for your final video. Then you can preview and edit each video clip before combining them.
Step 3
Head to the Music tab from the bottom and set the background music. Then go to the Adjust tab and access more options, such as Filters. Reset them based on your preference.
Step 4
If you are satisfied with the result after previewing, you have two options to store the final video. Tap the Save button at the bottom right side to export it to your phone. Or tap Share to upload the video.
How to Merge Video Files with Adobe Premiere Clip
Adobe Premiere Clip is another way to put two videos together on Android. Though Adobe's products are expensive, Premiere Clip is free to use on Android.
Step 1
Open the video combining app and tap the Plus icon to create a new project. Then select the input source, touch the video clips to merge and tap Done to add them to the app.
Step 2
Then choose a project type or make a customized style by tapping Freeform. Then all video clips will appear in the bottom area. To organize the video clips, press one video file and drag it to the right position.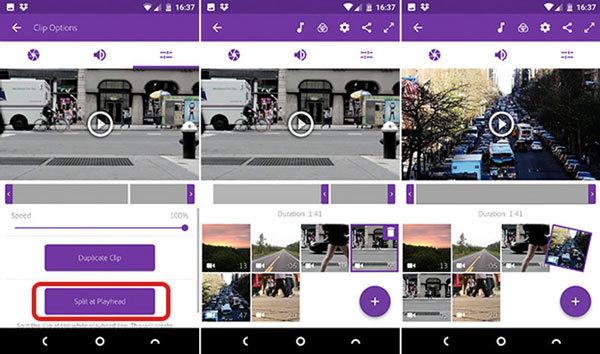 Step 3
If you want to edit an individual video file, select it and split and trim the video or add filter. Moreover, you are allowed to add background music to the video project by tapping the Music icon.
Step 4
Finally, tap the Plus icon on the main interface, select Text Title and give a title. Preview the final video and then tap the Share icon. Then you will get several options, Save to Gallery, Share on YouTube, and more. Choose the proper one and select export resolution to save the final video.
Part 4: Stitch Videos Online
Online video editors are popular, partly because they allow you to do what you want without installing any software. However, they have unavoidable shortcomings, such as file size limit. If you do not mind it, here are two ways to join videos together online.
Combine Videos Online with Clideo
Clideo is a set of online file toolkits, including a video merging app. It can stitch two video clips online completely.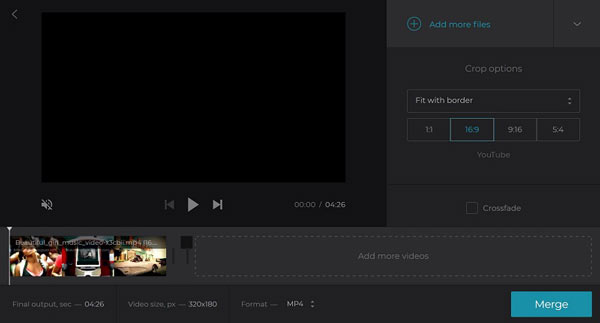 Step 1
Open your web browser and visit https://clideo.com/merge-video to open the video merging page directly.
Step 2
Click Choose files button to trigger the open-file dialog, navigate the first video clip and click the Open button to upload it. Then the next page will appear.
Step 3
Then hit the Add more files option and then upload the other video clips. Organize the clips on the storyboard. It also allows you to crop the video based on YouTube aspect ratios.
Step 4
Unfold the Format drop-down list and choose your favorite video format. Click the Merge button at the bottom right side to start the process. Finally, you can download the final video to your computer or transfer it to Google Drive.
Note: You can merge videos online with Clideo for free, but to remove the watermark, you have to sign in with your Facebook or Google account.
Stitch Videos Online via Kapwing
Kapwing is another online video editor that permits you to combine two videos no more than 750MB per task.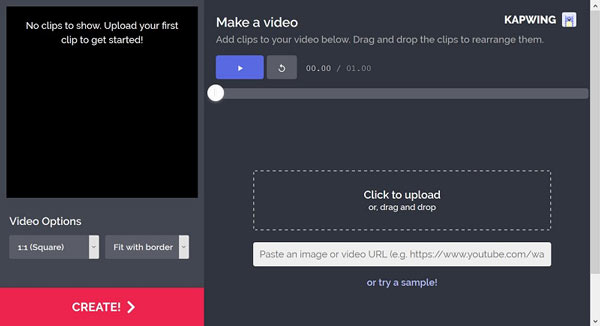 Step 1
Copy and paste https://www.kapwing.com/maker/editor into the address bar of your web browser and hit the Enter key to access the online video merging page.
Step 2
Open an Explorer window and find the video clips you want to put together. Drag and drop them into the online video merger to start uploading. Or you can paste the video URL to import online videos.
Step 3
Wait for video uploading to be done, and adjust their order. Click the Create button at the bottom left side to start stitching them together. Then you can get the result to your hard drive.
Conclusion
Now, you should understand how to put video clips together to make one video on your desktop, smartphone or online. If you have the better suggestions, please write them down below this article.