Top Music Video Makers to Grasp this Year [Comprehensive Review]
Are you an aspiring music video creator? Then, you should start learning the basics first, then the technicalities of editing the videos after. However, with innovative technology, you can actually have both at the same time. As long as you have the perfect tool to utilize, you will be able to have your desired excellent outcome. It is why we have decided to create this content, to assist you in your search for the best app to add music to video. Through this, you won't need to spend so much time just searching for the good one. For this reason, be excited to attract more audiences that will appreciate your music video creation with your new ally music video maker to acquire at the end of this post.
Part 1. Best Music Video Maker for Windows and Mac
Tipard Video Converter Ultimate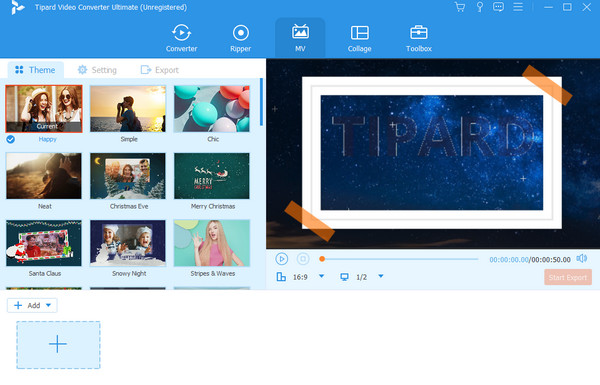 Suppose you are the kind of video creator who does not really have experience in putting music in a video. In that case, you should see this Tipard Video Converter Ultimate and its impressive MV feature that will help you make cinematic music videos like a Pro. What makes this best music video editing software different from the others is that it has a super-friendly interface, which is enjoyed by many users, especially rookies, for it even comes with an instruction prompt when being used for the first time. Aside from that, you will surely love its wide array of tools, features, themes, effects, filters, and many more aspects. As for creating a video with music, the MV feature of Tipard Video Converter Ultimate allows you to access all the presets and tools you need. You can change the format, enhance the resolution and quality, and even customize the frame rate of the video. Then as for your audio, you can choose to keep the video's original track, change it to a new one, or even mix the two.
Moreover, this powerful music video editing software lets you enjoy its other features that you can use for your other tasks, such as conversion, collage making, video enhancement, and so much more. Additionally, it supports all popular video and audio file formats, like MP4, VOB, FLV, MOV, MKV, WAV, AAC, MP3, WMV, and others.
Pros:
• It supports more than 500 various file formats.
• It comes with a toolbox with tools on full functionalities.
• You can convert, Rip, make collages, and edit your files instantly.
• Advanced technologies are bound to support you in the process.
• It is simple and best for beginners.
Cons:
• It is not a free music video maker, although you can use its free trial.
Bonus: How to Make a Music Video with Tipard Video Converter Ultimate
Step 1You need to install the software first. Using the download buttons below, click the one that will help you gain the version for your computer device.
Step 2Launch the software after the fast installation. Then, hover over to the MV feature and hit the Add symbol at the bottom to load your video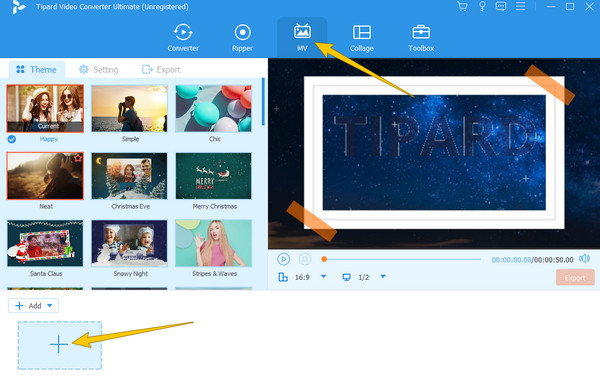 Step 3Now go to the Setting part for the addition of the audio. Once you get there, focus on the Audio Track section. Then, make sure that the Background Music is checked, then click the plus icon across it to add the music file. Please remember that you can edit the music file by adjusting the volume and delay. Also, you can add some effects by tagging the loop play, fade-in, and fade-out options
Step 4Finally, you can now go to the Export part of this music video editor. From there, you have the liberty to customize the presets given. Then, by clicking the Start Export button, you can have a copy of a new music video file on your local storage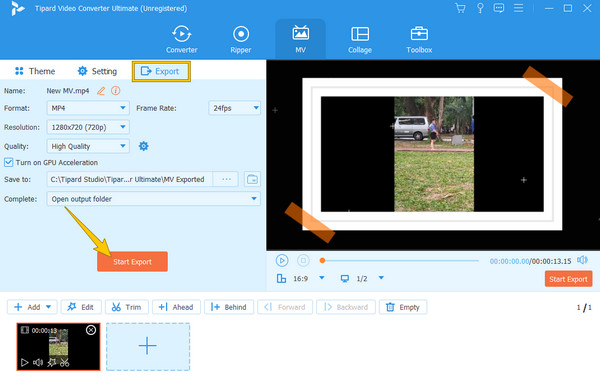 Part 2. Professional Music Video Makers to Work Like a Pro
Moving forward are the two popular programs that professionals use. Hence, if you are a user who aims for a professional tool, then choosing between the tools below will be easier after reading the information below.
1. Premiere Pro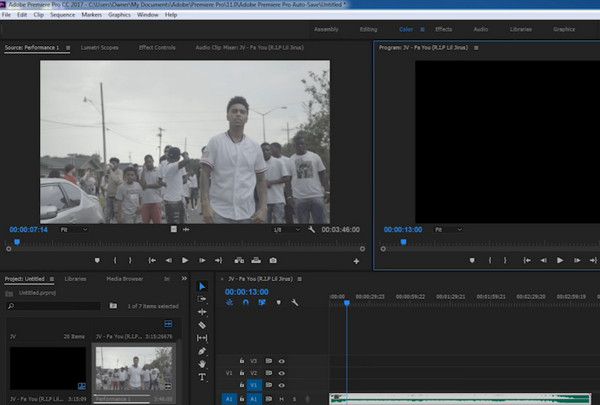 Premiere Pro is the most used program professionals use for post-editing music videos. Although we cannot say that Premiere Pro is a free music video maker, we all know that this software requires you to purchase it. But we can say that it is a powerful tool that can manage videos, subtitles, audio files, and graphics in an exquisite way. Furthermore, it is one of those robust programs that are known to be flexible, for you can have this excellent software on Windows and Mac. Meanwhile, concerning our music video-making concern, Premiere provides you with everything you need. For example, this tool can assist you smartly if you want to create subtitles for a video, edit the beat, and apply unique effects.
Pros:
• It comes with a multi-camera editing workflow.
• It integrates with After Effects to create special effects to apply in the video.
• It is an all-out video editor for all genres.
• It works with plugins.
Cons:
• Extra payments are needed for the other plugins.
• You need to install it on a high-end computer.
• Challenging to use for beginners.
2. After Effects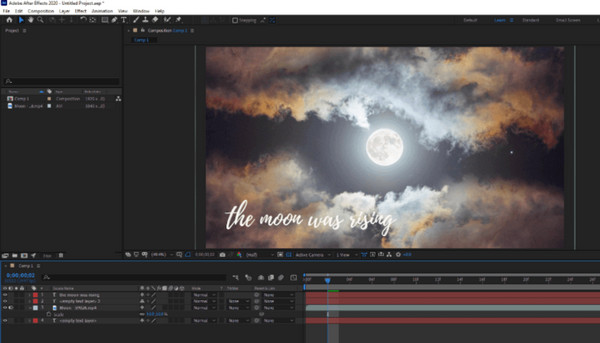 As we previously mentioned, one of the integrations of Premiere Pro is in After Effects, and it is also the second video editor with a music program on the list. It is a powerful motion graphics software that helps users make and animate things. In addition, it is the perfect software if you want to add many layering effects to your music video, for it is the master of this function. In addition, it is also generous in providing arrays of effects, presets, templates, animated texts, and customizations that will help you improve your music videos.
Pros:
• It provides a lossless result of a music video.
• Many editing features are available to use.
• It supports many various video formats.
Cons:
• It is not a free program to use.
• The process is not easy to navigate.
Part 3. App to Add Music to Video
Thriller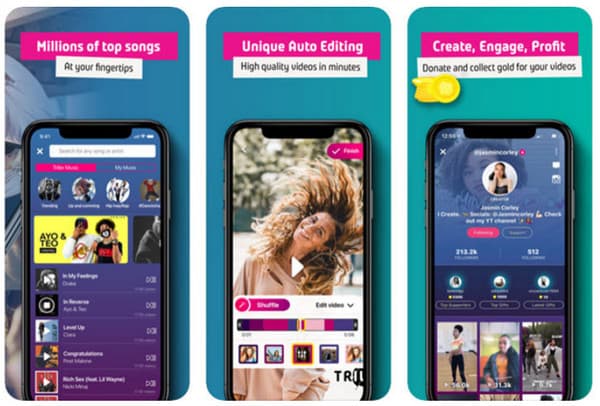 If you are looking for a free app to make videos with pictures and music on your phone, then allow us to present Thriller. It is a free app that will let you make a music video like a professional, then share it online and with your friends easily. Furthermore, this app is pretty popular for Android phones and iPhones. With this app, making your music video will never be a hassle, for it lets you edit the video in just minutes and then share them on your favorite social media site to gain more views.
Pros:
• It lets you share your videos quickly.
• Collaborate with your friends.
• Numerous filters are available for your video.
• It is easy to use.
Cons:
• It only works on a fifteen-second video.
• The output resolution is only 720p.
Part 4. Free Music Video Maker
Clipchamp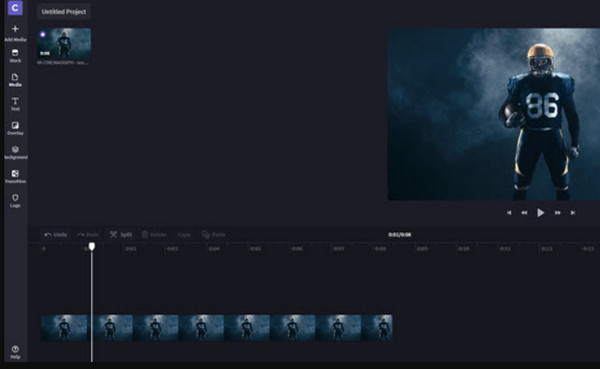 Another free music video editor that you can use is this Clipchamp. It is an online video editing program that comes with powerful processing tools such as a screen recorder, converter, compressor, etc. Meanwhile, if you are going to grind in making music videos, Clipchamp can help you apply effects, logos, texts, pictures, and video interlays to them. However, as you can use it for free, expect to have limited personal usage. Hence, if you want to upgrade the experience, then you can avail of its paid versions at various prices.
Pros:
• It is free from a watermark.
• It comes with customizable templates for your videos.
• Vast collections of GIFs, backgrounds, and effects.
Cons:
• The output is only at 480p quality.
• The importation and exportation process could be faster.
• Internet dependent.
Part 5. FAQs about Music Video Makers
Are the free music video editor apps ads-free?
No. Usually, free apps contain ads on their page and interface. Hence, if you want to use an app that doesn't have ads, then you better acquire a paid app.
How much time will it take to create a music video?
It depends. In some cases, editors may need to edit their videos first, which takes them hours.
Can I upload my music video online?
Yes. You can legally upload your music video online using your original video and music.
Conclusion
This article presented the top picks of music video makers for different platforms. It doesn't mean that others on the market are not good, for some still deserve to be praised. However, the ones on this post are the best picks of many people who have already made their music videos. And we arranged them according to the factors that a newbie must have. Thus, if you trust our verdict, then you should trust the tools, especially Tipard Video Converter Ultimate, the top-most rank in this post.