Twitter Video Limit on Length, Size, Formats, and Others
Twitter, also known as X today, is among the social networking services that bring people to entertainment. This microblogging site is used mostly for expressing thoughts and opinions through texts. Furthermore, Twitter is more of a community program where many users can unite their thoughts by using a single hashtag. Aside from making a thread that also has some limitations on the number of words, there are also some limitations on video posting. So, since many ask how long can a Twitter video be, here's this article to answer.

Part 1. Bonus: Best Video Editor for Twitter
There are plenty of video editors that offer good editing features, but the Tipard Video Converter Ultimate has what can satisfy beginners' and experts' editing needs. This video editing program is infused with tools to cater to your videos for trimming, resizing, enhancing, merging, cropping, speed controlling, reversing, rotating, and many more advanced editing methods. Furthermore, it supports all of Twitter's compatible video formats, like MP4 and MOV, and more than 500 more. What makes it extra special is that it is empowered by advanced technologies, including ultrafast conversion, hardware acceleration, and Artificial Intelligence. That's why no wonder it edits and converts the videos 60 times faster than the others.
Moreover, it provides you with a great number of effects and filters to help you beautify the video before you post it on Twitter. If you want to edit and post bulk videos, this Tipard Video Converter Ultimate must be your priority use since it allows you to work and convert multiple videos all at once. And not to mention the additional editing options that you can easily access while converting your files, wherein you will get to customize the quality, resolution, framerate, bitrate, etc., of your videos, making them fit your Twitter page. Do you want to produce and edit to meet the Twitter video size limit? See the instructions below.
Step 1Install this video editor on your computer and open it to begin the video editing. Click the Plus button at the center of the interface and upload all the videos you want to edit.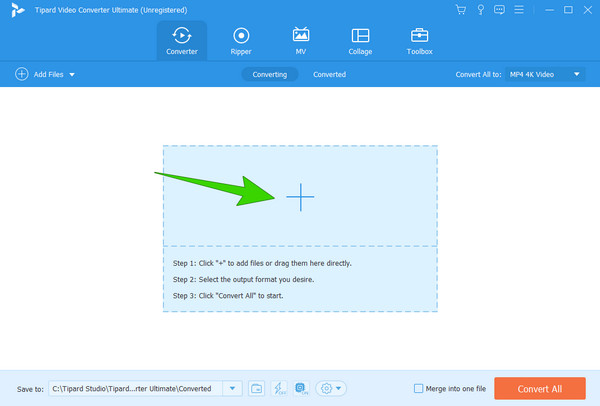 Step 2Click the Scissors button below each uploaded file to trim and split the video and the Star button to access some editing tab menus. Please note that you can find the powerful main tools in the Toolbox.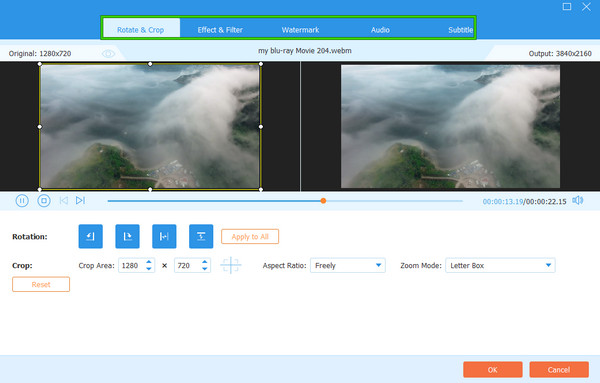 Step 3To convert the video format, go to the Convert All To section and choose MP4 from the Video option to have the video format for Twitter. Then, hit the Convert All button to initialize the conversion and saving process.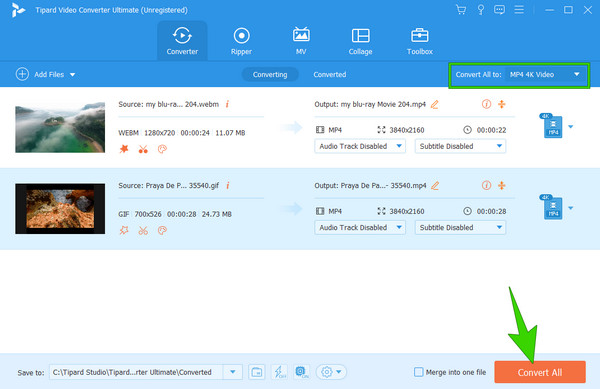 Step 4After that, you can share the video on your Twitter. To do so, go to the Converted menu, click the Share button, and choose the Twitter option.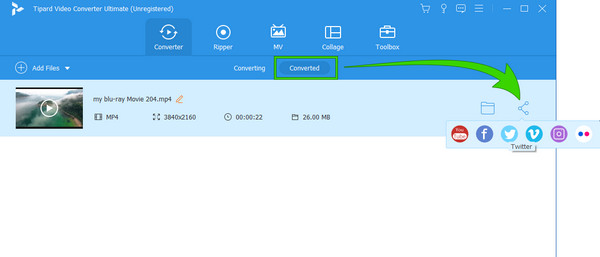 Part 2. Length Limit for Twitter Video
The maximum Twitter length for the video is 2 minutes and 20 seconds, or 140 seconds all in all. However, the recommended Twitter video length is 20 to 45 seconds if you want the best video engagement. Now, even though 140 seconds is long, you can still upload beyond Twitter's maximum video length if you use a neat hack. But, if you make it too lengthy, it will give you a lesser chance that viewers will finish it.
Part 3. Size Limit of a Video for Twitter
Twitter's max video size is 512 MB. This size might seem small if you compare it to the sizes of other high-quality videos today, but it's good enough to fit the best resolutions for Twitter, which is 1200x1900 for portrait and 1920x1200 for landscape. Thus, if you still see the large files as your struggle, you can always compress videos into a smaller size anytime! That being said, you can use the Tipard Video Converter Ultimate to have an all-out compression process.
Part 4. Format Limit
As we mentioned above, there are only a few video formats that Twitter supports: MP4 is the best, and MOV is the second best. This means you can only use those two for the video you want to post on your Twitter. MP4 is a better format, has less stuttering and suffering, and a better quality video display. Meanwhile, you can post MP4 and MOV files using your mobile app easily, but when using the desktop app, it will give you an added option to upload MP4 with H264 format and AAC audio specifically. Thus, if your video is in a different format, you will need to convert it first to fit it into Twitter's recommended file type.
Part 5. Other Limitations
It can be a big bummer when you see your video resized or cut automatically by Twitter itself. That is why you need to keep the required video limits in mind. For this reason, here are some additional limitation pointers that you must remember, which are about the video resolutions and frame rates that Twitter supports.
Resolution
Twitter supports a minimum resolution of 32x32 and a maximum resolution of 1920x1200 for the landscape and 1200x1900 for the portrait. Although the given maximum resolutions are quite high, the recommended ones, including the aspect ratio, are remarkably different.
Frame rate
For Twitter's supported frame rate, the maximum is 60 fps or frames per second. Now, we recommend you upload videos with FPS between 30 and 60 because anything lower than 30 will look choppy. However, if you're filming fight scenes, 24 FPS is a good frame rate. Read the article below to find out the differences between 30 fps and 60 fps.
Further Reading:
30 FPS vs. 60 FPS: Which is Better for Various Occasions
Part 6. FAQs About Twitter Videos
Why is my Twitter video stuck at 99?
If your video upload on your Twitter is stuck at 99%, then it is likely to have a technical problem that prevents it from finishing the upload process.
Does Twitter accept 1080p video?
Yes, Twitter supports 1080 videos for upload. However, it is important to know that since Twitter has limitations for videos, it might automatically compress them, which will affect the display quality.
Can I post 2 videos a day on Twitter?
There are actually no limits to the number of videos you can upload on Twitter. However, please adhere to the video limits and to Twitter's community guidelines and terms and conditions to prevent a violation.
Conclusion
There you have it: the video limits on format, size, and length that answer how long can a Twitter video be playing. Now that you know about this, you can note what to post and what is not. If you have recorded a video from your camera and want to post it on Twitter, it would be better to edit it first using Tipard Video Converter Ultimate.