Why Won't Videos Play on My Android Phone: Explore Resolutions
Most of us know the pain when our favorite video suddenly becomes unavailable while knowing that plenty of great streaming services have taken over in a huge way. Many of us already have and use Netflix, VRV, Hulu, and YouTube, even having subscriptions to them as our primary streaming services. Despite this, many of us are still satisfied to watch video files on our Android phones. This is why the number of videos won't play video on Android Phone is still rising. Opposite to what others think, viewing videos is not as difficult as it was before because most video player apps today can play almost all popular video codecs without any hassle. Hence, let us see how these media players can give you their maximum potential by reading along with the information below.

Part 1. Playing Videos With the Default Video Player Sometimes Won't Work
All of your mobile and computer devices surely have their default players. For an Android, you can find its built-in player on the Photos app, where you can simply tap on the video, for example, if you play AVI on Android, and boom, the video will automatically play without any hassle. Aside from the player in the Photos app, There's also one from the File Manager where all of your files, including the documents on your mobile device, meet. And yes, you can automatically play your videos with that file location when you click on the video.
However, there will be instances when these default players won't play in accordance with their right purpose. This is due to technical issues, such as the file being corrupted, outdated media player, low system resources, damaged storage, and even security reasons. One of the common results of this error is no sound when playing videos on Android. Hence, it is important to have an extra or a third-party video app prepared on your phone if ever such problems are met.
Part 2. Exploring Third-Party Video Player Apps
Here are the rounded-up best video player apps for Android. You can acquire all the given apps from your Play Store quickly.
1. VLC for Android App
Nothing is more popular with the crowd regarding a video player for all formats than the VLC player. Aside from its top rank on Windows, it also extends its ability on Android. This open-sourced media player app supports various formats such as MKV, MOV, AVI, MP4, OGG files, and more. It also allows you to get streamed video content from their home networks. Thus, even if FaceBook videos don't play on Android, VLC can be your go-to solution. Meanwhile, here are simple and quick steps on using VLC for Android.
Step 1Open the installed media player on your Android.
Step 2On the main interface, tap the Video option.
Step 3After that, the video will automatically play.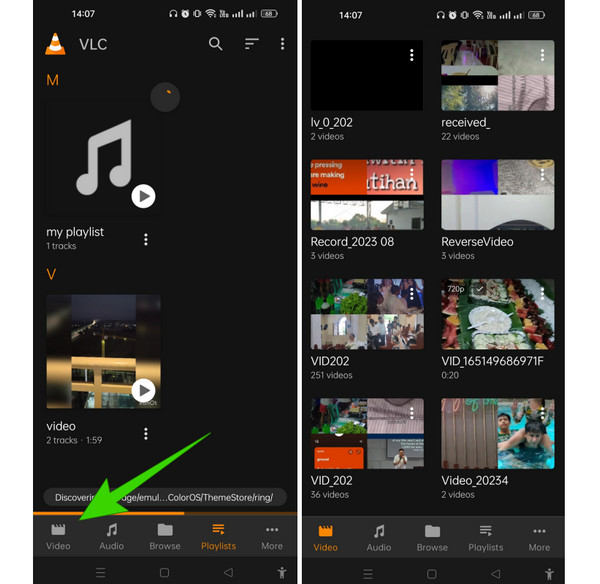 2. MX Player
Though MX Player is officially prevented from supporting codecs like AC3 and DTS due to licensing issues, this won't affect its great ability to play video files. MX Player is still a robust media player that comes with unique features, making it to remain as a top contender. And if you are a parent with kids who always use their phones and tablets, then you will be glad to learn that this MX Player is an app with a kids lock feature. The said feature ensures that when your children watch videos using this app, making an unintentional phone call will not happen. So, how will you play MOV on Android with this player? See the steps below.
Step 1Install the MX Player app and grant access to all your media files.
Step 2Then, tap the My Videos option to locate the video you want to play.
Step 3After that, simply tap the video to play it.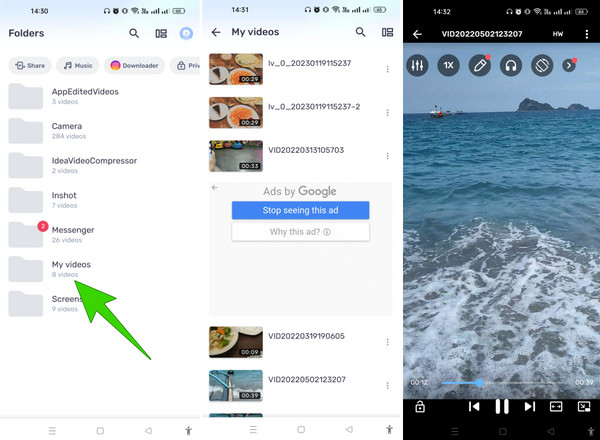 3. BSPlayer
Lastly, here is another best HD video player for Android, the BSPlayer. This app has been available for years now, longer than the other video player apps presented above. Furthermore, it features hardware-accelerated playback, multi-core hardware decoding, and support for DLNA devices. Additionally, this app supports subtitles and plays compressed videos smoothly. You can use the app for free, but expect an ad-supported procedure while using all of its features. On the other hand, if you do not want to see ads all over the page, avail of its full version at $5.99. Hence, let's play MP4 on Android with BSPlayer following the steps below.
Step 1Open the app and grant media access.
Step 2On the main interface, swipe the screen from left to right and tap the Video option there.
Step 3Then, tap the video you want to play.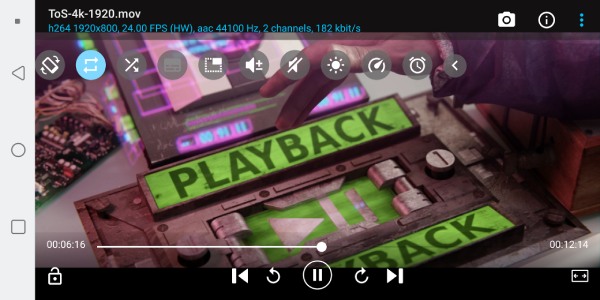 Bonus: How to Convert Your Own Video to Android-Supported Format
Suppose you have some videos you own but can't play them on your Android due to the unsupported format they have. In that case, here's a good solution you can follow. Convert your videos to what Android supports, such as MKV, MP4, 3GP, AVI, FLV, MOV, WebM, OGG, and others using Tipard Video Converter Ultimate. This software allows you to convert numerous videos at once while processing the conversion at 60 times faster than the average speed. Moreover, it is a multifunctional video converter since it comes with many great editing tools, like a video enhancer, compressor, color corrector, merger, trimmer, and many more. In the meantime, allow the steps below to show you how you can convert videos with it.
Step 1Install the converter on your computer and click the Plus button at the center when you reach its main interface to upload all the videos you need to convert.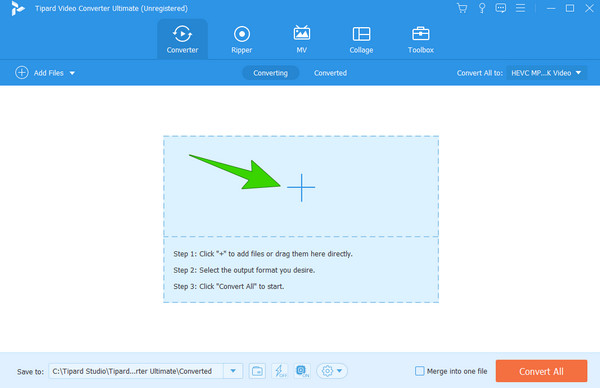 Step 2When they are all uploaded, choose their output format by clicking the Arrow button on the Convert All To section. Then, on the new window, choose a video format supported by Android.
Step 3As simple as that, you can finally hit the Convert All button to begin the conversion process.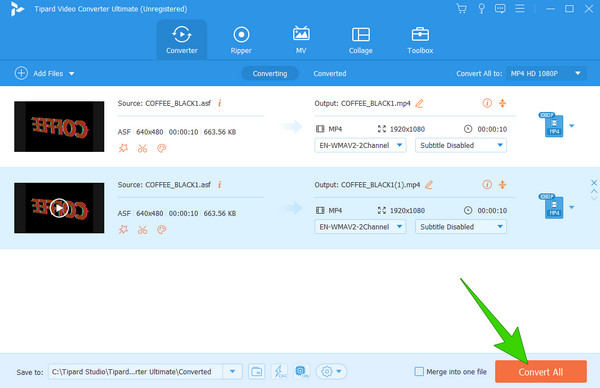 Part 3. FAQs About Playing Videos on Android
How to transfer videos to your Android device?
There are various ways to transfer videos to Android. The most typical and secure is via USB cable. Connect your phone to your computer via a cable connector, then transfer the videos directly to your Android.
Why won't videos play on my Android phone?
It can be due to the corrupted videos or Android not supporting their format.
How to fix no sound when playing videos on Android?
Check if the volume is turned up on your device and the media. If so, check if the video is not on mute. When you think the problem is not on the side of the video, then try to restart your phone.
Conclusion
Now you know the reasons why videos won't play on an Android, and for that, you also know the best alternative for your built-in player. If you think the only problem is an unmatched/unsupported format and don't want to install an extra video player on your phone, then convert the videos using Tipard Video Converter Ultimate.