This File isn't Compatible with QuickTime Player [Solved]
One of the roundabout questions that online communities often ask today is why MP4 and MOV are not compatible with QuickTime. It will really cause many Mac users to be frustrated because the said video formats are the mastery of QuickTime. We do not really know what causes the problem since it varies from one user device to another. For this reason, we have come up with this post to show you the best solutions you can do to this matter.
QuickTime is indeed the companion of Apple users, especially Mac when it comes to playing and editing their local media files. However, just like others, this program is not perfect, for it also comes with breakdowns, just like the subject error. Hence, the information below will help you grasp this issue and what files are compatible with QuickTime.

Part 1. Various Solutions to Fix File Incompatibilty Error on QuickTime
Fix 1. Update Your Mac
One of the proven solutions to fix almost all issues is to get the latest update. Thus, as your first solution here, check if you need to update your Mac's operating system because if you are still using the older version and you open older media files, then QuickTime might not open it. Hence, hover to the System Preferences >Software Update and click the Update Now button.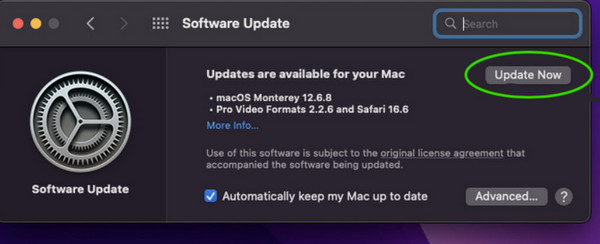 Fix 2. Update QuickTime
Like what was mentioned above, updating the QuickTime player must also be considered as it is a good solution when your video files in various formats, such as AVI files, are not compatible with QuickTime. How to upgrade the player? Simply go to System Preferences, see if the Other Updates are available announcement option is available, and click the More Info button. When you see the available updates for the QuickTime player, click it and click the Update Now or Install Now button.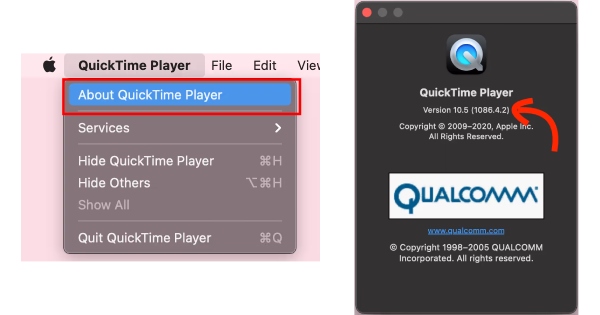 Fix 3. Convert the File to a Supported One
The greatest reason why many players, including QuickTime, fail to play a file is because the format is unsupported. For this reason, consider converting the format after checking the file format you are trying to play and finding out that your player does not support it. For this reason, if you wonder why MP4 is not compatible with QuickTime, then use the Tipard Video Converter Ultimate to have the quick yet lossless file conversion you could ever have. This software lets you convert your input file into more than 500 various output formats and devices while allowing you to experience a conversion process 60 times faster due to the ultrafast technology.
Step 1Open the converter software and click the Plus button to add the video(s) you want to convert.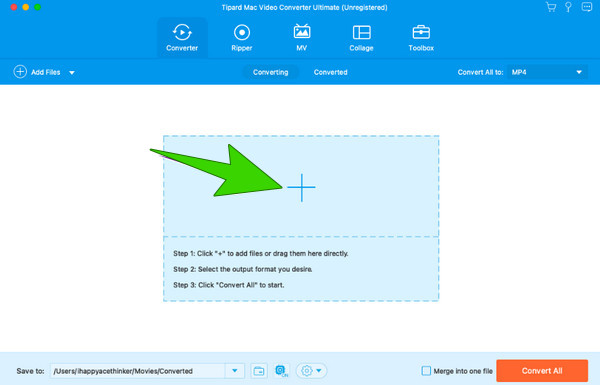 Step 2Click the arrow button on the Convert to All section and choose your desired format that QuickTime player supports.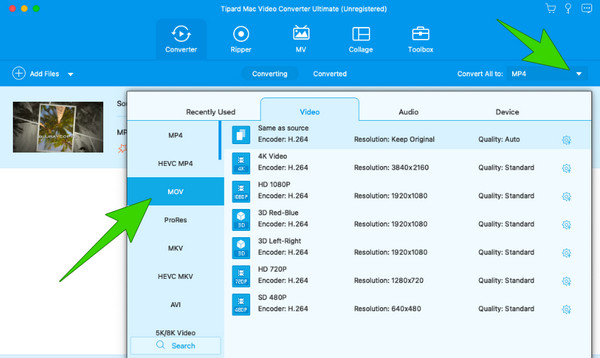 Step 3Once done, click the Convert All button to execute the conversion process. And that's how to make a video compatible with QuickTime player.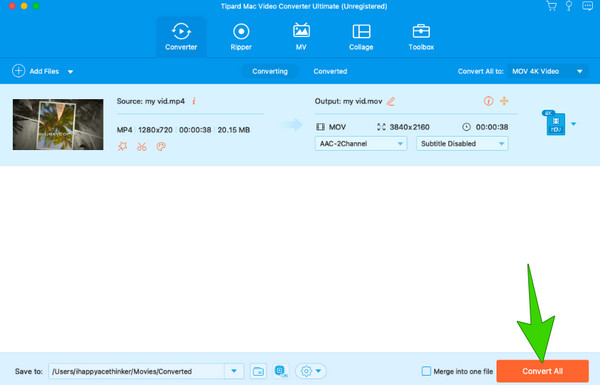 Note: Apart from converting incompatible file formats like AVI to MP4, Tipard Video Converter Ultimate's built-in player allows you to preview the whole video inside it.
Part 2. What are the File Formats QuickTime Player Supports
When it comes to the file formats, there has been a piece of evidence that QuickTime player only supports a few as input and output. Thus, here's a record of the common files you can play with the QuickTime player.
Video Formats:
MOV (QuickTime Movie)
MP4 (MPEG-4)
AVI (Audio Video Interleave)
MKV (Matroska Video)
WMV (Windows Media Video)
FLV (Flash Video)
Audio Formats:
AAC (Advanced Audio Coding)
MP3 (MPEG-3)
WAV (Waveform Audio File Format)
AIFF (Audio Interchange File Format)
Image Formats:
JPEG (Joint Photographic Experts Group)
PNG (Portable Network Graphics)
TIFF (Tagged Image File Format)
Part 3. QuickTime Player Alternative
If looking at the QuickTime-compatible formats above makes you realize that your files will not really be compatible with the player, then this causes you to look for an alternative player. For this reason, we highly recommend you use this Tipard Blu-ray Player for Mac. It is a media player you can use on Mac and on Windows as well. Furthermore, unlike QuickTime, Tipard can open nearly all popular video formats, including MP4, MOV, M4V, WMV, MKV, FLV, AVI, Blu-ray, DVD discs, ISO, and folders. Suppose you are not satisfied with how QuickTime player displays your video images. In that case, you will surely get to appreciate how Tipard Blu-ray Player gives you a cinematic resemblance of watching.
You will never go wrong if you choose this player because even when iMovie exports are not compatible with QuickTime, Tipard Blu-ray Player can cater to them. Be amazed at its snapshot function, which enables you to capture your most memorable video scenes and store them on your device for future use. Now that you know about it, here are the steps you can follow to easily play your files.
Step 1Download the incredible player on your Mac, and launch it after you install it.
Step 2On the main interface, click the button saying Open File to upload the file you cannot open with the QuickTime player.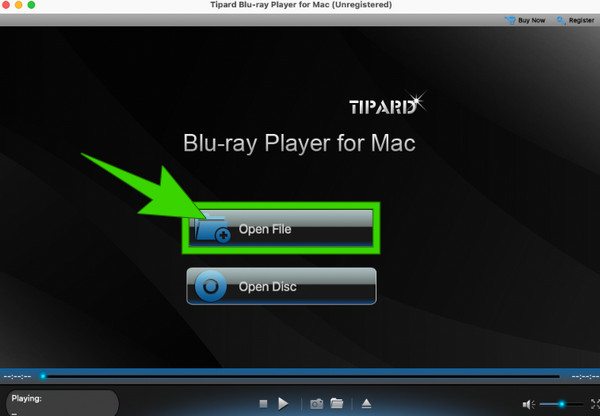 Step 3After that, you can navigate the playback control shown on the interface while playing the video file. Also, you can access the functions at the ribbon tab menu, such as the File, Control, Audio, Video, and Tools. Afterward, click the Stop button to end and exit the video on the play.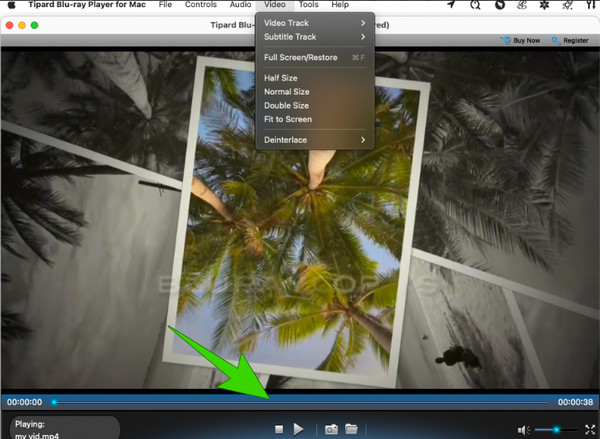 Part 4. FAQs About QuickTime
Are there any better alternatives to the QuickTime layer?
Absolutely! One of the best player alternatives to QuickTime is the Tipard Blu-ray Player, available on Mac and Windows.
Can the QuickTime player convert MP4 videos?
Yes. QuickTime player allows you to export your MP4 videos to MOV. To do so, you will need to open the video, then go to File>Export As and select the available video format as your output.
Why is QuickTime Player not opening on Mac?
Various reasons cause the QuickTime player to not open on Mac. You may want to update both the player and Mac to solve this issue.
What is the latest version of QuickTime Player?
The latest version of QuickTime is 7.79.80.95.
Does QuickTime Player support DVD and Blu-ray?
Conclusion
The latest version of devices and software plays an important role in fixing annoying issues. Thus, this file isn't compatible with the QuickTime player issue, you must keep in mind that updating is the initial solution. After that, if the problem still persists, you may want to convert the file into a different format to play it on the said player. However, if converting a file is not your thing, then we urge you to use Tipard Blu-ray Playerfor Mac as your QuickTime alternative.