Simple But Powerful Method to Convert DVDs to Android Formats
If you want to also enjoy your favorite DVD movies on your Android, convert the DVD to MP4 or to other formats your phone device supports. However, the process of converting is not as simple as you think it is. As a matter of fact, the process requires extra effort and extra powerful software to fulfill a lossless conversion. Fortunately, this article will exhibit the complete process, from explaining the best formats for DVD conversion to transferring the converted DVDs to your device using the best software. So, to cut to the chase, let's begin this exciting lesson as you proceed to read along below.

Part 1. Can You Play DVDs on Android Directly?
Unfortunately, you cannot use your Android phone to play DVDs directly since Android phones do not have a disc drive, obviously. Not unless your phone supports an OTG function where you can connect an external DVD drive to it. This is actually the only way to play the original DVD movie on your Android. However, we cannot guarantee you that this method is 100% safe. It is actually safer to just copy the DVD to your Android phone after converting it to a more accessible video format such as MP4. Fortunately, the next part will give you comprehensive guidelines on how to convert the DVD to the best format for your Android and then learn how to transfer it to your phone.
Part 2. How to Convert and Transfer the DVD Content to Android
1. Identify the Best Format for Android
Before you make a move, you must first identify what digital format to use that is best for your Android device. Android actually supports different video and audio formats to allow you to enjoy your DVD content with it. Thus, here are the best and the most common format Android supports.
MP4 - The best format for Android since all support it. This format gives good compression with high quality. Thus, converting DVD to MP4 Android is a must to still have an exquisite playback experience.
MKV - Another versatile container and format that stores video and audio codecs in high quality. But the only disadvantage of this format is the large file size, which can take up a large amount of space in your Android.
AVI - By converting DVD to AVI, you can get synchronized playback of your DVD movies. Besides, it is a common video format that is compatible with many Android devices.
Those are the most commonly supported formats of Android, together with additional ones like FLV, WebM, WMV, MOV, DivX, and 3GP.
2. Convert the DVD by Ripping It
After identifying the best Android format for your DVD content, it is now time to install this Tipard DVD Ripper. It is a facile DVD-ripping program that allows you to convert your DVDs to a format compatible with your Android. Aside from the DVDs, this Tipard DVD Ripper can also transcode and convert DVD ISO files and DVD folders, which are also convertible to 500 and more digital formats, including MP4, MKV, WMV, AVI, MOV, WebM, 3GP, and many more. Furthermore, it offers an editing Toolbox that will allow you to compress, enhance, edit media metadata, create 3Ds, and make GIFs like a pro.
Moreover, Tipard DVD Ripper lets you edit your loaded DVDs by rotating, cropping, adding/editing watermarks, adding filters & effects, and editing the audio and the subtitles before you convert it. Another good thing about it is that it preserves the original high quality of your DVD as it provides you with a lossless conversion with its hardware acceleration technology. That being said, copying DVDs to Android tablets besides phones will make you feel confident since you use this incredible converter. Thus, here are the steps on how you can rip the DVDs with it.
Step 1Download the software on your computer and follow the installation prompt. Then, place the DVD you want to convert on your computer's DVD drive.
Step 2Open the software and click the Load DVD button at the upper right part of the interface. From the options prompted, choose the Load Disc option to import the disc you placed. Note that you can also use the same button to upload other types of DVDs like ISO and folder.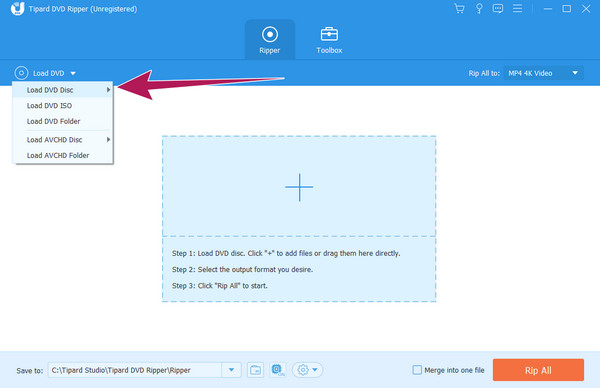 Step 3When the DVD is loaded, hover over to the Rip All To section and click its arrow button. After that, choose your desired output format from the window that will pop up.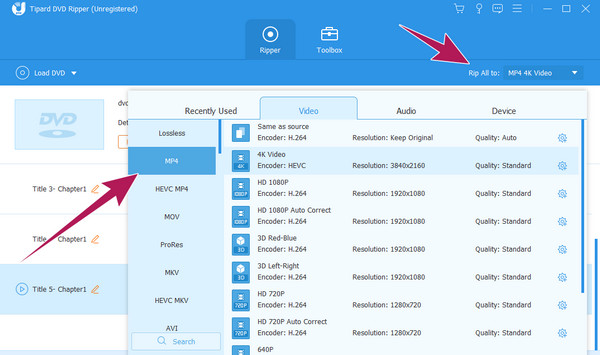 Step 4After that, go to the Save To section and set to your desired file destination folder for easier access. Then, you may click the Rip All button to begin the ripping and exporting process. Then, check the converted files in your chosen folder.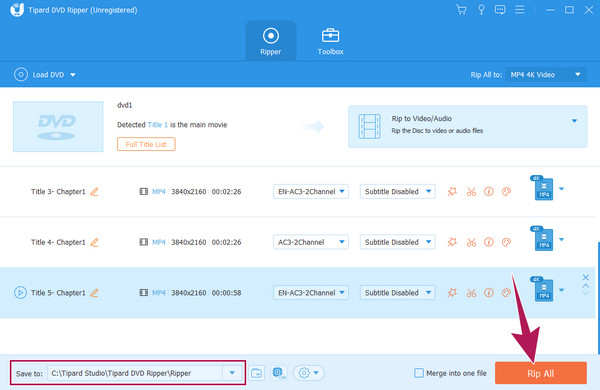 3. Transfer the DVDs to Android
So this is how to play DVD files on Android: You must transfer the converted files to it. There are two ways to do it. The first is to send the videos to the email that is synced to your Android. However, please note that this method may reduce the quality of the video. The second way, which is also the recommended way, is connecting your Android to your computer using a cable wire. Then, directly move the converted DVD video to your phone storage by dragging it. Please do not forget to eject or disconnect your phone from your computer properly to prevent data damage and loss.
Part 3. FAQs Regarding DVDs and Android
How do I transfer DVDs to USB?
To transfer the DVDs to USB, you will need to convert them to digital or ISO and folder first. Thus, you will need to use the Tipard DVD Ripper for this. You will need to load the DVD to the software and click the Rip All To option to select the format. Then, set the file destination to your connected USB and hit the Convert All button afterward.
What DVD format player for Android?
Several DVD players are also available for Android, such as the VLC, KMPlayer, FX Player, RealPlayer Beta, and more. However, these player apps cannot be used to play the DVD directly on Android, but they can play DVD files.
Can you use an external DVD drive with an Android phone?
Yes, you can use an external DVD drive with an Android if the phone supports OTG connectors. Otherwise, it won't read the drive even after connecting it.
Conclusion
There you go, the simple yet powerful method to Convert DVDs to Android. Yes, using an external DVD drive may look easier to do to play your favorite DVD on your Android, but this is not a safe method. Plus, it is not applicable to all Android phones, as many do not support OTGs. For this reason, converting and transferring are still the better options. Thus, grab the Tipard DVD Ripper and try the process now!