3 Notable Blu-Ray Players for Laptop: Play Blu-rays Like No Other
You have a laptop and your favorite Blu-ray movie with you in a situation wherein your only option is to play it to kill time. However, you do not even know if a Blu-ray player for laptops will give you the exact seamless movie viewing quality that Blu-rays offers. If that is the case, you've just bumped into the right place, as this post provides you with the best player options for your Blu-rays. So, scroll down below to get to know these players along with their features, and differences.

Part 1. Can You Watch Blu-ray on a Laptop
Perhaps you are still not convinced, and therefore this "can I watch Blu-ray on a laptop" question runs through your mind. Allow this article to provide you with a comprehensive answer and solve this issue once and for all. Yes, laptops have the capability to play Blu-rays since some of them have a built-in optical disc for Blu-rays, even though many old computers have the typical disc drives, wherein not all types of DVDs or Blu-rays are supported and only certian regular CDs/DVDs comaptible with it. But most importantly, if you want to play your Blu-ray movies on your laptop, you must have a reliable Blu-ray player program capable of playing discs because the default media players Windows and Mac, do not have native support for Blu-ray playback.
Part 2. How to Play Blu-ray on a Laptop in 3 Remarkable Ways
1. Tipard Blu-ray Player
First on the list is this Tipard Blu-ray Player. It is a media player for your Blu-ray disc and your Blu-ray ISO files, folders, and digital videos saved on your laptop. Furthermore, it is equipped with an elegant interface that is filled with features and functions for your playback. Besides that, it is also easy to navigate, making you play Blu-rays, DVDs, and digital files such as MKV, AVI, FLV, WMV, MP4, and many more effortlessly in a plug-and-play method. While playing your Blu-rays, you can capture every nice scene with the help of its screenshot feature, giving you high practical quality images. Moreover, this Blu-ray player for a laptop allows you to play up to 4K videos and movies in Blu-ray while giving you the presets to edit the effects. Want to know how to use it on your laptop? See the steps below.
Step 1Begin by getting the Windows version of this software on your laptop when you hit the Download button below. Then, install the player according to the prompted installation tips.
Step 2Place the Blu-ray physical disc into your laptop's optical drive, then launch the software player. Click the Open Disc button on the main interface and select the disc you inserted.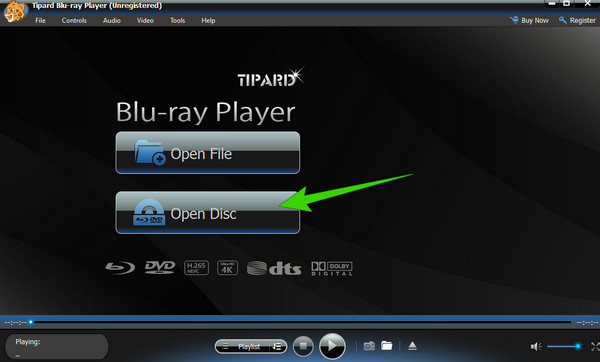 Step 3When the Blu-ray is playing, the player will provide you with playback control that will enable you to pause, stop, forward, and backward while watching.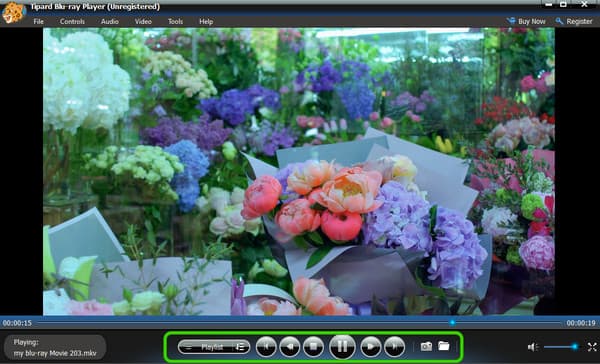 2. VLC Media Player
VLC Media Player is widely popular as a free and open-source multimedia player which is capable of playing various digital video files, including Blu-ray discs and some DVDs. However, when you use this VLC on a PC or laptop to play Blu-ray, you can play even the encrypted ones with limitations. Also, for commercial Blu-ray discs, due to technical and legal restrictions, VLC Media Player may not be able to play them directly. Moreover, menus and interactive features are also limited compared to dedicated Blu-ray player software. Therefore, if you have the latest version of VLC on your laptop with the corresponding libraries and codecs, then you can follow the instructions below to play your Blu-ray.
Step 1Check for the AACS keys and a library for Blu-ray used for playing Blu-rays with VLC. Once okay, you can already insert the disc into your optical drive.
Step 2Fire up the media player and click the Media button in the top right corner of the interface. Choose the Open Disc option, and on the popped-up window, toggle the Blu-ray under Disc Selection.
Step 3Select the Blu-ray content when you hit the Browser button. Then, start watching it by clicking the Play button.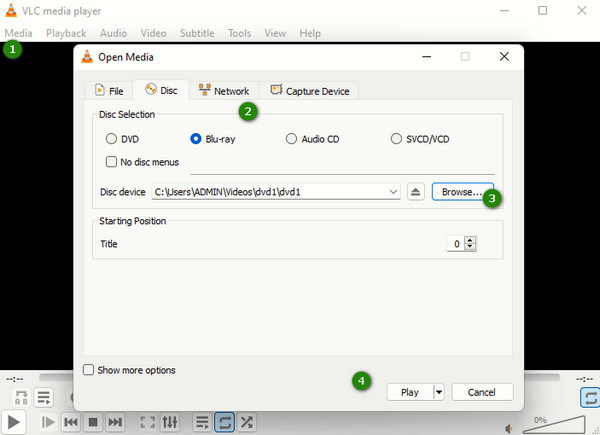 3. CyberLink PowerDVD 21
Lastly, you may consider using this PowerDVD 21 by CyberLink. It is a media player that has excellent support for 4K, 8K, and HDR10. Regarding Blu-ray, this player for a laptop allows you to play BDMV folder, discs, ISO files, and UHD video files in a theater-like display and audio experience. Due to that reason, you must note that this player has a more expensive price than the others. In addition, it is also a media player that is available on Windows and with restrictions on playing commercial Blu-rays. Hence, here's how to use the Blu-ray player for your personal computer.
Step 1Launch the player after installing it on your laptop.
Step 2Prepare the Blu-ray disc and insert it into your disc drive. And run the media player, and select the PC Mode.
Step 3Now, import the Blu-ray content by clicking the Documents. And click the video you want to watch.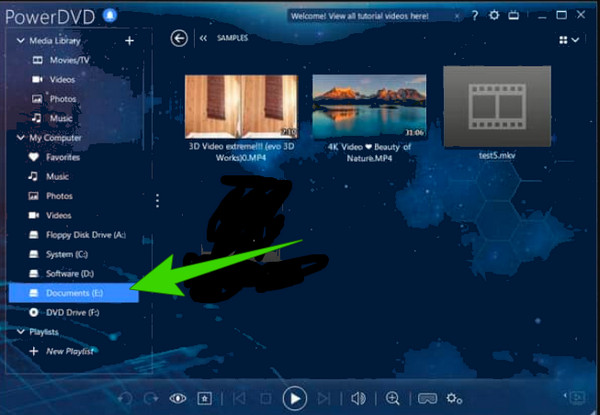 Part 3. Comparison Table of the 3 Ways
Here's a comparison table you can consider to help you choose the best Blu-ray player for your laptop.
| Features | Tipard Blu-ray Player | VLC Media Player | CyberLink PowerDVD 21 |
| --- | --- | --- | --- |
| Support 3D Blu-ray | Yes | Limited | Yes |
| Ease of Use | User Friendly | Moderate | Moderate |
| Support Encrypted Blu-rays | Yes | Limited | No |
| Customizability | Highly Customizable | Limited | Highly Customizable |
Part 4. FAQs Regarding Blu-ray Players for Laptops
Can you connect a DVD or Blu-ray player to a laptop?
Yes, you can connect both Blu-ray or DVD players to a laptop. However, you need to note that the process for connecting will always depend on your computer's port.
What is the difference between a DVD drive and a Blu-Ray drive?
DVD and Blu-ray drives differ in their data density, storage capacity, type of disc support, and laser technology.
What do I do if my laptop doesn't have a CD drive?
If your laptop doesn't have a disc drive, then you could use an external drive to still access the Blu-rays. In addition, you can also use alternatives such as USB flash drives, network sharing, and online cloud to access the ripped Blu-rays on your laptop.
Conclusion
We hope you get the answer about your Blu-ray player for laptop queries. The three methods presented in this post are basically the popular players used by people with laptops. As most of them typically use VLC, still, many find it limited and challenging, especially the newbies. If you have the same sentiments as them, then it would be best to choose and use Tipard Blu-ray Player. It is the best for beginners and the ideal for professionals.