Unleashing the Blu-ray Delight or the BDMV File: A Comprehensive Guidelines to Play It
A BDMV file is also known as Blu-ray Disc Movie. This file is used as Blu-ray title files created with the menu's support. Thus, if you like playing Blu-rays on your computer device yet still need to learn what this Blu-ray disc movie file really means, then this article is meant for you. See that by reading the entire content below, you will basically have the introduction of the file together with the great players that can cater to this type of file. Meet them quickly by moving on to the next information.

Part 1. What Does BDMV Mean
To begin with, let us first have the meaning of BDMV. BDMV is the abbreviation for Blu-ray Disc Movie information. From what the name suggests, this format folder is designed for saving or storing all the information pertaining to the content from a Blu-ray. However, a file with this file extension cannot contain the actual data of the media alone. This means the BDMV or the Blu-ray Disc Movie folder can only describe the contents of the media instead of holding or keeping any components for its video-compressing.
Furthermore, with the technology we have today, many media players that can open Blu-ray discs or those that support burning Blu-ray can also open BDMV folders. However, only a few of these programs can play the ones with menu support. For this reason, we will introduce the five best BDMV players supported by their simple instructions on opening and playing BDMV folders with the menu.
Part 2. How to Play BDMV File in 5 Remarkable Ways
Way 1. Tipard Blu-ray Player
The first remarkable way to watch out is this Tipard Blu-ray Player. As its name suggests, this player is designed for Blu-ray playback, giving you the confidence to play seamlessly the Blu-ray Disc Movie files you have in there. Aside from being a BDMV player for Mac and Windows, it is also an excellent one to cater to DVD and digital video playbacks. Furthermore, this player has the capability to bypass the restrictions that the Blu-rays have as it offers a region-free feature. Aside from that, it comes with good support for subtitles, enabling you to load even the external subtitles into your video while lavishing the subtitle customization settings available. Surely, even if it is your first time playing the folders of Blu-ray Disc Movie or BDMV, you will not get wrong with this Tipard Blu-ray Player as it gives you an easy-to-understand interface and process, not to mention the neat and facile playback control to navigate while being amazed by the cinematic quality that this player brings. Hence, here are the steps to follow in using this BDMV player.
Step 1Quickly get this Blu-ray Player by clicking the Download buttons below.
Step 2Launch the player, and click the Open File button. Now, without any more requirements, locate and import your BDMV folder.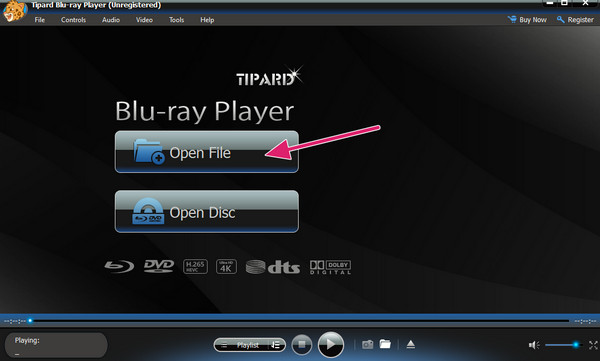 Step 3Once the file is loaded, you will notice that it will automatically play. As simple as that, you can now enjoy watching and navigating the given playback control and features.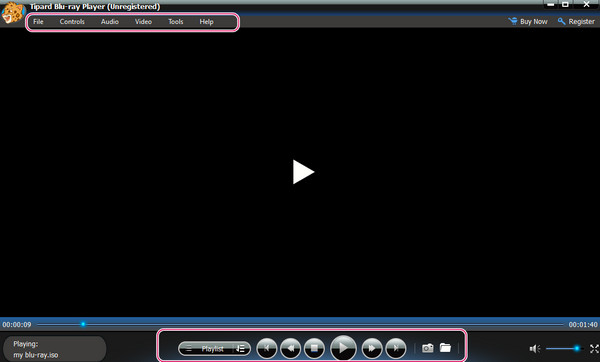 Way 2. VLC Media Player
With the latest updates of the VLC Media Player, playing Blu-rays has become possible. It is a free media player that is also open-source and supports regular digital videos and Blu-ray 3D and BD-Java. Moreover, it also provides you with many good features for enhancing the video and adding subtitles and audio tracks. However, for you to have smooth playback with this BDMV player for Windows, Mac, and Linux, you must ensure to have only the latest version. Otherwise, you will not be able to play Blu-rays and DVDs, just as you play the Blu-ray Disc Movie files with the steps below.
Step 1Launch the Latest version of VLC on your computer and hit the Media>Open Folder button to locate your Blu-ray folder.
Step 2Then, hit the Select Folder button from your local storage to play it.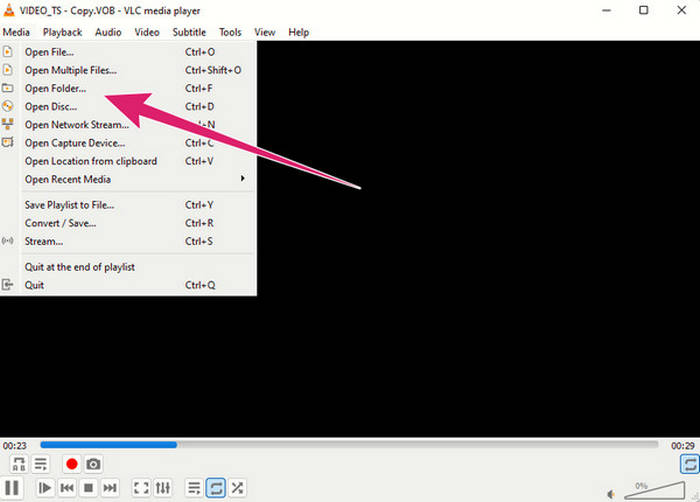 Step 3Quickly, VLC will automatically play the content.
Way 3. PowerDVD
Here comes a commercial media player developed by CyberLink called PowerDVD. It is a dedicated player for DVDs and Blu-rays, including BDMV files. In addition, it also works for the digital videos you recognize, such as MP4, AVI, WMV, MKV, FLV, and more. It also has advanced features that you can only use when subscribing to its premium versions.
Step 1Open the PowerDVD that supports Blu-ray playback. Then, click the Movie>Open File to locate the Blu-ray Disc Movie file.
Step 2Click on the folder you want to play and hit the OK button.
Step 3Enjoy playing your file.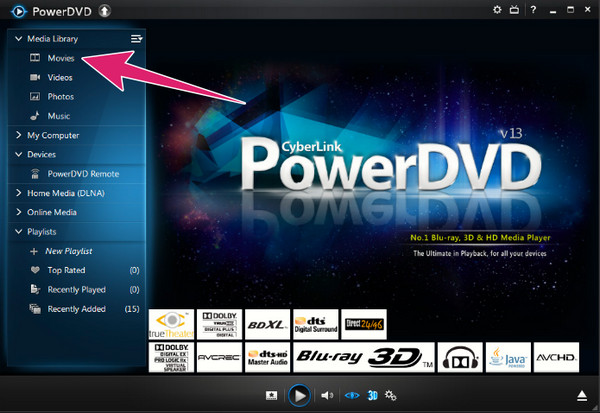 Way 4. Macgo Blu-ray Player
Macgo Blu-ray Player is another player that will enable you to open BDMV on Mac and, surprisingly, on Windows as well. It supports all types of Blu-rays, such as a disc, ISO, and folder. It also provides you with high picture and audio quality. However, if you are using a restricted Blu-ray, this player will is not a good player to have. On the other hand, with the simple steps below, you can easily open your Blu-ray Disc Movie files.
Step 1Install the correct version of this player on your computer.
Step 2Reach the main interface by launching it. Then, click the Open Folder button to locate your Blu-ray folder.
Step 3Then, simply click the folder and hit the Open button to start the playback.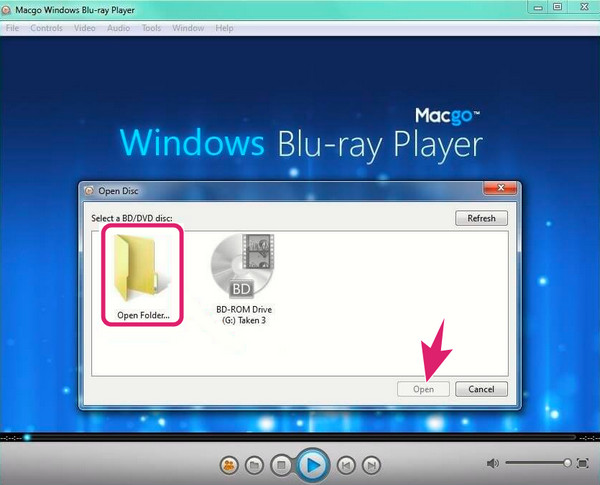 Way 5. VideoSolo Blu-ray Player
Lastly, you can use the way of VideoSolo Blu-ray Player. It is a BDMV player that is easy to use, especially when playing various Blu-rays such as disc, ISO, and folder. Furthermore, it also allows you to play even videos in various digital formats with up to 4K quality. However, unlike the others, this player has limited updates. Hence, here are the steps to perform when you want to open your BDMV file.
Step 1Open the player and directly hit the Open Disc button to select your Blu-ray folder.
Step 2Then, select the movie chapter you want to play together with the audio and subtitle tracks.
Step 3After that, the content will play.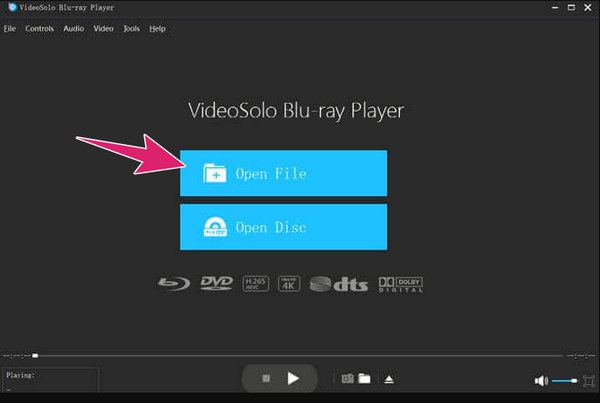 Part 3. FAQs About BDMV
What is a BDMV folder?
It is a folder that contains video, audio, and other files with their directory structures.
Can Plex play BDMV?
Yes, Plex can play BDMV folders as one of its supported formats.
How do I extract files from BDMV?
Open the folder stored on your computer, and locate the STREAM folder inside it. Within this folder, you will see various files in various extensions. Choose the file you want to extract, then copy and move it to a new folder.
Conclusion
A BDMV is basically a copy of a Blu-ray disc that is encoded in an extension barely used. If you love watching bloopers of movies and TV shows, then you can find them in a Blu-ray Disc Movie file. Thus, to have lossless playback, use the Tipard Blu-ray Player, as it tops the best players today.