Exploring DVD-R, +R & Other DVD Types With Their Applications
Before buying a blank or filled DVD, it will be best to know the types you can acquire. Like other things, DVDs have different variations, such as DVD-R, +R, and more. And as an individual who wants to learn the kinds of DVDs to use, you must also learn the strengths and weaknesses of each type, for you to choose wisely according to your need. Therefore, let us now cut to the chase and start the exploration by reading the content below.

Part 1. Introduction of Various DVD Types
Specifically, there are different types of DVD discs, which you will know more about with the list below.
1. DVD-ROM (Read Only Memory)
DVD-ROM is the type of DVD that you can only read, as its name suggests. This means if you have this kind of DVD, you cannot erase it and edit it by writing anything on it.
2. DVD-R and DVD+R (Recordable)
These types of DVDs are the types that are recordable and writeable. However, these kinds of DVDs are single-used discs. This makes them recordable and rewritable only once. To know more details of these discs, you can refer to the following article to see their differences.
Further Reading:
Comparison between DVD +R and DVD –R
3. DVD-RW, DVD+RW (ReWrittable)
These types of DVDs can be written and recorded multiple times. It's just that the DVD+R offers a better and faster writing speed than the -R. But both of them can be read on almost all DVD drives and players.
4. DVD-RAM (Random Access Memory)
This type is also rewritable simultaneously. However, it only allows small data to be recorded and has narrower compatibility on DVD players compared to other kinds of DVDs. Nevertheless, it is the most durable among the others.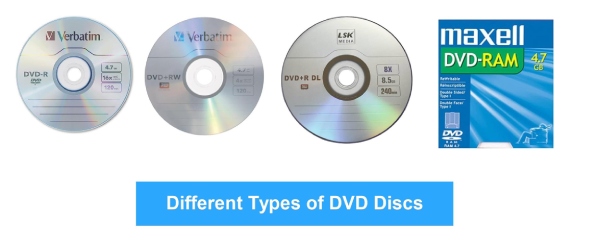 Part 2. Comparison of the Types of DVDs
| DVD | Writable | Re-Writable | Single-layer Capacity | Dual-layer Capacity | Compatibility |
| --- | --- | --- | --- | --- | --- |
| DVD-ROM | No | No | 4.7GB | 8.5GB | Wide |
| DVD-R | Yes | No | 4.7GB | 8.5GB | Wide |
| DVD-R | Yes | No | 4.7GB | 8.5GB | Wide |
| DVD-RW | Yes | Yes | 4.7GB | 8.5GB | Wide |
| DVD+RW | Yes | Yes | 4.7GB | 8.5GB | Wide |
| DVD-RAM | Yes | Yes | 4.7GB | 9.4GB | Limited |
Part 3. How to Play Different Types of DVDs
Since not all DVDs are compatible with all players, then here is a remarkable player that can cater to all, the Tipard Blu-ray Player. This player doesn't only specialize in Blu-ray playback but also in playing all types of DVDs. With Tipard Blu-ray Player, you can directly and without a hassle load and play DVDs easily from your disc drive. As this player recognizes your DVD content, it also lets you easily navigate its menus, control playback, and select your desired chapters or titles. In addition, It ensures you have a seamless viewing experience in the comfort of your home. Aside from the physical DVDs, this amazing player also supports DVD ISO image files and DVD folders. That being said, you can also enjoy watching your virtual DVDs and DVD backup files without needing an optical disc. Consequently, let's have this tutorial on how to use it with all DVD types.
Step 1Install the player on your computer, and insert any DVD you have in your disc drive. Then, hit the Open Disc button to read your DVD.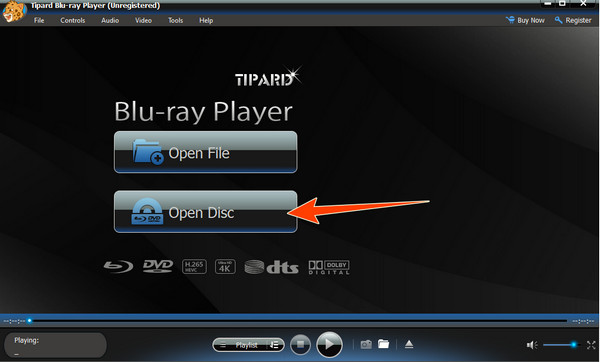 Step 2Once you have opened the DVD, it will automatically play on the screen. Now you have the liberty to navigate the given menus in the interface.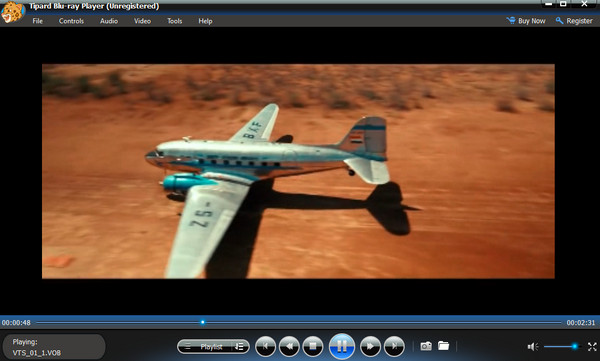 Part 4. How to Create Different DVD Types
This time, let's use this Tipard DVD Creator to create different types of DVDs, as its main function is to help you create various types of DVDs from your video files. It supports numerous kinds of video formats such as AVI, MP4, MTS, MOV, FLV, MKV, and more, then create your home DVD through them. On the other hand, you can use your desired DVD type like DVD-+R, DVD-+RW, and DVD-RAM for this creation. Its user-friendly interface and powerful features will allow you to personalize and set your DVD creations via burning according to your preferences. One of the highlights of this tool is its versatility to manage the same functions on Blu-rays, making it the best choice to keep on your PC. And so, by following the simple steps below, you can easily succeed in your task of creating various types of DVDs.
Step 1Prepare your DVD by placing it on your disc drive. Then once you launch this DVD creator, select the DVD Disc option, hit the Add Media File(s) button, and upload the videos.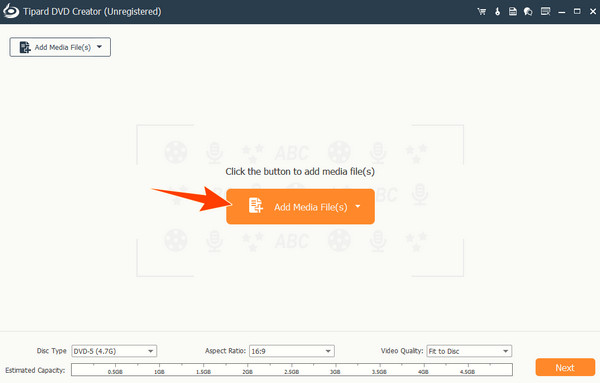 Step 2When the videos are loaded, you can access the editing tools by clicking the Power Tools button at the upper right corner of the interface. Consequently, select your desired Disc Type, then hit the Next button.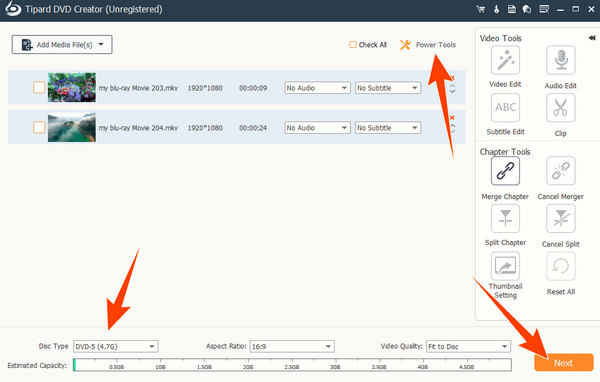 Step 3On the next window, toggle your chosen customization to apply, then hit the Burn button to start the process.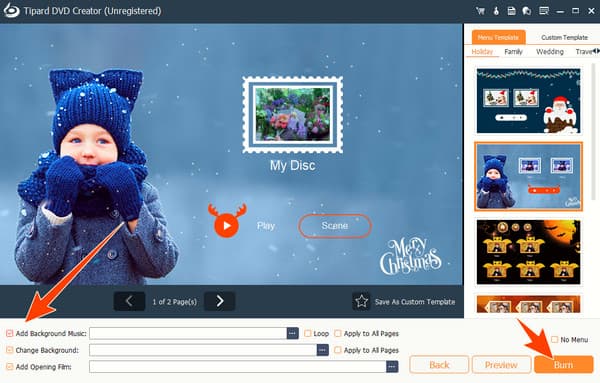 Part 5. How to Rip Various Types of DVDs
And, of course, if you know how to burn, you must also know how to rip. For this reason, we introduce you to one of the best DVD rippers out there, the Tipard DVD Ripper. Another from Tipard gives you an excellent yet easy and fast ripping procedure. You do not also need to worry about the DVD you have on hand because, with this DVD ripper, you can rip all types. Aside from that, it allows you to convert your DVD movies into hundreds of digital video formats and devices it supports, such as MKV, MOV, MP4, AVI, XviD, OGV, and so much more. Now, read below to give you quick instructions on ripping any DVDs like DVD+RW and others.
Step 1Place the DVD you want to rip in your computer's optical drive, and then open the ripper after installing it. Click the Load DVD or the Plus button to load your disc.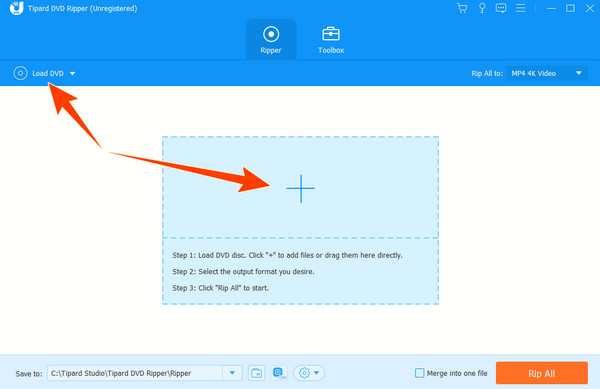 Step 2Go to the output format selection by clicking the Arrow button on the Rip All To section.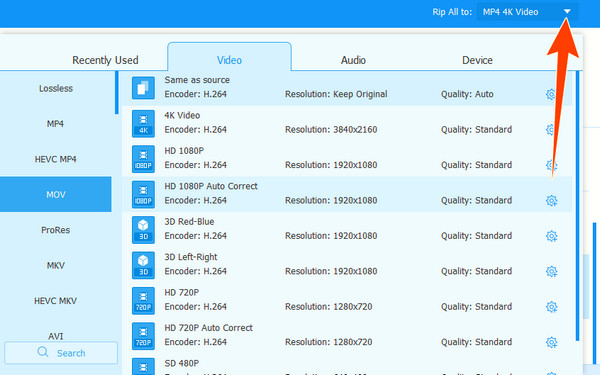 Step 3Then, finalize the procedure by pushing the Rip All button.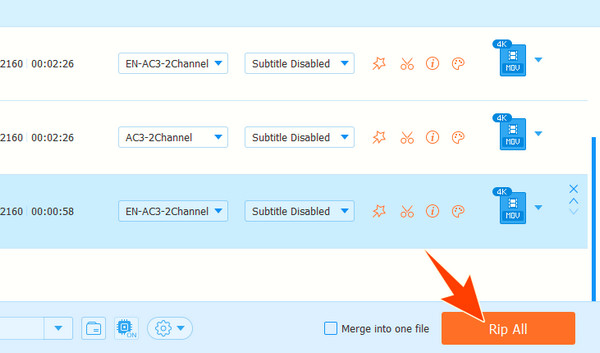 Note:Apart from being compatible with different types of DVD discs, this ripper from Tipard also support multiple profiles designed for various platforms and devices. For example, if you have a Plex TV, you can use this tool to rip DVD to Plex and watch the movie across Plex media server on any device.
Part 6. FAQs Regarding Variety of DVDs
Is DVD-R or +R better for movies?
The DVD -R and +R have the same usage. However, DVD+R has a lesser risk for error, while DVD-R is more compatible with old players. Hence, if you are after compatibility, then DVD-R is better.
What format do most DVDs have?
The standard format DVDs use is the MPEG-2 format.
What DVD format is used in the USA?
The USA belongs to the Region 1 code, and the NTSC format is what DVDs there use.
Conclusion
There you have it, the introduction, comparison, and the ways to handle the different types of DVDs. This article fills you with the information you need about DVDs, as well as the best tools to manage them according to your needed task. Overall, the Tipard suits are great to explore, as it comes with different functions.