Comprehensive Information About Blu-ray Player Remote and Its Usage
In this innovative home entertainment, Blu-ray players have been known to be one of the prominent choices for experiencing high-definition movies with immersive audio. Alongside this advanced device is a Blu-ray player remote, a compact yet powerful accessory that puts the full scope of entertainment at your fingertips.
Moreover, this remote control is a handy device that is designed to manage and unleash the various functions of a Blu-ray player. Unlike traditional built-in buttons a player has, the remote provides a more convenient and intuitive usage. With it, you can easily access special features, navigate menus, and push to play, pause, fast-forward, rewind, and stop your movies. Additionally, it allows you to customize audio settings, explore bonus content, and change subtitles quickly and effortlessly.

Part 1. How to Use a Blu-ray Remote
A Blu-ray player without a remote is lame. Therefore, if your player still has its partner remote, then it would be best to know how to use it and what are the funcitons of each button on it. Fortunately, the chart below will give you the enlightenment to efficient remote utilization. If your remote has extra buttons and missing buttons that are shown or not shown in the chart below, try to consult the manufacturers online for more help.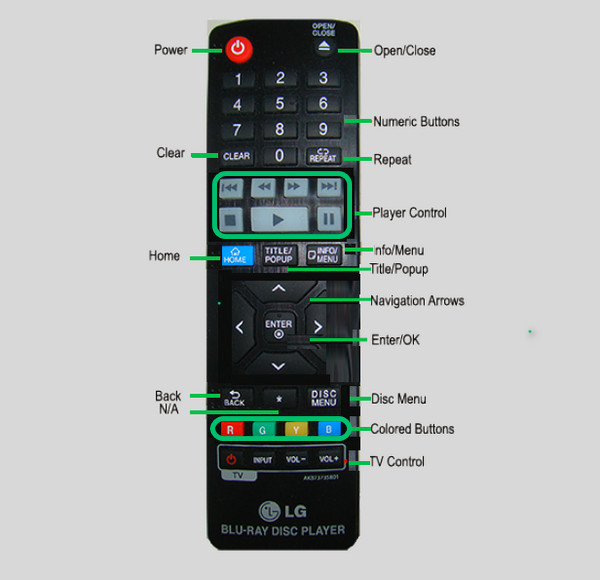 | Name | Function |
| --- | --- |
| Power Button | This button enables you to switch on and off the Blu-ray. |
| Open/Close Button | It lets you open and eject the Blu-ray disc tray. |
| Number Buttons | They are the number of selections on the menu. |
| Clear Button | It allows you to delete a number you accidentally pressed. |
| Repeat Button | It enables you to play again the sequence and section you desire. |
| Player Control Buttons | They enable you to scan, skip, stop, play, and pause the movie. |
| Home Button | By pressing this button, the device will bring you to the home page. |
| Title/Popup Button | When you press this button, the BD-ROM and title menu will pop up. |
| Info/Menu Button | If you want to display or exit the On-Screen display, then press this button. |
| OK/ENTER Button | Pressing this button will enable you to apply the menu settings you made or want to access. |
| Back Button | Want to return or exit a menu page you entered? Then press this button. |
| Disc Menu Button | To see the menu of the optical disc you inserted, then there is nothing you will press except this button. |
| Colored Buttons | The color buttons have each function, and they vary depending on the brand and the model of the device. |
| TV Control Buttons | These are the basic controls or TV functions, such as the volume. |
Part 2. What is a Blu-ray Remote App and How to Use It
A Blu-ray remote app is an excellent alternative to control the Blu-ray Player when the original remote is missing and does not work. It is an app that you can install on your smartphone (Android and iPhone). Furthermore, a universal remote app doesn't only cater to Blu-ray players but also to DVD players. However, there are still some factors and requirements that you need to check for you to use a remote app. The first is to ensure your Blu-ray player has built-in Wi-Fi if it belongs to the latest models. If not, it should have at least an IR blaster, or an Infrared blaster, to emulate the remote control app.
Thus, if you wonder how to use the Sony blu ray player without a remote, the player meets the requirements. You can proceed with the following instructional guide below and learn how to use an app. Please note that we will use the ASmart Remote IR as part of the demonstration.
Step 1Search the name of the app in Google Play, download it, and install it on your phone.
Step 2Launch the app and grant permission to your phone. Then, tap the Blu-ray tab among the selection of players on your screen.
Step 3If both of your devices have IR blasters, the app will automatically detect and connect them. Now, select your player's brand, and the remote interface will be presented.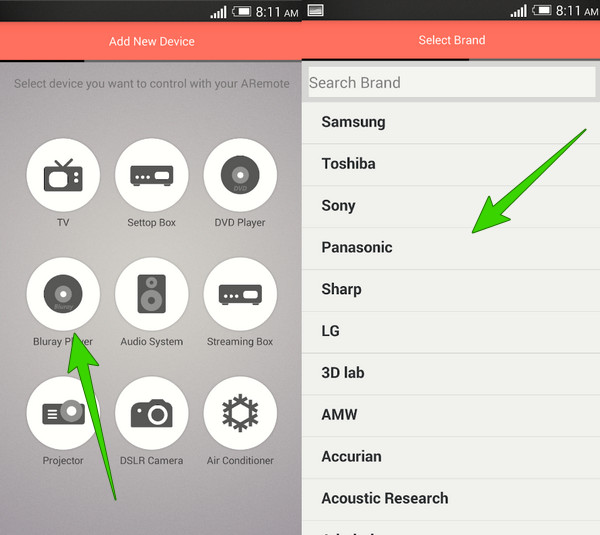 Part 3. How to Play Blu-ray Without Remote
One of the best alternatives to use when your Sony or LG Blu-ray player has no remote is great software like Tipard Blu-ray Player. This versatile Blu-ray Player software is filled with features to give an exceptional experience in playing Blu-ray. Furthermore, it is also a cutting-edge player that allows you to effortlessly play Blu-ray and DVD ISO files, folders, and a broad range of common video formats aside from Blu-ray discs.
One of the reasons you will love this player is its intuitive and user-friendly interface which has superb playback controls resulting in seamless and enjoyable navigation. Also, Tipard Blu-ray Player provides comprehensive presets that will enable you to adjust or add subtitles, audio tracks, and video settings according to your needs. Meanwhile, let's have the quick guidelines below to play a Blu-ray player without a remote on your PC.
Step 1Click the Download button below and begin downloading and installing the player on your PC.
Step 2Place your Blu-ray on the optical drive of your PC, then fire up the software. Click the Open Disc button on the main interface and select the Blu-ray drive you inserted.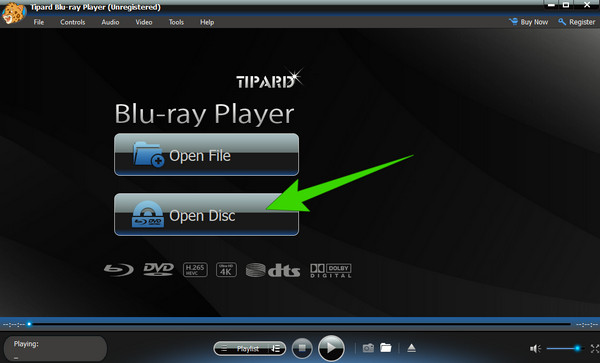 Step 3After that, your Blu-ray will automatically play on the screen in front of you. Then, the playback controls will also display. Freely navigate the controls and presets using your cursor as your remote.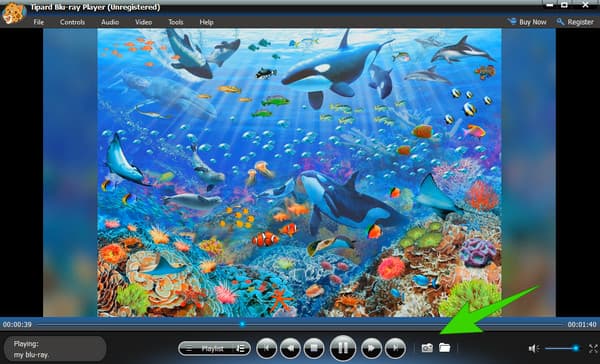 Tip:
This Tipard Blu-ray Player is also a region-free Blu-ray player program that is compatible with Blu-ray and DVDs from all regions. Once you download this player on the computer, you will get a hassle-free watching experience.
Part 4. FAQs About Blu-ray Remote
How to press play on a Blu-ray player without a remote?
Many Blu-ray players have built-in buttons on them and include the play button. After putting the disc in it, just press the triangle button to play it.
Can I use a universal remote for my Blu-ray player?
Yes. Universal remotes are designed to help users with their playback control on all types of Blu-ray and DVD hard players.
Can I use my phone as a remote for my Blu-way player?
Yes. Many Blu-ray remote control apps are present on the market. However, you have to ensure that the app you are going to install is compatible with your phone and Blu-ray player.
Conclusion
So how to press play on a Blu-ray player without a remote? Follow the instructions here to use the remote app to control your player's playback. With our technology today, playing Blu-rays won't even require you to use a physical remote. We hope you apply the learnings you gain from this article to still pursue your desire to play your Blu-ray movie. Thus, if buying a physical remote gives you a heavy heart, try the remote app or use the Tipard Blu-ray Player. Because this player provides you with the cinema-like vibes of a watching experience, for it lets you enjoy the superb image display and clear audio quality.