Blu-ray Player Won't Play DVDs: Reasons and Practical Solutions to Know
One of our technology upgrades in this millennial is the birth of Blu-ray, the successor of DVD. Blu-rays are much better regarding the display and sound of the video and audio than the original DVD contents. This is why many users have fixed their interest in Blu-rays rather than DVDs. On the other hand, as part of the ancestry, Blu-ray players are supposed to support DVDs. But why do we still encounter such questions like "Why won't my Blu-ray player play DVDs?"
Why does this problem persist, though? And can you still fix it? Read the content about its reasons and practical solutions below.

Part 1. Why Won't Blu-ray Player Play DVDs?
There are two reasons why a Blu-ray player won't play a DVD, and these two are categorized as disc and player issues. Regarding the disc issue, we all know how fragile discs are, and a single scratch can greatly affect playing it. Another related issue is the compatibility of the disc's region with the player's. Some DVDs are region coded. The Blu-ray player won't play DVD if its code doesn't match the region code supported by the player. Meanwhile, Blu-ray players have their own issues resulting in faulty support for DVDs. One of these is the wear and tear issue, which is caused by a faulty wire and connectors of the player.
Part 2. Practical Solutions to Fix Blu-ray Players Not Playing DVDs
With the reasons why the disability of Blu–ray players on DVDs occurs, we have gathered the practical solutions that you can follow to fix it.
1. Check the Disc Physically
Check if the DVD is still in good condition without a scratch, bend, or any defects that may cause a problem.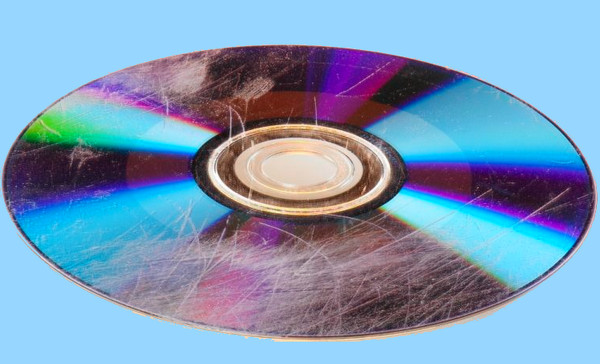 2. Finalize the DVD
Finalizing the disc, especially if it is a product or burning and recording, is an important factor in playing it. Unfinalized DVDs will cause unsuitability to be played on any player.
3. Check the Region Code Compatibility
Compare the region codes of your player and DVD to see if they are matched. If in case you reside in the USA, your DVD must have a Region 1 to play it on your Blu-ray player.
4. Reset the Player
If your Blu-ray player doesn't play your DVD suddenly, you may want to reset it. All you have to do is, remove the DVD from it, switch it off, unplug it, then leave it for five minutes and turn it on after.
5. Update Firmware
Updating the firmware of your Blu-ray will help you fix its problem with DVDs. Every Blu-ray player has its own way of doing this. Thus, you can check your player's manual to see the details and guidelines.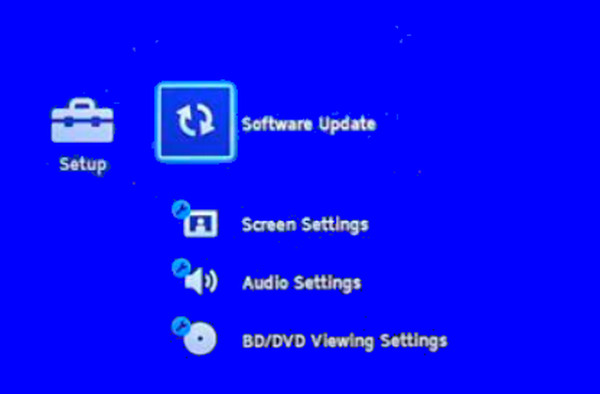 Part 3. How to Play DVD on PC
If you followed all the solutions above, and still your Blu-ray won't play DVD, maybe it's time to try another medium like your PC to playback your DVD. For this reason, we highly encourage you to use our recommended Tipard Blu-ray Player. It is a remarkable software that is flexible to get on both Windows and Mac computers in a smooth and quick download process. This Tipard Blu-ray Player doesn't only support Blu-ray with 4K and 3D contents, but it also supports DVD folders, ISO, and IFO files. Furthermore, it excellently provides a cinematic and lossless playback quality, allowing you to enjoy more than what your Blu-ray player gives you. In connection with this, this amazing player offers you an elegant, nice, simple, and neat interface that gives users straightforward and understandable navigation. Its playback control consists of a set of controls where you can quickly pause, forward, rewind, skip, and stop the DVD movie.
Moreover, Tipard Blu-ray Player has extra features you can use for your movie. It has this snapshot tool which enables you to take screenshots of the movie's remarkable scenes. You will surely love the vibrancy and the excellent quality of the photos produced with just a single click! What's more? It also comes with a cropper, subtitle title adder, deinterlacer, aspect ratio editor, and an effect editor that allows you to adjust your movie's brightness, hue, saturation, contrast, and gamma. Amazing, isn't it? Find it more amazing as you follow the steps on how to play your DVD below.
Step 1Get the DVD Player
First and foremost, you need to click the Download button below to acquire the software on your computer. Please click only what is applicable on the OS of your computer.
Step 2Open the Disc
Once you install the software, run it without delay. Then, insert the DVD disc into your computer's disc drive for the tool to read it. Once you reach the interface, click the Open Disc button, and get to your inserted DVD.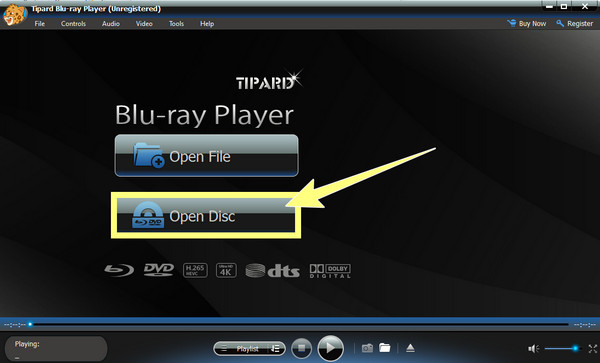 Step 3Navigate the Playback Control
When the DVD is opened, the playback control will also be presented at the bottom of the interface. You can navigate them anytime you like. Aside from the playback buttons, you can also navigate the volume control at the interface's bottom-most right corner.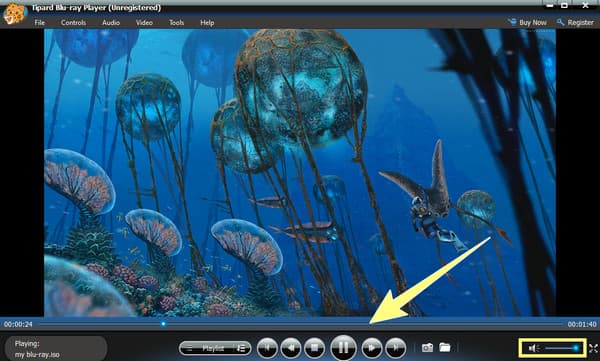 Step 4Customize the DVD Effects (Optional)
Optionally, you can customize the display of your DVD movie. To do so, you need to click the Tools tab menu and choose the Effects option. Then, wait for a window to prompt where the presets are presented. You can adjust the gamma, saturation, contrast, brightness, and hue accordingly. Then, hit the Reset button to apply the changes you made.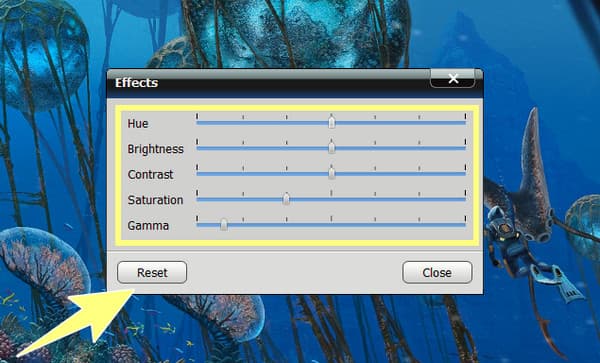 Part 4. FAQs about Blu-ray Players Not Playing DVDs
What Should I do when my Sony Blu-ray player doesn't play DVDs?
Just like the other Blu-ray players, if your Sony Blu-ray player encounters an issue of not playing DVDs, you can do some troubleshooting to fix it. You can reset the player by turning it off and unplugging it for at least 60 seconds. Otherwise, if nothing happens after the troubleshooting, your Sony probably does not have support for DVDs.
Shall I convert the DVD to a folder to play on a Blu-ray player?
No. You shouldn't convert the DVD to a folder if you use a Blu-ray player that only supports discs. Hence, if you use a software Blu-ray player on a computer, you can play either a DVD disc or a folder.
Is it more practical to use Blu-ray player software than hardware?
Yes. Because Blu-ray player software is more flexible for playing DVDs and any type of Blu-ray. Aside from that, it is more affordable and convenient to use.
Conclusion
Indeed, some Blu-ray players won't play DVDs due to some factors resulting in the occurrence of the issue. Fortunately, this article contains the solutions to fix the problem. As for me and many users who incurred the same issue, it is better to use software for DVDs. It is why Tipard Blu-ray Player has been presented to help you have a much better playback experience in a smooth and error-less way.