6 Best 3D Blu-ray Players on Amazon, Best Buy and eBay
Though streaming is insanely popular, Blu-ray is still the best way to watch movies, especially super high quality contents. However, the new problem is whether you should get a normal Blu-ray payer or more advanced device, such as 3D Blu-ray player. The answer depends on your movie collection. To be clear, regular Blu-ray player cannot read 3D Blu-ray movies, but 3D Blu-ray player can play both. Anyway, this article will identify and share a top list of 6 best 3D Blu-ray players on market.

Part 1: Top 6 3D Blu-ray Players
Top 1: LG All 3D Region Free Blu Ray Player

Price on Amazon: $179.00
This LG 3D Blu-ray player is great. It keeps the 3D functionality with the 4K setup as well as supports for 1080p quality and other high definition movies. The most important element is that it also upscales regular DVD's
Features:
1. Region free and plays Blu-ray discs with region 0, 1, 2, 3, 4, 5, 6, 7, 8.
2. Support LG smart 3D Wi-Fi Streaming capacity.
3. Integrate private sound mode through the free LG remote app to listen to movies with headphones.
4. Stream true HD videos and audio contents from YouTube, Amazon VOD, etc.
Top 2: Sony BDP-S6700

Price on Amazon: $75.99
The full name of the Sony 3D Blu-ray player is Sony BDP-S6700 4K Upscaling 3D Streaming Home Theater Blu-Ray Disc Player. If you are looking for a player that will play up to 4K and also do a good job of upscaling their older DVD collection, this device is a good potential choice
Features:
1. Enjoy super high quality Blu-ray movies and immersive experience with the comfort of your family room.
2. Build in reliable Wi-Fi capacity to stream movies from Netflix, YouTube, Amazon and more wirelessly.
3. Upscale the quality of your Blu-ray movies to near 4K quality.
4. Mirror the contents to TV from Android phone via Miracast screen mirroring technology.
Top 3: Panasonic DMP-BDT220

Price on Amazon: about $99.99
This 4D 3D Blu-ray player lets you achieve high-quality visuals on every movie. The deep color HDMI output and 4K upscaling delivers immersive experience at your home. With Dolby Atmos and HDR10+ compatibility, this 3D Blu-ray player gives you both in lifelike sound and images.
Features:
1. Convert 2D Blu-ray movies to 3D contents for immersive experience.
2. Control movie playback with smartphone remotely.
3. Bring a cinema-quality experience home.
4. Support 4K Ultra HD 3D Blu-ray with region 1.
Don't miss: Can Windows Media Player Play Blu-ray Movies?
Top 4: OPPO BDP-103D

Price on Amazon: $720.00
This 3D Blu-ray player offers amazing 3D, great picture and audio experiences. Although the price is pretty high, most users believe it is worth for every penny. It is able to convert 2D to 3D and upscale your movie resolution.
Features:
1. The built-in Darbee Visual Presence provides greater clarity and increases the perception of depth.
2. Support a wide range of formats, like Blu-ray, DVD, SACD, DVD-Audio, CD, VCD, HDCD, AVCHD, MP4, AVI, and MKV.
3. Input from dual HDMI, USB Inputs, DLNA, Wi-Fi, and more.
4. Dual-core processor provides quick startup and fast loading speed.
Top 5: Samsung BD-J7500

Price on Amazon: about $99.99
This Samsung 3D Blu-ray player has been around for nearly a decade, but it is still not outdated. In fact, it supports Wi-Fi stream, Bluetooth, 3D, 4K and other advanced technologies.
Features:
1. Upscale your videos, TV shows, and movies to 1080p HD.
2. Full access your favorite movies, TV shows and more with 3D Blu-ray discs
3. Steam Netflix, YouTube and other platforms with built-in wireless capacity.
4. Enjoy near studio-quality HD audio with your home entertainment system.
Don't miss: How to Play 4K Blu-ray Movies on Blu-ray Player
Top 6: Sony - UBP-X800M2

Price on Amazon: $409.00
This Sony 3D Blu-ray player lets you enjoy both high definition movies and streaming contents in your living room. More importantly, it is the real 4K Blu-ray player that offers awesome visual experience.
Features:
1. Region free and play 3D Blu-ray discs with all region code.
2. Support 4K UHD, 4K, HDR, and more movies.
3. Stream in 4K HDR on capable videos and TV shows, such as Amazon Prime Video, Netflix, and YouTube.
4. Compatible with 3D/regular Blu-ray, DVD, CDs and USB input.
Recommend: Best Way to Enjoy Blu-ray Disc on PC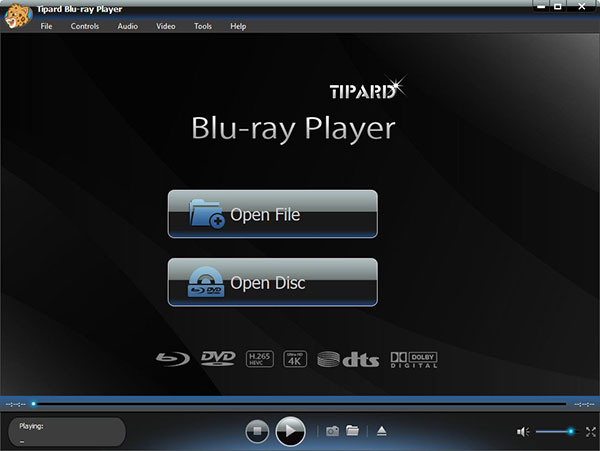 In addition to Blu-ray player hardware, many people already have the Blu-ray drive on their computer. In such case, you also need a Blu-ray player program to enjoy the super high quality movies on your machine. Tipard Blu-ray Player can meet all your need on Blu-ray playback.
Key Features of the Best Blu-ray Player for PC
1. Support almost all video formats, like MKV, AVI, MP4, etc.
2. Play Blu-ray and DVD disc, folder and ISO image files.
3. Keep the 4K UHD, 1080p HD videos with the original quality.
Part 2: FAQs about 3D Blu-ray Player
Do all Blu-ray players play 3D movies?
To play movies in 3D with Blu-ray, you need a 3D Blu-ray player machine as well as a 3D HDTV. The former usually costs above $100 and the latter needs $2,000 to $3.000. Therefore, it is pretty expensive to get immersive experience.
What does 3D Blu-ray mean?
Blu-ray is a media format designed to replace the DVD format. It uses a different type of laser to read the discs. Depending on the contents, there are two types of Blu-ray, 3D Blu-ray and 2D Blu-ray. 3D Blu-ray means the Blu-ray discs that stores 3D video contents.
Can I play a 3D Blu-ray in 2D?
3D Blu-rays can be played back in standard 2D mode, but you cannot get the immersive experience from the playback.
Conclusion
This article has shared top 6 best 3D Blu-ray players hardware. They help you to turn your home into cinema and you can get the immersive visual experience easily. Now, all you need to do is to follow our review and make the best decision. To watch Blu-ray on computer, we suggest you to try Tipard Blu-ray Player. More questions? Please leave a message below the post.