Top-notching Wireless Blu-ray Players for Watching Movies
Do you find it stressful to consider which wireless Blu-ray player is the best? Since you are here, it is safe to assume you are interested in the Best Wireless Blu-ray Player Reviews. After being flooded with information, you must find a trustworthy source that offers reputable options before deciding which product would be best for your needs. So, we can help you with that. Read this review to discover various wireless Blu-ray players you can use.

Part 1. What is Wireless Blu-ray Player
A Wireless Blu-ray player is an excellent tool you can use to play Blu-ray discs without a cable or wire. With the help of Wi-Fi, you can easily connect a Blu-ray player to other devices. It includes TV, mobile phone, computers, laptops, and more. It is also suitable for streaming, making it convenient for all users.
Part 2. Recommendation: Tipard Blu-ray Player
Before proceeding to the numerous wireless Blu-ray players, we'll give you first the most recommended Blu-ray player on PC. Since it is challenging to play videos/movies on Blu-ray, it is required to use a Blu-ray player. To solve that problem, Tipard Blu-ray Player was made. After you access the offline program on your device, you can load the movie or video and begin watching. In addition to that, you cannot only watch a standard movie. Tipard Blu-ray Player can play 4K UHD and 1080P HD videos on your computer. It can even play videos from various formats. It includes MKV, AVI, MP4, MOV, WMV, and more. Moreover, you can discover another exciting thing when using the offline program. You may play any DVD, folder, or ISO file using Tipard Blu-ray Player. After that, you can enjoy a high-quality video with a clear image. This Blu-ray player has a user-friendly interface and several useful features. Also, it is pretty simple to use. You may even use it to play your DVD's main menu. The audio track, subtitle, and other options are easily customizable. Lastly, you can access Tipard Blu-ray Player on Mac and Windows computers.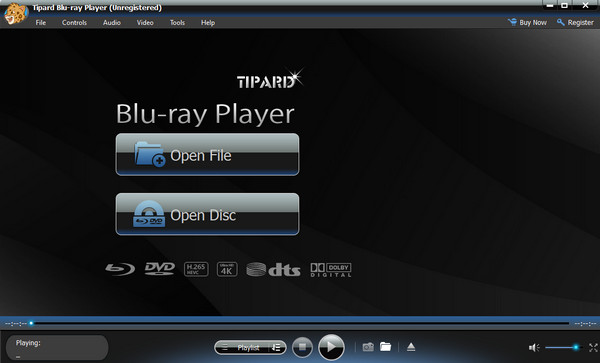 Part 3. Excellent Wireless Blu-ray Players
1. Sony BDPS3700 Streaming Blu-Ray Disc Player with Wi-Fi
An excellent wireless Blu-ray player can give more productivity and great performance while watching. In that case, use Sony's BDPS3700 Blu-ray Disc Player. It might be the best choice for playing your movies. In addition, it supports video resolution up to 1080 high definition. Also, the brightness and contrast are kept at optimum levels. It is thanks to the color palette. You can use it with your preferred streaming services with its built-in Wi-Fi. Also, it contains an upscaling feature that enhances the appearance of even low-resolution videos and images. It makes them look almost as lovely as they would in HD. Dolby TrueHD and DTS-Master Audio make every scene and image resonant. It offers genuine sound and provides better audio quality. Other available connectors include coaxial, Ethernet, HDMI, and USB. Your mobile device's screen may be mirrored onto a TV set using Miracast technology.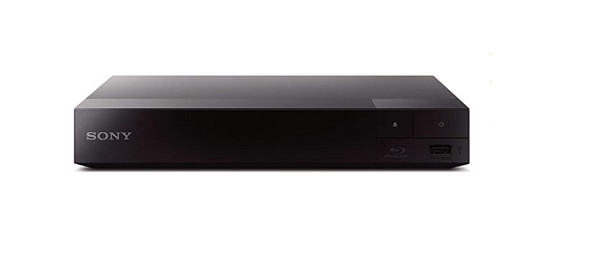 Supported MediaTypes
• Blu-ray Discs, DVDs
Pros:
• It can play 1080p videos.
• Its color palette keeps the brightness and contrasts at an optimum level.
• The program has an upscaling feature.
Cons:
• It can't play 4K videos.
• Purchasing the device is costly.
Price
• $80.00
2. Samsung BD-J6300 3D Wi-Fi Blu-Ray Player
Finding a device that can play every DVD you own may be challenging. Besides, a player with UHD upscaling capability is needed if you also want to watch normal-definition DVDs. The top Wireless Blu-ray player you can trust is the Samsung BD-J6300. This wireless Blu-ray player offers an ultra-high-definition upscaling feature. Even your lowest-quality content will appear as excellent. It improves the colors and contrast and determines the ideal brightness to provide realistic visuals. In addition, the Blu-ray player allows you to browse and stream videos online.

Supported MediaTypes
• Blu-ray Discs, CDs, DVDs
Pros:
• It can upscale low-quality video
• It provides realistic colors, contrast, and brightness.
• It has USB ports.
Cons:
• The device's weight is heavy.
• The Blu-ray player is expensive.
• The menu system is sluggish.
Price
• $99.99
3. Philips BDP2501/F7 Blu-Ray DVD Player
If you want the best wireless Blu-ray DVD Player, Philips BDP2501/F7 Blu-Ray DVD Player. This Blu-ray player can give you exceptional video quality. Blu-ray discs produce sharp images in full HD 1080p. Near-HD video quality is provided via DVD upscaling. The Blu-ray player has been restored, is operational, and is in fantastic shape. It has undergone expert inspection, cleaning, and testing. The finest movie viewing experience is Blu-ray disc playback for Full HD 1080p visuals that are crystal crisp and HDMI at 1080p for images close to Dolby audio. It includes an 802.11n Wi-Fi module built in for quicker wireless performance. All HDMI CEC devices can be controlled by EasyLink using a single remote. Moreover, DVDs in Standard Definition can have a high-definition resolution.

Supported MediaTypes
• Blu-ray Discs, DVDs
Pros:
• The Blu-ray player can provide smooth images.
• Capable of upscaling videos.
• It has built-in Wi-FI 802.11n for faster performance.
Cons:
• It doesn't support playing 4K movies.
• It requires 2 AAA batteries.
Price
• $99.90
Part 4. How Can I Make My Blu-ray Player Wireless
To begin with, make sure your Blu-ray player is connected to Wi-Fi and check if it is Wi-Fi compatible by reading its handbook. The next step is to connect your Bluetooth device to your home Wi-Fi network after ensuring it can use wireless connectivity. You can do this using a menu option on Blu-ray devices. The manufacturer's instructions can connect your player to your Wi-Fi network. You can stream video to your Blu-ray player from your home Wi-Fi network after it is connected to your TV and Blu-ray player. You should consult the Blu-ray player or device handbook for guidance on ensuring your streaming is successful. This way, your Blu-ray player will become wireless.
Extended Reading:
Exceptional Portable Blu-ray Players to Binge-Watch Movies
Blu-ray Player on Walmart: Including Blu-ray Player Software
Part 6. FAQs about Wireless Blu-ray Player
How does a wireless Blu-ray player work?
It works through an internet connection. The Blu-ray player can connect to a router with a wireless connection set up. This way, a wireless Blu-ray player can work.
How to connect Blu-ray Player to a TV wirelessly?
There are many ways to connect a Blu-ray player to a TV wirelessly. You can connect them through WI-Fi or Bluetooth. However, there are times when it is still not working. In that case, another solution is to use an HDMI transmitter and receiver. With this device, you can connect your Blu-ray player to the TV.
How to Set up a Blu-ray player on a wireless network?
Ensure the wireless network you want to connect to is operational and in the Blu-ray player's line of sight. Connect your Blu-ray player to your television and turn it on. Follow the on-screen directions. On the Blu-ray player's menu, locate your network settings. Your Blu-ray player will search for all nearby wifi networks. You can navigate to and choose your network from a list of available networks on your Blu-ray player. The Blu-ray screen will ask you to enter your wireless password. If the password were entered correctly, the Blu-ray player would notice it is now online and connected to the network.
Conclusion
As presented above, you now have enough knowledge about wireless Blu-ray players you can use. Also, we recommend you if you are looking for another Blu-ray player available on a computer. In that case, download Tipard Blu-ray Player. So, if you prefer watching Blu-ray movies on Windows or Mac computers, this offline software will be the best choice.