Tips and Tricks about DVD Resolution

What is DVD Resolution? How do I rip DVD into video with higher quality? If you want to learn something about DVD resolution through this article, first, you are supposed to know what the resolution is. The resolution of a DVD is the number of pixels in each dimension, and a pixel is essentially a lit-up square that produces a specific color. To put it more clearly, on a certain dimension, the more pixels you have, the more detailed and clearer the picture will appear. So, DVD resolution is an important aspect of picture quality of a DVD. Maybe you still have trouble in understanding this. And now, the article shows some questions and answers about DVD resolution to help you.
Part 1: Questions and Answers about DVD Resolution
DVD might still be one of your favorite choices to store video and audio files. If you don't know clearly about DVD resolution for watching and burning, the article lists some common questions about the topic. Let's go through and tackle it.
Q1: What is normal DVD resolution?
A: The typical formats of DVD resolution are 720*480 for NTSC countries, and 720*576 for PAL countries. Both of two formats are available in 4:3 and 16:9 aspect ratios. And if you own a Blu-ray player, then plays DVD, it will upgrade the resolution to 720p, meaning the resolution will upgrade to 1280*720.
Note: NTSC is the video system or standard used in North America and most of South America, which transmits 30 frames each second. Each frame is made up of 525 individual scan lines. While, PAL is the mostly used video system or standard overseas, which transmits 25 frames each second.
Q2: How to make a high-quality MPEG-4 rip of a DVD movie?
A: Before you start to encode a DVD movie, you need to know what type of content you are dealing with, that's to say, you should identify source material. And to get a better DVD resolution, there are three approaches to encoding the video: constant bitrate, constant quantizer and multi-pass. The complexity of the frames of a movie varies greatly from one scene to another. In fact, there are several factors to consider how to make a high-quality MPEG-4 rip of a DVD movie, so it's difficult to offer you an ultimate guide.
Q3: Is it possible to burn a DVD with 720p HD video?
A: To some extent, the answer to the question of DVD burning resolution is positive, that means it is possible to burn a DVD with 720p HD video or video in a higher DVD resolution, for those high resolution, 720p, 1080p, 4K can be downscaled to 480p. But a DVD can't be made with HD resolution, and the highest resolution is 720*480.
Q4: What do DVDs and Blu-rays look like on the 4K screen?
A: A 4K TV upscales the image, spreading 1 pixel to 16/4*4 pixels. So, you will see no difference on visual effect only if you are watching at a certain distance. If you are too close, there will be more black space between the pixels and the visual image will seem to be a little fuzzy. Just in simple, you might not find many differences between DVD solution and Blu-ray solution.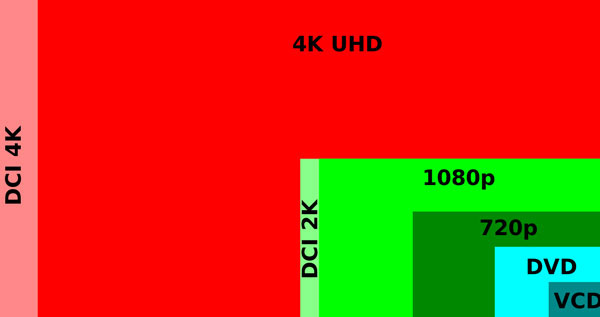 Q5: Will a SD DVD look worse when it plays on a better resolution?
A: You should know that the visual effect is influenced by various factors, like your display resolution, the display size, DVD resolution and the distance between you and the TV. A 480p video can show quite different visual effect when you play it on a mobile phone or on widescreen HDTV. So, you'd better not upscale DVD resolution to 720p, 1080p or even 4K. Even if you have up-scaled it into a high quality, the video quality will not be improved at all. Normally, DVDs will perform the same as the original one, not better and not worse after up-scaling.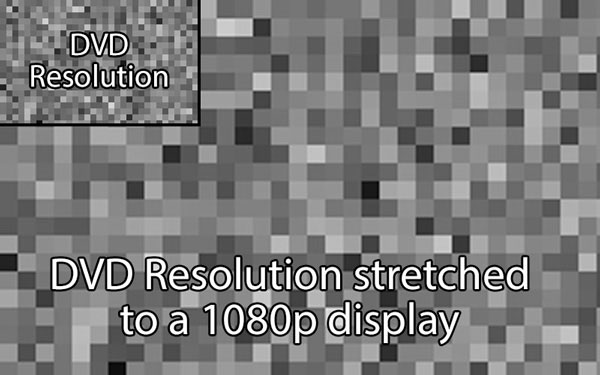 Part 2: How to Rip DVD into Video with Best DVD Resolution
You might use videos on smartphone or computer more frequently than DVD now. In order to take full advantage of DVD resolution, the article shows you the detailed steps of how to rip DVD into video with best resolution with Tipard DVD Ripper.
Tipard DVD Ripper is powerful and trustworthy software that can freely rip DVD to MP4, AVI, MOV, WMV and more than 300 formats. And it offers easy-to-use and user-friendly experiences as a professional DVD Ripper. Most importantly, you are allowed to edit the video effect to the best DVD resolution.
Step 1
Load DVD disc/files
Click the "Load Disc" button and load the DVD disc you want to convert. Just choose from "DVD Disc", "DVD Folder" or "DVD IFO Files" according to the DVD files you loaded.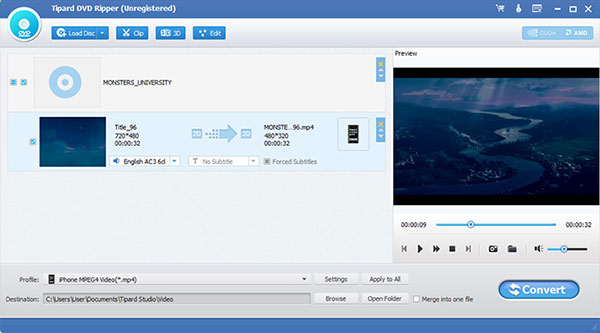 Step 2
Select output format
In the "Profile Settings" window, you can adjust the video and audio settings, like video encoder, frame rate, resolution, aspect ratio, video bitrate, audio encoder, sample rate, channels and audio bitrate to get the best DVD resolution.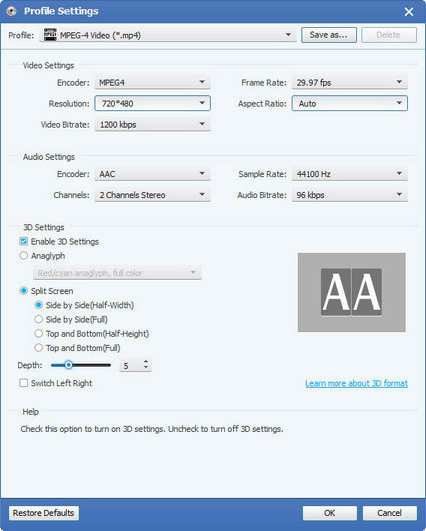 In order to take full advantage of the DVD solution, you can choose the video resolution as 720*480. And then adjust the other parameter similar or same as the DVD, and then you can get the best result accordingly. You are also allowed to edit the video in its direction, 3D settings, the video frame, video effect and volume. The interface has given you a clear direction.
Step 3
Rip DVD to videos
Click "convert" button to start ripping. You will get the output in a short minute. The progress bar will show you the percent. And then you can enjoy the video with the best DVD resolution on smartphone or other devices now.

Click here to join the discussion and share your comments