Top 6 Video Stabilizer Programs You Should Know in 2023
Compared to images and text, the video is the better way to record the wonderful moments. As the technology progress rapidly, we increasingly use smartphones to take videos to record and share our life. And camera manufacturers are racing to design and release action cameras, like GoPro Hero 5, Casio EX-FR10, Garmin VIRB XE, and so on. Although the advanced smartphones and action cameras are superior in stabilization and waterproofing, you might find that video stabilizer programs are necessary as well. Therefore, this article will introduce some professional video stabilizing applications to improve the stabilization of videos through complicated algorithm.
1. Tipard Video Converter Ultimate
Tipard Video Converter Ultimate should be your first choice if you have a shaky video. It can help you stabilize the video and reduce video shaking. Using this program, you can make your shaky video footage smoother and more watchable. Besides, compared with other methods, Video Converter Ultimate is much easier to operate. Even if you are a beginner, you can fix the video shaking problems within clicks.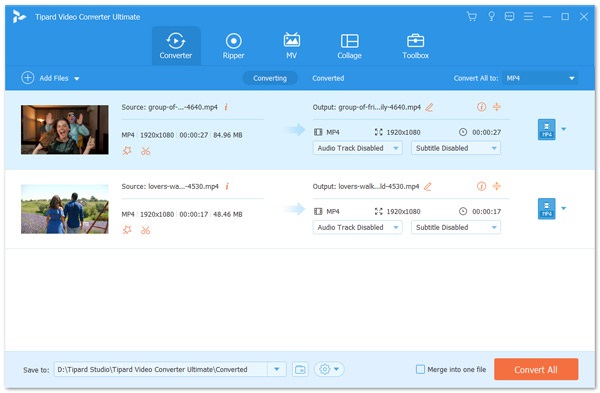 1. One click to reduce the shaking motion and bring you a stabilized video.
2. Remove the background noise and upscale the video resolution to 1080p/4K.
3. Adjust video effects and filters easily to improve the video visual quality.
4. Provide various editing tools, such as clip, merge, crop, rotate, and watermark.
5. Support over 500 media formats, including MP4, MKV, MOV, FLV, AVI, and WMV.
2. Adobe Premiere Elements
Adobe Premiere Elements (http://www.adobe.com/products/premiere-elements.html) is a famous media editor program, which including the advanced and complicated algorithm for video stabilization. Actually, this application has been here for more than a decade. It is also a user-friendly and well-known video stabilizer. It could help you to stabilize the images in the video. Unfortunately, Adobe Premiere Elements is not a free application, so you have to pay around 100 to 150 dollars to enjoy its professional functions. Just get the more detail about the features of the program as below.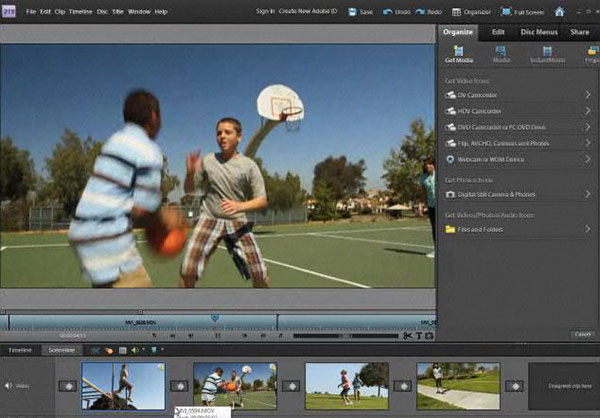 1. It is the most stable application and the latest version supports almost all video formats, including 4K Ultra HD.
2. Adobe Premiere Elements supports both Windows and Mac.
3. A clear and easy-to-use interface.
4. This video stabilizer also offers several simple but useful editing tools, including cut, join, trim, titles, transitions, and so on.
5. After stabilize the video, you can make a DVD with the right burner in it directly.
3. Deshaker
Unlike Adobe Premiere Elements, Deshaker is a professional video stabilizer to eliminate camera shakiness and makes panning, rotation and zooming smoother. Actually, Deshaker is not an independent application, which is a plugin for VirtualDub. If you want to utilize this video stabilizer, you have to download and install VirtualDub on your computer first and then add this video stabilizer in VirtualDub. But that does not affect the prevalence of Deshaker among users. Here are the principal features of Deshaker.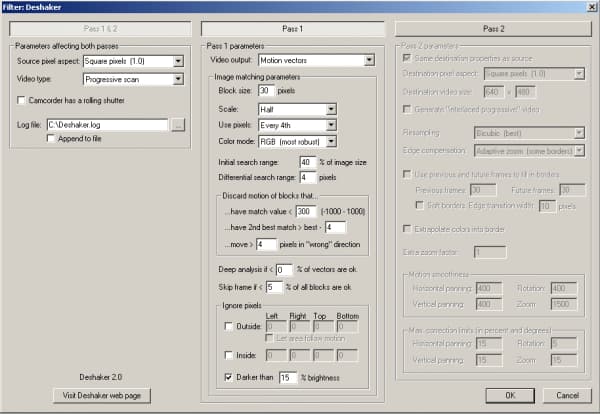 1. It is one of the perfect video stabilizers for Windows users.
2. Deshaker could deal with SDVs and HDV videos.
3. It could cancel the intermittent high frequency shakes in your videos. This problem is common when you use a tiny customer camera or smartphone to take videos.
4. Deshaker will let you to control everything, from every aspect of the tracking process to compensation for frame edges.
5. VirtualDub is a free video editor and Deshaker is a free video stabilizer plugin as well.
4. Windows Movie Maker
Windows Movie Maker is a powerful video editor developed by Microsoft. Many users had installed this application on their computers; however, they did not know that it is also an excellent video stabilizer. In fact, you can achieve video stabilization through this wonderful software easily. All you have to do is to apply the settings according to the degree of shakes. Find more detail about the basic features of the program.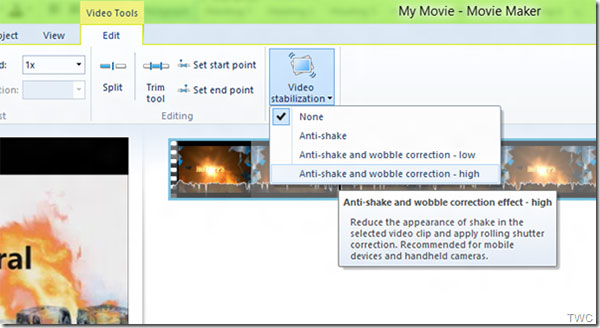 1. It is a free application and you can download it from Microsoft's official website freely.
2. This video editor will not seize much CPU when you deal with videos.
3. It offers several video stabilization options, including Anti Shake, Anti Shake and Wobble Correction (low), and Anti Shake and Wobble Correction (High). You can choose the settings based on your videos.
4. The preview and undo features could help you to get the perfect result before saving.
5. You can save the video as a project and edit it next time.
6. In addition to video stabilization, it also provides other basic tools, including adding audio and text, filters, animations, and so on.
5. YouTube's Video Editor
Many users do not like to install another application on their computers to stabilize their videos. Then YouTube's Video Editor may be a good alternative to achieve the similar effect. It is a video stabilization tool built in YouTube. The most important thing is it is an online service, so you can access it in your browser when you need to edit your videos. But you have to have a YouTube account before stabilizing videos.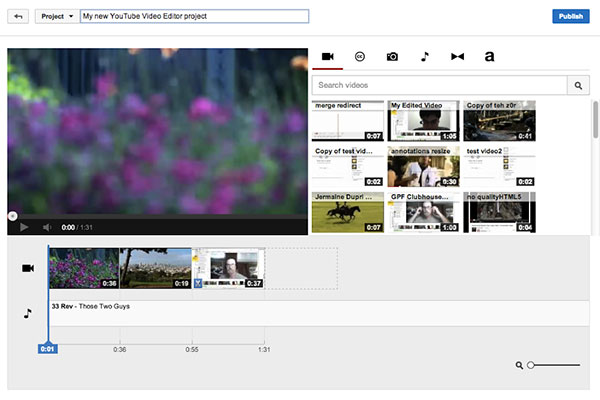 1. It is an easy-to-use video stabilizer. Just drag the uploaded video onto the timeline and several clicks, and then you can get the stabilized video.
2. YouTube's video Editor is a free videos editor to stable or edit your videos. All you need is a Google account.
3. The program empowers you smooth out the jitter in your videos without having to shell out dough for an expensive rig or software solution.
4. It is not only a video stabilizing app, YouTube's video editor can also used as audio enhancer, which have improvements in the Audio Swap feature
5. Compatible with any device, you can use the program on Windows, Mac, Android device as well as iPhone.
6. FFMPEG
FFMPEG is a command line free video stabilizer, so if you are not a technology fans, I will suggest you not to try the program. However, it is the easiest way to stabilize videos for technology fans. After download and unzip, you have to add FFMPEG bin to the system path. Then you can use it to stabilize video with commands. The video stabilizer is compatible with Linux, Mac OS X, Microsoft Windows, the BSDs, Solaris and other operation systems.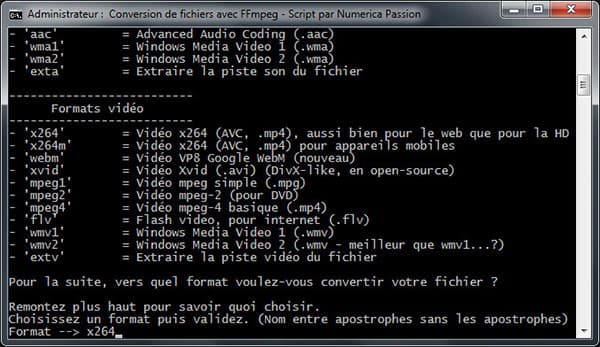 1. This video stabilizer does not have a GUI, so you have to use command line to stabilize videos.
2. Compatible with the most ancient formats up to the cutting edge, you can stabilize any video files with ease.
3. The code of stabilization filter is

–VF deshake

.
4. Stabilize the video without lost quality, the program provides the best technically possible solution for developers of applications and end users alike.
5. FFMPEG is a leading multimedia framework, which is more than a video stabilizer, it is able to

decode, encode, transcode, mux, demux, stream, filter

and

play

pretty much anything that humans and machines have created.
Conclusion
Based on the introduction above, you can choose a video stabilizer to help you deal with the unperfected videos on your computer. With no doubt, Tipard Video Converter Ultimate is the best video stabilizer especially for beginners. If you need a professional video stabilization tool, you can buy Adobe Premiere Elements. If you need a free application, you can utilize VirtualDub and Deshaker. If you like Microsoft toolkits, you can select Windows Movie Maker. And if you want to stabilize videos online, you can try YouTube's Video Editor. For technology enthusiasts, FFMPEG is the better choice. Actually, there are some other solutions to make the video stable, such as the tripod or professional video stable devices. The effects will be much better than the listed video stabilizers. It is just my two cents about the methods to have a smooth video file. You can also share more detail about your own opinion in the comments.