How to Create a Movie from Video Clips on Computer and Mobile Device
A simple video clip is not enough to tell a complete story; however, making a movie by your own is a daunting prospect and once you get going it can be an incredibly challenging job. Therefore, this guide shares the steps beginners can perform to ensure the process is as seamless as possible. To help you understand the procedure quickly, we divide it into different stages and explains related equipment and software in detail. All you need to do is to read and follow the steps.

Part 1: How to Make a Movie: Prepare and Record
Today, vlog has become a new fashion. Although the videos are usually short, they must tell a complete story. That sounds very professional, but you can start it from preparation and recording.
Step 1: Pick the right equipment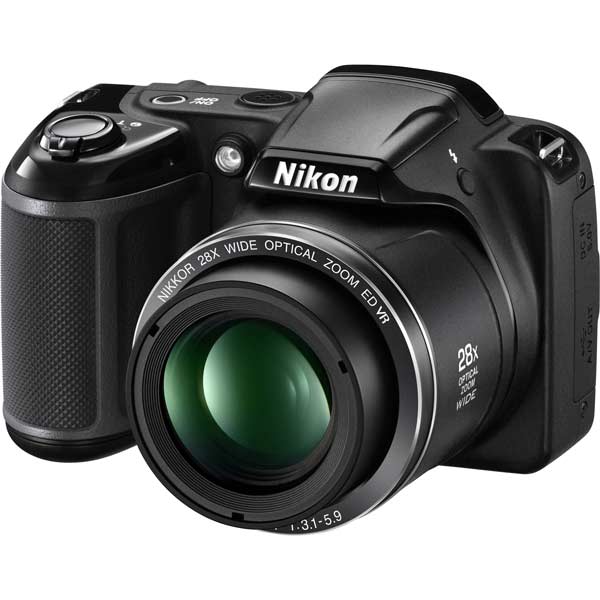 You need a camera to make a movie by your own. Of course, the high-end smartphones, like iPhone, Samsung Galaxy S22, Huawei Mate 40, and more, are available too since they all equip advanced lens. Besides, a tripod or stabilizer is important equipment to keep the camera steady when making a film. Optionally, a microphone is able to get better sound. If you have limited budget, use the built-in microphone in camera or smartphone is okay.
Here is our list of what you need to get started. You do not need to buy everything, but a camera or high-end smartphone is prerequisite.
Step 2: Develop a story idea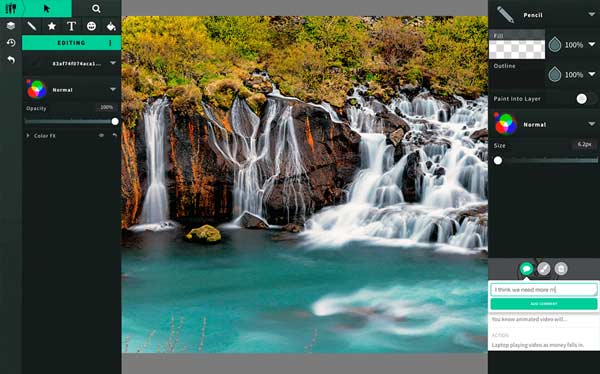 The key to an excellent movie is the story or subject or what you want to tell to your audiences. Sometimes, a good idea is almost half the battle. If you have no idea, look around of you or surf on YouTube or other websites. Studying your surroundings is another way to stimulate inspiration. You can also write down good ideas in daily life and then they will become your source of creative.
Next, you need to expand an idea or a subject to a story. It means writing a script. You can spend some time outlining the story on pages, in MS Word or PowerPoint. Remember to write down how your story begins and how it ends. Then fill in the gaps with essential plots.
You should understand that movie language is the way pictures, sound and editing help to tell the story. Therefore, you also need to create your storyboard. It is an important step to visualize your story. If you are not much of a drawer, create some simple sketches for every shot with software, such as Plot, Storyboarder, Storyboard Fountain, etc. They are easy to learn for beginners.
Step 3: Plan the shots and sound
The next step to make film is to plan the plots, characters and other items involved. Generally speaking, the professional moviemaking process contains three stages, pre-production, production and post-production. Now you have a story, turn it into plots and put them on storyboard. You'd better to get some honest feedback from your friends or colleague after reading your story. Then adjust the shots, characters slightly. Sometimes, you might need to rewrite the script and repeat the step 2 if your first draft is not very attractive. It may be boring to modify the story, but that is significant. If you are not confident about the feedback, go to the social media and do an investigation online.
Then capture the sound that you want to use in your movie. At this time, a good microphone can be helpful. However, you can use your computer or smartphone directly.
Step 4: Record the film
Before recording the film, you have to find the appropriate actors. To save time and materials, you also need to practice with the actors and make the last adjustment for your script. Then you will enter the production process.
Instead to record the whole story in a single video, capture each shot with one clip. Record every plot for several times and you can find the best later. Moreover, film each shot for longer than you need, like 10 seconds before and after. You can record the shots one by one or capture the main shots and then minor shots.
Part 2: Best Way to Make a Movie on PC
The last but not least stage of movie creating is post-production or editing. In the past, it was hard to make movies for average people partly because of lack post-production skills. Today, this stage is simplified by movie maker software, such as Tipard Video Converter Ultimate. It gives you a library of templates to create pro-level movies easily. Moreover, the storyboard enables you to edit and arrange shots according your script. The built-in movie player and video editor allow you to retouch each clips and preview the artwork at any time.
Main Features of the Best Movie Maker
1. Include a wide range of elements, like themes, transitions, etc.
2. Support almost all video formats including MP4, MTS, and more.
3. Add your music or sound effect to the film in one click.
Needless to say, it is the best movie maker software for both beginners and advanced users.
How to Create a Movie from Video Clips
Step 1Open video items
The best movie maker offers two versions, one for Windows 10/8/7 and the other for Mac OS X. Install the right one to your computer and launch it. Go to the MV window from the top of the home interface. Then click the Add menu to trigger the open-file dialog, find and select all video clips you captured for the movie, and open them. If you miss some clips, click the + icon to add them on the storyboard. Next, arrange the clips by drag-and-drop on the storyboard.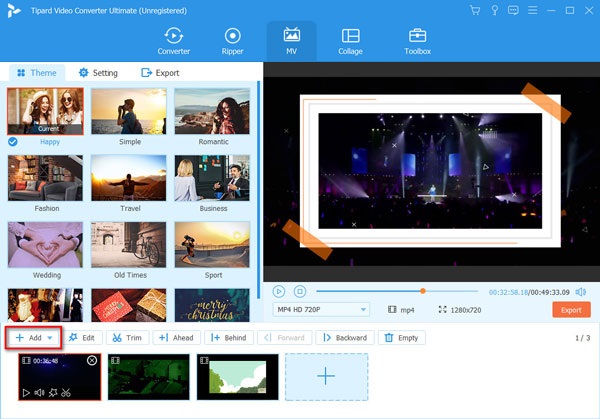 Step 2Edit clips
Sometimes, you might need to edit the video clips. Select one clip on the storyboard, and click Edit menu to open it in the video editor window. Here you can rotate or crop it, apply effect or watermark, and adjust audio or subtitle with related functionality.
To remove the redundant frames from a clip, select it and click the Trim menu. Reset the start and end positions, and click the Trim icon. Do the same to trim other video clips.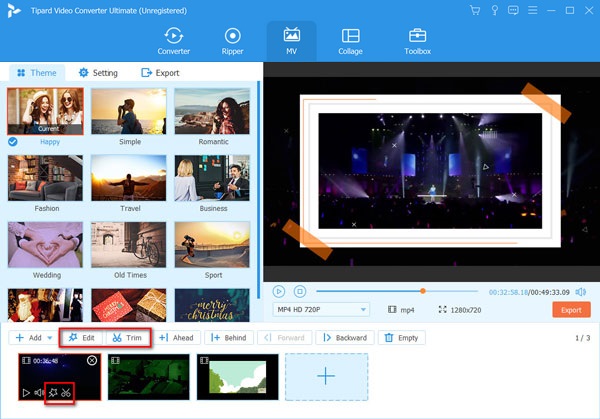 Step 3Retouch your movie
The movie maker is bult in a large theme library to help you make a movie with video clips easily. Go to the Theme panel on the left side and choose the proper theme according to your movie style.
Next, go to the Setting panel and check the box next to Background Music. There are two ways to add background music. Pull down the list and select one from the library, or click the + button to use your own music. Adjust the Delay option to put the background music to the right place. The device the Volume and other effects.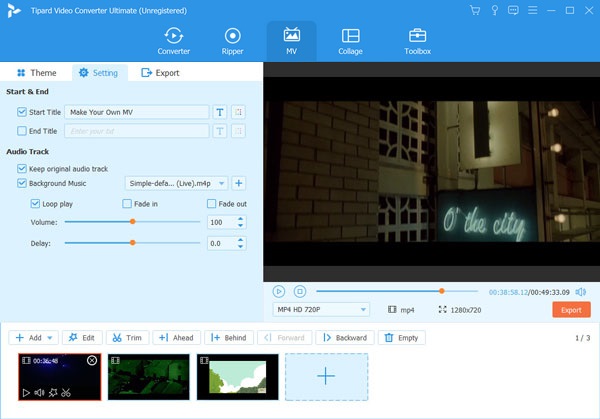 Step 4Preview and export movie
When movie making is done, click the Play icon in the media player panel to view the result. If you are satisfied, go to the Export tab. Enter a filename in the Name field. Click the Folder button to set a specific directory for saving the movie made by your own. Pull down the format option under the media player and select a proper output format and quality. Finally, click on the Export button to save the movie to your drive.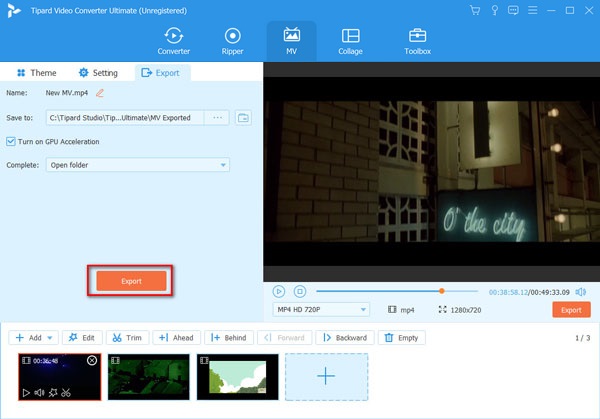 Part 3: How to Make a Movie on iPhone/Android
How to Make a Movie on iPhone with iMovie
iMovie is a simple way to make a movie on iPhone since it is pre-installed on your handset. It means that you can do your job without extra app or payment.
Step 1Put all video, photo and music elements in your Photos app. Then run iMovie from home screen on iPhone or iPad. If you cannot find it, download from App Store for free.
Step 2Tap the large + icon in the Projects screen and select Movie to create a new movie project. Then you will be redirected to your Camera Roll. Touch all video and photo elements. Once selection finished, tap Create Movie.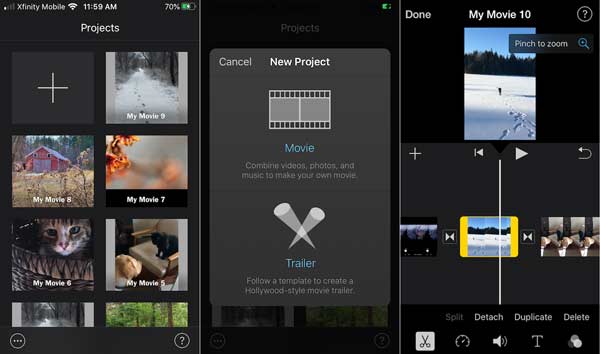 Step 3Now, you will see all clips on the storyboard. Adjust the order based on your story. To cut out frames from a clip, select it on the storyboard, and move the yellow borders before and after the clip. iMovie also allows you to crop and rotate videos.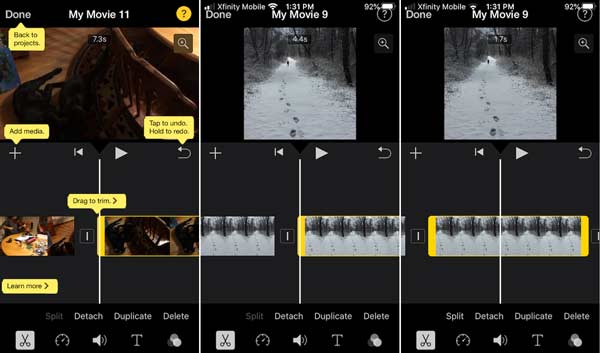 Step 4Tap the split between two clips on the storyboard. Then select a transition and insert it to the movie. Add transitions to other intervals. Next, tap the + icon under the video, and select Audio. Then you can add the background music from Soundtracks, My Music, or Sound Effects.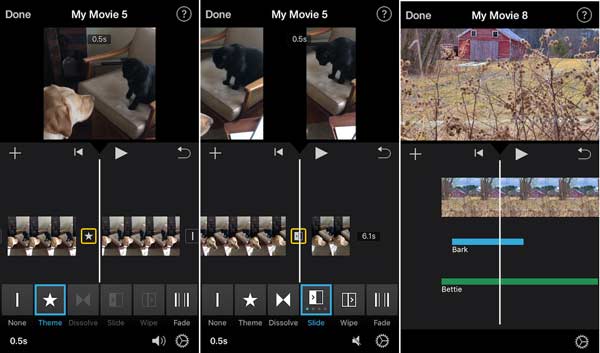 Step 5Tap Done when movie making finishes. Then press the Share icon at the bottom and choose Save Video to export the video or share it to social media directly.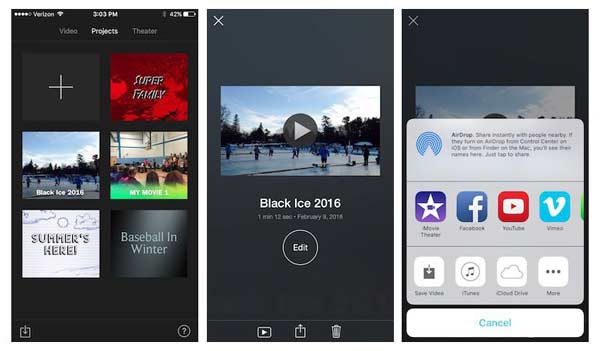 How to Make a File on Android with Google Photos
When it comes to make a movie on Android, the Google Photos app is a good choice. It enables you to make a film with up to 50 photos and video clips.
Step 1Open Google Photos app and sign in your account. Go to the Library tab from the bottom, choose Utilities and then Movie.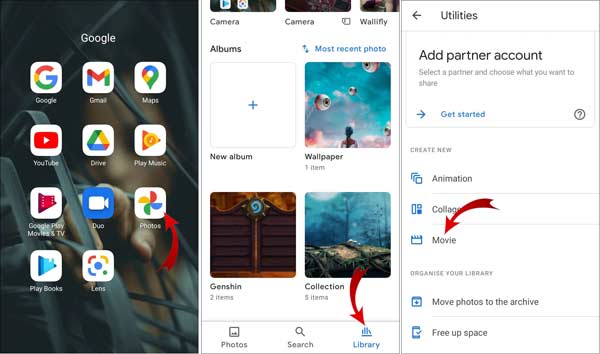 Step 2Select a theme or tap New film to move on. Tap Get started, select the visual items and tap Create. Wait for Google Photos to add all of them and the movie editor screen will appear.
Step 3To adjust the order, tap the thumbnail of a clip, drag it to the right position.
Step 4Next, tap the Audio icon and choose a theme music or a song from your collection. You can also add effect and theme to create a stylish movie.
Step 5When everything is okay, tap Export video option. Then your movie will be saved as a MP4 file. You can save it in Google Photos, download to your Android phone or share directly.
Part 4: FAQs about How to Make a Movie
Who need to make a movie?
Everyone can make a film with the right equipment and workflow. It is a good way to tell story to students, customers, investors, business partners, followers and friends.
Can I make a movie with Windows Movie Maker?
Yes, but it is not a good idea. Windows Movie Maker is not available to Windows 10. Moreover, it is too simple to use.
How to make a movie on YouTube?
There is no way to make a movie on YouTube, but you can do the creative job on your computer or mobile device, and then upload to the social platform.
Conclusion
After reading this guide, you will find that everyone can work as a movie maker professional. From pre-production to production, and post-production, we shared you the best tips and solutions. Tipard Video Converter Ultimate, for example, is a one-stop movie maker program. Now, you can create your own story immediately, please contact us if you have other troubles.