How to Make a Fabolous Movie From Photos Better Than Anyone Else
Ever wondering how to make a movie with photos and pictures? Vivid movies would impress your family and loved ones much more than still photos. A decent short movie creator app should have the basic capacity of adding pictures to the timeline, altering transitions, and picking a soundtrack. Which movie maker software is the best fit and doesn't require years to learn it?
We are glad to be here for help. Increasingly, more and more people are looking for the best app to make a movie from photos. The editorial team brainstormed the best selections for both desktop and mobile users. We will break down each option in details

Part 1. Overall Best Choice to Make a Movie with Pictures
It is a tricky task to find a suitable video editing program that is capable of making a movie from photos. Some of the candidates are not powerful enough, others are over-powered and difficult to use or rather costly. Tipard Video Converter Ultimate sits right on the sweet spot as the perfect movie maker to make a movie from photos. You don't need to be an expert video editor with years-long editing experience, simply create the best photo movie possibly with a diversity of carefully crafted video templates. Its advanced features go beyond MV creation, which includes:
1. Easy and quick video editing with powerful tools
2. Compress and convert videos without significant quality loss
3. Create personalized music videos with ease
4. Add watermarks to your video
5. Industry-standard video enhancer algorithm to boost the video quality
Step 1Initial Setup
Open the best movie maker program. Click on the MV tab on the ribbon to make a movie from photos.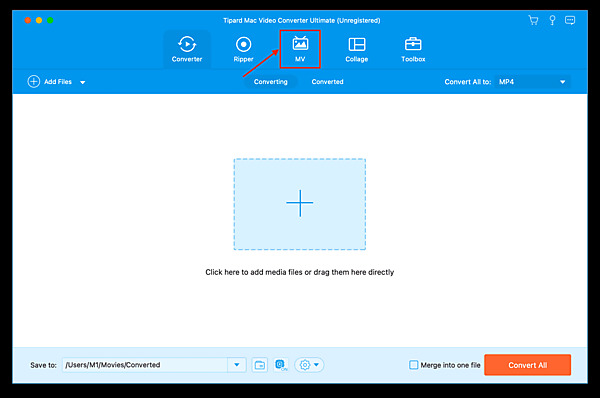 Step 2Personalize Your Video
Take a look at the left panel. Feel free to pick one of the suitable video templates that match the story you want to tell. There are beautiful templates for every category and occasion, from holiday celebrations, gift card ideas to memorial days, and much more.
Step 3Add Photos
Click on the Add button on the lower left side of the screen to insert the first image to your video. Subsequently, repeat the process to insert more pictures.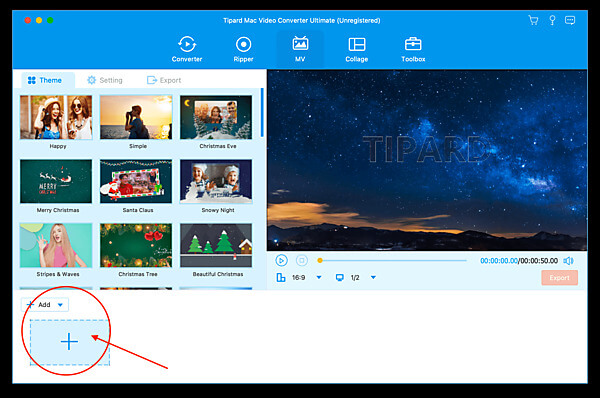 Step 4Be Creative
Add any custom touch to your video as you imagine. Click on the options on the editing bar as indicated in the following graph. From adding special effects, trimming video to changing the sequence of the pictures. Of course, never forget to select a lively background music sound for the video. The feature is hidden in the Audio tab by clicking on the Edit option first.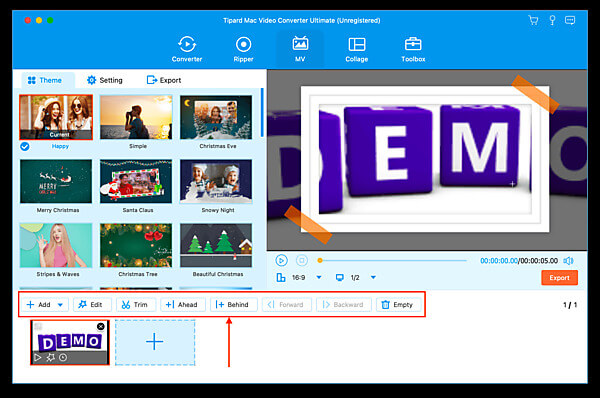 Step 5Save Your Video
Time to share the video with your family and friends! Switch to the Export tab on the upper side of the screen. After selecting the export formats and codecs, click on the Start Export button. You are ready to go.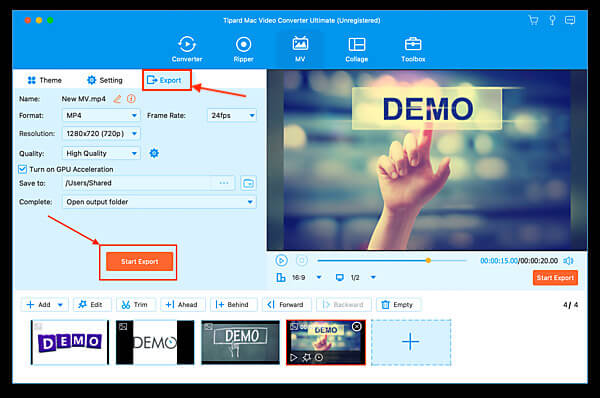 Step 6Make it Viral
One more thing here, the best part of creating a photo video with the best movie maker is sharing it with the world. Easily share the video to any format by changing the export settings. Don't forget to suggest the movie maker program to your friends as well!
This software also lest you create a split-screen video with its Collage feature.
Part 2. How to Make a Movie with Photos on iPhone
iMovie for iOS ranks the most downloaded free photo to movie makers on App Store. Creating pictures movies on mobile has been exceedingly easy. We are here to provide a quick and comprehensive guide on how to make a movie with pictures on iPhone with iMovie.
Step 1Open the iMovie app. In the Project Browser, tap the Create button and select the Movie option.
Step 2Tap the preview images of all the photos you want to be subsumed in your movie.
Step 3Tap the Create Movie button located at the bottom of the screen to export your video.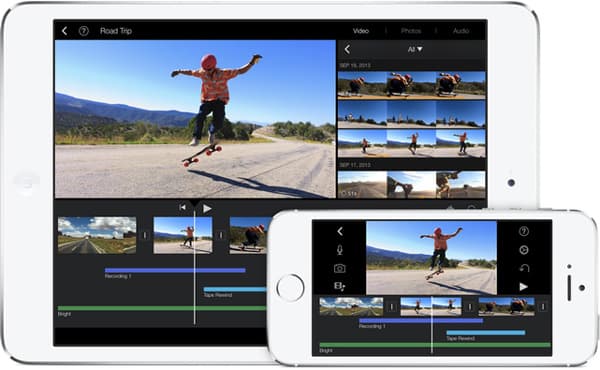 Part 3. FAQs about Making a Movie with Video Clips and Pictures
1. Is free Movie Maker software good enough?
There isn't a definitive answer, everything depends on your use case. It's worth noticing the importance of distancing professional commercial software and free open-source software. The latter option often lacks polish on usability and falls short of learning resources and tech support. We suggest upgrading to professional movie maker software instead.
2. How to make a photo video in Google Photos?
Surprise! You don't need to do anything. Google Photos has implemented smart AI to automize your photo movie production. It will scrawl the visual contents and tags of the photos you have taken and generate a movie with pictures specifically for you. Let's say you are a dog lover and have a stack of photos of your dog, a doggie movie would be shown in your gallery alongside matching background music automatically.
3. How do I choose a good movie maker software?
Consider several key factors: firstly, depends on the scale of your movie project, choose the corresponding toolkit that fits the timespan and budget of the given project. Secondly, focus on the performance aspect, especially encoding and exporting. This could ensure the quality of the final output product.
Conclusion
As the article has explored, making a movie with pictures couldn't be easier with the help of professionally designed software and iOS apps. Via using the best movie maker app, you could unleash your creativity and produce the best movies with photos as you would prefer.