How to Make A Live Photo A Video Effectively
Live Photos from Apple are great. Your iPhone records 1.5 seconds of video before and after you press the shutter when you take a Live Photo. As you tap and hold an image on your device, the scene is also augmented with sound and movement to your picture. Live Photos made its debut in 2015 alongside the iPhone 6S. Also, because the technique is identical to taking any other type of photo, they are simple to make. However, Live Photos from iPhone is only available on iPhone. It means that you can't share the Live Photos to any devices. In that case, the article will offer you the best solution. If you want to share your file with other devices, turn your Live Photos into a video. Luckily, this post will give you effective methods for making Live Photos into a video. So, read the post and figure out how to make a live photo a video.

Part 1. Why to Make A Live Photo A Video
Shooting a Live Photo is the same as capturing a regular static image. But it gives you so much more creative freedom! Live Photos allow you to select a particular moment when your subject looked its best rather than one hazy or ugly image. However, there are reasons why you need to make the Live Photo a video. Check why you need to turn the Live photo into a video below.
1. Live Photo is not shareable with other devices since it is only accessible with iOS. In that case, turning the Live Photo into a video is suggested.
2. If you plan to send your Live Photo to social media platforms or email, the file will only be seen as a still image. In that case, turning it into a video is necessary first.
3. A Live Photo takes up more storage space than a normal image. So, to transfer your live photos to another device, you must convert the Live Photo to a video. That way, you can get the file and use another device to preserve it.
Part 2. How to Turn Live Photo A Video
Before turning live photos into a video, let's define a Live Photo. Live Photo is a 1.5-second video you can encounter when using an iPhone. It records the seconds before and right after pressing the shutter. These videos that resemble GIFs capture motion and vigor. It also involves the sound that went into your picture-perfect moment. If you don't like the Key Photo, you can select a different one from the many other frames in your Live Photo. Apple then selects what it believes to be the greatest frame from that video and designates it as the "Key Photo."
Now, we will give you 2 effective methods about how to turn a live photo into a video. These are using an iPhone with iOS 16, iOS 15, or earlier. So, use the procedures below to get your desired result without further ado.
How to Change Live Photo to Video (iOS16)
First, let's talk about shooting a live photo. On an iPhone, Live Photos are taken in the same manner as regular photos. Navigate to your camera first. The Live Photo symbol should then be yellow. Then, press the shutter button to take your Live Photo once this feature is active.
Step 1After capturing a live photo, open the Photos application. Then, navigate to the Live Photo albums. After that, when you choose the Live Photo you want to convert, press the Three dots on the upper-right corner of your iPhone screen.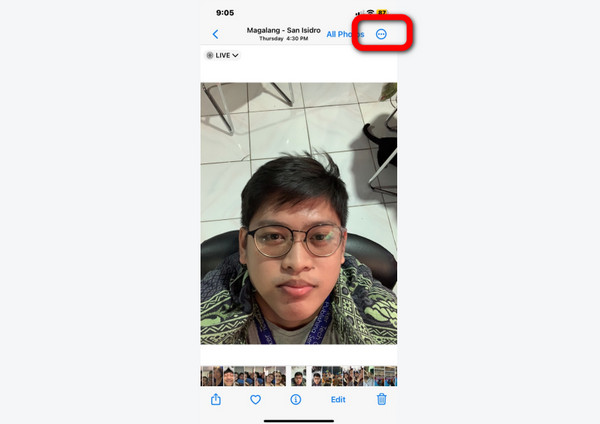 Step 2After that, the drop-down menu will show up on your screen. To save your live photo as a video, press the Save as Video option. This way, your Live Photo will be turned into a video.
How to Save Live Photo as Video (iOS 15 or Earlier)
Step 1Go to your Photos application and proceed to the Live Photos album. After that, press the photo you want to turn into a video. Then, hit the Share option on the lower-left corner of the interface.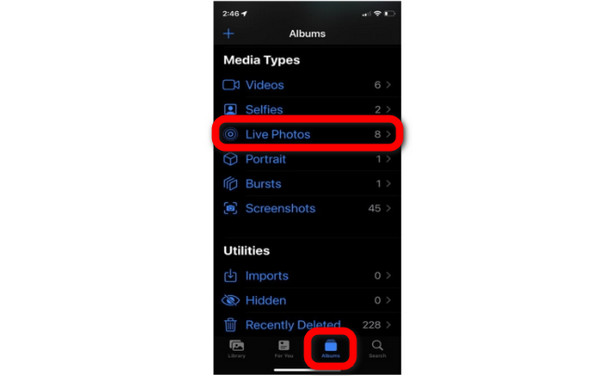 Step 2When the menu already appears on your screen, scroll a little and select the Save as Video option. After that, you can already play your video.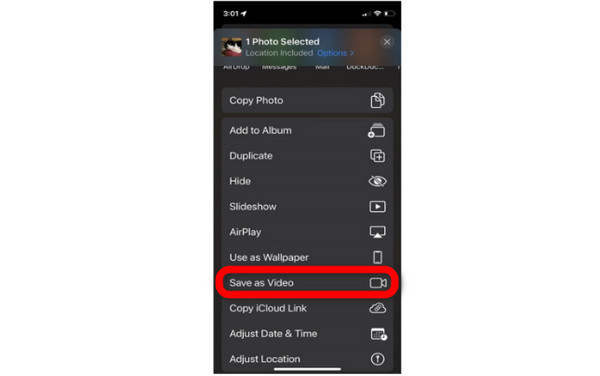 Part 3. Bonus: How to Change Photo to Video on Computer
After reading the previous part, we're glad you have learned much about turning Live Photos into a video. In this part, there is another thing you must learn. If there is a time that you want to make your photo a video using a computer, read this section. To make your photo a video, use Tipard Video Converter Ultimate. It is an offline tool capable of simply converting your photo into a video. Also, the tool offers an intuitive interface, making it suitable for all users. So, if you want to create a video from a photo for some reason, like for occasions like weddings, debuts, parties, and more, you can use Tipard Video Converter Ultimate.
The best feature you can use from this program to convert images to videos is the MV function. This function allows you to use more editing tools for your file. If you want to change the photo color, click the Edit option. This way, you can change the photo's brightness, saturation, contrast, and hue. It also offers a free filter to give more flavor to the photo. Additionally, you can rotate and crop your photo based on your desired design. In addition, this software also enables you to convert your image formats. So, to start creating a video from your photos, follow the method below.
Step 1Access the Tipard Video Converter Ultimate by clicking the Download button below. Afterward, run the program after the installation process.
Step 2When the main interface already appears, select the MV feature on the upper part of the interface. Then, to add the photos you want to turn into a video, click the Add option or the Plus icon. After that, browse the photo from your computer file.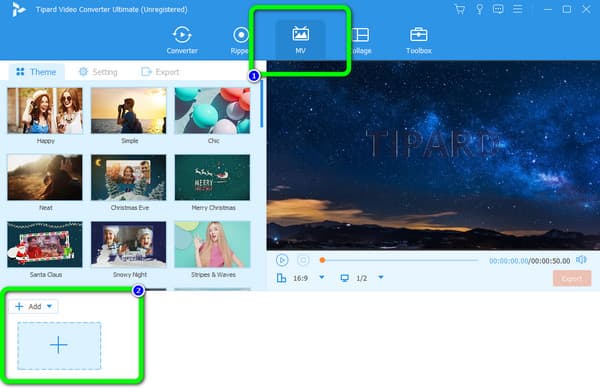 Step 3You can also edit your photos first before saving them into a video. You go to the Theme option to add a theme, filters and effects, trim, and more.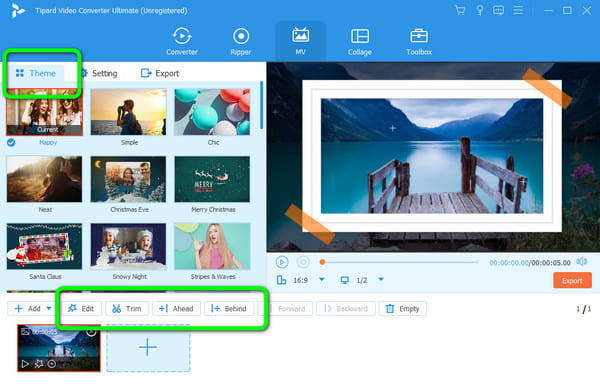 Step 4After making some changes, you can proceed with the saving process. To save your final output, hit the Export > Start Export button. After the export process, you can open your final video from your output folder.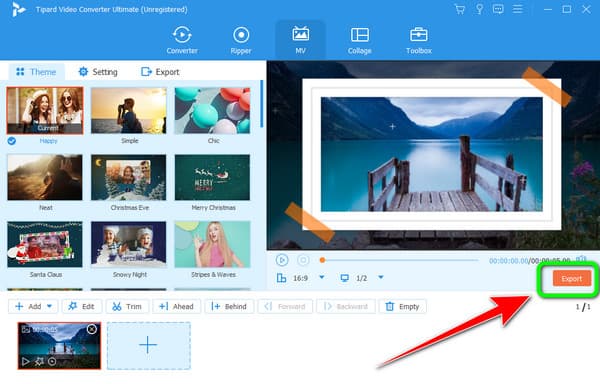 Extended Reading:
How to Edit Video Contrast: Best Offline and Online Ways
How to Edit Video Metadata: 3 Easiest Ways to Perform
Part 4. FAQs about How to Make A Live Photo A Video
Can I make a live wallpaper from my iPhone?
Absolutely, yes. You can make live wallpaper with an iPhone 6S or a later version. But, if you have an outdated version, it is impossible to make a live wallpaper.
How to turn a live photo into a GIF?
Go to your Photos app and navigate to the Live Photos album. Then click the Live option and select the Loop or Bounce option. Lastly, go to the share option to save your final output.
Do live photos take up more storage space?
Yes, it is, since a live photo consists of 1.5 seconds before and 1.5 seconds after capturing. So, live photos' storage is twice as long as still images.
Conclusion
After reading the article about how to make a live photo a video, you now know about sharing your file with other devices. Moreover, if you want to make an excellent video from your photos using a computer, use Tipard Video Converter Ultimate. The tool also allows adding more flavor to your converted file by adding effects, filters, trimming videos, and more.