3 Ways to Make a Video Collage on/for Instagram
Want to create photo or video collages on Instagram but don't know how?
You may notice that, Instagram collages are trending right now. In fact, besides Instagram, you can also access lots of split screen videos on YouTube, TikTok, and Facebook. Do you know how to make a video collage on Instagram?
Instagram offers two solutions for you to make picture and video collages, the specific layout feature for Instagram Stories and standalone Layout app. This post will give you a detailed guide to make a video collage on Instagram. Moreover, we introduce you with a great video collage maker to create split screen videos for Instagram
Part 1. How to Make a Video Collage on Instagram
As it mentioned above, Instagram brings 2 ways to make a video collage on its platform. So this part will guide you to create Instagram video collage with Instagram Story and Layout app.
Make a video collage on Instagram Story
Step 1Open Instagram app on your iPhone, iPad or Android phone. You can take a photo or add a picture for the background of your Instagram video collage. Custom the background based on your need.
Step 2Go to the Photos app and select the picture or video you want to create split screen video. Tap the Share icon and the use the Copy feature. After that, back to the Instagram app, and you can see the copied photo or video clip appears on the bottom-left part of the screen as a new sticker.
Step 3Add the sticker to check the photo/video showing up on your Instagram Story. Now you can freely adjust the file position to fit your need.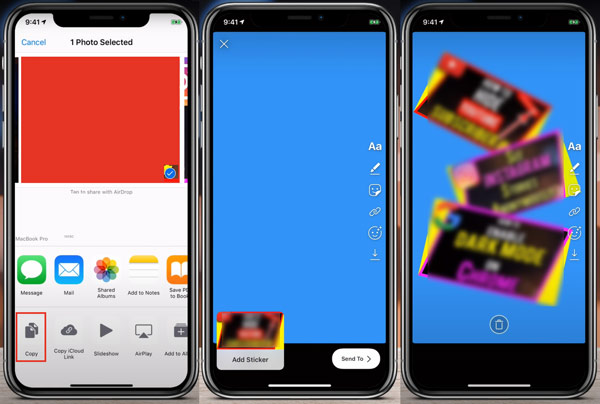 Step 4With the similar steps, you can add more pictures or videos and make a video collage on Instagram.
If your Instagram video is size large, just compress it now.
Make a video collage on Instagram with Layout app
Instagram has an official video collage maker app called Layout. It is initially used for in-feed photos allowing you to create Instagram collage with two or more pictures. You can use Layout app on both iOS and Android devices.
When you want to make a video collage on Instagram, you should go to App Store or Google Play Store to free install Layout app first. Then you can open it and follow the on-screen instructions to create an Instagram video collage with ease.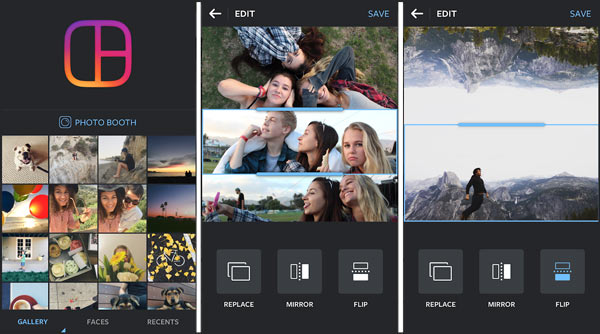 Part 2. How to Make a Split Screen Video for Instagram
You should know that, most professional-grade video collages can be created directly on Instagram. You have to rely on some video collage make split screen videos on your computer and then upload them to Instagram.
Here we strongly recommend the all-featured video converter, editor, and video collage maker, Video Converter Ultimate for you. It has a specific Collage feature for you to create photo and video collages for Instagram.
This Instagram video collage maker highly supports all popular video and audio formats including MP4, AVI, MOV, FLV, WMV, M4V, MKV, MP3, and more. You can handily combine your photos and videos together to make collage. In addition, you are allowed to add background music to your video collage.
Step 1Free download, install and run this Instagram video collage maker on your computer. Select the Collage feature to make split screen videos for Instagram.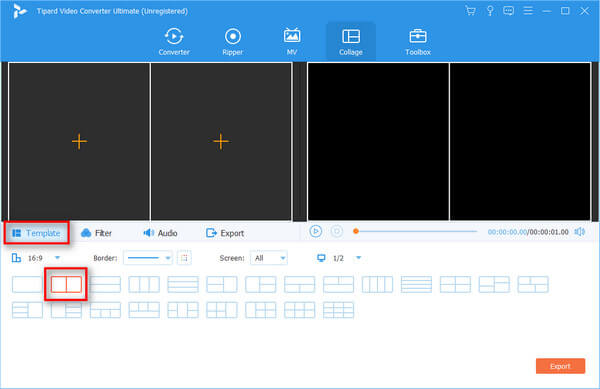 Step 2As you can see, many frequently-used templates are displayed there for you to make a video collage for Instagram. You can select a suitable template according to your need. Then you can click the Plus icon to add your pictures or videos.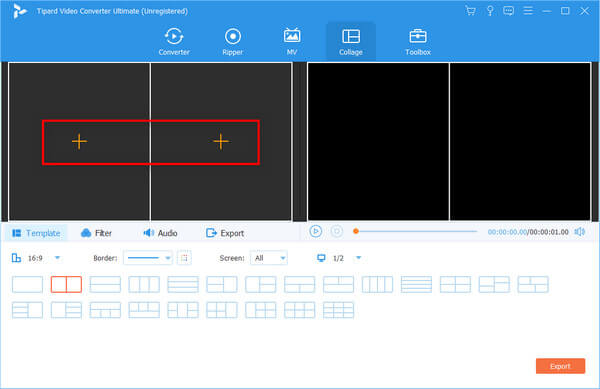 Step 3You can freely edit video and custom its effects. Many useful editing features are offered there.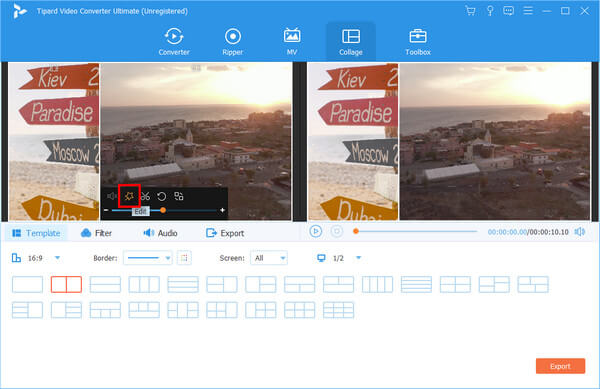 After editing, you can also apply some filter to your video collage.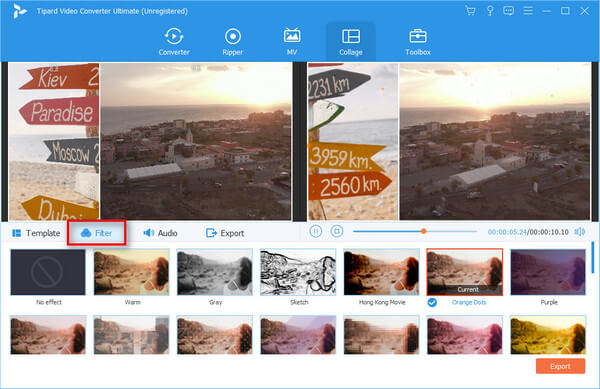 Step 4Click Export button to move on. You are allowed to select output format, frame rate, resolution, and video quality. Here you should choose an Instagram supported format. After that, click Start Export to start exporting the created video collage.
Part 3. FAQs of Instagram Picture Video Collage
Question 1. What video formats are available for Instagram collage?
Instagram supports some popular video formats like MP4 and MOV. When you create a split screen video, you should save it in an Instagram supported format. What's more, you should know the Instagram video length limit.
Question 2. How do you make a video collage with music on Instagram?
To make an Instagram Story video with music, you should rely on some third-party video collage app. You can easily get one from App Store or Google Play Store. If you like to make Instagram video collage on computer, you can use the recommended Video Converter Ultimate.
Question 3. How do I put videos side by side on TikTok?
Conclusion
How to make a video collage on Instagram? After reading this page, you can get 3 simple ways to put picture and videos together and play them simultaneously. You can follow the guide to directly create Instagram video collage, or make a split screen video on your computer and then upload it to your Instagram Story.