How to Make A GIF Collage on Computer and Mobile Phone
Using the other ideas in this post, you may make a GIF grid on your phone or desktop. Most teenagers use GIFs to express their feelings, thoughts, or emotions. GIFs are now thought to be a superior form of communication over words. GIFs are used in blogs and feature simple animations. It also may be used to create memes on social media websites. The size of GIFs might be less than other file formats, which is an advantage. Pictures will appear more professional and better convey messages. In that case, this informative article will give you the most straightforward ways to make a GIF collage using GIF collage maker online and offline.

Part 1. What is GIF Collage and Why to Make
What is GIF Collage
GIF collages can be a terrific method to construct a fan edit or Tumblr post. It summarizes a movie or compares various individuals or scenes. The quiet, brief looping clips are ideal for conveying a feeling. It makes people laugh or remember a memorable moment. Before you proceed with the GIF collage-making process, let's explore more about GIFs.
An image file is known as a GIF or Graphics Interchange Format. In contrast to other picture formats, GIFs usually contain animation. Using memes or notable scenes from TV series and movies, animated GIFs are frequently utilized to convey humor or emotions. A GIF file is merely an image. The GIF file format can create still images like JPEG or PNG. GIFs aren't videos, so we refer to them as "animated images." Moreover, they lack sounds. The GIF format wasn't developed for animations, either. GIF files can store numerous images simultaneously, and people discovered that if they are decoded in a specific way, these images can load sequentially.
Why to Make GIF Collages
There are lots of reasons why you need to create a GIF collage. One of the reasons is that GIFs are eye-catching. Motion content gives an outstanding impact nowadays. It stops a viewer's scroll and becomes curious about the content on GIF. Another reason is that GIFs are entertaining to view and create. GIFs can create funny content like memes or tell a particular story.
Part 2. How to Make A GIF Collage on Computer
Create A GIF Collage Using Tipard Video Converter Ultimate
The best and most highly recommended program for making GIF Collages is Tipard Video Converter Ultimate. Its collage feature allows you to create a collage with multiple GIFs. Also, you can add background music to your collage. Aside from that, you can add filters to give additional impact on the GIF collage. It also offers various templates to use. Additionally, the program features a Toolbox kit for quickly producing GIFs. It might produce the outcomes you want. This software enables you to crop, trim, and even apply watermarks to your GIF and add captions. This tool's intriguing feature is its ability to convert GIFs into various formats.
Moreover, it offers manageable editing tools that don't require technical skills because of its easy-to-use access. With this convenient offline program, you can ensure that advanced and non-professional users can use the program. Furthermore, you can access the offline program on Windows and Mac computers. This way, you don't need to look for another GIF collage maker if you are using another device. Use the steps below to create a GIF collage using Tipard Video Converter Ultimate.
Step 1Download Tipard Video Converter Ultimate. You can click the Download button below to easily access the GIF collage maker. Then, launch the program after the installation process.
Step 2After launching the program, the program's main interface will appear on the computer screen. On the upper interface, click the Collage option.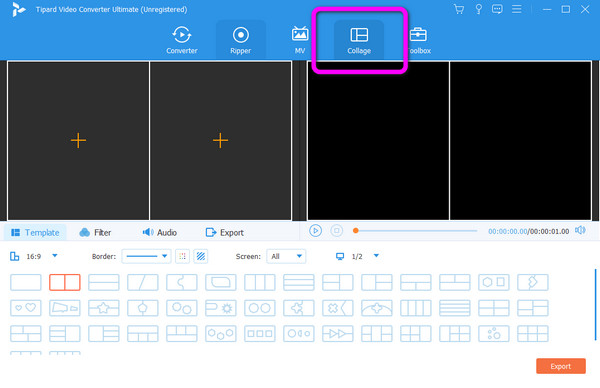 Step 3Then, go to the Template section and choose your desired template. After that, click the Plus icon to add the GIF files.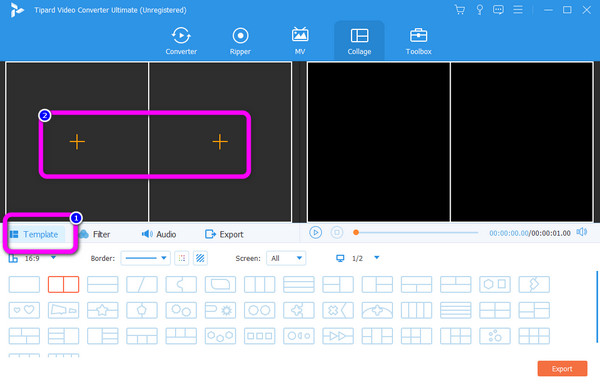 Step 4Also, you can add effects to your collage. Go to the Filter and Audio section to filter and background music on your GIF collage.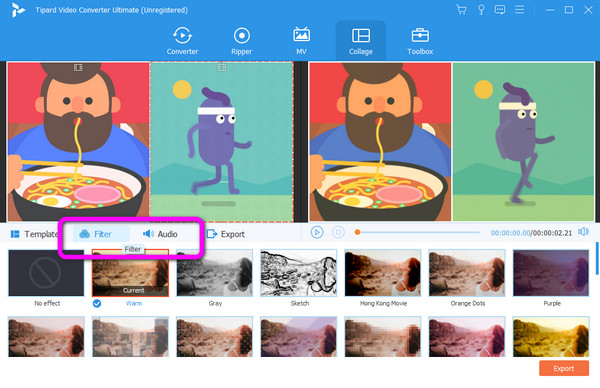 Step 5When you are done making your GIF collage, click the Export button. Then, wait for the export process. After a few seconds, you can save the GIF collage on your computer.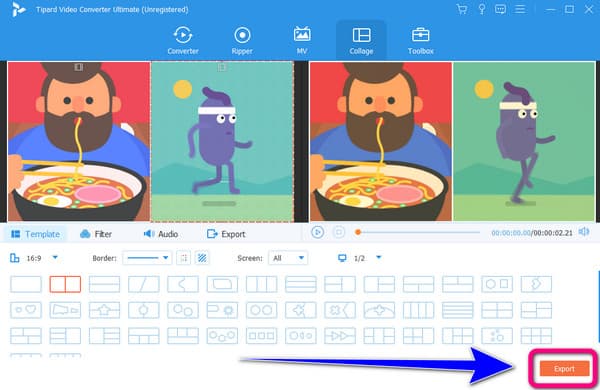 Make A GIF Grid Online
If you want a GIF collage maker online for free, use FlexClip. It features everything you need to create a GIF of the highest caliber. You won't need to worry about the format since it supports JPG, PNG, MP4, WebM, and more. Also, you may combine as many GIFs as you like, allowing you to experiment and develop new concepts. Also, thanks to its robust features, you can enhance your GIF by modifying the text, including music. Last, FlexClip doesn't add a watermark to your GIF; using this GIF collage maker doesn't require downloading or registering.
However, Flexclip has a disadvantage. You need to have a strong internet connection to see the full performance of the tool. Also, the loading process is too slow, which is time-consuming.
Step 1Go to the Flexclip website. Then, add the GIF files to start creating a collage.
Step 2After that, drag the GIFs on the Timeline. Then, on the canvas, arrange the GIFs to create a collage.

Step 3If you are done creating the collage, click the Export button. Wait for the export process. Then the tool will save the GIF collage automatically to your computer.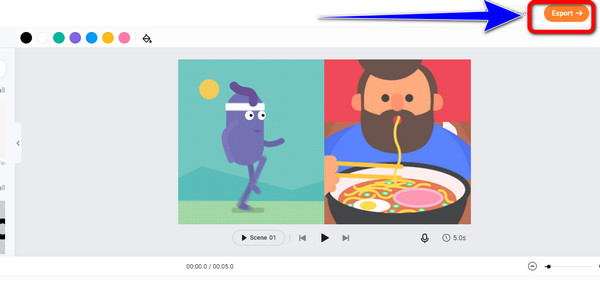 Part 3. Ways to Add Album Art to MP3 on Android and iPhone
Do you want to create a GIF collage using a mobile phone? Then one of the effective GIF collage apps you can use is PicPlayPost. This application has a simple method to create a GIF collage. It also offers free templates, making it more convenient for all users. However, this tool is only suitable for Android devices. Also, the saving process takes too much time. There are also times when the application is lagging.
Step 1Download the PicPlayPost app on your Android device. Then, launch it after the installation process. After that, click the Create a Collage option.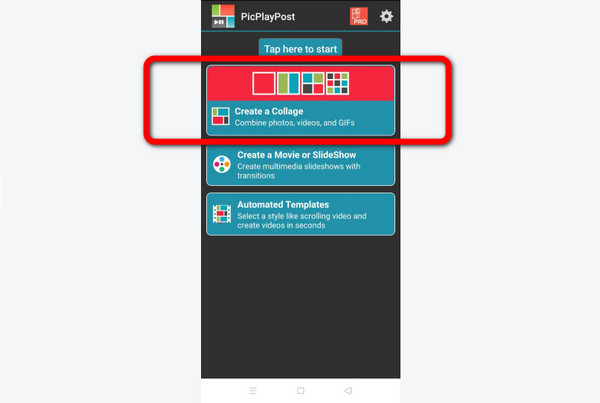 Step 2Then, choose the templates. After that, add the GIF by clicking the Plus icon.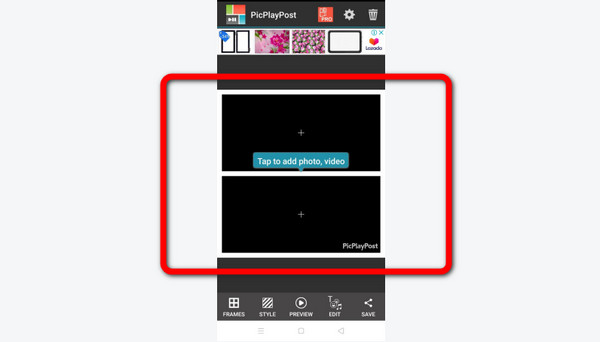 Step 3When you are done creating a GIF collage, click the Save button.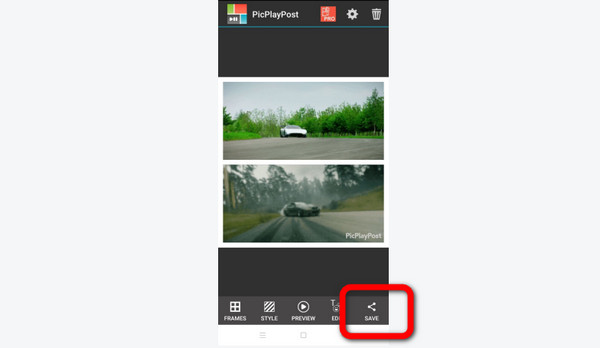 Extended Reading:
How to Make a Video Collage on iPhone, Android, Computer, Online Free
Top 10 Photo Collage Maker Apps for iPhone/Mac/PC in 2023
Part 4. FAQs about How to Make A GIF Collage
How to make a GIF collage in Photoshop?
Navigate to the File > Import > Video Frames to Layers in Photoshop to import your GIF files. Please use the Animation option to copy all of the frames from one of your GIFs into the video frames of the other GIF. You can do this by choosing Window > Timeline or Window > Animation. By clicking on the required structure and inserting the frames, you can paste them anywhere you'd like them. Select Export > Save for Web to save your GIF.
How to put GIFs from the camera roll on Instagram Story?
If you want to upload a GIF, tap the purple Instagram symbol, grant Instagram access to your camera roll, and launch Instagram. You can use it to post to your Instagram Story or Feed. Your phone will be given a 15-second square GIF as a result.
How to make a GIF collage with multiple GIFs?
Conclusion
Well, there you go! If you want to make a GIF collage, you can read this article and discover the best methods you can try. Also, if you don't know what software to use, we highly recommend Tipard Video Converter Ultimate. This offline program has many features you can enjoy. You can also create your GIF collage without encountering any trouble. It also allows you to add filters and background music to your collage.