M4A to MP4: How to Convert M4A to the Most Popular Video Format MP4 Losslessly
Before, you could share your media files anywhere because sharing audio or video files with different players was not as challenging as it is today. This kind of complication may be a negative result of technological innovation. Audio and video files formerly almost have the same level of acceptance on various devices. Still, since the modernization of electronics, some devices accept both file types while others do not. This is true for the M4A format. Even though it is the audio format exclusively for Mac and iOS devices, many popular devices affiliated with Apple output formats still cannot play this audio format back. In contrast with this, almost all players are in favor of MP4. It is why many people who suffer from the same issue choose to convert M4A to MP4.
And so, if you also think that this would be the best solution to follow, then be vigilant in executing the conversion. Why? Because converting audio into a video file is not that simple. But since you chose to be in this post, we will not let you suffer from another issue resulting from an improper conversion process. Therefore, let's start it right by learning the best ways to convert your audio to the video below.
Part 1. What is M4A
Before we meet the M4A to MP4 converters below, let us first learn more about these two media files, starting with M4A. As mentioned previously, M4A is the native audio file format of Apple. It is an audio file with compressed content within a MPEG-4 file container. Furthermore, this compressed digital audio file uses ACC or ALAC lossless sounds, giving it an exquisitely high sound quality. As a matter of fact, if you compare it with MP3, M4A has a much higher quality. However, this M4A format is known to have DRM protection, which hinders it from being played on various media players. For this reason, to at least maintain the seamless high quality, many, including experts, find ways, and changing the M4A file to MP4 is one of them.
Part 2. What is MP4
An MP4 file, on the other hand, is the most popular video file format as of this writing. This file is called chiefly the MPEG-4 file format, which the Moving Pictures Expert Group develops. Similar MP4 is also a container that uses compression with the videos, audio, and other contents such as still images and subtitles. With the said compression, MP4 still maintains the high quality of sound and picture display of the contents inside it. In addition, this MP4 file container is an official file used for video playing and sharing on the internet. Aside from that, it is also declared as a universal video format since almost all media players support it.
Part 3. M4A vs MP4
Here is a simple and quick comparison table between the two formats. With this table, you will better understand why you need to transform one into the other.
| Attributes | MP4 | M4A |
| --- | --- | --- |
| Best used for | Used for almost all social media and all popular video streaming sites online. | Used for iTunes, podcasts, and music. |
| Encoding | It uses MPEG-4 Part 14 and MPEG-4 AVC. | It uses ALAC and AAC audio. |
| Expanded Size | This can be up to 10 GB. | This can be up to 200MB. |
| Compatibility | Most devices, even the ones from Apple. | Apple media players. |
| Come with protection | No | Yes |
Part 4. How to Convert M4A to MP4 with 3 Best Ways
With the complete information above, we can now proceed to the best M4A to MP4 converters that could help you perform your task efficiently. With this being said, we want to present three of the most sought-after converters in the market today.
1. Tipard Video Converter Ultimate
Since the word best has been mentioned, we want to present you the top of the best under the name Tipard Video Converter Ultimate. This software provides you with an ultimate file conversion that will enable you to convert 60 times faster than the others due to its ultrafast technology. Furthermore, it lets you lavish on its multiple features that will help you enhance both video and audio files to their finest. In addition, you will be glad at the flexibility of this M4A to MP4 converter, not only with its functions but also with its support of more than 500 video and audio formats for input and output. Not to mention its ability to convert bulk files simultaneously. Therefore, if you have a multi-track of music in M4A format, you can all convert them to MP4 at once. Yes, your work with Tipard Video Converter Ultimate will be made easier and quicker since you can work on them at once.
The mentioned attributes above are just a small part of its wholeness. And we will leave it here to make you feel more excited about it. Hence, let us now learn how to convert M4A to MP4 in bulk with this amazing tool below.
Step 1Prepare your computer for a fast installation process of this software. Click the Download button below that is applicable to the kind of computer you use.
Step 2Launch the software after the installation. Then, hit the Plus icon at the center of the main interface to load your M4A files. Alternatively, you can drag the files from your local folder and drop them in the tool's interface.
Step 3Once the audio files are loaded, click the arrow-down button in the Convert All to section. Then, under the Video option, look for the MP4 format, click it, and click your preferred encoder at the right side of the interface.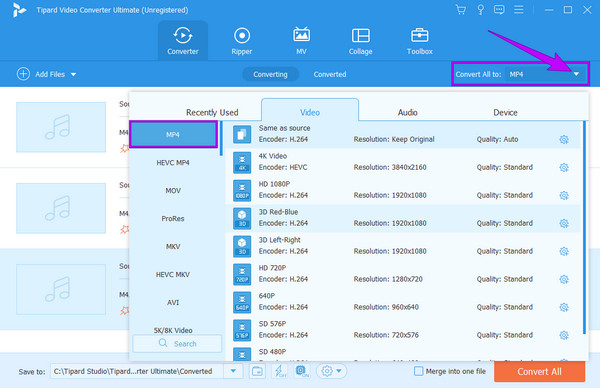 Step 4After that, you can now hit the Convert All red button at the bottom part of the main interface. Upon clicking this button, the swift conversion process will begin, and you may check your newly converted files after.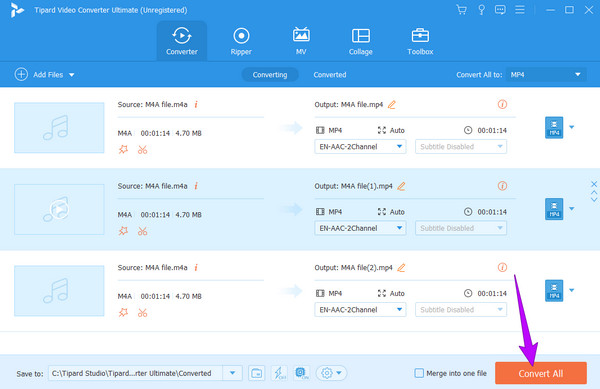 2. ZamZar
ZamZar, a media file converter online, hits second place on our list. This online tool can change the M4A file to MP4 for free. Furthermore, it supports many different output formats for video, audio, image, zip, document, and ebook. Similar to the first converting tool, ZamZar lets you upload and convert numerous files because it facilitates batch conversion. What's more, this online tool enables you to upload your M4A files from Google Drive, Dropbox, and OneDrive aside from your local folder. Besides, you can use this tool to convert MP4 to M4A. However, as a downside, ZamZar cannot support the other popular audio formats. Thus, if you find it still great to use, here are the simplified steps for converting M4A to MP4 using it.
Step 1Using any browser on your computer, visit the main website of ZamZar.
Step 2Upon arriving on its main page, click the Choose Files button to upload your M4A files.
Step 3After that, set the output as MP4 and then click the Convert Now button.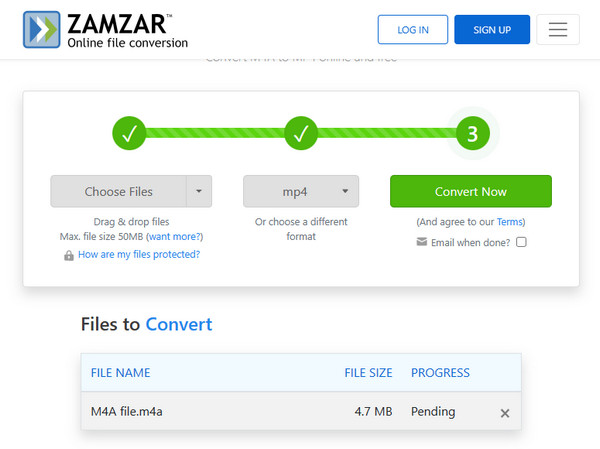 3. Video Converter
This time, let us have the Video Converter app that you can use on iPhone and iPad. It is a converting mobile app that supports many input and output formats, including M4A and MP4. With this app, you will need to have the conversion process on a cloud server which will only take you minimal time to complete. For this reason, for you to use it, you will need to connect to the internet. Do not worry, for even though it processes the conversion this way; it still gives you the assurance that your files are not kept after the procedure. However, please take note that it will send your files to its server. On the other hand, here are the steps to follow.
Step 1Get this app from your App Store and launch it after the installation.
Step 2Now, choose a file source where your M4A files are located. Tap it, then upload your files to the interface.
Step 3Then, select MP4 as your output format, and tap the Convert File button to begin the conversion process.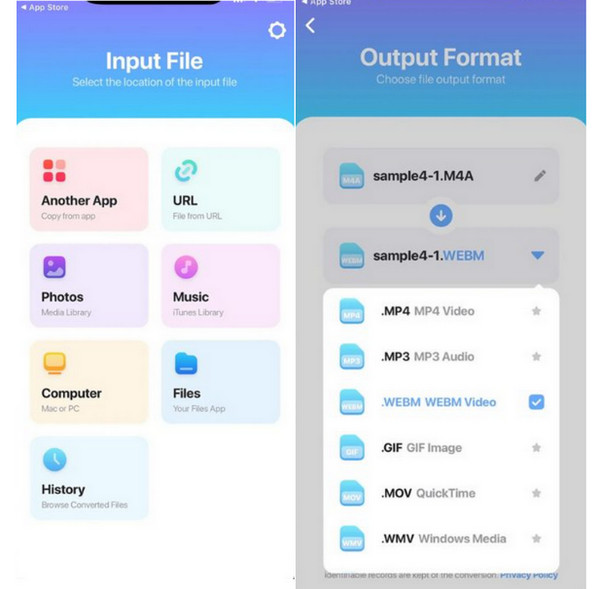 Part 5. FAQs about Converting M4A to MP4
Can I convert MP4 to M4A back?
Yes. After transforming your M4A files into video files in MP4 format, you can still convert them in vice-versa.
Does converting M4A files reduce the quality?
Can I enhance the quality of M4A?
No. M4A files have already reached their highest quality level. Therefore, there's no way to enhance them more.
Conclusion
There you have it. You've just learned the best approaches to convert M4A to MP4 with a deeper understanding of the said files. Choose which one will suit your capability and device. But, as for the many users who tried the approaches given, almost all chose Tipard Video Converter Ultimate. This is because of its high-end features and ultrafast conversion process even in bulk files.