Free M4A Player – 6 Best Ways to Play Music Files from iTunes You Should Know
What are the best M4A players to listen to the music files downloaded from iTunes? If you have downloaded some music files from iTunes Store, you should find the audio files in M4A format. M4A is a file extension created by Apple for storing audio data without protection.
Different from the MP3, M4A is not the default audio format for most devices. When you need to enjoy the music files downloaded from different platforms without any charge, you can learn more about the 6 free M4A players from the article.

Part 1: 6 Best M4A Players to Play Music Files on Different Platforms
Top 1: Versatile M4A Player for Windows and Mac – Tipard Blu-ray Player
When you need to play iTunes audio files on Windows and Mac, Tipard Blu-ray Player has advanced built-in audio encoding technologies that support both Dolby and DTS. The M4A audio player enables you to adjust the audio track, subtitle, and other settings to lossless sound quality.
1. Support all audio formats, including M4A, MP3, WAV, etc.
2. Provide advanced built-in audio encoding technologies.
3. Tweak the audio tracks, subtitles, and more other settings.
4. Friendly user interface to playback the M4A iTunes music.
Step 1Once you have installed Tipard Blu-ray Player, you can launch the program on your computer. Click the Open File button to select the target M4A files downloaded from iTunes Store.
Step 2Once you have imported the M4A file, it will start playing automatically. You can click the Audio option in the upper toolbar to select the desired audio track, audio channel, and audio devices to play M4A files.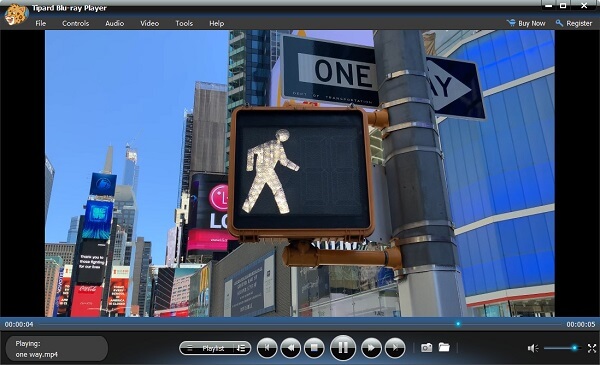 Top 2: AirPlay-Enabled M4A Player for Windows – 5K Player
5K Player is a free M4A player for Windows that enables you to enjoy multi-channel surround sound. It is an AirPlay & DLNA enabled media streamer and downloader, which you can download M4A music from streaming websites within few clicks.
1. Detect and play Dolbys, RStereo, DTS multi-channel surround sound.
2. Support multiple audio formats, such as M4A, AAC, APE, and FLAC.
3. Wirelessly stream audio-video via AirPlay & DLNA, zero quality loss.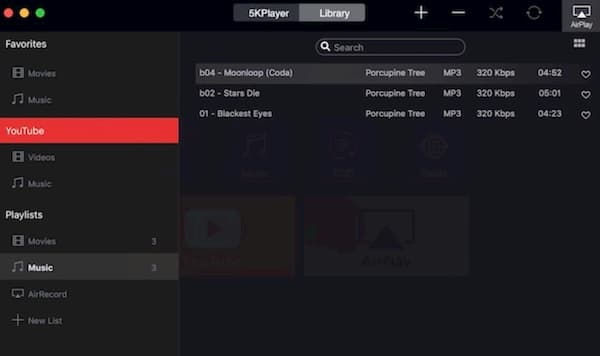 Top 3: Free Professional M4A Player for Mac – Winamp
Winamp is a popular free M4A player for Mac. It allows you to control the music playback, edit music tags, and add cover art to music. There are dynamic add-ons that produce images, colors, and textures that change based on elements of the music being played.
1. Control music playbacks, create music playlists, and manage podcasts.
2. Extend the functionality of Winamp with multiple plugins, like equalizers.
3. Manage the skins of the M4A player to reflect your individual personality.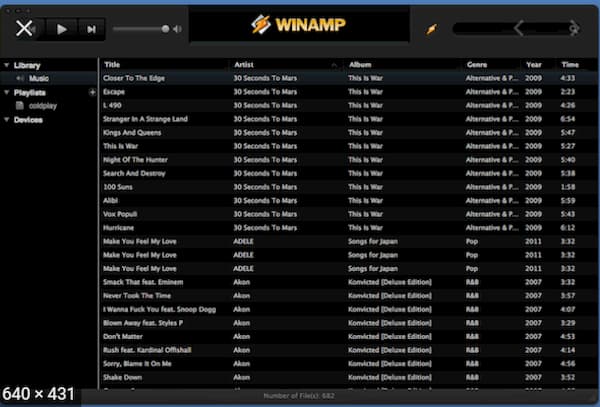 Top 4: Popular Free M4A Player for Android – VLC Media Player
As an open-source M4A player for Android, VLC Media Player is an all-in-one music player that supports most of the audio formats. Moreover, the program also includes equalizers, filters, and a complete database to manage your M4A audio files on Android.
1. Full control over the audio playback like speed up, slow down, and repeat.
2. Play popular music from other video-sharing sites, including Chromecast.
3. Support for audio headsets and cover art, or adjustment of aspect ratio.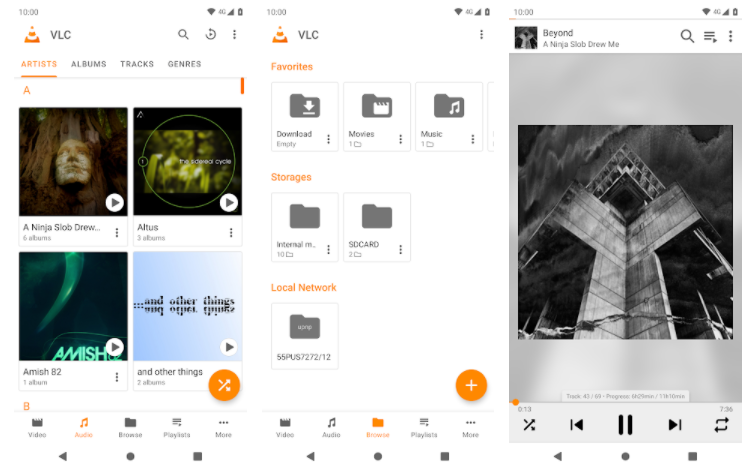 Top 5: Advanced Free M4A Player for Android – Rocket Music Player
Rocket Music Player is a multi-functional M4A player for Android. It enables you to create a playlist by batch selecting. The built-in sleep timer can help you to save your battery. Moreover, there are 10 Band graphic equalizers, including Bass Booster to enjoy the music files.
1. Display by song, album, artist, playlist, composer, and others in M4A.
2. Batch selecting to make a playlist with multiple songs within a click.
3. Compatible and support Chromecast, Scrobbling, and Android Auto.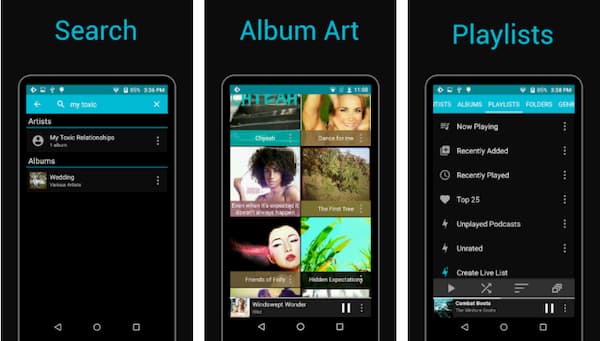 Top 6: Powerful M4A Player for iOS/Android – KM Player
KMPlayer is a powerful M4A player for iOS and Android that supports playing M4A audio files with advanced features, such as normalizing the audio, using an equalizer, setting a music timer, repeating the desired part, or even play the M4A audio within your Google Drive account.
1. Provide the playback speed control function up to 0.25 ~ 4 times.
2. Search the M4A audio files and specify player options with one click.
3. Support URL streaming to enjoy the M4A files by entering a URL.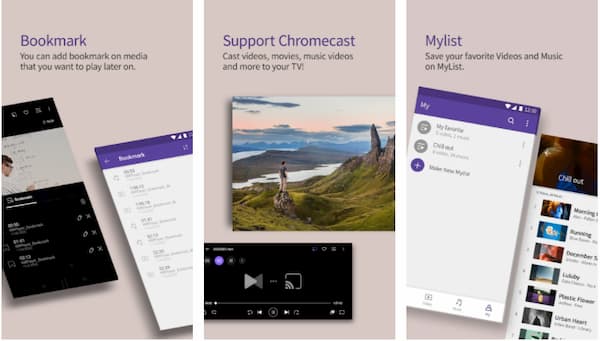 Part 2: FAQs about M4A Music Player You Should Know
1. What is M4A Audio Format?
M4A is also known as MPEG 4 Audio that is encoded with advanced audio coding (AAC). M4A file quality is better and file sizes smaller compared to MP3 files. The M4A file is not as popular as the MP3 file format. It is the reason that you need to get some M4A players for different devices.
2. Can I Play M4A with Windows Media Player??
Yes. M4A is a listed compatible audio format of Windows Media Player. But when there are some extra codec, or updates for M4A files, you have to download the latest Windows Media Player, or even add the K-Lite add-on to use the default M4A player.
3. Is M4A a Protected Audio Format from iTunes?
No. M4A is an AAC encoded audio file without protection. Just as the name of the audio files, when you get some audio files in M4P from iTunes Store, you might find the DRM protection. Moreover, you can also use iTunes to convert M4A to MP3 for you directly.
Conclusion
The article shares the 6 best free M4A players for Windows/Mac/Android/iOS. You can learn more details about the excellent features of the music players, and choose the desired one accordingly. When you need to have a versatile M4A player for Windows and Mac, you can free download the all-in-one Tipard Blu-ray Player instead.