Perfect Instagram Video Format and Specs: List and Guide
Instagram is one of the famous social media platforms that is used a lot. It has been recorded to be used by the users for an average of a couple of hours per day just by scrolling over the newsfeed, including stories. Furthermore, this platform allows its users to easily shoot and post their stories, content, and even their existing videos from their phones. The only concern you could think about is getting the right file requirement to post, and this means the right Instagram video format, specifications, orientation, and size.
For that reason, allow this article as your source of learning the list of video requirements that IG supports. In addition, the best practices in converting and editing your videos for IG are also included.

Part 1. Supported Video Formats and Specifications for Instagram
Just like the other platforms, Instagram also has basic requirements for its videos. The requirements will help the platform ensure that videos that will appear on it are as high-quality, neat, and professional as possible. IG's requirements for video size include two or more dimensions. This is also true with the other specifications. But before we move on to the specifications, let us first find out what's the best video format for Instagram because if the video you are to upload to IG won't succeed, then you might be using an unsupported format.
Best Formats for Instagram
The best-preferred video format of IG is MP4 with H.264 codec, 3500 kbps for its video bitrate, and AAC for the audio. Correspondingly, Instagram also supports other video formats rather than MP4 alone, and these are the MOV and GIF. Other than those three mentioned formats, there are no more video formats IG supports.
In order for you to learn the other specifications, such as the size and dimensions of Instagram, the pieces of information are projected in the table below.
Aspect
Instagram Requirement
Formats
1. MP4 ( It's also the Instagram Reel format)
2. MOV
3. GIF
Codec
H.264
Bitrate
3,500 kbps
Frame Rate
30 to 60 frames per second.
Aspect Ratio
1. Square (1:1)
2. Landscape (16:9)
3. Portrait (4:5)
4. IG Story (9:16)
Bitrate
3-5 Mbps
Resolution
1080p
Video Length
1. Feed and Reel Video - up to 15 minutes.
2. Stories - up to 60 seconds.
Files Size
Below 100MB for smooth uploading.
Part 2. Best Practices for Converting and Editing Instagram Videos
The process of editing and converting the videos to post on Instagram requires attention to detail. This is to ensure that the video content will still look at its best once uploaded. Hence, here are some of the best practices we can share in converting and editing the videos.
1. Choose the Right Specifications
Before you create a video, you must know the required specifications for Instagram, like format, aspect ratio, bitrate, frame rate, etc. Make sure that you follow the necessary specs to avoid quality loss and, worst, errors in posting and playback.
2. Choose Qualitative Source Material
Begin this by having a high-quality video source. This includes the camera you use to record the footage. If you have already filmed the video, you can improve the video quality for Instagram in the post-production stage.
3. Have a Consistent Visual Style
If you want to be recognized by your followers, you must establish a consistent branding and visual style. This will introduce who you are.
4. Be Cautious With the Video Length
Always consider Instagram's user's attention span when editing the duration of your video content. Note that the video content must be up to 15 seconds for the story segment and up to 60 seconds only for the feed videos.
5. Use a Video Converter/Editing Software
To achieve the best editing and converting to cater to your Instagram videos, it is best to acquire powerful software to help you do the job excellently. For that reason, you may want to use Tipard Video Converter Ultimate, a software that provides you with both amazing conversion and editing procedures. With regards to its editing function, Tipard Video Converter Ultimate offers tons of editing tools that will enable you to enhance, compress, trim, crop, merge, add effects, add watermarks, control the speed, rotate, reverse, etc, the videos you want for your Instagram.
On the other hand, you will also be astonished at how its conversion process works. Imagine, you can see it provides ultrafast technology, giving you a 60 times faster speed for the bulk videos. Aside from that, you can also experience the awesomeness of its GPU and hardware acceleration, along with the Artificial Intelligence that helps it to be more powerful. Fortunately, steps are given below to help you learn the proper editing and conversion of videos into an Instagram video format.
Step 1Launch the software program and click the Add button on its interface to bring the videos you want to convert. You can also hover over to the Toolbox section to see the multiple editing tools it offers. In the meantime, let's use the Converter tool.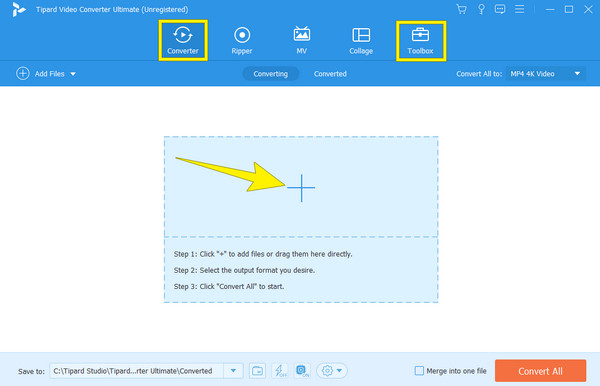 Step 2Now go to the Convert All To section and click the arrow button. Then, select the MP4 format among the choices in the new window. After that, choose the 1080p with an H.264 encoder.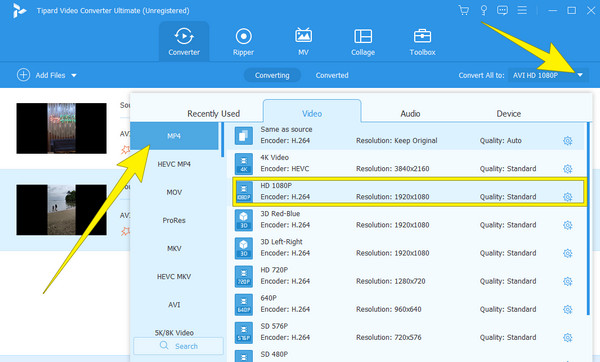 Step 3Then, you can click on the editing tools presented as star, scissors, and paint icons available under each uploaded video. By clicking the star button, you can access tools, as shown in the photo below.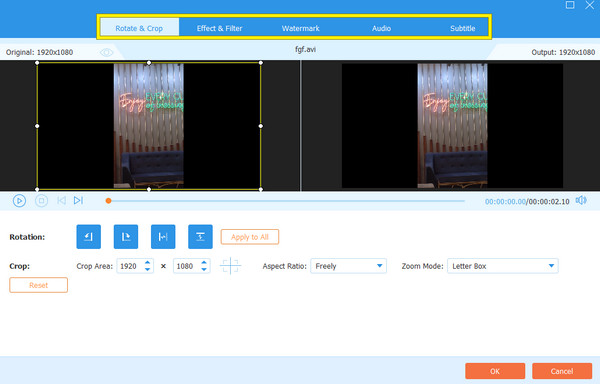 Step 4After that, you can proceed to the conversion by clicking the Convert All button.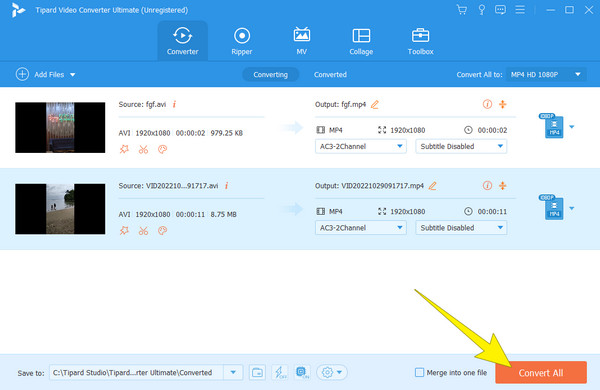 Tip: Video Converter Ultimate from Tipard also enables users to remove background noise from the video, which will greatly enhance your video quality from another persepctive, sound. Your video will then achieve both high quality and appropriate format for positng on IG.
Part 3. FAQs About Instagram Videos
Is Instagram video 720p or 1080p?
Both the 720p and 1080p are supported by Instagram. But with the technology today, almost all IG videos must be in 1080p as it is one of the specification requirements to have a more exquisite image display.
Is MP4 lower quality than AVI?
Yes. MP4 is proven to have a lower quality than AVI since it has a more compressed size, making its quality shrink as well. On the other hand, MP4 is more compatible than AVI, and it can already hold UHD videos.
What is the maximum length of an Instagram video?
The maximum length of an Instagram video is 15 minutes for the feed section. If the video that you are trying to upload is longer than 15 minutes, then the platform will automatically cut the video. Therefore, if you do not want an unexpected cut, then better to cut the video already before posting it.
Conclusion
The Instagram format is clearly focused as MP4, for if you use other formats, the video might not display as it should. Fortunately, there's always a way to transform all the unsupported video to MP4, and that is through Tipard Video Converter Ultimate. With this converter, you can expand its usage as you can also use it to have powerful video editing as well.