7 Best Movie Maker for YouTube to Create Sizzling Movie
In the last couple of years, video content has been created and shared on various social media platforms. YouTube is the hottest of all platforms for sharing videos online. With such a large number these days' people crave originality, especially on YouTube. YouTube movie creator needs to produce original and good quality content to keep the traffic coming. To do that, you need to use the best movie maker for YouTube videos to keep the viewership high and attract more audience.
Such applications have all the necessary tools that you may require to edit or create a new video. These applications are user-friendly and fast. In this article, we'll be discussing the best movie maker app for YouTube videos. These applications will help you in how to make a YouTube video with movie maker.

1. Tipard Video Converter Ultimate
Do not be fooled by the name, video converter. Tipard Video Converter Ultimate is an all-in-one video converter, editor, enhancer and video creator software. As a YouTube movie maker, it is suitable for the beginners.
You can use Tipard Video Converter Ultimate to edit the video for YouTube. Not only offering the basic video editing utilities like crop, watermark, rotate, filters, clip, merge, and more, this movie maker can also offer the video creation template to make a video with photos, videos and music with ready-made themes. Besides, its collage feature can put 2 or more videos side by side to create split-screen scene on YouTube.
Pros
Offer movie template to create a quick video with ready-made templates and customized themes.
Split screen to create multiple video playback in one window.
Output high-definition video up to 8K to create a super clear vision.
Cons
It is a movie maker for beginner and professional users should find other tools.
2. CyberLink PowerDirector
CyberLink PowerDirector provides many fantastic features to create a masterpiece for YouTube. You can complement your videos with animated titles, transitions, and customized objects or add a slow-motion effect. Moreover, CyberLink PowerDirector offers access to plug-ins, effects, and music with lots of variety. It's available on both Mac and Windows devices.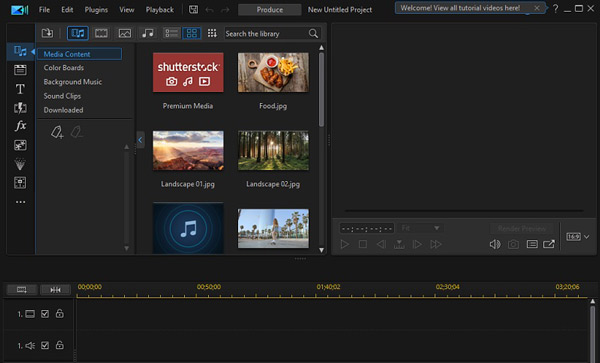 Pros
Availability of many creative effects like adding animation, green screen, and others.
Helpful tutorials are available on the official website.
Cons
Advanced editing features like creating masks, motion tracking, etc., are not available on its free trial version.
The interface of the program confuses beginners since it has too many buttons.
3. Nero Video
Nero Video is a great choice to start or beginners. It is very user-friendly and has a simple and basic interface and editing features. To help you navigate the app, you can use the LIVE GUIDE. To customize your videos, it has the option of over 1000 templates and effects, so you can easily customize videos for your YouTube channel. It's only available for Windows.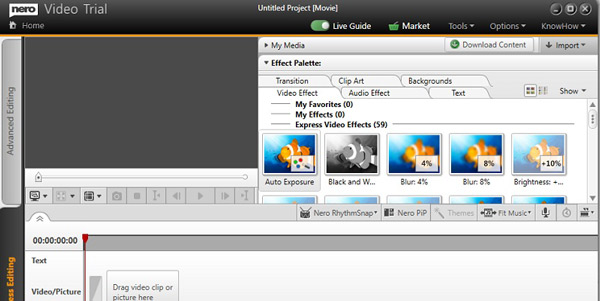 Pros
It has much royalty-free music.
There is a lot of helpful guidance in the app.
Cons
The interface of the program is out-of-date.
The applied video effects are not available to preview.
4. Pinnacle Studio
Pinnacle Studio is a professional video-editing software. It has a few distinctive features that other programs don't have, like multi-camera editing and 360 video editing. Additionally, you can convert and rip DVD files and convert it to video formats including MP4. Meanwhile, the tool has a MultiCam Capture function that can capture multiple cameras and record your screen simultaneously. However, it is only available in Windows.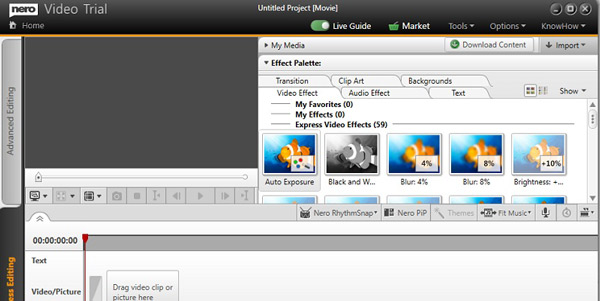 Pros
Availability of more than 1500 filters and effects.
Pinnacle Studio also has a built-in screen recording tool.
Cons
Expensive as compare to other options on the list.
Not user friendly for beginners.
5. AVS Video Editor
AVS Video Editor offers all the necessary basic features for video editing. This includes trimming, cutting, rotating, and merging video clips essential for creating a slideshow or video montage. It also offers screen recording and video editing that means you can even record the process to add to your YouTube video. It's only available in windows.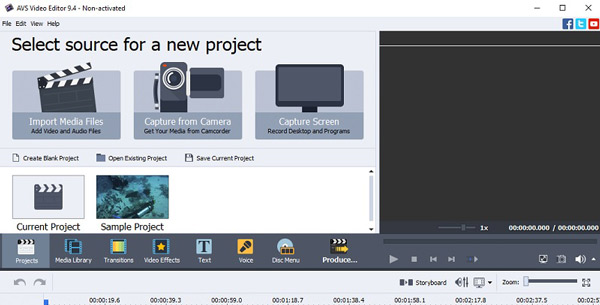 Pros
All the popular video formats are supported, including MP4, AVI, MOV, etc.
Videos can be shared directly from the app to social media platforms like YouTube and Facebook.
Cons
Multiple editing streams are not available
6. MAGIX Video Easy
Magix Video Easy has many unique features, such as lighting options, because it is trendy among YouTube movie creators. After editing the video, it lets you export or share videos directly to YouTube or other social media platforms from the app. A wide variety of intro and outro templates that can make the video enjoyable is available. However, it is only available for Windows computers.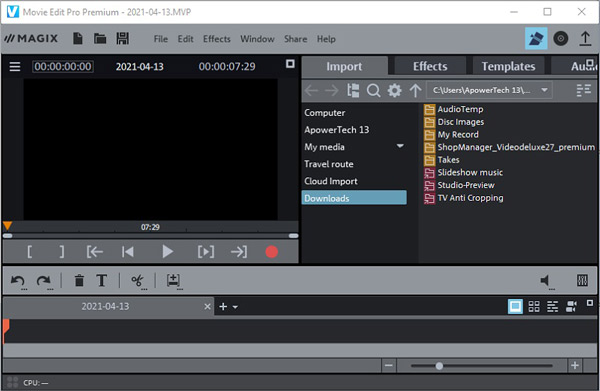 Pros
Built-in convenient user interface.
It offers a lot of templates.
Cons
Export of video directly to social media is not supported.
7. Lightworks
Lightworks allows you to create customized videos with high quality to enhance your raw videos. It offers many basic and advanced features that may help your video pop up, such as unique transitions so that you can join two videos together smoothly. Furthermore, the tool has more than 1,500 effects that you can apply. This best movie maker for YouTube videos is available for Windows, Mac, and Linux operating systems.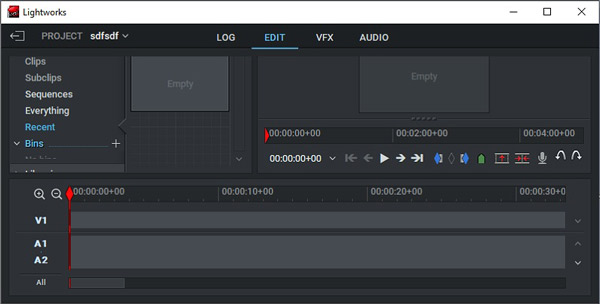 Pros
Wide range of editing tools.
Allows working on a professional level.
Provides high-quality videos.
Cons
Do not support multi-frame rate videos.
Only 720p output is available in the free version.
FAQs of Movie Maker for YouTube
1. Does YouTube have a movie maker?
Yes. YouTube has a built-in video editing tool online. After you upload a video to YouTube, you can use its video editor to add blur effects, insert end screen and change a blackguard audio file.
2. Are the above-mentioned tools safe to use?
All of the above-mentioned tools are safe to use. However, before using the best free movie maker for YouTube, we encourage the user to read the policy beforehand using any tool.
3. Which is the best software for Professional video editing?
The best software for professional video editing are given below:
Adobe Premier Pro CC
Final Cut Pro
Lightworks
However, you'll need professional training to use these programs efficiently.
Conclusion
To create a movie for YouTube, you should find the right movie maker software. This page lists the best 7 YouTube video making tools on Windows and Mac. They include both professional movie maker and easy-to-use video creator. No matter which type person you are, you can find the best option for you.
They also offer the free trial version of making a YouTube movie, and just free download to have a try to find the one you need.