How to Colorize Video on Desktop and iPhone
Do you have some videos with hideous vibrancy? Then you can solve this with software to colorize videos. No one wants to watch a video that doesn't convey the proper feelings of the video affected by the colors. Why? Because a dull video display won't ever define the cheerful emotions that the video has. It may give a demoralized energy to the viewers to perceive. We are trying to say here that, in this new era, people seek highly vibrant movies that fit their sight and the evolved technology standard. This is why, if you have noticed, many highly viewed clips today from all video streaming platforms are highly vivid, for it is what satisfies the viewers.
However, let us not use video editing tools because this task needs level-up editing. Instead, you will need the tools used by professionals or AI-powered tools to colorize videos. Fortunately, we have what you need, and they are listed in the entire content below.

Part 1. Top 4 Professional Tools to Colorize Videos on Computer
Allow us to present you with the video editing tools that professionals use. Here are the top 4 amazing programs that you can use offline and online at the same time.
Top 1. Tipard Video Converter Ultimate
The first on the list is this Tipard Video Converter Ultimate. It is one of the most used video editing programs these days. It originally came with a file converter that immediately evolved due to its proficiency in handling files securely and excellently. And now, this software caters to various functions, including a great collection of tools such as the Color Corrector that helps you add color to black and white video. In addition, it also comes with great effects that you can also access through its conversion function. What makes it more remarkable is that it lets you fix numerous video files in bulk, for it is one of its mastery. Meanwhile, this amazing software has multiple filter choices that make your videos look perfect. Along with this filter are the effect presets you breezily adjust to meet your brightness, saturation, hue, and contrast preferences. Furthermore, you won't need to be concerned about how the changes affect the video because this fantastic video editing software comes with a preview you can check anytime.
Meanwhile, this tool supports an extensive collection of video input and output types. Various formats include MP4, MOV, AVI, GIF, MKV, WMV, FLV, and many more. On top of that, it works with the infusions of advanced technologies like hardware acceleration, GPU acceleration, and Artificial Intelligence. In the meantime, let us teach you how to colorize black-and-white videos with this topmost tool today.
Step 1Install the software on your Windows or Mac computer by clicking the Download button below. Please use the one that represents the type of computer OS you use.
Step 2After the installation, please launch the software. Upon reaching the main interface, hit the Toolbox menu and the Color Corrector option. Then, a new window will appear where you need to hit the Plus icon to add the video you need to colorize.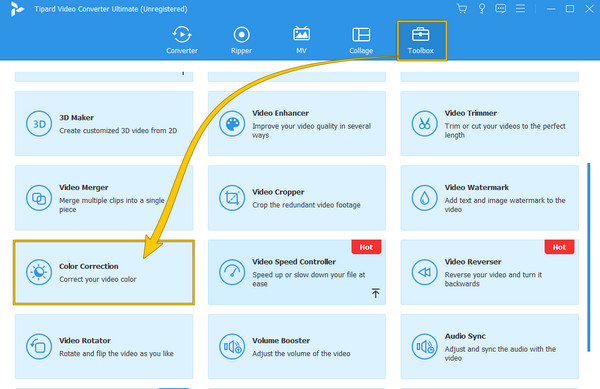 Step 3When the video is loaded, start adjusting the contrast, brightness, hue, and saturation until you reach your desired coloration for your video. As simple as that, you can now hit the Export button and check your output after.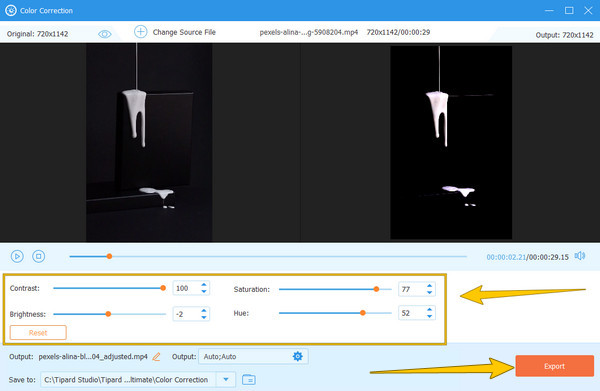 Top 2. Premiere Pro
One of the undeniably famous professional video editors is the Premiere Pro of Adobe. So, if you are curious about colorizing a video in Premiere, you must grasp this part carefully. Premiere can help you improve the color of your video, for it has this function that will assist you in doing so. Aside from that, numerous extra tools in Adobe Premiere Pro will help you with direct publishing and enable you to enjoy motion graphic templates, VR editing, transitions, effects, labels, and its support on multiple video formats. However, those already using this program know how pricey it is. And the fact that it is suitable for professional-level users makes non-professionals think twice about using it. Hence, if you are new to this tool, the simplified steps to add color to a video with Premiere will help you.
Step 1Launch the software on your computer, go to the File menu, and click the Open option. This will make you upload the video file that you need to edit.
Step 2Then, right-click the video on the panel, choose the New Item tab, and select the Adjustment Layer option. After that, you must drag the Adjustment Layer on top of the clip.
Step 3Now go to the Effects panel and look for the Basic Correction option. Once you open the window, you can start adjusting the presets.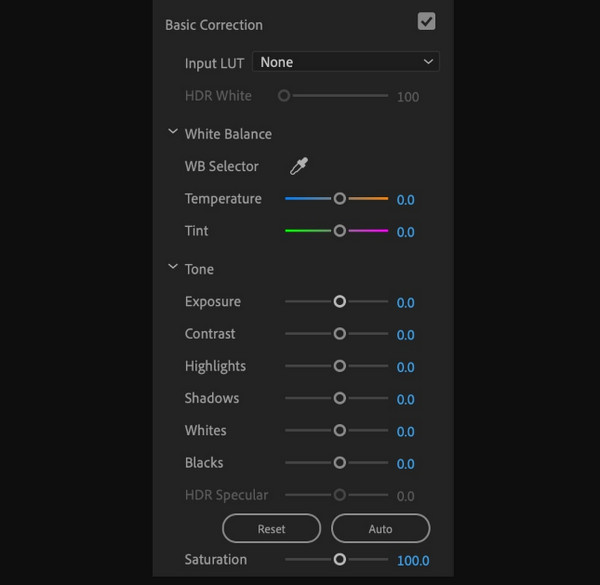 Top 3. After Effects
After Effects is another ace of Adobe, it has this Lumetri function, which is responsible for color correction on videos. Aside from this function, there are many other tools that you can use in After Effects that will help you with this task. You also can use After Effects to reverse videos. But since users who experienced it know how challenging it is to navigate, let us focus on Lumetri's function to colorize black and white video After Effects.
Step 1Add the video to the After Effects timeline via drag and drop procedure.
Step 2Once the video is in, click Window > Effects > Color Correction > Lumetri Color.
Step 3You can now begin adjusting the presets from this Lumetri window and set what your video needs.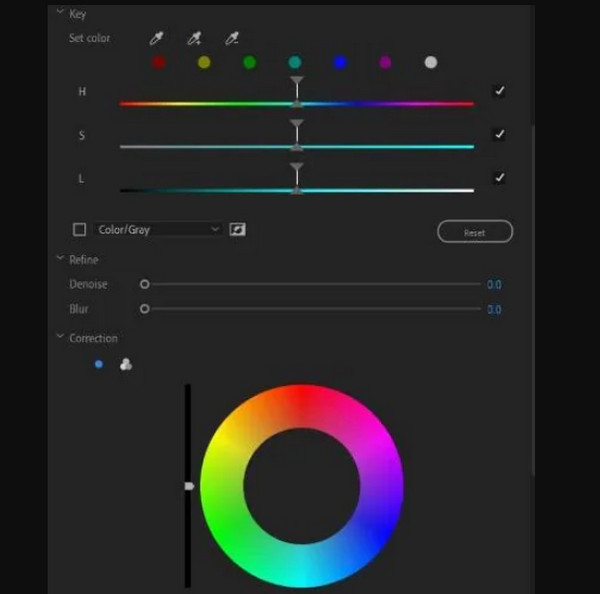 Top 4. Flixier (Online)
Here comes Flixier, the video-correcting tool that you can use online. This program allows you to edit and create videos that are being handled by its cloud system. Meanwhile, you will surely be glad to know about its color and effects, which you can use along with other tools such as overlay motion, transitions, and many more. Flixier will let you enjoy adding filters and programming your videos to be radiant. Therefore, if you wish to colorize videos online for free, then follow the steps below.
Step 1Click the Choose Video tab on its main page to upload your file.
Step 2Once the video is in, go to the Color section and click the filter you want to apply. Then, begin adjusting the basic colors accordingly.
Step 3After that, click the Export button and download the video after.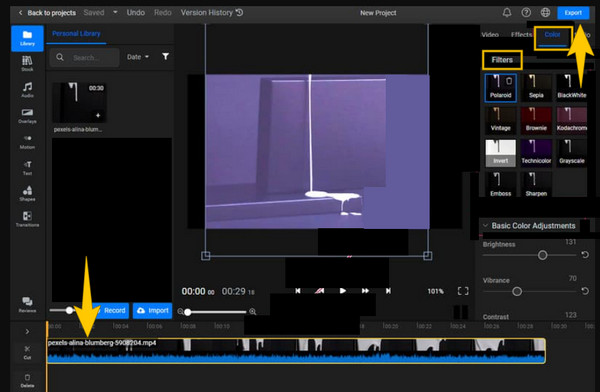 Part 2. How to Colorize Videos on iPhone
For those using iPhones, you can use your Photos app to colorize your clips. This way, you won't even bother installing a third-party app to help you with your task. With all fairness, the Photos app comes with other great free basic tools for video editing, and they all can turn your clips into something you desire. However, you must remember that it is not for a professional to use for deeper color correction. Hence, below are the steps to colorize video with this app on iPhone.
Step 1Open the video on the Photos app and tap the Edit tab.
Step 2Then, tap the two circles icon to see the color effects. Choose according to your want.
Step 3After that, tap the Done button. Click here to get how to flip videos on iPhone.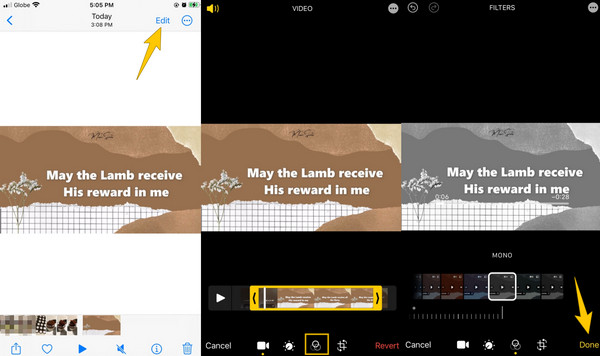 Part 3. FAQs about Colorizing Videos
Can I correct the color of the video on iMovie on iPhone?
Yes. Tap the adjust icon when the video is uploaded and set the presets accordingly.
Is it necessary to enhance the video quality before colorizing?
Not really. But you can choose to do so.
Is installing video colorizing software safe on Mac?
Yes, especially the tools we present above. However, it would be best to constantly scan the software before installing it.
Conclusion
You can now colorize videos like a Pro with the top tools. All of them are excellent and trusted by the experts. However, if you still cannot handle the ones from Adobe, then you better choose Tipard Video Converter Ultimate, for it is the best for beginners like you.